Background
It is challenging to overestimate the importance that football has in the United Kingdom. That is why everything associated with this sport gathers much public attention, and football stadiums are a suitable example. Wembley has always been one of the most iconic stadiums in the UK because it hosted many sports and cultural events that were attended by dozens of thousands of citizens. Consequently, it is not a surprise that the process of demolishing the old stadium and building a new and modern one instead of it attracted public interest. Furthermore, the project under analysis captured attention because it involved a few severe issues.
The rationale behind implementing the project was that the Football Association (FA), the stadium's owner, required a more capacious site to host sports events. That is why this body stipulated in 1998 that it intended to demolish the old stadium and build a new one with a 90,000-seat capacity (Crist, 2020, para. 6). The first problems with the project emerged shortly after the announcement because the Twin Towers were going to be demolished. The English Heritage stated that these structures should have been preserved because they had cultural value (Crist, 2020, para. 7).
This condition and public criticism did not prevent the whole structure of the old stadium from destroying. However, there was made a promise to create a more dramatic icon instead of the Towers, and a 133-meter arch was used for that purpose (Foster and Partners, 2003, para. 3). This information demonstrates that particular legal, political, and cultural contexts accompanied the project.
It is also rational to comment on the social, technological, and economic contexts as they were mutually connected. Firstly, it has been mentioned that Wembley Stadium was significant for the nation, and many celebrities supported the claim. For example, Ray Clemence, a football player and coach, stated that it was impossible to overestimate the stadium's importance for football England (Foster and Partners, 2003, para. 4). That is why the architects, subcontractors, and other stakeholders involved in the construction process were going to do their best to satisfy the public's expectations.
According to Ladika (2007, p. 63) from the Project Management Institute (PMI), Wembley was designed so that its retractable roof and the absence of pillars were innovative decisions to optimize spectators' experience. Since the project offered unique solutions, it required sufficient financial resources to be implemented. The project's budget was initially estimated at £326.5 million, but further information will demonstrate that it was significantly exceeded (Institute Project Management, 2020, para. 7). The given project was introduced within a broader context, and the essay will present a detailed analysis and evaluation of Wembley Stadium's project management.
Analysis of the Management of the Project
The given section will comment on whether the Wembley Stadium construction project drew sufficient attention to the critical knowledge areas. A separate subsection will introduce each area together with an explanation of what measures were taken regarding a specific item. Such a structure is required to cover all the relevant aspects of project management involved, and this information will be further used in the evaluation section.
Stakeholder Management
Since the stadium is significant for the whole nation, the project devoted sufficient attention to stakeholder and communication management. This knowledge area resulted in particular challenges because the project dealt with public and private funding sources throughout its implementation period (Committee of Public Accounts, 2004, p. 7). Simultaneously, stakeholders were internal and external, and they included people and companies involved in the construction process, representatives of the football world, and ordinary individuals who were interested in attending the stadium. Project managers tried to balance between the stakeholders, and any issues that emerged were communicated to the public.
Configuration Management
Project managers made sufficient efforts to equip the stadium with a working IT network. Fenwick (2007, para. 8) explains that there was "the installation of 1,617km of cabling comprising 753km of fiber backbone, 234km of broadcast cabling and 630km of horizontal structured and fire rated cabling." Together with 72 communication rooms and 7,500 network points, this condition made managing the stadium effective for its parent organizations, including the FA (Fenwick, 2007, para. 8). Furthermore, sufficient attention was drawn to establish configurations to enable the smooth operation of fire, security, and business systems. This information demonstrates that the configuration management area received adequate attention from project managers.
Scope Management
A significant challenge appeared because a subcontractor underestimated the scope of the project. Cleveland Bridge & Engineering Company warned about rising steel costs and pulled out of the project, which created problems for Multiplex, an Australian construction company, that managed the project (Institute Project Management, 2020, para. 16). Furthermore, Multiplex failed to forecast ground movement, which made the sewers under the stadium buckled (Design Build Network, no date, para. 35). Consequently, these conditions resulted in the fact that the project scope was actually larger, which made it impossible to complete the stadium in 2006 as it was initially planned.
Schedule Management
This sphere faced a few challenges that resulted in project delays. Firstly, 2001 witnessed as the FA "admitted that the project was doomed without a government bailout" (Institute Project Management, 2020, para. 8). Consequently, particular government decisions were required for the project to develop. Secondly, the construction process began in 2003, but Cleveland Bridge & Engineering Company pulled out of the project in 2004 because of rising steel costs (Institute Project Management, 2020, para. 16).
That is why additional time was necessary to find a new subcontractor. Thirdly, some safety incidents also contributed to the fact that the stadium was not completed in time. For example, the fall of a steel rafter led to the evacuation of 3,000 construction workers, which paralyzed the construction process (Institute Project Management, 2020, para. 25). This evidence reveals that many factors contributed to the project delays.
Cost Management
The cost management area witnessed the most dramatic drawbacks in the project. It was initially estimated that over £320 million would be sufficient to build the stadium in 2002. However, the incoming problems and delays resulted in the fact that £757 million would be necessary to end the stadium. A few organizations and public sources created this sum, and Figure 1 below by the Committee of Public Accounts (2004, p. 3) demonstrates the contributions of each of them. The chart indicates that Westdeutsche Landesbank and the Football Association were the most prominent sponsors of the project. These data also reveal that "the public sector contribution rose to £161 million (Committee of Public Accounts, 2004, p. 3). It is worth admitting that the final construction cost was £789 million (Institute Project Management, 2020, para. 4). This evidence demonstrates that the project's budget was significantly exceeded.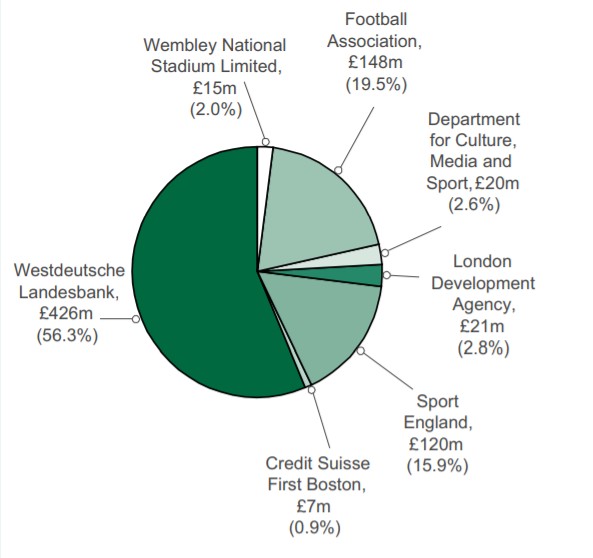 Quality Management
Quality management is vital for every project because it ensures that the process leads to acceptable and expected outcomes. However, there is no explicit evidence that practical quality management tools were applied during the Wembley Stadium erection. This information reveals that project managers failed to draw the required attention to ensure that their construction met the high-quality standards. For example, the project was delayed for a few months because extensive work was necessary to repair a buckled sewage system (Institute Project Management, 2020, para. 22). It is possible to suppose that the absence of quality management also resulted in the safety issues that will be presented below.
Risk Management
It has already been mentioned that the construction process witnessed safety issues. Firstly, an onsite accident resulted in the fact that a 300-kg section of scaffolding fell and killed Patrick O'Sullivan, a worker (Institute Project Management, 2020, para. 19). However, this case did not prevent project managers from finding ways to cut corners because they felt pressure to complete the project. Secondly, another accident occurred when a steel rafter fell, which resulted in the evacuation of 3,000 workers (Institute Project Management, 2020, para. 25). Even though such cases existed, the project was eventually completed.
Procurement Management
Procurement management also plays a significant role in every project. Martin Gosden, an expert from the Association for Project Management (APM), explains that this area was responsible for time and cost overruns. He stated that "Wembley Stadium used an Australian model for the supply chain that led to poor, contract management, dreadful supply chain relationships," and others (Gosden, 2018, para. 4). Consequently, the project procurement management had essential drawbacks that resulted in crucial problems.
Critical Evaluation of the Management of the Project
When it comes to a critical evaluation of project management, it is also necessary to follow a specific structure to ensure that a clear flow of thoughts is present. That is why the given section is going to present contemporary project management research and knowledge on the areas that have been highlighted above. Simultaneously, the identified data will be compared to what was found regarding Wembley Stadium, which will allow for evaluating the project under analysis.
Many scholarly and peer-reviewed articles focus on stakeholder management in construction projects, which denotes that the essay can have sufficient evidence on the topic. Oppong, Chan, and Dansoh (2017, p. 1037) stipulate that construction stakeholder management received little attention in the recent decades, and projects experienced failure because managers relied on random approaches to cooperate with stakeholders. However, current literature demonstrates that the focus should be placed on stakeholder satisfaction (Xia et al., 2018, p. 709).
This statement indicates that project managers should satisfy stakeholders' pre-project expectations. However, it is necessary to admit that these expectations are different for various projects. For example, some projects can be considered successful irrespective of time and cost inefficiencies, while others receive stakeholder criticism even though they are completed within the budget and schedule (Oppong, Chan and Dansoh, 2017, p. 1038). Such a controversial case occurred with Wembley Stadium that overrun time and cost limits, but its owners and users were satisfied with the outcome. This finding demonstrates that the project managers followed an adequate approach regarding stakeholder management.
Configuration management requires adequate attention in the modern world when every building includes an extensive infrastructure. This area "provides collection, processing, and storage of data on the status of IT components, as well as the completeness, accuracy, and relevance of the stored data about the infrastructure" (Boganov et al., 2017, p. 993). Simultaneously, Roseke (2019, para. 4) stipulates that configuration management should also specify documents or products that require change control. Managers of numerous projects indicate that they avoid dealing with proper configuration management for different reasons (Roseke, 2019, para. 4).
However, it does not mean that they do not track or control various changes. It is possible to mention that it is a case for Wembley Stadium because the identified evidence reveals no formal configuration management. Even though the absence of this phenomenon is not a severe problem for the project, this condition could have some influence on budget and schedule planning. It is possible to suppose that the absence of proper configuration management contributed to the issues between subcontractors and construction inefficiencies that required repairing.
Scope management is one of the most significant areas in a project management process. If a failure affects scope management, time, cost, and quality domains will obviously suffer some disadvantages. That is why managers should invest sufficient effort in determining scope as precisely as possible. According to Al-Rubaiei, Nifa, and Musa (2018, p. 52), scope management steps are to "plan the scope, collect the requirements, define the scope, create work breakdown structure (WBS), validate scope, and control the scope."
If each of them is adequately performed, it is possible to expect that a project will not exceed the determined scope. Simultaneously, abiding by scope management routines results in significant benefits for small and medium construction enterprises, which means that larger firms can also benefit from this phenomenon (Corvello, Javernick-Will and La Ratta, 2017, p. 18). However, Wembley Stadium management data revealed that project managers and contractors underestimated the project scope because they failed to follow all the six steps above. That is why it was no surprise that the project suffered from many delays and increased costs.
It has been mentioned that scope prediction inefficiencies can adversely affect a project schedule. That is why the latter area should also receive adequate attention. Project management literature indicates that many factors can impact the construction project schedule. Li, Xu, and Zhang (2017, p. 658) clarify that these issues include inadequate problems in the pre-preparation phase, the defects of plan design, inspection, and implementation, as well as changes in cost and quality.
That is why project managers should focus on all such issues to ensure that they can predict many of them. It is possible to use various tools and models to cope with the task, and a statistical model that relies on Markov Chains is a suitable example because it predicts possible schedule deviations (Rudeli et al., 2017, p. 04017083). As for Wembley Stadium, it appears that managers failed to apply any effective models to manage the schedule. As a result, they came many issues and events that brought numerous delays. Consequently, the project under analysis was completed years after its first completion date, which was an actual problem.
It is impossible to underestimate the significance of cost management for every project. Managers typically use this area to assess whether the project has been successful (Vasista, 2017, p. 15). Simultaneously, project costs should be accurately calculated to identify whether a project is feasible and to control expenses during the construction process. Cost management is also essential because it allows for identifying and ensuring that the project will result in economic and social benefits (Gao, 2020, p. 22). Gao (2020, p. 24) also stipulates that an efficient approach to cost management is to ensure that corporate leaders, managers, key employees, and responsible organizations understand the importance of this area.
If it is achieved, each stakeholder will be aware of costs, which will contribute to the fact that they are appropriately managed. It is sad to say, but such a condition was not present in the Wembley Stadium construction. The project significantly exceeded the stipulated budget because of poor scope, schedule, and cost management approaches that resulted in the fact that many unpredictable issues created problems for the project.
A constantly increasing number of construction companies and projects justifies the presence and importance of quality management. Chen and Li (2019, p. 062033) explain that quality "not only relates to the practicality, reliability, durability, and investment benefits of construction projects, but also directly relates to the safety of people's lives and property." Many factors can significantly affect the quality of a project, and they include the human factor, low-quality materials, improper technical solutions, defective machinery, and others (Chen and Li, 2019, p. 062033).
That is why managers should make an effort to ensure that their projects can meet particular quality requirements. One of the most optimal solutions is to determine appropriate quality standards that can be applied to a specific construction project. As for Wembley Stadium, the managers could rely on the standards that governed the work with concrete, metals, plumbing, electrical appliances, and others (Rumane, 2017, pp. 124-125). The absence of at least such an approach allows for concluding that the project under consideration features a compromised quality, which negatively affects the overall impression of the stadium.
Risk management is also crucial because it ensures that a project is not associated with any unfortunate events that can endanger the safety and implementation process. Even though this area is of significance, research indicates that many managers fail to apply risk management principles systematically (Serpell, Ferrada and Rubio, 2017, p. 858). As a result, these managers make their projects prone to various issues. Consequently, a specific approach is needed to know how to manage risks.
According to Serpell, Ferrada, and Rubio (2017, p. 858), the proposed system involves assessing the existing risk management organizational maturity, proposing recommendations for improving, and assisting companies in implementing the proposed changes. Such a framework can be practical to forecast possible risks and develop strategies to prevent or respond to them. The absence of this approach denotes that a project is not protected against various hazards and problems, and Wembley Stadium suffered from it. Since project managers and subcontractors did not have a functional risk management approach, they failed to prevent safety issues that endangered the health and safety of workers and resulted in delays.
Finally, procurement also plays a crucial role in project management. According to de Araújo, Alencar, and de Miranda Mota (2017, p. 353), suppliers and subcontractors can significantly impact success or failure because they directly influence various business and construction processes. That is why project managers should do their best to select and evaluate possible suppliers and contractors, and a suitable strategy is to consider costs, reputation, a level of technological development, and others (de Araújo, Alencar and de Miranda Mota, 2017, p. 362). It seems that Multiplex failed to follow such a comprehensive approach because the schedule and public pressure made the construction firm find new subcontractors and suppliers as quickly as possible.
Lessons Learned
The analysis and critical evaluation above allow for articulating specific lessons that can be learned. These lessons will refer to the areas of conception, initiation, and management of the Wembley Stadium construction project. It is worth admitting that both positive and negative experiences in the project led to the creation of valuable information for the essay. The information from this section will be further used to generate conclusions and recommendations for future projects.
Firstly, it has been identified that opposition and public criticism can affect any project even if benevolent intentions drive it. Such a case was present with Wembley Stadium because the new project implied the demolition of the symbolic Twin Towers. Since that construction had a significant cultural meaning for society, the necessity to destroy it did not satisfy numerous stakeholders. That is why project managers and initiators needed to find a solution that would address the public opposition.
Since the Twin Towers were an architectural landmark of the old stadium, the new construction should have had a different landmark with similar meaning. The evidence above has demonstrated that a 133-meter arch was proposed, and it satisfied the current concerns. This narrative introduces the lesson that the process of project conception is challenging, and it implies searching for a compromise to balance the interests of many stakeholders. The project under analysis is a suitable example of how managers can find innovative solutions to cope with the task and solicit public support.
Secondly, the project under consideration highlighted the fact of how it was possible to balance the interests of public and private stakeholders. Even though the construction process implied numerous issues, their revelation resulted in the fact that these problems did not result in aggressive social dissatisfaction with the project. Consequently, this lesson denotes that project managers should keep in mind that their task is to meet stakeholders' expectations.
Thirdly, the analysis above has brought a lesson that the project planning stage should receive adequate attention because it can influence how it is going to be implemented. Problems with Wembley Stadium arrived because its initial budget of £326.5 million was underestimated. One can suppose that the budget was agreed because Multiplex wanted to manage it, and the Australian company intentionally accepted a lower sum to achieve the goal. However, the analysis has unveiled that this strategy resulted in fundamental problems. The most evident justification of this thought refers to the fact that the final project budget was more than 50% higher. This finding demonstrates that the construction project was initiated with the understanding that problems would arrive regarding a budget extension. Consequently, this description introduces a lesson that project managers should do their best to calculate costs as precisely as possible.
Fourthly, sufficient evidence has revealed that Wembley Stadium project management had many inefficiencies. This statement refers to configuration, scope, schedule, cost, quality, risk, and procurement management issues. Drawbacks in each of these areas contributed to numerous delays, budget extensions, and safety issues. Consequently, another learned lesson indicates that it is necessary to draw more attention to the management of construction projects. A suitable strategy is to rely on current research and knowledge to identify appropriate solutions to various issues. For example, the essay has revealed that the implementation of and abidance by relevant quality standards can increase the possibility of achieving successful outcomes (Rumane, 2017, p. 122).
Simultaneously, there were identified drawbacks of no using formal configuration management. Another lesson referred to the fact that subcontractors can create crucial problems for the project, as it was with Cleveland Bridge & Engineering Company that brought some issues for Multiplex (Institute Project Management, 2020, para. 16). This information reveals a lesson that the absence of a connection between practice and theory can result in significant problems for the whole project.
Finally, even though the data above revealed that the Wembley Stadium project had many drawbacks, it is impossible to mention that it was a failure. Irrespective of inefficiencies in the areas of scope, configuration, cost, quality, risk, and procurement management, the project featured adequate stakeholder management, which primarily referred to meeting the stadium users' expectations. When the FA, fans, and players witnessed the new stadium, they became satisfied with the outcome. Simultaneously, 2015 saw as Wembley Stadium broke even, while pre-tax profits of £5.5 million were recorded in 2017 (Institute Project Management, 2020, para. 29). Consequently, one can say that all the previous cost inefficiencies were overcome in 2015.
The information above introduces a paradox that sometimes occurs in the construction industry. Oppong, Chan, and Dansoh (2017, p. 1038) mention that "some stakeholders were dissatisfied because of operational deficiencies of the Heathrow Terminal 5 project even though time, cost, and quality requirement were met." However, the Sydney Opera House and Thames Barrier were not completed within the budget and schedule, but numerous stakeholders admitted that their expectations were satisfied (Oppong, Chan and Dansoh, 2017, p. 1038).
Consequently, the lesson is that the presence of drawbacks during the implementation and management stages does not guarantee that the project will be considered a failure. Simultaneously, the absence of inefficiencies does not ensure that all the stakeholders will be satisfied with the outcome. This lesson forces project managers to draw attention to all the processes that are involved in project implementation.
Observations and Conclusions
Wembley Stadium is an example of a project that became a success contrary to many characteristic features of a failure. The identified evidence has demonstrated that the project had many delays, the initial budget was exceeded by more than 50%, a few health and safety issues occurred, and so on. A positive feature referred to the fact that project managers drew adequate attention to stakeholder management.
Wembley Stadium had both private and public stakeholders, and managers' task was to meet and balance their requirements and expectations. The findings reveal that football fans and players were satisfied with the stadium's quality and architectural decisions, while the FA is happy with Wembley because it started generating essential profits in 2017. This positive experience outweighed all the negative aspects that accompanied the construction process.
The essay has also presented contemporary project management research and knowledge to compare how various areas should be governed. The review of relevant scholarly and peer-reviewed sources has demonstrated that the Wembley Stadium project failed to abide by the highest standards of practice. The justification of this statement refers to the fact that the Critical Evaluation section has demonstrated that professional approaches should govern many project areas.
Specific quality standards should be present in quality management, particular steps can promote effective scope management, subcontractor selection and evaluation are essential in procurement management, and so on. The comparison of this theoretical information with what has been found regarding Wembley Stadium reveals that the project implementation was far from ideal. Consequently, it is not a surprise that the planned schedule, scope, and budget were significantly exceeded. According to theoretical recommendations, a failure to govern the construction process made the project suffer from many crucial inefficiencies. These findings generate lessons indicating that more efforts are needed during the planning process to gather as much information regarding the project as possible.
In conclusion, it is possible to state that Wembley Stadium allows for offering recommendations for future projects. Firstly, managers should make an effort to support their planning and implementation decisions with theoretical information. The reasoning behind this suggestion is that scientific literature offers valuable tips on how it is possible to approach various project management areas. Thus, the focus on theory increases the chances that a project will manage to avoid many drawbacks.
Secondly, a helpful recommendation is to draw adequate attention to all the management areas and avoid preferring some of them over others. Wembley Stadium, the Sydney Opera House, and Heathrow Terminal 5 demonstrate that project success can be judged based on different features. That is why it is not a suitable strategy to focus on meeting the schedule because if this approach leads to dissatisfied outcomes for stakeholders, the project will not be considered successful. Thus, I can say that I will use the lessons and recommendations from this essay in my future project management.
Reference List
Al-Rubaiei, Q. H. S., Nifa, F. A. A. and Musa, S. (2018). 'Project scope management effect on variation orders in government funded projects: a proposed study on the Sultanate of Oman'. Malaysian Construction Research Journal, 3(1), pp. 52-62.
Bogdanov, A. V. et al. (2017). 'Impact of configuration management system of computer center on support of scientific projects throughout their lifecycle', Physics of Particles and Nuclei Letters, 14(7), pp. 993-996.
Chen, Y. and Li, H. (2019). 'Research on engineering quality management based on PDCA cycle', IOP Conference Series: Materials Science and Engineering, 490, p. 062033.
Committee of Public Accounts (2004). The English national stadium project at Wembley. Web.
Corvello, V., Javernick-Will, A. and La Ratta, A. M. (2017). 'Routine project scope management in small construction enterprises'. International Journal of Project Organization and Management, 9(1), pp. 18-30.
Crist, M. (2020). How tearing down the Twin Towers destroyed the magic of Wembley. Web.
De Araújo, M. C. B., Alencar, L. H. and de Miranda Mota, C. M. (2017) 'Project procurement management: a structured literature review', International Journal of Project Management, 35(3), pp. 353-377.
Design Build Network. (no date). Wembley Stadium, London. Web.
Fenwick, J. (2007). Wembley Stadium's integration of building, safety, fire, security, and business systems. Web.
Foster and Partners. (2003). Wembley National Stadium – the dawning of a new era. Web.
Gao, W. (2020). 'Research on construction engineering cost management'. Academic Journal of Architecture and Geotechnical Engineering, 2(1), pp. 20-26.
Gosden, M. (2018). Hinkley point C – how to build a power station. Web.
Institute Project Management. (2020). Wembley Stadium – a badly run project with a good outcome!. Web.
Ladika, S. (2007) 'It's a fine line'. PMI Network, 21(11), pp. 62-66.
Li, X., Xu, J. and Zhang, Q. (2017). 'Research on construction schedule management based on BIM technology'. Procedia Engineering, 174, pp. 657-667.
Oppong, G. D., Chan, A. P. C. and Dansoh, A. (2017). 'A review of stakeholder management performance attributes in construction projects', International Journal of Project Management, 35, pp. 1037-1051.
Roseke, B. (2019) What is project configuration management?. Web.
Rudeli, N. et al. (2017). 'Statistical model for schedule prediction: validation in a housing-cooperative construction database'. Journal of Construction Engineering and Management, 143(11), p. 04017083.
Rumane, A. R. (2017). Quality management in construction projects. Boca Raton: FL: CDC Press.
Serpell, A., Ferrada, X. and Rubio, N. L. (2017) 'Fostering the effective usage of risk management in construction', Journal of Civil Engineering and Management, 23(7), pp. 858-867.
Vasista, T. G. K. (2017) 'Towards innovative methods of construction cost management and control', Civil Engineering and Urban Planning: An International Journal, 4(1), pp. 15-24.
Xia, N. et al. (2018) 'Towards integrating construction risk management and stakeholder management: a systematic literature review and future research agendas', International Journal of Project Management, 36, pp. 701-715.