Introduction
Leaders of business organizations need to apply appropriate strategies to manage change and introduce new practices that have the potential to drive performance. Different models are applicable in various settings to empower followers and guide them to achieve their aims in a given company. Managers need to select the most appropriate theories to implement change and promote the level of innovation. This paper gives a critical review of the key models that organizational leaders need to take seriously. It offers a detailed evaluation of a less successful and successful change in my organization. The final part provides a reflection and assessment of my performance as a leader of change and innovation.
Critical Review of Theories
Innovation and creativity are two terms used interchangeably in the field of business. Organizational theorists provide diverse models and approaches for empowering workers to design and deliver superior services and products that compete successfully in the market. For instance, Andriopoulos (2001) indicates that the concept of creativity needs to take shape at the organizational level. Those in leadership positions need to manage their followers, make timely decisions, promote the best climate, create the best culture, and provide the required skills and resources. Organizational theory is an outstanding model that focuses on some of the best approaches for leading both change and innovation. Ekvall (1997) supports such a model since it results in a superior culture that can guide employees to embrace the idea of teamwork, solve personal challenges, and encourage innovative tendencies. Companies that pursue such attributes will achieve their business aims much faster.
The atmosphere in which employees operate in will have a significant impact and influence on the established level of innovation. Andriopolos (2001) reveals that the intersection between leadership and empowerment is essential for promoting the best climate for promoting some of the best behaviors, such as innovation. Organizational theorists and scholars encourage managers to develop a suitable environment and offer the relevant incentives and resources to promote innovative productivity. This model has remained one of the leading theories for introducing and making creativity possible in different workplaces.
In the article "Organizational Conditions and Levels of Creativity", Ekvall (1997) tries to examine whether there are unique practices and structures within a company that has the potential to dictate the nature of creativity. The findings of the report revealed that the leaders in any corporation should be keen to manage operations, consider the psychological demands of the workers, and create favorable conditions that will make creativity possible (Ekvall, 1997). On top of this, the idea of leadership remains essential to provide a sense of direction and ensure that all employees can share their insights, engage in common decision-making processes, and solve challenges that might emerge. They will become more experimental, benefit from the inputs of their respective supervisors, and eventually make the identified company successful.
The nonlinear dynamic model is an outstanding concept that tries to explain how innovation would take place in a specific organization. According to Van de Ven et al. (1999), individuals in a firm become accustomed to enabling conditions and attributes that make it easier for them to improve performance. They find it easier to learn from one another, borrow the strategies of their respective top managers, and establish relationships that can deliver the intended results. Organizational leaders can offer desirable structures and investments to promote a cycle of innovations. The idea of following the flow becomes a new opportunity for pursuing emerging changes and capitalizing on them to improve the nature and quality of existing products or services.
Similarly, past scholars have presented powerful theories for implementing change and maximizing organizational performance. For instance, Yukl (2006) identifies leadership as one of the crucial concepts for defining the process of change in any given organization. Professional managers should acquire and develop the best skills that can make it easier for them to engage their followers and make them part of the process. The absence of a superior model encourages workers to become reluctant and oppose any proposed change. Transformational and transactional leadership theories have become acceptable in the field of organizational practice since they encourage employees to cope and focus on better outcomes.
The involvement of top leaders is an approach that relies heavily on most of the presented theories. For example, Kurt Lewin's change model is designed in such a way that those on top remain committed, identify possible areas of weakness, and create an enabling environment that can deliver timely results. Ekvall (1997) supports the involvement of all key actors and stakeholders throughout the change process. The provision of incentives and training can reduce opposition and ensure that all key professionals are willing to be part of the change process. With proper support and leadership, the targeted followers will find a reason to be part of the process and eventually support the realization of positive results.
In the book Leading Change, John Kotter offers a unique theory of change that businesses can apply to introduce better practices and become more successful. The model presents eight unique steps that are appropriate depending on the existing situation. They include understanding the need for change or urgency, formulating a guiding approach, creating the best strategy ad vision, communicating the vision, guiding and empowering followers, outlining short-term aims and wins, promoting more change, and institutionalizing superior approaches for maintaining the new status (See Figure 1). This approach is capable of delivering timely results when leaders combine it with the right managerial practices and resources (Lynch, 2020). Business managers should, therefore, consider and apply these models to introduce change and maximize innovative tendencies.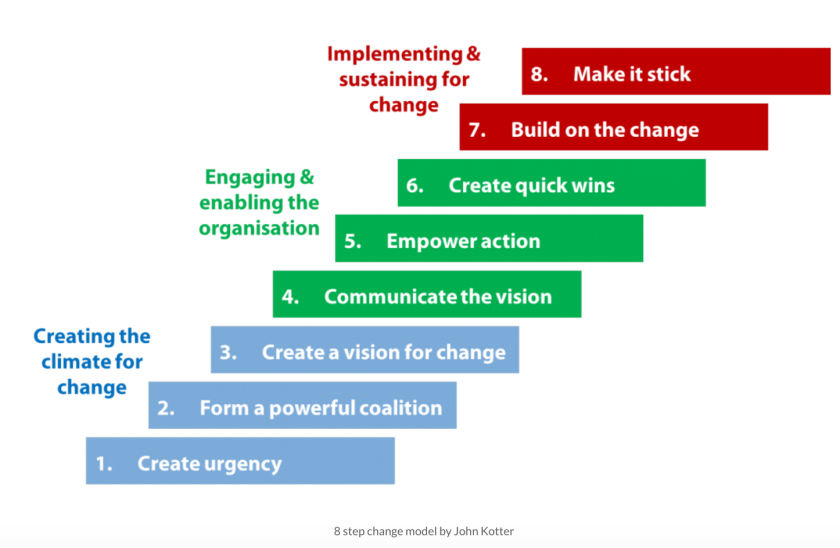 Personal Evaluation
Successful Change
As an employee, I witnessed a successful change process that made company X more profitable in its local industry. This observation occurred when manager A, the head of my department, applied Kurt Lewin's model to introduce superior technologies for serving customers and addressing their needs in a timely manner. Before launching the idea, manager A prepared all the followers and offered additional information about the intended move (Kotter, 1996). The leader guided us to understand how such a change was capable of streamlining operations and minimizing complaints. These actions and approaches were in accordance with the unfreeze phase of the theory (see Figure 2).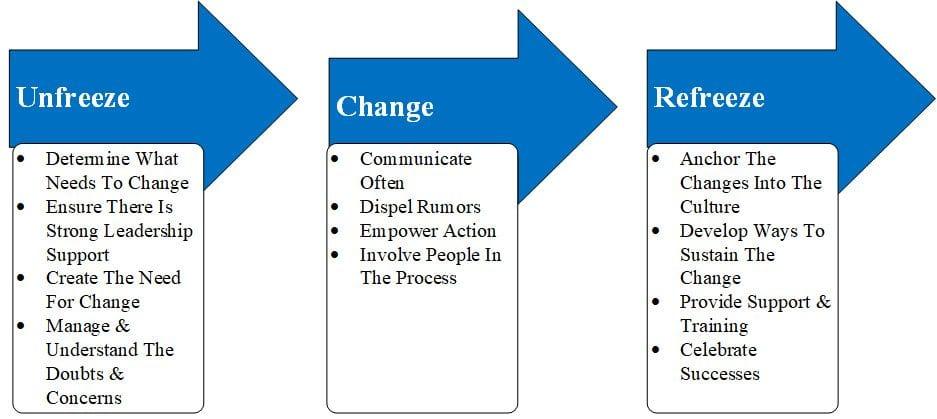 The second stage was followed by the actual introduction of the intended revolutionary technologies characterized by handheld devices with installed applications. Those in charge of the process trained the workers and addressed all emerging questions and complaints. The leader allocated a period of experimentation to gauge and monitor the gains recorded at the company ("Lewin's change model," 2018). Throughout this change period, manager A remained involved, offered timely resources, and addressed all emerging problems. Finally, the new technology became part of the company and was updated accordingly. This achievement is a clear indication that Lewin's change theory of refreeze-change-freeze can work effectively in any given company and eventually deliver positive results.
Unsuccessful Innovation
In the same company X, I experienced a disappointing period when one of the managers tried to introduce a sense of innovation. During my first year at the organization, manager Y decided to launch a new strategy whereby more workers would be guided to design and develop a new product that would compete with a rival company Z. This ambitious plan was intended to present a new household item that was capable of meeting the demands of more customers. Unfortunately, Manager Y remained less involved and failed to provide the relevant incentives, guidelines, and skills (Senior & Fleming, 2006). Additionally, the culture existing at the company during the time was ineffective and incapable of promoting performance. Some of the enrolled workers became dissatisfied with the project and even chose to pursue their original assignments.
Consequently, the other leaders in company Z were forced to identify and implement a superior initiative that would improve the level of performance. This kind of failure reveals how and why business managers should be aware of the situations recorded in their respective organizations. The acquired knowledge can guide them to make the most appropriate transformations, recruit the right people, and provide the relevant incentives to create a sense of creativity (Ekvall, 1997). These strategies can minimize chances of failure and make the targeted business firm more successful. The presented example indicates that Manager Y failed to take into consideration the key requirements and effectiveness of organizational theory (Van de Ven et al., 1999). This model requires that those in leadership positions create enabling conditions and offer the right incentives to engage, motivate, and guide the targeted followers to become more creative and productive.
Personal Reflection and Assessment
My leadership philosophy guides me to focus on the expectations of my followers and the best strategies to take my company from point A to B in terms of profitability. Within the past four years, I have been engaging in lifelong learning to acquire additional insights and skills that can make me more inspirational and transformative (Buchanan, 2003). I always interact with individuals who guide me to re-pattern my leadership style depending on the existing situation. Consequently, having realized my managerial approach has become a powerful tool for creating and supporting the best environment for innovation (Heifetz & Linsky, 2002). This means establishing an effective culture, redesigning the nature of the organizational structure, and allowing workers to become more experimental are powerful strategies for fostering creativity.
Using the power of leadership lets me guide my employees, appreciate the notions of teamwork and collaboration, and offer the relevant resources and instructions that encourage them to remain focused and eventually maximize profitability. The inclusion of all key stakeholders is a powerful strategy that explains why I am usually able to promote a culture of innovation in my workplace (Holbeche, 2006). I also provide timely resources, solve emerging challenges, and create the best climate for delivering results. The outstanding observation from my experience is that leadership behavior is what allows and encourages more individuals to be part of the innovative process and support the established mission and vision.
The idea of change is another attribute that defines my leadership style. As a manager, I always focus on whereby my company ought to be within a stipulated period and present new incentives, technologies, and ideas to my followers. Thus, using various change models depends on the anticipated goals and the existing conditions (Senior & Fleming, 2006). I provide adequate time, appoint key people to guide the process, apply my leadership skills to provide a sense of direction, and eventually make the introduced practices and behaviors part of the wider organizational culture. Some of my competencies that make me a true leader of change and innovation include the ability to communicate, delegate, solve problems, think critically, manage time, and solve problems (Ekvall, 1997). This analysis and assessment reveal that my performance is admirable and capable of guiding more employees in different settings to become more creative and productive.
Conclusion
Organizational change and innovation are critical concepts that business managers need to pursue if their companies are to succeed and remain more competitive. The above discussion has presented a critical review of some of the evidence-based and practical theories that leaders can implement in their respective firms to guide their followers. Personally, the adoption of emerging concepts and ideas is a powerful approach that has made me a skilled leader who is able of managing change efficiently. The use of various models will result in a positive organizational climate that promotes creativity and innovative tendencies, thereby making the selected company more profitable and competitive in its sector.
References
Andriopolos, C. (2001). Determinants of organisational creativity: A literature review. Management Decision, 39(10), 834-841. Web.
Buchanan, D. (2003). The roles and competencies of change agents: A review of the literature. NHS Modernisation Agency.
Ekvall, G. (1997). Organizational conditions and levels of creativity. Creativity and Innovation Management, 6(4), 195-205.
Heifetz, R., & Linsky, M. (2002). Leadership on the line. Harvard Business School Press.
Holbeche, L. (2006). Understanding change: Theory, implementation and success. Elsevier Butterworth-Heinemann.
Kotter, J. (1996). Leading change. Harvard Business School Press.
Lewin's change model. (2018). Web.
Lynch, W. (2020). A Comprehensive guide to Kotter's 8 step model of change. Web.
Senior, B., & Fleming, J. (2006). Organizational change. Prentice Hall.
Van de Ven, A. H., Polley, D. E., Garud, R., & Venkataran, S. (1999). The innovation journey. Oxford University Press.
Yukl, G. (2006). Leadership in organizations (6th ed.). Prentice Hall.