Introduction
COVID-19 has become a disruption to businesses, governments, and education facilities. Arguably, most institutions were unprepared to address this health crisis. Their leaders had to rapidly adapt their strategies and processes to ensure that people can continue working in safe environments. WUAS's leaders had to make strategic changes and leverage their transformational leadership approach to adjust the teaching methods applied by instructors.
On-Time Delivery!
Get your customized and
100% plagiarism-free paper
done in as little as
3 hours
Apart from this, the leadership has to prepare to make changes in the future and build resilience since the Netherlands initiated statewide vaccination in January (National Institute for Public Health and the Environment, no date). Hence, this university may be able to fully reopen soon, with the condition of implementing procedures to check vaccinations or other types of safety measures. This paper will examine the SAFE criteria applied at Wittenborg, the strategic agility and resilience, and the application of strategic leadership roles.
SAFE criteria
With a public health threat as serious as COVID-19, the leadership needs a framework to determine if their measures will be sufficient and acceptable. Suitability, acceptability, and feasibility (SAFE) criteria are a set of standards developed to assess whether teaching students is suitable considering the given environment (Oxford College of Marketing, no date). Based on these criteria, this learning institution has determined whether it is appropriate to continue face-to-face teaching during the pandemic or if it is necessary to use online education until it is safe to return to the classrooms. Currently, students are allowed to choose between online lectures and attending a class in person (Teaching back in classroom 2020).
Thus, the university's management selected the hybrid model of teaching as an appropriate way of continuing to educate students while ensuring their safety, which is a combination of offline and online instruction. The first SAFE standard is safety, and the hybrid model is more acceptable when compared to traditional education. Within the hybrid model, some classes are held online, which means that students and educators do not come in contact and cannot contract this virus. The lessons that are held offline have limited attendance, which allows for controlling the environment better. Moreover, the Dutch government issued a statement in March prohibiting educational institutions from being open to the public, and "universities and institutions of higher professional education (HBO) are requested to offer online lectures instead of large-scale lectures" (Government of the Netherlands, 2020, para. 20).
This government policy shows that all SAFE criteria indicate the need to close the classrooms at Wittenborg since it is not safe nor suitable to continue allowing students to come in contact with one another. However, considering that the virus is still active and the vaccinations have begun to be administered only recently, it appears that holding offline classes is still unsafe ((National Institute for Public Health and the Environment, no date). Hence, WUAS's approach is suitable considering SAFE criteria, but the university should consider additional safety measures for people who come on campus.
The second standard is acceptability, which allows determining if the measures are suitable considering the policies, regulations, and ethics. According to the recently published guidelines, WUAS students can choose between two options—study online or attend classes in person (Teaching back in classroom September 2020, 2020). However, the classrooms will be modified to fit the SAFE criteria. This measure does not go against the regulations of the Dutch government and does not endanger the students, hence it is acceptable.
Finally, feasibility is perhaps the most challenging criterion in the context of COVID-19 since the university was unprepared to transition to online learning. This change required ensuring that the personnel has laptops, access to high-speed internet, and the necessary skills to hold classes online. Moreover, the university had to find a platform for online learning that would allow students to see classes, send homework, make announcements, and facilitate discussions among the students.
Yes, we can!
Our experts can deliver a
custom WUAS Case Study: COVID-19
paper
for only

$13.00

$11/page
Considering the SAFE criteria, WUAS's deliberate and emergent strategy development has been excellent. The decision tree displayed in Figure 1 shows the steps taken by the university's management and the alignment of them with SAFE criteria and the strategic vision of WUAS. This model compares three options that WUAS had: ignoring the recommendations and continuing to teach online, transitioning to fully online studies, or utilizing the hybrid model. The first option does not fit any of the SAFE criteria since offline studies would subject the staff and the students to significant risks considering the transferability of COVID-19. The option to transition to offline studies has two downsides, the costs associated with this change and the disadvantages for students who cannot access quiet study spaces or high-speed internet. The hybrid model appeals to all stakeholder groups because WUAS can decrease the number of students attending lectures while providing this option to them.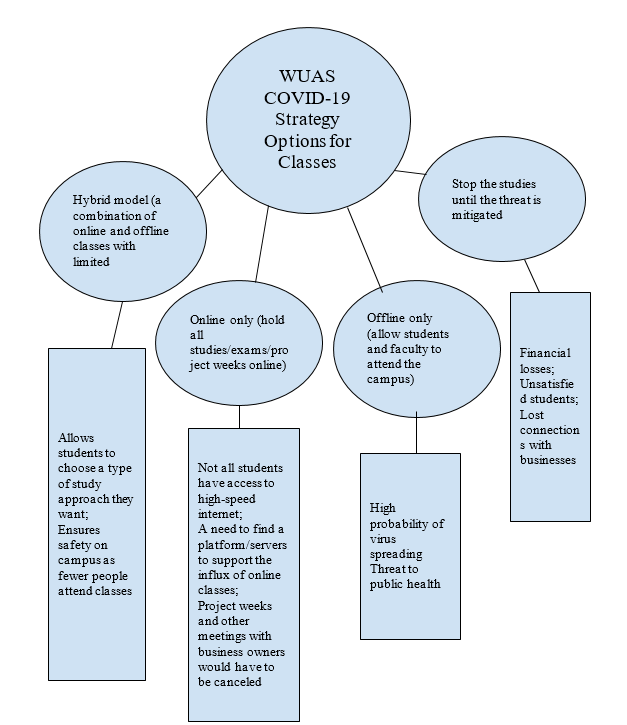 The costs issue should be discussed in detail since the transition to online education has several implications, such as the need to pay for the study platform and additional resources. However, these costs are minimal when compared to the savings that the university can have by not using the utilities, such as electricity and water, at its buildings. Next, the stakeholders' opinions, such as the students, community members, and personnel, should be considered as well. Since WUAS chose a hybrid model, it appears that all stakeholders should be satisfied as this approach allows for online and offline studies. Hence, according to SAFE criteria, costs analysis, and stakeholder analysis, WUAS's approach to teaching during the pandemic is suitable.
Strategic Agility and Strategic Resilience
The ability to build and maintain strategic agility and resilience is vital for WUAS since the pandemic is not over yet. Strategic agility is the ability of the management to see the changes and shifts in the organization and within its environment (McKay et al., 2020). From the perspective of WUAS, this means spotting the shifts in the education industry, which transitioned towards online learning and the changing nature of students' and educators' attitudes. The former may mean that there are more opportunities to create adequate learning environments for students online, such as platforms and programs that aid online learning. Additionally, using the experience of other institutions may be helpful. For example, some universities may use a model where some students attend classes on certain days, while others study online.
Strategic resilience is defined by McKay et al. (2020) as the ability to support operations during turbulent times while keeping the focus on the "horizon," or the goals. A leader has to think forward and make plans for the future while maintaining the daily operations and adapting to the current difficulties. For an educational facility, resilience means keeping in mind the goal of the institution—educating the students while ensuring that they and the staff are not endangered. WUAS declares its vision for creating an inclusive environment for its students, both local and international (Mission statement, no date). Additionally, one can review this challenge as an opportunity to reframe learning for the following years and use more technology-driven strategies.
Strategic resilience has a set of core principles that allow for building a sustainable organization. First and foremost, a system's approach must be taken, which looks at the organization as a whole, a functioning mechanism where one element affects the others (de Bruijn et al., 2017). This means, for instance, that changing the attendance practices and focusing more on online lectures will affect the way professors execute the teaching process, as well as the way exams and homework, are checked and discussed. Without the systemic approach, the adaptation process is impossible because adjusting one element of the system without looking at the way the others have to be affected will be inefficient.
The next principle is ensuring that the organization remains resilient in the future. For instance, the new approaches to teaching and learning can be leveraged after the pandemic as a way to reduce costs or enable effective learning for students who cannot attend classes. Since WUAS is opening some facilities while retaining online classes, one can conclude that the university is leveraging this disruption to explore new opportunities for future semesters, where online and offline studies can be combined.
The VRIO analysis presented below shows WUAS's role and strategic agility in the current pandemic. According to McKay et al. (2020), VRIO allows determining the resources that an organization has and can be used as a competitive advantage source. The advantage arises from the resource base of the university. Hence, no additional measures are necessary. Based on this, one can conclude that hybrid teaching is a new asset for WUAS, which will also contribute to its appeal to international students and students who want more flexibility when earning a degree.
Cut
15% OFF
your first order
We'll deliver a custom
Business Analysis Case Study
paper tailored to your requirements with a good discount
This university already has structured its work in a way that differentiates it from other educational institutions. For example, the rarity element of VRIO comprises the block system, which is more flexible when compared to a semester approach used by other institutions. Moreover, WUAS used hybrid learning instead of focusing on offline studies with minimal presence or online studies only, which is also an advantage. In terms of value, WUAS's commitment to supporting learning shows that the university wants to ensure that students maintain access to studies without delays. Next, inimitability is a set of WUAS's intangible characteristics, such as the fact that it is a private facility with a lower number of students and its focus on business studies. The flat hierarchy structure allows the university to maintain communication between employees and management. Based on the VRIO assessment, WUAS has a set of intangible characteristics that set it apart from other universities and allow it to be resilient.
Value
Rarity
Inimitability
Organization
Ensure access to the education and no delays with classes/degree attainment for students
WUAS uses a block system, unlike other education facilities that based their studies on a per semester system;
Hybrid system during COVID-19
Private education institution;
offers better facilities and opportunities;
Project Weeks
Flat hierarchy
Figure 2. VRIO framework for Wittenborg (created by the author).
Application of Strategic Leadership Roles and Leadership Styles
The theory of leadership has defined several distinct ways in which one can manage the organization, each with different ways of influencing people, adapting to change, and motivating the employees for better work. From a strategic viewpoint and considering the rapid changes that WUAS's management had to make to adapt to COVID-19, the most appropriate leadership style is transformational. This approach specifically targets innovation and changes and allows to overcome barriers that often emerge as a result of implementing changes (McKay et al., 2020). Moreover, the transformational style is suitable for times of crisis because of its orientation towards change and alignment of the organization's direction with the challenges that the environment presents.
WUAS aims to become a prominent learning space for students both from the Netherlands and abroad. This university's leadership declared its mission to "create the best environment for students and staff where internationalization, diversity, and ethics are setting the premises for successfully applied, research-informed global learning" (Mission statement, no date, para. 2).
Considering this, the goal of the leadership should be to allow the students, both foreign and those who reside in the Netherlands, to maintain their access to their studies. Some individuals may be forced to leave the campus and return to their homeland while they have already provided payment for their degrees. On the other hand, some international students may not have such an opportunity due to closed borders. The task of WUAS's leadership was to provide opportunities to learn to all of these stakeholder groups while adhering to the government's recommendations.
WUAS's leaders have stated previously that they aim to create an international university that fosters innovation and creativity and provides students with an opportunity to gain access to the business world (Mission statement, no date).
Hence, it is part of the university's vision to integrate innovation into its operations, meaning that the leadership is already focused on this aspect strategically. It appears that WUAS has successfully combined its previous strategy with new restrictions, for example, by holding the project weeks while altering the approach to lectures, which allows maintaining the connection with the business world for the students. Moreover, considering that WUAS allowed holding project weeks that are essential for the business students who want to connect with businesses and prepare for their future careers, one can conclude that the leadership demonstrated flexibility and agility.
Get a custom-written paper
For only
$13.00
$11/page
you can get a
custom-written academic paper
according to your instructions
When implementing any new strategy within an organization, the role of a leader is to recognize the barriers that will inevitably emerge. According to Lewin's three-stage model or Kotler's change management theories, each new initiative will inevitably face resistance from the employees and other stakeholders, which is why most change processes fail (McKay et al., 2020). With a health crisis such as COVID-19, a failure to implement new practices that adhere to the government's regulations would mean that WUAS would be unable to function as an institution until the pandemic is over. Hence, the strategic role of WUAS's leadership during these times was to recognize the potential threats, such as the lack of skills among the personnel that would allow them to hold online classes and mitigate them.
WUAS's management has declared that hybrid learning has become the new norm, which also shows the transformational capabilities of these leaders. According to the website, WUAS now offers students the opportunity to attend from their homes in the Netherlands, on campus, or even from abroad (Hybrid teaching and learning the norm at Wittenborg in 2020 – 2021, no date).
This approach significantly increases the accessibility of studies for students, especially foreigners, and this model can be applied after the pandemic is over to attract bright students from all over the world. Moreover, the WUAS's ethics standards and vision reflect this idea as well. According to them, this university promotes "internationalization, diversity & ethics" (Message from the Chair of the Executive Board, no date, para 3). Hence, the leadership of WUAS successfully aligned the institution's vision and mission with the disruptions caused by COVID-19.
Traditionally, transformational leadership would imply constant communication with stakeholders to maintain the exchange of information and receive feedback, and the role of a leader would be to facilitate this communication. However, during this health crisis, WUAS's leadership had a limited capacity for communicating with stakeholders since most changes had to be made quickly. One benefit, however, is that this experience can be used by the leadership to prepare a resilience and crisis response plan, which will be developed through communication with stakeholders to be ready for a similar disruption in the future. However, the current WUAS website does not mention the intention of leadership to create this plan.
Summary
Overall, this paper is a case study analysis of WUAS's approach to the strategic management of COVID-19. The university has followed the SAFE criteria and created a hybrid model of studies. The choice to use a hybrid model of education, where the students are allowed to attend classes or can opt to listen online, is justified considering SAFE, the costs, and stakeholder benefits. Moreover, the strategic alliance and resilience that WUAS demonstrated will allow the university to prepare for similar disruptions and enhance its education system by integrating the online learning capabilities. Finally, the leadership has demonstrated the traits of transformational leaders capable of leading changes.
The role of leaders was mainly to ensure that the changes are implemented rapidly since COVID, and subsequent governmental regulations were unexpected. Hence, little communication with stakeholders or preparation was possible, but the leadership managed to create a sufficient system. The administration of WUAS developed a new strategy and used a rapid realignment approach to create a learning environment suitable for all stakeholders and support its mission of establishing a suitable learning environment for business students from the Netherlands and foreigners alike.
Reference List
de Bruijn, K. et al. (2017) 'Resilience in practice: five principles to enable societies to cope with extreme weather events, Environmental Science & Policy, 70, pp. 21-30.
Deszca, G. et al. (2019). Organizational change: an action-oriented toolkit. London: SAGE Publications.
Government of the Netherlands. (2020) New measures to stop spread of coronavirus in the Netherlands. Web.
Hybrid teaching and learning the norm at Wittenborg in 2020 – 2021. (no date). Web.
McKay, B. et al. (2020) Strategy: theory, practice, implementation. Oxford: Oxford University Press.
Message from the Chair of the Executive Board. (no date). Web.
Mission statement (no date). Web.
National Institute for Public Health and the Environment. (no date). COVID-19 vaccination. Web.
Oxford College of Marketing. (no date). Evaluating strategic options using SAF strategy model. Web.
Teaching back in classroom 2020. (2020). Web.