Introduction
The global community has become more interconnected due to the power of modern technologies and the Internet. Various sectors are relying on these developments to achieve their aims and improve service delivery. The tourism and hospitality industries rely on the Internet to advertise promoted products, attractions, and experiences. Social media platforms, such as Twitter and Facebook, are supporting the objectives of many companies in these sectors since they have many followers. Many companies have devised ways of merging most of the resources available online to improve their business approaches and attract more customers. The current digital era is also fueled by people's desire to achieve their goals much faster and avoid unnecessary movements. Online hotel booking has emerged as a common practice in the world today. Most of the agencies relying on this model report these benefits: increasing the percentage of satisfied customers, efficiency, access to hotel policies, and transparency. Most of the companies operating such booking operations liaise with hotels across the globe that intend to successfully market their services, offerings, and reward programs. Some hotels have launched their online booking platforms to sensitize customers about their offers. While unique advantages emerge when companies rely on online models to market their services, few studies have explored the issues and gains associated with online booking for the hotel sector. This paper proposes a detailed research paper aimed at analyzing this business practice and how it can meet the demands of both the investors and the targeted customers. The ideas and insights emerging from the paper will offer evidence-based approaches for guiding more online booking hotels to achieve their maximum potential.
Literature Review
The level of access to online booking models has been on the rise within the past decade. Kim and Huh (2017) observed that more customers and tourists visiting other countries or destinations preferred this booking strategy because it addressed most of the problems associated with traditional reservations. Recent surveys reveal that around 60 percent of people would be willing to book hotel rooms online whenever they were available (Hossain, 2019). Due to the presence of online booking practices, the sales of rooms and tourism-related services had increased to over 2,840 billion US dollars in 2017 (Kamal et al., 2018). Most of the emerging destinations and developing countries were adopting similar models to meet the demands of the target customers. Park, Yin and Son (2018) went further to indicate that the volume of sales for hotels relying on online approaches had increased significantly by over 40 percent within the last decade. Some continents, such as Asia, North America, and Asia, were reporting positive trends in the rate and development of online booking. Consequently, the penetration level of marketing processes was observed to rise by over 23 percent (Mohamed and Abdelaal, 2021). These statistics support the fact that online booking practices have the potential to help more hotels achieve their goals much faster (Hlee, Lee and Koo, 2018). The demand for online services in the retailing, tourism, and hospitality sectors was increasing significantly. For instance, a report by Langan, Cowley and Nguyen (2019) revealed that the level of sales arising from the global e-commerce sector had increased from 1.9 trillion US dollars in 2016 to over 4 trillion US dollars in 2020 (see Fig. 1).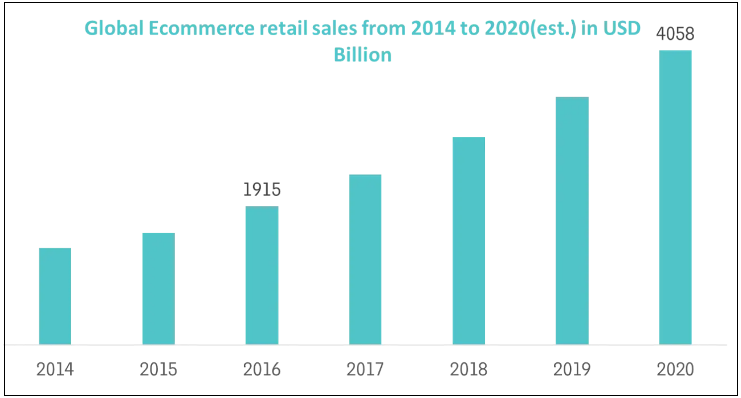 Demand for hotel services is shaped by seasons, existing policies, economic forces, and the nature of adopted information and communication technologies (ICT). In their study, Yim and Byon (2021) observed that many hotels relying on online sales strategies were partnering with Online Tourist Agencies (OTAs) to inform potential customers about the available offerings. However, some of these agencies were unable to receive timely updates regarding the changes in prices and charges per service or product (De Pelsmacker, van Tilburg and Holthof, 2018). The scholars offered concrete ideas for guiding hotels with online websites to cooperate with their preferable OTAs and consider desirable approaches to maximize sales. When these measures are implemented correctly, Akar and Dalgic (2018) believe that more hotels will perform well in their respective regions and eventually maximize their chances of remaining sustainable. The modernization and continuous improvements on the established systems could help deliver timely outcomes.
Other studies completed in this area have succeeded in providing numerous insights regarding the effectiveness of online booking for hotels as an effective marketing strategy. Alharthey (2020) argues that the approach allows hotel managers to identify effective business partners to develop proper frameworks for communicating directly with the intended customers. The model has also led to the development of agencies that engage in online booking for a wide range of hotels, thereby empowering clients by providing timely options and offers (Quesenberry, 2020). The customer finds it easier to make the best choice of the hotel based on numerous factors, such as price, location, available offers, value additions, and discounts (Murwonugroho and Yudarwati, 2020). In another research, Dodoo and Wu (2019) realized that many hoteliers were keen to cut down their operational costs by embracing modern technologies. Such a decision would also minimize the need for more physical workers. In fact, Luo et al. (2021) found out that effective use of a hotel website could streamline booking processes and eventually help companies achieve most of their business goals in a timely manner. This observation continued to encourage more hotels and restaurants to embrace the same model.
The trends and gains the tourism sector has witnessed over the years have compelled many hotels to focus on similar gains. In a study by Dodoo and Wu (2019), it emerged that more hotels relying on websites for marketing were providing convenience to the targeted customers. This achievement was directly linked to the increasing level of occupancy for such hotels. Haque and Mazumder (2020) went further to report that companies suing websites had reported increased levels of savings at around 25-45 percent. Consequently, hoteliers had the potential to deliver additional savings, thereby increasing their chances of recording timely profits. The adoption and acceptance of the Internet at the international level was a major opportunity many hotels and OTAs were capitalizing on (Suhartanto, Triyuni and Leo, 2018). The move to link their websites with various social platforms made it easier to attract more potential clients and get rid of traditional distribution channels.
The interconnectivity arising from the benefits of the Internet has triggered new market models that have the potential to support the use of websites for booking purposes. For instance, the wider hospitality industry has attracted Internet agents, customer advisory boards, OTAs, and travel gates who worked on their respective websites to inform and guide possible customers (Kim, Kim and Park, 2017). These services provide numerous ideas and content to clients planning to select specific hotels capable of meeting their demands (Zhou and Kan, 2021). Consequently, such developments have helped deliver flexibility and convenience to the greatest number of potential customers (García et al., 2019). The detailed information available on most of these websites remains critical since it allows customers to make timely choices based on the reputations of the intended hotels, feedback of past customers, and the issued prices (Warrick, 2017). These efforts were, therefore, found to support the goals of both customers and hotel owners.
Conclusion
For the proposed project, the hotel would need to purchase a cloud-based system that would be offered as a software service. The company will then have to integrate the same into the developed website. The cloud service provider would be tasked with providing security for payment options, such as PayPal, bank transfer, and the use of credit cards. After the booking system is available on the Internet, the inclusion of plug-ins would make it more accessible and profitable (Carey, 2022). The best choice would be the WordPress plug-in called Moto-Press. This plug-in will help manage simultaneous bookings while providing reservation options to the targeted clients. The system is capable of completing automatic synchronizations and ensures that the needs of all customers are met.
However, some scholars had gone a step further to analyze and pinpoint some of the weaknesses or challenges that online booking platforms contributed to the wider marketing strategy. For example, Mang'era, Munga and Mbebe (2021) observed that most of the online offers and agencies failed to focus on the exact choices and desires of individuals with special expectations. In another investigation, Suleiman (2020) realized that many customers were afraid of paying upfront fees even without seeing or getting their services. Additionally, most of the testimonials and assurances on some websites could be erroneous. Consequently, the client would only be shocked after purchasing the service online, only to receive unreliable support. Despite some of the obstacles associated with online marketing services for hotels, Hauer (2017) reveals that they are becoming indisputable and capable of meeting people's demands. Experts have acknowledged that the flexibility and convenience associated with them will continue to encourage more possible customers to use them.
Reference List
Akar, E. and Dalgic, T. (2018) 'Understanding online consumers' purchase intentions: a contribution from social network theory', Behaviour & Information Technology, 37(5), pp. 473-487. doi: 10.1080/0144929X.2018.1456563
Alharthey, B. (2020) 'The role of online trust in forming online shopping intentions', International Journal of Online Marketing, 10(1), pp. 32-57. doi: 10.4018/IJOM.2020010103
Carey, B. (2022) 'Top online travel marketing trends in 2022', Checkfront.
De Pelsmacker, P., van Tilburg, S. and Holthof, C. (2018) 'Digital marketing strategies, online reviews and hotel performance', International Journal of Hospitality Management, 72(1), pp. 47-55. doi: 10.1016/j.ijhm.2018.01.003
Dodoo, N.A. & Wu, L. (2019) 'Exploring the anteceding impact of personalized social media advertising on online impulse buying tendency', International Journal of Internet Marketing and Advertising, 13(1), pp. 73-95. doi: 10.1504/IJIMA.2019.097905
García, J.J.L. et al. (2019) 'Digital marketing actions that achieve a better attraction and loyalty of users: An analytical study', Future Internet, 11(6), pp. 130-145. doi: 10.3390/fi11060130
Haque, U.N. and Mazumder, R. (2020) 'A study on the relationship between customer loyalty and customer trust in online shopping', International Journal of Online Marketing, 10(2), pp. 1-16. doi: 10.4018/ IJOM.2020040101
Hauer, T. (2017) 'Technological determinism and new media', International Journal of English Literature and Social Sciences, 2(2), p. 239174. doi: 10.21125/inted.2017.2401
Hlee, S., Lee, H. and Koo, C. (2018) 'Hospitality and tourism online review research: A systematic analysis and heuristic-systematic model', Sustainability, 10(4), 1141-1167. doi: 10.3390/su10041141
Hossain, S.F.A. (2019) 'Social networking and its role in media entrepreneurship: evaluating the use of mobile phones in the context of online shopping–a review', Journal of Media Management and Entrepreneurship, 1(1), pp. 73-86. doi: 10.4018/JMME.2019010105
Kamal, S.B. et al. (2018) 'Hotel booking websites and their impact on e-satisfaction and e-loyalty: analysis on utilitarian and hedonic features', International Journal of Academic Research in Business and Social Sciences, 8(15), pp. 160-177.
Kim, H. and Huh, J. (2017) 'Perceived relevance and privacy concern regarding online behavioral advertising (OBA) and their role in consumer responses', Journal of Current Issues & Research in Advertising, 38(1), pp. 92-105. doi: 10.1080/10641734.2016.1233157
Kim, S.Y., Kim, J.U. and Park, S.C. (2017) 'The effects of perceived value, website trust and hotel trust on online hotel booking intention', Sustainability, 9(12), pp. 2262-2253. doi: 10.3390/su9122262
Langan, R., Cowley, S. and Nguyen, C. (2019) 'The state of digital marketing in academia: an examination of marketing curriculum's response to digital disruption', Journal of Marketing Education, 41(1), pp. 32-46. doi: 10.1177/0273475318823849
Luo, X. et al. (2021) 'The impact of platform protection insurance on buyers and sellers in the sharing economy: a natural experiment', Journal of Marketing, 85(2), pp. 50-69. doi: 10.1177/0022242920962510
Mang'era, R., Munga, J. and Mbebe J. (2021) 'Internet marketing strategies and profitability of retail industry in Kenya', International Academic Journal of Innovation, Leadership and Entrepreneurship, 2(2), pp. 118-128.
Mohamed, H.E. and Abdelaal, F.M. (2021) 'Factors influencing intentions in hotel booking through online travel intermediaries applications', Journal of Association of Arab Universities, 21(3), 101-134.
Mordor Intelligence (2021) Global online accommodation booking market – growth, trends, COVID-19 impact, and forecasts (2022 – 2027).
Murwonugroho, W. and Yudarwati, G.A. (2020) 'Exposure to unconventional outdoor media advertising', Pertanika Journal of Social Sciences & Humanities, 28(4), pp. 3407-3424. doi: 10.47836/pjssh.28.4.50
Park, S., Yin, Y. and Son, B. (2018) 'Understanding of online hotel booking process: a multiple method approach', Journal of Vacation Marketing, 25(8), pp. 1-30. doi: 10.1177/1356766718778879
Quesenberry, K.A. (2020) Social media strategy: marketing, advertising, and public relations in the consumer revolution. New York: Rowman & Littlefield Publishers.
Suhartanto, D., Triyuni, N. and Leo, G. (2018) 'Online shopping loyalty: the role of quality, trust, value, and satisfaction', Advanced Science Letters, 24(1), pp. 735-738. doi: 10.1166/asl.2018.11803
Suleiman, M.I.Y. et al. (2020) 'Benefits and challenges: for marketing strategies on-line', European of Molecular & Clinical Medicine, 7(3), pp. 164-179. A
Warrick, D.D. (2017) 'What leaders need to know about organization culture', Business Horizons, 1370(1), pp. 1-10.
Yim, B.H. and Byon, K.K. (2021) 'Validation of the sports fan model of goal-directed behavior: comparison to the theory of reasoned action, theory of planned behavior, and model of goal-directed behavior', Journal of Global Sport Management, 6(4), pp. 388-408. doi: 10.1080/24704067.2020.1765699
Zhou, M. and Kan, M.Y. (2021) 'The varying impacts of COVID-19 and its related measures in the UK: a year in review', PLoS ONE, 16(9). doi: 10.1371/journal.pone.0257286