Description of Organisation
Main Products and Services
This paper focuses on Dubai Airports as a Middle East company that controls the operations of Dubai International and Dubai World Central. The company provides core services for the operation and maintenance of airport terminals, including the resolution of customer complaints, integration of operational services, and the provision of management services (DAA 2013).
Main Customers
The main customers for Dubai Airports include airline passengers and independent airline companies. The airline companies mainly include cargo airlines and passenger planes that use airport terminals.
Order Qualifiers
Quality of service is a notable order qualifier for Dubai Airports because its customer traffic mainly depends on the quality of services it offers. Dependability is also another order qualifier for the company because the company's success mainly depends on the level that its customers depend on the company to deliver its services.
Order Winners
Among the top order winners for Dubai Airport is its flexibility in the provision of services. The use of the latest information technology platforms for conducting the company's businesses also manifests as a significant order winner for the company because the use of the latest technology forms part of the company's strategy of reducing costs and improving its customer experience.
Identification of Operational Problem
Description of Problem
Since the aviation industry is a service-oriented sector, its success mainly depends on customer satisfaction. The main problem experienced by Dubai Airport is airline scheduling and roster problems. The scheduling and roster problem is often a complicated issue for the company because developing schedules and rosters comprise of different stages. However, despite its complexity, this process still forms the main operational process for the company. Nonetheless, in detail, the main operational problems surrounding the activities of Dubai Airports are the lack of integration between day-off scheduling, line of work construction, and task assignments. These issues largely explain how the scheduling and roster problems arise. The complexities of developing employee rosters arise from the interaction of different roster modules. The uses of different modules arise from different factors that affect roster plans. For example, some problems lack tasks, while others require non-trivial demand modeling, thereby requiring the use of different roster modules. Besides these issues, the organization faces different types of demand, which require the adoption of different module programs. Stated, differently, every line of work that emerges through the adoption of different roster modules need to reflect the different types of demand.
Scheduling and roster problems manifest in different ways, but they mainly involve the failure to optimize airline schedules and passenger numbers. For example, occasionally, employee rosters fail to meet customer demand, thereby creating a situation where airlines and airport terminals fail to serve their customers efficiently. This problem creates customer frustration and dissatisfaction. Still, the airline scheduling and roster problems manifest in employee inefficiencies and improper work allocation. This may lead to a lot of idle time and wastages in airport operations.
Potential Harm to the Company
As mentioned in this paper, customer satisfaction is perhaps the most important performance indicator for the aviation sector. However, to achieve desirable results in this regard, airlines have to manage people, as the most important resource that improves customer satisfaction (because people provide services to customers). Some of the problems identified above do not help to achieve these desirable results. Instead, they increase employee frustrations and dissatisfaction with the company's operations. For example, long customer cues emerge when there are few personnel to manage high customer traffic. This situation increases customer-waiting times.
Airline scheduling and roster problems may also lead to serious inefficiencies in airline activities, thereby leading to wastages and loss of employee morale. The main goal of Dubai Airport is to ensure the efficient running of airport terminals and the prompt addressing of customer needs (DAA 2013). Increases in airline scheduling and roster problems mean that the company is not meeting its goals and objectives. An increase in airline scheduling and roster problems also means that most airlines (aligned with Dubai Airports) would not be operating at their optimum levels. This would be a serious failure for Dubai Airports, not only because the company would not be able to achieve its objectives, but also because the company would experience declined revenues. In other words, if there were high customer dissatisfaction levels in the company, Dubai Airports would realize a loss of its market share. Eventually, this would lead to a decline in revenues. The same is true for increased operational inefficiencies because inefficiencies lead to decreased profitability.
Literature Review
Naik (2011) explains that lean management is a set of principles and practices that help companies to maximize customer value. Through this definition, it is correct to say, lean management mainly aims to uphold customer focus in organizations. Indeed, many organizations evaluate their organizational values through the additional values they give their customers (Lean Enterprise Institute 2009).
Therefore, since people drive processes in organizations, it is only prudent to mention that effective leadership and guidance within the organization helps companies maximize their value. The philosophy of lean management stands at the center of this idea because lean management helps organizations to realize the benefits of effective leadership and guidance in their quest to create value. According to the diagram below, lean management helps organizations to create value through the creation of a value stream that includes flow, pull, perfection, and value as its main components.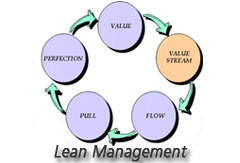 The success of the lean management philosophy mainly depends on the application of several tools that seek to integrate people with processes. About this assertion, Naik (2011) says, "Some of the lean management tools which are commonly used are leader standard work, visual control boards, and daily accountability" (p. 4). However, Naik (2011) cautions that the success of these tools largely depends on their correct applications. In other words, if companies apply these tools to organizations that do not have the correct mindset, they will be ineffective. Naik (2011) also cautions that if companies apply these tools when they have not prepared managers to use the tools, they will also not achieve their desired results. Therefore, before an organization applies lean management, it is important to conduct adequate individual preparation for prospective managers (at a personal level).
While lean management emerges as an important and effective management tool, many people have investigated its difference with traditional management. However, to explain the difference between lean management and traditional management, it is crucial to understand that the traditional form of management is ordinarily result-oriented (Naik 2011). There is a debate regarding whether focusing on results (entirely) is a good or bad approach for organizations, but one issue that has emerged in this debate is the justification for organizations to pursue results, regardless of the methods they use. Indeed, the quest to achieve positive results may lead to the tolerance of organizational malpractices, thereby opening a floodgate of unethical business practices. For example, if a manufacturing company conceals excess inventory from its accounting books to show that it is operating efficiently, it introduces unethical practices in the organization. Some of these issues have become part of common organizational problems, to the extent that most people do not question them anymore. The remedy, however, lies in the adoption of the right mindset for implementing change within the organization. Lean management is a good start to realize this objective.
Principles of Lean Management
Several principles outline lean management. One principle is motivating employees through a vision. Pettersen (2009) says that this principle stands at the apex of lean management because managers need to motivate their employees to achieve a specific organizational objective(s), through the framework of a vision. He argues that many organizations often fail to realize the fruits of lean management because they keep changing their organizational visions, whenever they feel they are off-track. Instead, Pettersen (2009) proposes that most managers should strive to improve such visions, whenever they feel they are stuck. "Scoffing at it is not the solution" (Pettersen 2009, p. 127) he adds. Therefore, the main goal of having a vision is to provide guidance and an inspiration for all employees to improve their productivity in the organization.
The second principle of lean management is to create objective goals for the organization. The processes of formulating organizational objectives need to occur within the premise that most organizations understand their strategies strengths and weaknesses. Unfortunately, many organizations prefer to copy what their competitors are doing, without understanding how their competitors' goals fit within their business contexts (Naik 2011). The process of goal formulation is especially important for service-oriented companies like Dubai Airports because it needs to convey the direction that its customers take after they are aware of their services. In light of this approach, the company needs to understand what would make their customers become repeat customers and develop a strong loyalty to the organization. Key performance measures that emerge here include customer retention levels, customer acquisition levels, and the monetization of organizational value.
The third principle of lean management is the measurement of conversion. Worley & Doolen (2006) says that this principle is perhaps the easiest to apply because it involves the measurement of the right factors for organizational success. Besides being the easiest to apply, Al-Aomar (2012) says this principle is important for the success of lean management because it identifies areas where gaps exist in the realization of strategic goals. The right performance criteria that most companies should measure should appeal to the organization's strategic goals. However, most companies choose to measure performance indices that they can show off in their financial reports (Naik 2011). Comprehensively, measurements of conversion relate to the key performance indices that denote what customers need to do for the organizational model to work.
The fourth lean management principle is experimental product development. This product development process is very important in helping organizations to achieve their goals and objectives because it is through the development of products and services that most organizations interact with their customers. Therefore, as Karim (2013) suggests, it is very important for organizations to first explore if their products or services work to realize their organizational goals and objectives before they roll them out. Similarly, it is also important for organizations to evaluate if their products or services will perform as well as they think they should. The product development process should be highly efficient and focused, in a way that maximizes customer value. This principle resembles a marketing philosophy proposed by Emiliani (2006), which shows that most organizations should concentrate 20% of their resources on introducing a product and 80% of their resources on optimizing the value of their products. This way, the organizations would churn out a product, or service, that resonates with the customers' needs and wants, as opposed to a product that the organization assumes its customers need.
The fifth principle of lean management is the brainstorming stage. In this stage, all the stakeholders that would be useful in the implementation of the lean management principle should come up with a strategy that ensures they achieve this vision. At this stage, all the participants should brainstorm and improve their organizational strategy to see how well they can improve the adoption of lean management. Moreover, through the same process, the stakeholders may see how well they can adjust their management philosophies to accommodate lean management. Preferably, such deliberations should occur face-to-face.
Future of Lean Management
Developed as a concept from Toyota Corporation, lean management has evolved to be a widely accepted management paradigm. Many companies have adopted it in several contexts (the most popular is Lean manufacturing) (Stone 2012). Many companies have also adopted the concept in the service sector. For example, lean management has been widely adopted in call services, through the combination of agent-assisted automation and the reduction of wasteful practices (Stone 2012). Through the adoption of lean management in the service sector, many companies have realized different positive outcomes, including the reduction of handling time, and the reduction of agent variability (Emiliani 2006). Despite its resounding success in this regard, this paper proposes that the future of lean management rests on its future application through software development.
Different spheres of management have started to embrace lean software as an acceptable management philosophy. For example, agile management uses this philosophy to undertake its operations (Middleton & Sutton 2005). Companies have also joined the fray of corporations and institutions that are embracing lean software development. For example, Microsoft is undertaking a software development process, which intends to produce different kinds of lean management software that most companies can use in the future (Middleton & Sutton 2005). Many companies have also accepted lean management (in the sense of software development) as both a risk management tool and as a service improvement tool.
The use of lean management software will follow a managerial path that many companies have strived to follow – elimination of human errors and the pursuit of perfection (Middleton & Sutton 2005). Several strategies outline how different companies may use the lean management software to achieve this objective. However, broadly, to explain how the lean management software intends to increase value and reduce organizational wastages, Stone (2012) explains that "companies will pursue perfection, not only through the reduction of non-value-added activity but also through the smoothing of flow and the elimination of overburdening" (p. 112). The development of lean management to be IT-centred does not, however, come as a surprise because many such management philosophies have also undergone the process of automation.
Project Plan to Address the Problems of Dubai Airports
Since most of the problems faced by Dubai Airports highlight the importance of increasing customer value, the proposed project plan aims to increase customer value by following four key stages.
Eliminating Waste
Waste elimination will be crucial in realizing the effective implementation of lean management at Dubai Airports. This principle mainly works by eliminating any organizational processes that do not add value to the customers (since this is the main aim of Dubai Airports). Any organizational process that does not work to achieve this purpose will, therefore, be a waste. Some possible processes that Dubai Airports may eliminate here include unnecessary bureaucracies, unclear requirements, and poor internal communication.
Late Decision-Making
Late decision-making will also be an important feature of the adoption of lean management at Dubai Airports. This principle stems from the fact that the best organizational decisions are those that respect the options-based approach. Through the options-based approach, the organization would find it easy to base its decisions on verifiable information, as opposed to assumptions and hypotheses (as would occur if the organization made its decisions early). This principle should also help Dubai Airports to adapt to its internal and external changes in a more efficient way so that the organization experiences minimal impact of such changes. For example, in situations where the organization is uncertain about customer requirements, the company could make its decision at a time when it will be more certain about the customers' requirements.
Fast Delivery
In today's rapidly dynamic and ever-changing environment, organizations that respond faster to consumer needs always tend to win. Dubai Airports largely strives to improve its customer services through the incorporation of customer feedback in its service delivery process. The company can effectively use the fast delivery principle to shorten its iterations and improve its service delivery process. By delivering its services quickly, the faster the company may receive feedback from the customers and similarly, the faster the company will improve its service delivery processes. The fast delivery ideology can be useful in choosing the correct roster module because through the inclusion of this ideology, the roster module that provides the fastest services to the customers will be most preferable.
Team Empowerment
Traditionally, the employees of Dubai Airports have always seen their managers as decision-makers. Little or no contribution has come from lower-level employees. The inclusion of lean management aims to change this perception because it suggests that the company's managers should learn to listen to lower-level employees and include their contributions to the company's decision-making processes. The adoption of the lean management principle, therefore, proposes that the company's managers should find the right people to run organizational processes and provide the right environment for these employees to work. The adoption of this principle will make it easier for employees to work without any interference, or instances of micromanagement by the managers. The adherence to this principle will boost the motivation of the workers and provide them with a greater purpose for their work. In such an environment, employees will easily find access to the customers and be free to manage the customers the best way they know. Ruiz-de-Arbulo-Lopez & Fortuny-Santos (2013) say that the employees will eventually become more helpful to the customers. Similarly, providing employees with this kind of working environment may promote team spirit in the organization.
References
Al-Aomar, R 2012, 'A lean construction framework with Six Sigma rating', International Journal of Lean Six Sigma, vol. 3 no. 4, pp. 299 – 314.
DAA 2013, About Us.
Emiliani, M 2006, 'Origins of lean management in America: The role of Connecticut businesses', Journal of Management History, vol. 12 no. 2, pp. 167 – 184.
Holweg, M 2007, 'The genealogy of lean production', Journal of Operations Management, vol. 25 no. 2, pp. 420–437.
Karim, A 2013, 'A methodology for effective implementation of lean strategies and its performance evaluation in manufacturing organisations', Business Process Management Journal, vol. 19 no. 1, pp. 169 – 196.
Lean Enterprise Institute 2009, Principles of Lean.
Middleton, P & Sutton, J 2005, Lean Software Strategies: Proven Techniques for Managers and Developers, Productivity Press, New York.
Naik, V 2011, What is Lean Management?
Pettersen, J 2009, 'Defining lean production: some conceptual and practical issues', The TQM Journal, vol. 21 no. 2, pp. 127 – 142.
Ruiz-de-Arbulo-Lopez, P & Fortuny-Santos, J 2013, 'Lean manufacturing: costing the value stream', Industrial Management & Data Systems, vol. 113 no. 5, pp. 647 – 668.
Stone, K 2012, 'Four decades of lean: a systematic literature review', International Journal of Lean Six Sigma, vol. 3 no. 2, pp. 112 – 132.
Worley, J & Doolen, T 2006, 'The role of communication and management support in a lean manufacturing implementation', Management Decision, vol. 44 no. 2, pp. 228 – 245.