Introduction
Blueberries are a variety of bluish or blackish berries grown within North America. The plants are often shrub-like and are used for consumption and the preparation of pastries. The plants typically produce within the summer and are stored for year-round consumption. Blueberry consumption in the United States is prevalent as berries contain various nutrients such as calcium, iron, and phosphorous, suitable for strong bones. The high vitamin C content is essential to preventing skin damage caused by the sun and pollution. Blueberries are also rich in nutrients that aid in diabetes management, cancer prevention, reducing heart attacks, and maintaining cognitive health during adulthood.
On-Time Delivery!
Get your customized and
100% plagiarism-free paper
done in as little as
3 hours
Blueberry Varieties for the Market
The major blueberry varieties cultivated in the United States include the following: the lowbush, northern highbush, southern highbush, Rabbiteye, and the half-high. The most common across the nation is the high northern bush, which is also a dominant crop. However, within the Carolina region, the Southern highbush has gained traction, thus prompting its spread across the state.
Options in Growing Blueberries
The idea of organic and conventional crops has been controversial across all forms of farming. This idea is primarily a result of the consideration for reasonable pricing and the aspect of maximum crop yield (Panicker et al. 468). Therefore, the production of conventional crops is likely to feed a larger group with lower quality plants. However, plants such as blueberries are a luxury and do not need large production volumes to establish crop viability. The blueberry crop is almost the same price, which is reasonably high whenever produced conventionally or organically. Fresh blueberries are costing 14 to 36 dollars per pound. The organic blueberries are costing roughly 27 dollars per pound. The conventional berries' expensive cost is based on chemical and other inputs, while the organic blueberries' low yield leads to a higher cost.
Analysis of Both Varieties
Organic
Conventional
Are expensive to grow
Sell for a high price: $27 per pound
Have lower yields
Are of very high quality
Reasonable pricing $ 14 a pound
Are cheap to grow
Maximum crop yield
Feed a larger group with lower quality plants
Blueberry Harvesting
The trend toward harvesting blueberries mechanically is continually increasing across the United States, with a selector earning 30 dollars per hour in commercial farms. The machinery is, however, diverse and costs a lot more. The alleviation of the physical strain for pickers and the worker speeds is a significant challenge all across the blueberry farming regions, leading to increased costs and labor. A fully mechanized harvester minimizes workload and damages plants and berries (Kim et al. 4). At the same time, the ergonomic effects of handpicking are considered harmful for farmers on larger farms. However, the plants are likely to be of better quality than machine-picked berries when physically picked by laborers. Additionally, the shrubs need to be relatively strong to avoid damage by the mechanical picking implements.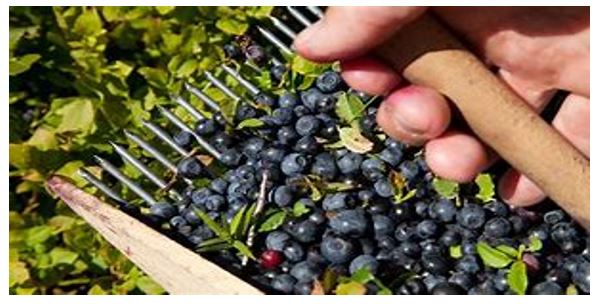 Blueberry Profitability by Acreage
The blueberry planting ventures vary based on the type of blueberry farming implemented in a specific region. Organic ventures are often more expensive to implement as they require more intensive labor for output similar to that attained in conventional farming. With manure, the organic and conventional outputs are not widely spaced as they are roughly 16000 to 18000 pounds per acre, with conventional farming having higher yields (Hoshide et al. 3). The cost of farming is roughly 3,921 dollars per acre for conventional farming, while for organic farming, it stood at roughly 5,856 dollars per acre for Organic blueberries (Kim et al. 8). The use of a two-to-three-acre farming plan would be profitable in 7 years if plants are mature, especially when the farmer and his family pick the fruit by hand and involve the U-pick initiatives where clients are more interested in the picking and consumption.
The outlays in using non-manure implements for the crops in situations where it might not be efficient can easily cost up to $8,454 with an annual income of $8,754. The plants in question would begin to attract profits after a substantial time of up to six years to return on investment to be acknowledged by the farmer (Hoshide et al. 9). The initiatives for larger farms of up to 170 acres show significant profits whenever any new implements are used. For smaller farms, handpicked and u-pick initiatives are the best idea for the crops to bear significant amounts of fruit.
| | | |
| --- | --- | --- |
| Farming methods | Organic | Conventional |
| Manure Farming | $5,856 | $3,291 |
| Non-manure implements per acre | $8,454 | $ 5,562 |
Table 2: Cost of farming per acre
Yes, we can!
Our experts can deliver a
custom Growing Blueberries in California
paper
for only

$13.00

$11/page
Land Holding Options for Blueberry Farming
The land acquisition within California differs based on whether it is leased land or purchased land significantly. To establish substantial gains through farming blueberries, it would be essential to acquire the land for up to eight years when the output will be high, and the business will already have broken even a couple of years prior (Panicker et al. 468). The land lease schemes in the region lie at about $2,500 per acre to $3,700. At the same time, the purchase of the same land would cost roughly $15,000 to $25,000 per acre. It would be advisable for a farmer to purchase the land because the cost of leasing can easily match up purchase costs in the first two years (Hoshide et al. 12). Land purchase option allows farmers to develop the land as they please and allow for processing plant construction and all with no fear of relocation or foreclosure in the foreseeable future. A combination of the two would be perfect in the mid-range lands, especially in a remote area. The costs, therefore, can be lower in more distant regions.
Start-Up Capital
It is essential to note that the income in the first years of production will be meager. Therefore, one must account for land costs, the cost of planting and harvest, and farm implements. The use of mechanized farming is ill-advised in the first few years. Initial costs for four acres would be a combined lease buy scheme, $50,000 for purchase and up to $25,000 leasing costs (Kramer). The farmer should then look into the planting and harvesting at $10,500 per year per acre. This will amount to $42,000 per year. Therefore, the total amount adds up to $351,000 for the three years. Accounting for miscellaneous costs, it would be best to account for $360,000. The investors should be promised a return on investments in percentages upon the end of the first five to six years. It is a long-term investment, and the percentages should be well calculated to avoid losses.
Operations Cost
Cultural Costs
There are several cultural costs that blueberries farmers face, such as land preparation which begins early in the summer. Blueberries are a perennial crop and can produce in more than 25 locations when well managed. Other cultural costs include plants as farmers have to select the best plants such as jewel, star, and emerald. Several other processes are required, such as planting, acidification, mulching, fertilizing, irrigating, pruning, pest management, and harvest (Rodriguez-Saona et al. 100). These are some of the cultural costs that farmers will face when investing in planting blueberries in California.
Planting Costs
The cost of planting with minimal implements for a farmer in California was found to lie at $5,800 in organic farming by the acre. The farmers are expected to use the manure as the primary farm implement and actualize the eradication of pests manually in such a scenario. The business, therefore, is focused on attaining the plants' nets for preventing the accumulation of pests and, most significantly, the birds (Panicker et al. 470). The cost of planting will therefore lie at $3,500 per acre. The costs in question will go into planting and the maintenance using chemical methods. These will employ less labor and fewer costs. The total cost is, therefore, $23,200 for organic farming or $14,000 for non-organic farming.
Labor Costs
The labor costs for farmers will lie at $30 per farmhand in the harvesting season. If there is a good yield and competition, it can go as low as $12. Therefore, it would be advisable that the farmer attains the plants and plants them early for an early harvest that can cost $17 per hand per hour (Hoshide et al. 98). For the four acres in the calculation, the farmer can use his permanent employees and the U-pick initiatives to eradicate these costs. The cost of acquisition of the implements for harvesting is high, and their use is ill-advised for the aspects of quality; therefore, this scheme is not a strong point of this assignment.
Equipment
The cost of the lease of farm equipment will not be a deep focal point in the small farm required to implement this scheme. Leasing of equipment will range between $5,000 and $10,000, increasing labor costs. However, leasing equipment is cheaper than buying them as several organizations support the former (Rodriguez-Saona et al. 102). Buying equipment for farming will cost more than $75,000, and this will be expensive for the to set up the farm, making leasing the best option available.
Recommendations
The information presented above serves as a rational backbone for the decision to purchase land for a blueberry farm. The focus should be on the best equipment possible in order to protect the crop and develop a business where product quality will be more important than quantity. Most of the costs will be mediated by high returns on investment established through the interface of the costs of farming.
Cut
15% OFF
your first order
We'll deliver a custom
Business Analysis Case Study
paper tailored to your requirements with a good discount
Sensitivity Analysis
Since the current proposal revolves around long-term costs, it should be important to cover the investment agenda and ensure that all potential expenditures are covered prior to the deployment of the plan. Knowing the size of the farm and the amount of resources available to the start-up, it will be crucial to lay foundation for strategic partnerships with local companies first in order to set the ground for an effective presence. The cost of equipment and the land will not be subject to any sensible changes, so it should be noted that labor costs represent the vital dependable variable intended to be altered over time.
References
Hoshide, Aaron K., et al. "What Is the Value of Wild Bee Pollination for Wild Blueberries and Cranberries, and Who Values It?" Environments, vol. 5, no. 9, 2018, pp. 1-24.
Kim, Eunsik, et al. "Ergonomic Evaluation of Current Advancements in Blueberry Harvesting." Agronomy, vol. 8, no. 11, 2018, pp. 1-17.
Kramer, Jaclyn. "Fresh Blueberry Supplies Expand as U.S. Consumers Develop a Taste for Year-Round Blueberries." USDA, 2020. Web.
Panicker, G.K. et al. "Organic Farming Systems Increase Anthocyanin and Vitamin C Content of Rabbiteye Blueberry (Vaccinium Ashei Reade 'Tifblue') on a Heavy Soil." XI International Vaccinium Symposium, 2016, pp. 467-472.
Rodriguez-Saona, Cesar, et al. "Blueberry IPM: Past Successes and Future Challenges." Annual Review of Entomology, vol. 64, 2019, pp. 95-114.