Introduction
Working relationships in an organization are vertical and horizontal connections between individuals and groups operating within the company. They affect whether the company's projects are efficient and coordinated. The powerful organization depends on understanding several important concepts: specialization of work, command chain, authority, delegation, range of control, and centralization against decentralization. Traditionally, human resources have focused on hiring, firing, and annually reviewing initial salaries. Although recently the human resources have been positively revised and now cover much broader powers.
Moreover, HR performs a significant role in developing a positive business culture and improving employee engagement and productivity. The personnel management function also occupies a leading position in the well-being and personal development of employees. Workers are the support of any prosperous business. That is why human resource management (HR) is so valuable. However, the Coronavirus pandemic has forced companies to reconsider the way they perform business. Therefore, much of the review concerned the hiring of workers and the dynamic distribution of labor. Thus, choosing the most appropriate personnel management practice is exceptionally significant to enable the company to optimize its work.
Literature Review
In order for a business to gain a profit even during a pandemic, it is essential to choose an organizational design and make adjustments in staffing. Thus, it is crucial to create a professional human resources department that will be able to evaluate and optimize the work of the company and determine the effectiveness of each employee. Therefore, the principal purpose of the work is to select and implement strategies that will assist in organizing a successful HR team. The paper's structure will include the creation of a typical human resources department and an explanation of the value of organizational design. However, considering the size of The Sports Board, new vacancies and job opportunities will be offered. It will also explain what HR practices are needed to support corporate strategies.
The study will use sources that relate to organizational hierarchy and design. At the same time, the development of business systems within a large firm will be considered, and departments and other units within the marketing system. Moreover, an important role is assigned to the employee as a separate element (Mintzberg, 1981) and (Beeson, 2014). The essential point is that no business has unlimited resources. Managers must distribute payroll budgets among their workers. Therefore, ways to divide the workload and assess employee performance will be considered (Belcourt, et al., 2019) and (Eyring & Consuegra, 2017). Thus, it is fundamental to estimate the effectiveness of business, considering recruitment strategies in future research.
Concepts of Organizing and Organization Design
An organization as a system can be represented as a set of interconnected elements that form a single whole. The composition, location, and nature of the relationship between them determine the structure of the organization. It can be considered a form of distribution of different activities between its components and coordination of these elements, aimed at achieving the organization's goal (Mintzberg, 1981). The creation of the organizational structure occurs due to management decisions on four essential attributes: division of labor, the basis for departmentalization, size of structural units, the delegation of powers.
One of the main concepts of the organizing process includes the division into departments, and accountability following the rules of management, and subordination, which are reflected in the organizational chart. Another concept is based on the postulate that workers can manage more efficiently if they specialize. Job specialization, sometimes called division of labor, is how organizational responsibilities are separated into different fields (Mintzberg, 1981). Employees in each division perform only those assignments that fall within their specific function.
Subordination is also important; it provides the continuous line of authority that binds all the people in the organization and determines who reports to whom. This chain has two significant beliefs: the unity of command and the scalar principle. The first declares that an employee should have one director to whom they report straight. Otherwise, the employee may receive contradictory requests or priorities from several supervisors, which places them at a deprivation. The second principle relates to a distinctly specified chain of authority that includes all workers in the organization (Mintzberg, 1981). There should be a fair and continuous chain of command linking each person to higher levels of authority. As organizations grow in size, more levels of management are supplemented. This increases overhead, adds more communication layers, and affects understanding and access between the highest and lowest levels. On the other hand, it can significantly slow down decision-making and lead to the loss of contact with the client.
Authority is another key feature in organizational structure. It means delegation through an upward hierarchy. Positions at the head are given more formal authority than positions at the bottom. The concept associated with it is the descending transfer of power from a manager to a subordinate (Belcourt, et al., 2019). Most organizations today encourage delegating authority to provide maximum flexibility in meeting customer needs. In addition, it leads to empowerment because people are given the freedom to contribute ideas and do their best work.
Organizational design is a step-by-step methodology that distinguishes dysfunctional workflow, schemes, structures, and systems, realigning them to current market realities/goals and implementing new changes. This process aims to improve both the technical and human resources side of the business. In practice, most enterprise structures are not optimal: they are characterized by low flexibility, internal inconsistency of connections, and ineffective management. This situation can be explained by the lack of sufficient management experience and knowledge about modern methods and approaches to structure design and management.
For most corporations, the design process leads to a more effective organizational structure, a meaningful improvement in results (profitability, customer service, internal operations), and employees empowered and engaged with the company (Belcourt, et al., 2019). The hallmark of the design is a thorough and holistic approach to organizational development that affects all phases of organizational being. Design refers to the integration of people with core business processes, technologies, and systems.
A well-designed company ensures that the shape of the organization matches its purpose or strategy, meets the challenges posed by business realities, and dramatically increases the likelihood that people's collective efforts will be successful (Mintzberg, 1981). All elements of organizational design are closely related; changes in one inevitably lead to changes in others. Accordingly, the main task of organizational design is to achieve consistency between managerial elements in implementing organizational strategy. It is a process to establish organizational structures that enable a business to efficiently fulfill its goals.
HR Department
Each HR department is headed by its Director. They have many responsibilities in various areas of the organization. However, the main task is to plan, direct and coordinate the activities of employees. They make sure that the mission of the organization is consistent with its strategy. In this regard, they have several elemental powers. First of all, the director projects developing and implementing practices to support the organization's needs. Insurance of employees' adherence to company policies and procedures is also among their duties (Belcourt, et al., 2019). In addition, HR Director must facilitate HR Managers in dealing with their daily problems and complaints and establish human resources objectives following organizational purposes and regional legal obligations.
An HR Assistant always helps the Director. The main difference between them is the level of influence. The former is involved in the daily job tasks of the human resources department. A Human Resources Assistant is a credentialed expert who performs daily administrative and human resources duties in an organization. He assists with recruitment, payroll processing, compiling and maintaining records, writing and submitting reports on general HR activities. At the same time, the latter concentrates on more important things, such as promoting and enforcing the company's purposes, methods, and strategies.
The typical structure of the human resources department also includes several units, each responsible for a specific area. The first and one of the most important is the recruitment section. It is headed by the HR Recruiter who determines what people will work for the organization, whether they have enough experience and knowledge and whether they are suitable for the position. Their primary duties are creating and renewing job descriptions, sourcing applicants from various online channels, and interviewing candidates (Belcourt, et al., 2019). They also prepare and distribute assignments and numerical, language, and logical reasoning tests. Moreover, a recruiter should advertise new vacancies on the company's careers page or social media.
The next unit deals with employee relations. Many possible issues might arise in a company, so there must be a person responsible for the investigation and solving the worker's complaints and concerns. If the incident happens, the HR department requires investigating this matter and solving the problem by negotiating with a superior. That is why the Employee Relations Specialist is responsible for offering counseling services to employees, performs their background investigations, and verifies the data. Their primary responsibilities also include dealing with disciplinary grievances, appeals, and disputes, ensuring engagement is maintained, and managers act in a way that involves their staff.
The Compensation and Benefits Unit provides employees with remuneration opportunities, including health insurance and retirement outlining. It is responsible for commissioning wage revisions, position changing, and election. That is why Compensation and Benefits Specialist develops a constant payment philosophy, ensuring that compensation practices comply with prevailing legislation. Each HR department also needs to ensure every staff working in a safe environment. Accordingly, there must be a unit responsible for researching and developing company safety policies that comply with state and federal laws and regulations. It must distinguish hazardous situations and make clear reports on potential serious matters such as dangerous equipment, chemical drugs, radioactive substances. HR Safety Manager's tasks are to direct safety conferences, provide inspections and reviews to assure compliance, estimate performance, and implement follow-up assessments. They are responsible for implementing and conducting preventative care and protection training programs.
There is also Training and Development Unit within each HR department. Through practical training, employees could enhance their knowledge, skills, and work abilities to promote job administration. HR Training & Development Officer is supposed to evaluate the workforce's current ability levels and match them with some skills required to satisfy company goals (Belcourt, et al., 2019). They also develop training programs to improve skills throughout the company. And the last but not least duty is to hire training consultants or use online training programs and prepare schedules, allocating instructors to different courses.

Vacancies of the Sports Board
During the pandemic, the popularity of The Sports Board's products and services grew as most people tried to practice sports. Outdoor sports with the tools offered by The Sports Board is perhaps the only available way to maintain a healthy lifestyle. Therefore, because the commodities began to be in high demand, the organization decided to expand the range and bought a new firm to manufacture sports equipment. Accordingly, in order to remain competitive, the way of greater market engagement was chosen. That is why to realize business purposes, the company's staff must be enthusiastic about innovating and developing new products. As for the competence of employees, the problem arose because the company hired acquaintances and friends. At present, they cannot cope with the amount of activity and responsibilities set, and considering the quarantine restrictions, not all workers can return to activity. Under such conditions, the question arose about the revision of jobs and the need for their optimization. As a result, such significant problems as insufficient social security for the employee were identified (Beeson, 2014). This difficulty can be solved by leaving the most professional workers and providing them with an extended insurance package.
The next issue is the difference between the age of employees, which leads to an unfavorable climate in the team due to various views and goals. The most significant problem is that sales are growing only through the efforts of professional and experienced employees, so it is valuable to reorganize workers. Moreover, the dilemma was exacerbated by the fact that the acquisition of a new firm has led to an increase in staff, and they perform similar functions (Eyring & Consuegra, 2017). Under such situations, the organization spends many resources on employee support but receives a stable income due to the hard work of only some of them.
Hence, given that the company has 241 employees in six divisions, it is necessary to merge the groups without considering the HR sector. Thus, the finance system can be joined with the HR department. Accordingly, the company will need one manager and five professionals to work with HR. Additionally, it is important to conduct training and manage the level of knowledge of employees in order to offer vacancies only to the most qualified. This consolidation will reduce the staff and unite professional financiers and recruiters to ensure the company's economic benefits.
However, at the same time, it is important not to create racial and gender discrimination. Therefore, it is essential to monitor employees' quality of work and offer jobs only to the most productive. As for managers, two should be fired, and one should be assigned to the HR department. At the same time, the production department should be combined with quality control for efficiency. Then, in total, the department should have 90 production workers and 5 people who will examine the quality of goods.
The next step will be to close the maintenance department and transfer one manager and two employees to the HR office. The customer service department is essential, so one female manager must be transferred to the HR service. The department should leave ten people who have the highest performance and customer response. Moreover, racial and gender discrimination is prohibited during dismissals. As for the sales office, it is essential to leave one manager and ten employees and assign one more manager to the HR staff. Thus, after the reorganization, the manufacturing and quality control department will have 95 employees, and the customer service staff only 10. The number of workers in the marketing and sales department will include 10 specialists and 1 manager. The financial unit will be included in the HR area.
The Recruitment and Staffing Department will be including 1 production control manager and 2 more managers who were initially engaged in the recruitment and staffing office. The Employees and Human Resources Department will include 1 maintenance manager, 2 employees, and 2 managers who worked in the HR department. The Department of Personnel Efficiency will involve 1 former recruitment specialist and 1 female customer service manager. At the same time, 1 more manager from the Sales Department will work in the field of HR Training Employees. As a result, the HR area will include 11 employees from different departments. Nevertheless, it will incorporate all agents of the finance department.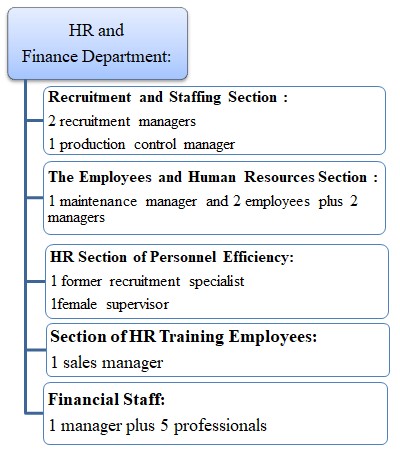 HR Practices
The first practice that the HR department can prepare is to adapt the organization's vision of values ​​as a stable base for strategy. Business heads sometimes center so much on important planning and day-to-day operations that organizational purposes may be secondary. HR needs to guide employee motivation and provide an understanding of core values. At the same time, the most suitable business strategies can fail due to the confused culture of the organization. Properly selected organizational culture provides a critical vision and plan for all workers. Managers need to think carefully about how their organization's culture is consistent and supported by strategies (Belcourt, et al., 2019). Human resources are favorable for having the appropriate conversations about contemporary culture and what the evolution of experience may be needed to support strategy. The most successful HR managers support employees to articulate the desired culture.
The following HR strategy is to define and formulate the priority of talents and skills of workers. These may include attracting and retaining the most qualified employees, developing new key opportunities, or expanding diversity through human resources. The human resources department often has access to useful analytics and knowledge about workers' current and future strengths and weaknesses. Moreover, an important practice is to create a plan that will include the essential aims and initiatives of the company (Beeson, 2014). Human resources can help to determine what aspects of an organization will need to be addressed in the future, who will be affected and how, and what actions will be needed to ensure success.
Conclusion
For the effective operation of any business, it is necessary to adhere to a clear organizational structure that meets the company goals. One of the most crucial departments within any organization is HR, which coordinates the activities of employees of various structures. The study identified critical units and primary tasks and responsibilities of the department. In addition, the department's leading practices, such as developing employee skills and forming a corporate culture and strategy, are described.
References
Beeson, J. (2014). Five questions every leader should ask about organizational design. Harvard Business Review.
Belcourt, M., Bohlander, G.W., & Morris, S. (2019) Managing Human Resources (9th ed). Nelson.
Eyring, A., & Consuegra, J. (2017). How HR and marketing can partner for growth. People & Strategy, 40(4), 14-20.
Mintzberg, H. (1981). Organization design: fashion or fit? Graduate School of Business Administration, Harvard University, 103-116.