Executive Summary
The Abu Dhabi National Oil Company (ADNOC) is UAE's leading oil-producing firm with interests across the entire hydrocarbon value chain. Based in Abu Dhabi, ADNOC has consistently demonstrated its capabilities to harness the valuable energy resources managed by the United Arab Emirates (UAE) government through drilling, refining, and distributing petroleum products. Based on the significant contribution of the energy sector to the UAE economy, ADNOC plays a key role in driving the economy of Abu Dhabi and the wider UAE region.
One of its key performance indicators is the implementation of prudent procurement practices that have seen all its 17 subsidiaries deliver growth for shareholders. This report discusses how to negotiate with suppliers for the best deals in outsourcing manpower services for the engineering department. The goal is to deliver synergy and growth at different levels of corporate management. At the end of the report, recommendations for developing productive outsourcing relationships will be discussed within the prism of negotiated agreements for fruitful partnerships with external parties.
The findings and recommendations highlighted in this report could be useful in formulating the framework for negotiating company contracts in different categories of spend. Therefore, the insights gathered in this document could be used as a basis for developing formal commercial negotiations between ADNOC and its suppliers or similar companies that have the same profile or operate linked businesses. For purposes of this report, the negotiation process will be focused on price and quality because ADNOC reveres itself as an organization that subscribes to the highest quality standards of operation. The discussions will be primarily based on a procurement and supply perspective.
Negotiations In Procurement And Supply
Introduction of Company and Industry Background
The United Arab Emirates (UAE) is one of the Middle East's major oil-producing countries. Consequently, it is a member of the Organization of Petroleum Exporting Countries (OPEC) and ranks number seven in the list of the largest oil producers in the world (Ramady & Mahdi, 2015). The production of petroleum liquids and hydrocarbon is critical to the survival of the UAE economy. The energy industry is estimated to account for 20% of all export revenue from the country (International Trade Administration, 2019). Additional statistics show that the revenue generated from the industry is $65 billion annually (International Trade Administration, 2019).
Most of the oil-production business in the UAE is done in Abu Dhabi, which is the capital city of the country. The oil and energy industry is central to the economy of the emirate and a key resource contributor to the national economy. Recent reports suggest that the industry is experiencing unprecedented growth, as was seen from recent statistics, which showed that oil exports have increased by 13.9% from 2018 to 2019 (International Trade Administration, 2019).
Individual Emirates in the UAE have immense control over the kind of oil exploration activities and recourse development plans in their jurisdictions. However, Abu Dhabi has immense control over the broader energy industry because 94% of the UAE's oil and energy reserves are in the Emirate (International Trade Administration, 2019). Other major oil-producing Emirates include Dubai, Sharjah, and Ras alRaiskamah.
Dubai is estimated to hold about 4 billion barrels of oil, while Sharjah and Ras alRaiskamah are deemed to hold 1.5 billion and 100 million barrels of oil, respectively. The Supreme Petroleum Council (SPC) is tasked with the role of formulating the country's petroleum policies and objectives. Based on the importance of Abu Dhabi as the major energy producer in the UAE, the agency's authority is respected in the country. The company's board also functions as the managing directors of Abu Dhabi National Oil Company (ADNOC).
ADNOC is the largest company in the UAE in terms of energy reserves and production capacity. The corporation operates as a conglomerate of 17 companies, which are engaged in the upstream, middle stream, and downstream business operations of the hydrocarbon value chain (Abu Dhabi National Oil Company, 2019a; International Trade Administration, 2019). ADNOC is regarded as one of the Middle East's most valuable companies because it has a market capitalization of about $8.9 billion, which is the highest in the industry (Abu Dhabi National Oil Company, 2019a). Consequently, it is deemed one of the primary drivers of growth in Abu Dhabi.
The firm's market capitalization value significantly contributes to the country's gross domestic product (GDP) because the energy industry contributes a majority of the country's exports (Ramady & Mahdi, 2015). ADNOC's businesses span across the entire hydrocarbon value chain through a network of 17 companies (Abu Dhabi National Oil Company, 2019a; International Trade Administration, 2019). These entities are engaged in various types of businesses, including oil exploration, production, and storage. Other businesses include the refinement and distribution of petrochemical products.
Procurement and supply chain management serves a key function of linking all aspects of operations across ADNOC's value chain. One of the most important functions of ADNOC's procurement and supply chain processes is negotiating with suppliers for the provision of different goods and services. It also accounts for a significant proportion of its costs across a range of sectors that span across different supply chain segments of the oil and gas industry (International Trade Administration, 2019).
Definition of Key Terms and Concepts
The terms "procurement and supply chain management" will be mentioned in several areas of this report. Although varied definitions of the terms exist in management literature, they will be used in this document to mean the coordinated management of ADNOC's suppliers who are upstream (in the hydrocarbon value chain) because they provide raw materials for production and those who are downstream (customers) because they are the custodians of the business's reputation (Global Supply Chain, 2018).
In other words, this document will employ both concepts as an intermediary between the relationships that suppliers (upstream) and customers (downstream|) share. The coordinated management of ADNOC's suppliers will also be discussed in this report with the goal of creating superior value for end customers when they purchase the company's products.
Alternatively, the concept of negotiation will be used in this report to mean the process of bargaining between ADNOC's management and its suppliers to reach an agreement regarding the outsourcing of personnel to carry out specialized services in the engineering department. Relative to this context of analysis, the concept of negotiation will be applied in its broadest context as a critical part of ADNOC's decision-making processes. The agreements and compromises that could be made between the firm and its suppliers cover most aspects of the company's plans to outsource specialized services, but for purposes of this study, the focus will only be on agreements relating to price and quality of service offered by the suppliers.
Price negotiations will encompass different metrics of assessing the value of services offered, including purchase order price, volume discounts, price breakdowns, pricing review periods, specification of payment terms, identification of preferred currency, exchange rate variations, and the terms for paying taxes. Quality issues that will be discussed in this report will relate to specification compliance, inspection criteria, rejection procedures, functionality compliance, and design changes. Based on these key definitions, one issue that arises in this report is how the procurement function helps to alleviate ADNOC's current challenges.
ADNOC's Challenges
The integration of procurement functions at ADNOC does not mean that all conflicts are readily solved in the organization. Different departmental goals and competing needs have made it difficult to prioritize important areas of operation that need the attention of procurement personnel. At a departmental level, I have witnessed the same problem because we have had conflicts with the financial departments regarding low resource allocation on key areas of operation that we believed needed urgent attention. The failure of the finance department to recognize the importance of key engineering functions to the overall achievement of ADNOC's corporate goals has inhibited our ability to perform effectively. Particularly, their reluctance to allocate enough funds towards the outsourcing of specialized personnel has made it increasingly difficult to integrate key engineering functions with overall organizational output in the organization.
The lack of synchrony between different organizational departments is not a new phenomenon in supply chain management because researchers have pointed out that the effectiveness of procurement functions in many organizations has been significantly impeded by the lack of proper synergy across different organizational departments (Sertin, 2019; International Trade Administration, 2019). For instance, the example highlighted above suggests the existence of a clash between the objectives of ADNOC's financial and engineering departments because both of them have competing needs. Indeed, while the finance department is concerned about frugality and the need to get value for money across all procurement and supply chain functions, the engineering department is focused on the completion of key operational tasks through the outsourcing of specialized manpower. Therefore, they may have little consideration for the economic considerations of their operations.
The conflicts between different departments at ADNOC have been solved through negotiation and engagements at the management level. Some decisions have been unfavorable to some departments, while others have heralded periods of significant growth for the organization. For example, a recent conflict between the marketing and procurement department in the organization forced the company's managers to set out a minimum code of ethics and standards that guided consultations across different departments (Abu Dhabi National Oil Company, 2019b). Consequently, teams were forced to renegotiate and collaborate with one another, as opposed to working at cross-purposes.
The positive outcomes of negotiation reported in the above example are indicative of research findings, which have found that conflict management could lead to the production of good ideas. Therefore, when interdepartmental conflict is minimized, teams are forced to look for better ways of managing conflict. Using this approach, long-standing problems that may exist among different units of operation could be easily identified and solved. Individual and departmental views are also likely to be better discussed on such forums because managers will find it easier to discuss outstanding issues if there all stakeholders share a spirit to compromise (Abu Dhabi National Oil Company, 2019a; International Trade Administration, 2019).
The procurement and supply role of organizational development is often employed in this case to implement the recommendations of the negotiation process because its primary role will be to exploit the best approaches for fulfilling key organizational tasks and goals. Relative to these findings, the conflict resolution mechanisms adopted at ADNOC have helped to stimulate interest and creativity in the workplace. Particularly, the organization has had a renewed interest to test new capabilities that emerge from the development of departmental synergy.
As a contract engineer at ADNOC, I was motivated to present this report to understand the outsourcing component of workplace dynamics in the engineering department because it is a significant factor of production for the company. The engineering department is set within the contract unit of the firm, under the broader group procurement functions of the company. This function carries out all supply chain management duties of ADNOC. Therefore, it is not only limited to one department or area of expertise. The implication of this procurement structure is that all 17 companies, which operate under ADNOC, expect the parent company to complete their procurement processes.
Conflict Minimization In Negotiation
Although the above-mentioned outcomes show prospects for a positive outcome for ADNOC's negotiation processes, scholars have advanced new strategies that could be used to minimize conflicts that may emerge from engagements that affect not only different departments within an organization but also those shared with other stakeholders (Meyer et al., 2019; International Trade Administration, 2019). For example, conflicts that emerge between companies and suppliers could be solved through Thomas and Kilmann's conflict-handling model, which is defined by understanding the importance of the relationship and the issue in contention. The link between these two elements of analysis is described in figure 1 below.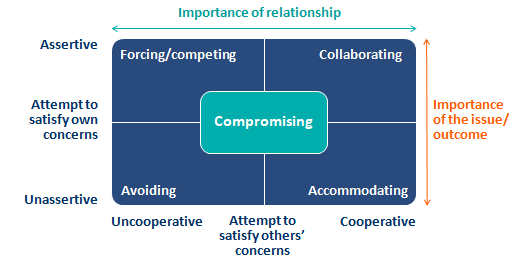 As highlighted above, a compromise is often reached when the needs of a business are balanced with the importance of its relationship with suppliers. Based on the above matrix, when the issue discussed, and the relationship involved are both important, there is a strong willingness by concerned parties to collaborate.
According to Yang et al. (2018), two main types of negotiation strategies could be adopted in procurement and supply chain management: competitive and collaborative styles. The competitive approach involves an overzealous advocate who advances either the company or suppliers' interests with little room for compromise (Abbasi et al., 2018; Yang et al., 2018). Alternatively, the collaborative leadership style involves a deeper understanding of the interests of all parties involved. Concerns about efficiency and fairness are also easily addressed in these types of relationships, and disputes are solved amicably (Yang et al., 2018).
ADNOC pursues a collaborative negotiation style because it encompasses the interests of multiple firms. The company usually has a varied number of resources that have to be divided among all concerned parties. Therefore, the pursuit of individual objectives is often held in conformity with the interests and goals of other enterprises (Abu Dhabi National Oil Company, 2019a; International Trade Administration, 2019). This negotiation structure is rooted in the company's overall administration framework because each individual entity is disallowed from making its own contractual agreements. The objective is to make sure that all the company's subsidiaries are operating efficiently and that they get the best deals in the market by consolidating their procurement and supply chain needs (Global Supply Chain, 2018).
In this regard, ADNOC has a long-term focus on the company's business operations and, more importantly, its relationship with suppliers. Indeed, some of the company's main partners who have been doing business with the firm have done so for many years. This positive relationship is buoyed by the commitment to develop and nurture fulfilling relationships that are not only pegged on the provision of quality manpower services but also on maintaining sound and reliable relationships with partners. In other words, through a series of integrative negotiation plans, the company has maximized most of its joint outcomes. This outcome has been realized through a renewed understanding of the importance of adopting sound procurement and management practices in the organization. The section below provides a broad overview of the role of procurement and supply to ADNOC's processes.
Importance Of Procurement And Supply Chain Management To Adnoc's Outsourcing Plan
The importance of procurement and supply chain management to a business has been highlighted by several researchers who attribute it to the control of price, quality, and time of product receipt between the production and sale stages of business process outsourcing (Abbasi et al., 2018; Yang et al., 2018).
This procurement function has significant implications on the reputation of a business and its profitability. However, different organizations carry out their supply chain management functions in ways that are suitable to their business environments and internal corporate dynamics (Abbasi et al., 2018; Yang et al., 2018). Nonetheless, existing theories and models provide guidelines for companies to follow when implementing their procurement tasks to achieve the above-mentioned objectives. For example, the traditionalist, intersectional, relabeling, and unionist perspectives of supply chain management have been touted as possible models for helping companies to realize the benefits of sound procurement management functions in their businesses.
Relative to the aforementioned statement, the traditionalist and relabeling approaches view supply chain management as the integrated management of functions. Notably, the traditionalist perspective sees procurement as a subset of management, which is concerned with supplier engagement and the development of important relationships upstream (Abbasi et al., 2018; Yang et al., 2018).
In other words, the process is linked to building collaborative supply relationships. In the context of outsourcing human resource services, procurement emerges as a broader umbrella of functions encompassing different supply chain relationships. Therefore, the procurement function is linked with the acquisition and management of all supply chain inputs. The traditionalist perspective has been used to expand ADNOC's downstream businesses. Indeed, through the application of the principles of relabeling and traditionalist views of supply chain management, the company has reported a surge in interest from different parties and stakeholders who want to be involved in the growth of the country's downstream businesses (Global Supply Chain, 2018).
In line with renewed interest in the company's operations from key stakeholders, ADNOC is considering implementing a new transformational program, which strives to improve corporate efficiency by promoting engagements with stakeholders. To do so, the company is realigning its assets and formulating an expanded investment management team that would encompass representatives of all stakeholder groups. In line with this goal, ADNOC has not only committed itself to establish efficient and effective ways of carrying out their procurement functions but also recognized the need to use smart procurement to increase productivity (Withers, 2019).
Smart procurement has been used to facilitate the acquisition and purchase of different products and services, such as the recent procurement of casing and tubing products (Withers 2019). The smart procurement function has also been used to drive value upstream through the company's ambitious growth plans. For example, in 2019, ADNOC's procurement department awarded contracts worth $3.6 billion for the supply of drilling pipes (Withers, 2019). This transaction encompassed three contracts entered with Tenaris SA (Luxembourg), ADOS, Valorique SA, and the Japanese-based Habshan Trading Company (Teller, 2019). The three contracts were aimed at increasing the company's value through business process outsourcing.
Reports suggest that the range of materials and services supplied in this contract were among the most sophisticated in the world (Teller, 2019; Withers, 2019). The complexity of the procurement transaction was a testament to ADNOC's willingness to diversify its oil drilling activities. It also represents the company's commitment to increase its shareholder value through increased efficiency and profitability of oil drilling operations. The contract was awarded under the company's smart procurement framework.
Through the above-mentioned contracts and those similar to them, ADNOC is perfecting the integration of smart procurement functions in its supply chain management functions. The process includes attracting more than $100 million in foreign direct investments over the next five years to bolster its production capacity (Teller, 2019). These investments are meant to serve several purposes, including establishing a maintenance center, developing oil wells, and the construction of a state-of-the-art oil production and refinement plant (Abu Dhabi National Oil Company, 2019a; Abu Dhabi National Oil Company, 2019b).
The $3.6 billion contracts awarded to the three companies mentioned above are part of ADNOC's spending plan, which involves the purchase of oil drilling equipment worth $15 billion (Teller, 2019). This money is expected to be spent across five years, subject to approval by the Supreme Petroleum Council (Teller, 2019).
Although the smart procurement function has been invoked in the award of these contracts, the suppliers still have to undergo a rigorous vetting process that reviews the value of the contract through ADNOC's Local Value Added Enhancement Program. The contract strives to document the company's local and international partnerships and create more opportunities for growth and development. It is also projected that the completion of the above-mentioned contracts would stimulate growth in the local economy through increased production and service provision (Abu Dhabi National Oil Company, 2019a; Abu Dhabi National Oil Company, 2019b). Indeed, about $6.6 billion of the value of these contracts is expected to directly boost the local economy (Teller, 2019).
Broadly, as part of ADNOC's quest to increase its shareholder value, it is building strategic partnerships through the smart procurement function by enhancing economic returns and improving corporate performance. The smart procurement function has not only improved ADNOC's performance but also enhanced its resilience and responsiveness to market forces and unpredictable demand. The company's integrated Smart 2030 plans support this objective by providing more rewarding investment opportunities for its shareholders (Teller, 2019). At the same time, the smart procurement function has demonstrated ADNOC's ability to create sustainable value for the residents of Abu Dhabi and the wider UAE region.
The adoption of the traditionalist and relabeling supply chain management techniques in smart procurement have seen ADNOC commit up to $45 billion to support the growth of its downstream businesses (Global Supply Chain, 2018). The goal is to stretch the value of oil production services for the company and its stakeholders. This approach has seen the firm create a range of new opportunities for suppliers and other partners to share in investment (Global Supply Chain, 2018). This approach of supply chain management draws strong links with the relabeling perspective, which views procurement as a process that should evolve to meet supply chain management functions. The approach views supply chain management as a superior and more advanced version of procurement because it seeks to develop collaborative partnerships in supply chain management (Abbasi et al., 2018; Yang et al., 2018).
Comparatively, the unionist and intersectional views of supply chain management link procurement to the management of upstream and downstream functions (Abbasi et al., 2018; Yang et al., 2018). Broadly, this model presents procurement as a general term that supports a range of activities, including logistics and operations. The unionist perspective is deemed more radical than the intersectional approach because it seeks to merge different functions of an organization, which have been traditionally deemed to be separate. Comparatively, the intersectional approach views procurement as a different technique of maintaining the exclusivity of each organizational function by advocating for their integration through procurement (Abbasi et al., 2018; Yang et al., 2018). For example, ADNOC has plans to create a global refining and petrochemical growth plan at its Ruwais oil-drilling site by involving different partners who share the same vision. Procurement has been touted as a tool for making this vision a reality. In line with this assertion, the company projects that the intersectional view of procurement, which merges different operational functions through procurement, will expand and enhance the company's refining capacity.
Negotiations With Internal Stakeholders And Suppliers
Meyer et al. (2019) believe that negotiating with external stakeholders is easier than negotiating with internal stakeholders. The same observation is true for ADNOC because internal negotiations are more difficult to explain compared to external ones. In addition, when there is a meeting among different internal stakeholders, it is not considered a "negotiation" session per se but a brainstorming session. However, different departments of the organization have varied priorities that have to be considered in the negotiation process. Therefore, there has to be some level of compromise that has to be discussed at some level of engagement.
Part of the problem affecting negotiation processes at ADNOC is the difficulty of managing different images that the independent corporate entities have developed for themselves over the years. In addition, different companies and departments may have preconceived ideas about each other, which may ultimately affect the negotiation process. This challenge makes it difficult to formulate a common negotiation plan for addressing all of ADNOC's procurement needs. Since all different independent entities have to work together after the negotiation process is complete, it is imperative that the engineering department gets the negotiation process right.
As highlighted in this report, ADNOC's procurement functions are undertaken by the parent company. Therefore, each of the individual 17 companies, which are registered under this banner, expects the conglomerate to purchase goods and services that they need. Consequently, it is a key operational practice for ADNOC's supply chain department to require all suppliers to register with the company's commercial directory system (ADNOC Distribution, 2019). The registration process allows all potential suppliers to conduct business with any of the company's 17 entities. The rest of the functions are provided virtually because the platform allows suppliers to track the status of the prequalification process online and update their profiles on the same platform (ADNOC Distribution, 2019).
The types of negotiations ADNOC has entered with its suppliers have mostly been modeled around a consolidated framework where suppliers have to merge into common units of operation that engage with ADNOC directly. The company recently used the model to award a $3.6 billion contract to a group of consolidated suppliers (Abu Dhabi Oilfield Services Company and Habshan Trading Company) to provide cables for drilling services. ADNOC entered into a contract with the above-mentioned companies to increase its in-country value by more than 50% (Sertin, 2019). This growth was meant to happen over five years and involves a capital injection of $100 million in foreign direct investments (Sertin, 2019). This contract highlights the mix between price and corporate goals pursued by ADNOC because there was a careful consideration of how much the contract value would support the realization of the company's key objectives. The combined scope of procurement adopted by the company is based on the forecasted demand for cable and casing across all individual business entities of ADNOC. Broadly, the merged scope of procurement has worked to deliver value through enhanced growth in many of ADNOC's upstream development plans. For example, it has improved the process of integrating drilling services for better efficiency of oil drilling activities. This development aligns with the company's goal to increase its conventional drilling capacity by 40% in 2025 (Sertin, 2019). The plan involves improving the production capacity of its conventional wells. By doing so, the company intends to increase its oil production capacity by 4 million barrels in 2020 (Sertin, 2019).
Conclusion And Recommendations
Conclusion
Based on the insights provided in this report, procurement emerges as a powerful tool for completing ADNOC's supply chain processes. As a business process undertaken at ADNOC, procurement has metamorphosed from a simple buying function to a tool for completing the chain of management functions underpinning corporate success. The importance and dimensions of negotiation practices in the company have also changed over the years to reflect the current business environment and internal corporate dynamics. For example, the scope of procurement practices adopted in the organization has evolved from being price-oriented to a sustainable and relational concept. Although a lot of progress has been reported in the integration of procurement functions in the company's business processes, it is difficult to document its full effects on the achievement of the company's business objectives.
The findings of this report suggest that ADNOC's use of procurement functions could stretch beyond simply facilitating the purchase of goods and services to the development of solutions for the company's internal human resource problems. However, to effectively manage all its procurement processes, it is vital for ADNOC to recognize three key steps of supply chain management, which include; the identification of new opportunities, management of internal operations, and the achievement of core objectives. These components of management have to be negotiated not only among different organizational departments but also with suppliers. In this analysis, it is important to view negotiation as an art that requires a careful balance of the relationship between companies and their suppliers. However, proper preparation needs to be made to improve the quality of engagement among different parties. This process is a function of the negotiator's relationship-building skills and interpersonal relationships. Similarly, it could be deduced that procurement managers who are effective in negotiation are likely to be valued professionals.
The key areas of negotiation (price and quality) identified in this report suggest that ADNOC could improve its procurement and supply chain processes by receiving a lower overall cost of production (through business process outsourcing), providing better quality products and services, durability and performance. Other benefits that could accrue from the implementation of the findings mentioned above include shorter lead times, effective implementation of contracts, improved supplier reliability, and fewer disputes with suppliers.
Recommendations
As highlighted in this report, different ADNOC entities have unique needs that have to be met through the procurement process. However, it has been demonstrated that conflicting interests may affect the negotiation process. Consequently, it is vital to know how to manage these diverse views. Although Meyer et al. (2019) consider the pushback witnessed in negotiation as a useful tool for understanding the interests of all parties involved in a negotiation process, the framework for getting the whole process right depends on the development of a supportive company cultural framework. Although most western-based oil companies strive to have transparent structures of governance for managing inter-departmental conflicts, ADNOC requires orders from senior managers to resolve impasses. Therefore, management is the most important internal stakeholder whose needs are supposed to be primarily addressed.
The management of internal conflicts can be achieved through Martin Christopher's 4 Rs: responsiveness, reliability, resilience, and relationships. These four Rs could influence ADNOC's supply chain management because they have aided in the development of proactive supply chain management relationships. Proactive development processes have also influenced different aspects of the company's operations, including supplier development and supply chain management (ADNOC Distribution, 2019).
For example, the resilience function of the 4R matrix has been instrumental in navigating ADNOC through today's turbulent business environment. Particularly, the ability to manage external disturbances, such as market shocks that have caused significant declines in oil prices, have been addressed through the resilience function via an assessment of all supply chain function risks (ADNOC Distribution, 2019).
The promotion of positive relationships between the company and its suppliers also highlights the relevance of Christopher's 4Rs of management. For example, the organization has been forced to develop such relationships to reap the benefits of having long-term contracts. These agreements bring stability and consistency to the procurement process, thereby making it difficult for competitors to break in. This outcome is easily achieved when processes are linked between suppliers and customers.
ADNOC could realize immense benefits from the proper mix of reduced costs of doing business and significant corporate process improvements. The reduced costs of doing business could be achieved by outsourcing specialized services. These efforts are likely to have a ripple effect on the company's business performance through improved services to customers, increased quality of goods and services as well as an improvement of the business's reputation in terms of the development of sustainable supply chain systems. These benefits are also associated with an improvement in compliance standards for businesses. Besides the physical resources needed to make the process sustainable, there should be a sound development of sound processes, procedures, and improved commitment to organizational tasks.
Overall, in the context of ADNOC's business process outsourcing plan, the cost of procurement could account for significant improvements in corporate outcomes without necessarily increasing resource allocation to achieve the same goal. This outcome is particularly important for ADNOC's business processes because its procurement function accounts for about one-third of its cost of doing business. To understand the implications of pursuing sound procurement management functions, it is essential to compare ADNOC's procurement function with similar processes undertaken by the UAE government because different agencies pay for the same product at varied prices.
ADNOC's amalgamated procurement design prevents such inefficiencies because all its subsidiaries depend on the parent company to fulfill its procurement needs. Therefore, it is difficult to find a situation where the same service is being supplied at different prices or quality. Therefore, the adoption of sound procurement practices can yield immense savings for the company. Broadly, the roles and benefits that ADNOC could enjoy from the implementation of sound procurement practices link back to the five rights of procurement, which are price, quality, quantity, time, and place.
Using existing procurement and supply management relationships, ADNOC should also consider developing a localization program for its suppliers. The initiative stems from the understanding that most of the company's key suppliers are either UAE or middle-east-based corporations. The program should be developed after appreciating the fact that negotiations made with existing suppliers could help to improve the in-country intrinsic value of goods and services used by the company. It will also plug into ongoing efforts to bolster "Emiratization" through procurement-led initiatives geared towards fostering the interests of UAE nationals. Such an approach contributes to the realization of Abu Dhabi's vision 2030 plan, which is to make the city more sustainable and robust for its inhabitants. The plan should also improve critical functions in the oil and gas industry.
The intrinsic value program should be implemented by focusing on local supplier selection processes and the localization of critical functionalities. To achieve the best value from this process, an intrinsic country value score should be set up, and each subsidiary of the company is allowed to conduct an in-house assessment to evaluate their progress in this regard. This score will be an indicator of how there are delivering in-country value through negotiations in procurement. Such an approach will make sure that the procurement function supports all organizational functions geared towards supporting key procurement and supply chain processes. An ADNOC-approved certifying body should be given the task of assessing this score, subject to the company's unique key performance indicators.
The above-mentioned recommendation follows a growing localization trend in the Middle East, which seeks to develop strong grass-root relationships between Gulf corporations and their suppliers. The goal is not only aimed at improving the welfare of local citizens but also developing strong and reliable relationships that could be leveraged to improve corporate performance (ADNOC Distribution, 2019).
The trend is particularly strong in the oil and gas sector. Therefore, it would be proper for ADNOC to pursue the same approach. In fact, this recommendation is similar to the approach taken by Saudi Arabia's national oil company (Saudi ARAMCO) through its In-Kingdom Total Value Addition Program. Overall, achieving the best outcomes for negotiating with suppliers depend on the approach taken by ADNOC in the process. An appropriate method for formulating the negotiation process is to approach negotiations with the suppliers as a conversation and not a competition. Doing so will make the suppliers more relaxed and willing to make compromises that would yield win-win outcomes.
Reference List
Abbasi, BA, Gul, A & Senin, AA. (2018) Negotiation styles: a comparative study of Pakistani and Chinese officials working in Neelum–Jhelum Hydroelectric Project (NJHEP). Journal of Creating Value. 4 (1), 110-122.
Abu Dhabi National Oil Company (2019a) Who We Are. Abu Dhabi, UAE. Web.
Abu Dhabi National Oil Company (2019b) Supplier and Partner Code of Ethics. Abu Dhabi, UAE. Web.
ADNOC Distribution (2019) Suppliers e-Registration. Abu Dhabi, UAE. Web.
Global Supply Chain (2018) ADNOC to Grow Downstream Business. New York, NY. Web.
International Trade Administration (2019) United Arab Emirates – Oil and Gas Field Machinery and Services. Washington, D.C. Web.
Meyer, CJ, McCormick, B & Osler, M. (2019) Negotiation lessons from former wiseguy, Michael Franzese. Journal of Management Inquiry. 28 (4) 431-440.
Ramady, M & Mahdi, W. (2015) OPEC in a shale oil world: where to next? Springer, London, UK.
Sertin, C (2019) ADNOC Awards $3.6bn Procurement Contracts for Tubing and Casing. Abu Dhabi, UAE. Web.
Teller, R (2019) ADNOC: Contracts Worth 13.2 Billion Dirhams for the Purchase and Supply Of Drill Pipes and Packaging. Abu Dhabi, UAE. Web.
Withers, N (2019) ADNOC Leads UAE Smart Procurement Program With $3.6 Billion OCTG Contracts. Abu Dhabi, UAE. Web.
Yang, C, Yang, R, Xu, T & Li, Y. (2018) Negotiation model and tactics of manufacturing enterprise supply chain based on multi-agent. Advances in Mechanical Engineering. 10 (7), 1-10.