Industry Definition
Perhaps it is not easy to find one of the world's leading international companies whose range of commercial industries and services would be as broad as those of the world-famous Amazon. Originally announced to the world on July 5, 1994, as an online book marketplace, Amazon.com, Inc. has expanded over time. In 26 years, the company's assets and the proposed range of products have increased in tens and hundreds of thousands of items. In other words, representing Amazon only as a significant platform for an online store is outdated and inconsistent with current realities.
Indeed, the main emphasis of Jeff Bezos' progressive company remains the same: the platform offers customers a variety of products for every taste and financial expectations. Anyone who has access to the Web, can go to the site and select a product, pay for it, and wait for delivery. Moreover, the range of products presented is vast — from hygiene products and cosmetics to highly organized technologies, computers, and other electronics. It is worth admitting that unlike its closest competitors like eBay, Amazon is not an open auction, and instead, fixes prices for goods. Consequently, the buyer knows exactly what they are paying for and what price. It is interesting to note that the online sellers can be not only the company itself but also business partners who have passed strict selection for competence and adherence to the vector of development and values of Amazon.
However, over time, the company does not remain in place and, conversely, strives for development. In addition to the sale of goods, Amazon launches new projects, each of which is unique and brings the owner of the company income. One of the key corporate areas is considered Prime Original, the media streaming service that distributes video content to users by subscription. According to Mohsin (2020), more than 150 million users have an active subscription to Prime Original services. However, Amazon's media environment is not limited to series and movies — subscribers have access to music, audiobooks, podcasts, and in 2014 the company bought a gaming streaming platform Twitch.
The company also distributes its activities in the b2b commercial sector. First of all, independent sellers who want to sell goods through Amazon pay the company for the sale and storage of goods in warehouses. In order to promote the product, sellers can order digital advertising from the company. In addition, in 2003, Jeff Bezos began the experimental development of cloud servers for data storage and processing, which, at the time, was quite a peculiar phenomenon. The company began offering businesses remote data processing services on Amazon servers — it is cheaper than building their own data centers from scratch. AWS web hosting quickly gained popularity and primarily determined the trends in cloud computing.
Therefore, if one summarizes the general development trends of Amazon.com, Inc., one should first say that the company is expanding annually. Amazon executives regularly present new trends to the public, among which there are some especially hidden ones. This includes the Amazon Grand Challenge, a top-secret medical science lab where specialists are trying to find a cure for cancer. In general, the company's chief commercial industries include e-commerce, cloud computing, publishing, and media content distribution.
Data Requirements
It seems evident that a company as big as Amazon must have a well-configured storage and processing structure to ensure smooth server operation. This becomes relevant not so much for online store operations — in fact, customers may experience minor temporary difficulties with the website — but rather for business enterprises. If the company's cloud storage is damaged, suspended, or no longer functioning, it will lead to significant economic losses for customers.
From the b2b perspective of AWS, it should be noted that the company offers several significant benefits to customers for data processing. Besides the already mentioned low cost compared to creating their own data centers, partners can use Intelligent Tiering for multi-level data processing and analysis, as well as automatic scaling and integration with EC2, as shown in Figure 1. Amazon assures users that it provides complete security for storage according to the most advanced international profile standards. At the same time, clients can encrypt data themselves using multiple protocols presented.

Customers who buy goods online or use streaming services provide the company with a range of valuable information regarding identity, address, shipping details, and credit card numbers. Amazon also collects information about user search queries on the site in order to improve product delivery and search systems. According to Marr (n.d.), Amazon is investing in improving the referral system so that even by the location of the user, the company will know the possible level of revenue. The company assures that it does not use the customer's personal information for malicious purposes, does not sell it to third parties, and actively protects it, including physical ways ("Amazon & My Data," n.d.). When entering a contract, the user is familiar with the privacy notice, so they are aware that the data can only be transferred to a third party if the authorities make a legal request.
Brand strength
There is no doubt that Amazon is a company with an incredibly strong brand. According to the Global 500 (2019), the company has the most reliable brand, enriching even Google, Apple, and Microsoft. The significant value of the e-commerce brand has increased by 24.6% on year to an enormous $187.905 billion. Nevertheless, alternative ratings show the same result Amazon overtook all competitors (Hammett, 2019). In many ways, the brand's strength represents the value of the company's shares over time. If one looks at the chart of price fluctuations of assets, one can see that over the past 23 years, the value of Amazon shares has increased by more than 1700 times (Fig. 2).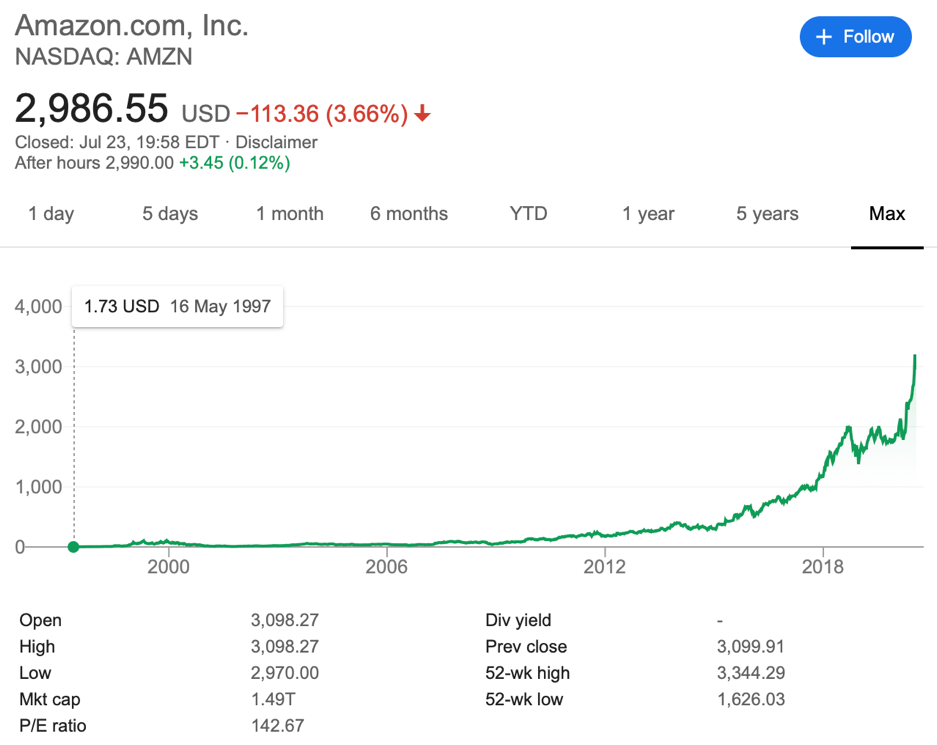 The critical success of the corporation lies in its passion for innovation — in the last twenty years alone, the company has increased its areas of focus at least fivefold. There is no doubt that despite the expanded commercial areas, the core of the company, namely e-commerce, remains dominant among all market leaders. According to the data provided by eMarketer Editors (2018), the company accounted for about half of all online purchases made in the U.S. in 2018. At the same time, the company is continuously conducting research, studying the consumer market, and offering customers solutions to their pressing problems today. For this reason, the company seems to be innovative and innovative in the minds of consumers.
Finally, the brand's power creates the absence of any scandals related to the company's management. Compared to market competitors like Apple, Google, or Microsoft, Amazon has not been noticed in significant conflict situations related to data leaks, cracking, or circumventing encryption. In 2018, President Donald Trump spoke negatively about monopolizing the company's business because it pays little tax and uses public mail to send its goods (Trump, 2018). This message only slightly reduced the value of the company's shares, but within two weeks, the value returned and then began to rise.
Moore's Law
One of the most amazing empirical laws in the modern world, Moore's Law, states that the number of transistors on a crystal microchip doubles within 24 hours, although the cost of computers is halved. Some interpretations of the law discuss the exponential growth of technology, not linear. It seems evident that such trends in production intensification concern a large technological conglomerate like Amazon. Indeed, a company needs to keep up with the trends and ensure the smooth operation of assembly lines, cloud computing servers, and client databases in order to remain on top of international ratings.

As most companies move their computing operations to large companies' cloud services to save money, the availability of microcrystal computing operations is growing. It is essential to understand that there is a two-way causal link in this environment, which is the increasing popularity of cloud computing, which leads to an increase in the number of transistors.
However, an equally important aspect of Moore's law is to reduce the cost of services offered. Amazon is actively using this pattern, reflecting a predictable and calculated reduction in the price of computer hardware. Amazon Redshift's data warehouse already offers customers significant discounts on subscriptions compared to competitors, increasing the capacity of its servers and scaling them up. As the company continues to research activities, including the IT industry, Amazon can hardly cope with the effect of Moore's law.
References
Amazon.com, Inc. (2020). Google Finance. Web.
Amazon & my data. (n.d.). Amazon. Web.
Amazon redshift. (n.d.). Amazon. Web.
AWS cloud security. (n.d.). AWS. Web.
eMarketer Editors. (2018). Amazon now has nearly 50% of US ecommerce market. eMarketer. Web.
Global 500. (2019). Web.
Hammett, E. (2019). Amazon beats Apple and Google to become the world's most valuable brand. MerketingWeek. Web.
Inkbot Design. (2020). History of the amazon logo design evolution & brand story. Medium. Web.
Marr, B. (2020). Amazon: Using big data to understand customers. Bernard Marr & Co. Web.
Mohsin, M. (2020). 10 Amazon statistics you need to know in 2020. Oberlo. Web.
Trump, D. J. (2018). I have stated my concerns with Amazon. Twitter. Web.