Abstract
One of the United Arab Emirates, Dubai, has recently become a symbol of prosperity, innovation, and business excellence. In a mere 50 years, the state has managed to grow from a scarcely populated area with little infrastructure and a weak economy to a thriving business hub that is home to thousands of international corporations. Various governmental initiatives and economic shifts have promoted the process of development and helped to establish the region's economy. This report aims to trace Dubai's journey to excellence and prosperity and to identify the processes that have enabled the state to become a benchmark in development, business excellence, e-government, and innovation.
Dubai's path of development has become a benchmark for economic growth, innovation, and business excellence. Over the past few decades, the city-state has evolved at an unflagging pace, establishing a clear standard for other developing countries to aspire to reach. This report aims to outline the process of Dubai's development in economics, innovation, business excellence, and e-government.
Executive Summary
Today, Dubai is considered the most highly developed state in the Middle East. One of the United Arab Emirates, Dubai has reached far beyond the other emirates in its growth and development, acting as an example for other developing countries to follow. Dubai has become synonymous with a developed economy and business excellence, as well as for cultural and technological progress. It is among the key destinations for major international companies and corporations.
However, just over fifty years ago, Dubai was a poor and underpopulated settlement with just 30,000 residents (Hvidt, 2009). The most significant period of Dubai's growth began in the early 1990s when the government adopted a developmental strategy that would bring prosperity and excellence into the area in less than twenty years. The primary force that has enabled Dubai's economy to grow so swiftly has been the government's strategy for development.
To this day, Dubai's government continues to facilitate business development and innovation, attracting international investors, and promoting the growth of local businesses. The strategy used by the government has allowed the state to develop significant commercial advantages, which strengthened Dubai's ties with international businesses.
The significant inflow of international companies and newly discovered opportunities for international trade have prompted further developments in society and the economy. Moreover, to function efficiently in the changing business environment, Dubai's companies had to adopt international business standards, leading to improvement in all business processes and policies. Dubai's business excellence thus developed as a result of the state's developmental strategy and was closely linked to the state's economic growth. Dubai's e-government initiative was another eminent component of the state's pursuit of economic growth.
The successful introduction of e-government further facilitated business growth as it made all interactions between businesses and the state easier and more efficient. Finally, innovation is a prominent characteristic that outlines Dubai's approach to business, governance, and even social development. Dubai continues to pursue its vision of becoming the leading business hub in the Middle East and thus strives to promote innovative activity.
One of the key current projects in Dubai is the Silicon Oasis Smart City initiative, which involves improving facilities, businesses, and services using the latest technological innovations such as electric vehicles, smart waste management and alternative energy sources (Efthymiopoulos, 2016). The state's efforts in promoting innovation are also evident in its approach to education, health care, and environmental issues, thus ensuring comprehensive development and growth.
Overall, Dubai is one of the best examples of how a state's vision and initiative can be transformed into excellence in all areas of life and business. This report details the mechanisms and patterns that have been integral to the state's process of growth and development, aiming to explore how Dubai became an internationally recognized benchmark for economic growth, business excellence, e-government, and innovation.
Discussion of Main Issues
Humble Beginnings
Just under 50 years ago, the United Arab Emirates (UAE) was a sparsely populated region with a weak economy and little business activity (Nyarko, 2010). Mainly relying on fishing and pearl trading, the region had poor infrastructure, education, and health care (Nyarko, 2010). Dubai resembled the other emirates in terms of population and economy. Hvidt (2009) stated that in the 1950s, the population of the state was just over 30,000 people; problems such as poverty and public health issues were prominent.
However, the discovery of oil in the late 1950s allowed the UAE to enter the international oil trading market, contributing to the rapid development of its economy. Nevertheless, one of the emirates, Dubai, did not follow the same developmental path as the other states of the UAE. Dubai's oil reserves were limited and expensive to use, prompting the government to seek other sources of economic growth (Hvidt, 2009). Relying on income from the oil trade would have made Dubai sensitive to global changes in oil prices, whereas the limited availability of oil posed a risk to economic sustainability. The government faced a difficult choice in deciding on the path for future development.
The key consideration was to apply resources obtained from the oil trade to develop business and economic activity in the Emirate, ensuring its future sustainability. The Dubai model of development was adopted in the 1990s and was largely based on using oil revenues to make significant investments and acquisitions that would later allow the expansion of the business sphere and a shift in the economy (Hvidt, 2009).
For instance, a vast part of the country's oil income was invested in improving the infrastructure of Dubai by building roads, hospitals, and schools. The strategically advantageous geographical position of Dubai, which is located "at the confluence of the ME, Asia, Western Africa, and Central/Eastern Europe" (Stephens Balakrishnan, 2008), also allowed for the possibility of making the state attractive to international businesses. In order to ensure that Dubai would be accessible to potential business partners, the government also invested in building two harbors and an international airport while simultaneously expanding warehouse capacity (Hvidt, 2009). Although the primary focus was on developing the potential for international trade and business, Dubai's government also aimed to promote local business activity with various schemes, including low taxation.
Dubai Government Excellence Program
The Dubai Government Excellence Program was initiated in 1997 and became an integral part of the state's development strategy. The program was largely based on the European Business Excellence Model (BEM), developed by the European Foundation for Quality Management (EFQM). The original model included three main components: fundamental concepts of excellence, criteria, and RADAR, a tool for applying organizational change for improvement (EFQM, 2013).
The fundamental concepts of excellence reflect the key principles of organizations that are aiming to introduce the BEM successfully. First, organizations should seek to add value for their customers (EFQM, 2013). This includes continuous improvement of services in order to meet the needs and expectations of the target population. Second, organizations should be committed to sustainability in economic, environmental, and social contexts. The third concept of excellence in the development of organizational capability, which is achieved by appropriate management techniques (EFQM, 2013).
Promoting creativity and innovation is the fourth essential concept, and having a clear vision for the future and inspiring followership and integrity is the fifth characteristic (EFQM, 2013). Employing efficient strategy and risk assessment methods can help a company to reach the sixth concept of excellence, which stresses the efficient management of opportunities and threats. Finally, recognizing people's impact on the success and sustaining the results achieved are the last two concepts of excellence as defined by EFQM (2013).
These concepts are crucial to this report, as they define the key principles used and promoted by Dubai's government in its journey to growth and development, as well as the values that have allowed the state to reach excellence. By adopting the European BEM, Dubai's government plotted its path towards development and the principles that are integral to its vision. The Dubai Government Excellence Model included all nine criteria proposed by the EFQM, having only slight differences in certain sub-criteria (McAdam, Keogh, El Tigani & Gardiner, 2013).
The changes that were applied to the EFQM model reflected the needs of Dubai's companies and economy, making it more efficient in the UAE context. For example, one sub-criterion that was added stressed the importance of the organization's ongoing commitment to the nationalization of jobs. McAdam et al. (2013) explained that the addition of this criterion was justified by the fact that expatriates constituted 85% of the workforce at the time.
The application of BEM to public sector organizations in Dubai had a fundamental influence on the development of business, economics, and infrastructure. First, the improvement of governmental organizations increased their effectiveness. This facilitated the formation of strong ties between the public and private sectors, which, according to Hvidt (2007), is among the key determinants of affective states. Moreover, the increased efficiency of the government allowed the state to develop its infrastructure much more rapidly.
Figure 1 shows a comparison of Dubai's landscape in 1991 and 2005. Second, the application of BEM to the public sector allowed spreading and promoting business excellence in the private sector by making it an integral part of the state's functioning. The concepts of excellence became the framework for all businesses to follow, reflected in the quality of products and services. For example, emphasizing the value of people's contribution prompted an introduction of effective employee and talent management schemes.
A strong focus on innovation and development, on the other hand, established the need for continuous improvement of business processes and products. Overall, the Dubai Government Excellence Program became one of the major determinants for the state's excellence in business, development, and innovation.

Economic Shifts
The members of the Dubai Economic Council, Elbadawi and Soto (2012), have provided a useful overview of the process of economic development in Dubai. The authors stressed that the results of economic development in Dubai between 1975 and 2008 have indeed been extraordinary. For instance, "Between 1975 and 2008, output expanded by a factor of 11 in real terms" (Elbadawi & Soto, 2012, p. 4). The growth in the gross domestic product (GDP) has also been significant.
Between 1975 and 1995, Dubai's GDP grew at a rate of 6% annually; between 2000 and 2008, however, the average annual increase in GDP was over 10% (Elbadawi & Soto, 2012). Capital stock and employment opportunities have also been subject to stable growth over the past years as seen in Figure 2. Figures 3 and 4 show the comparison of Dubai's real GDP growth to that of other Gulf Cooperation Council (GCC) and world countries.
The outstanding achievement of Dubai in growing and developing its economy is evident in both graphs. Furthermore, comparing Dubai to other GCC countries also reflects the benefits of the state's choice to decrease dependence on oil trade and pursue a developmental path different from those that other emirates and Middle Eastern countries followed. The share of the oil sector has been decreasing from the early 1990s, whereas other sectors, such as trade commerce, real estate, and construction have been continually growing. These patterns portray the process of Dubai transforming its oil-based economy into a business and trade hub, thus proving the effectiveness of the chosen strategy.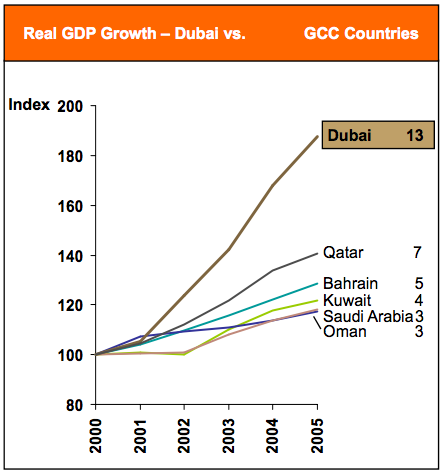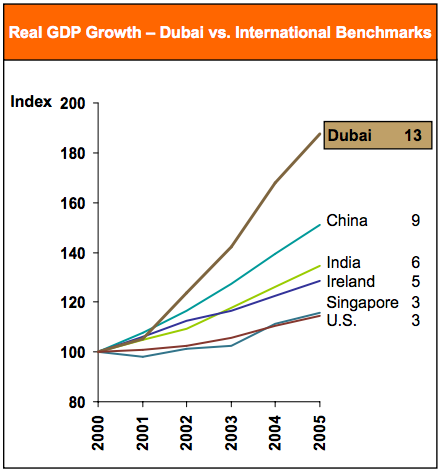 Business Excellence
Business excellence in Dubai has mainly been promoted by the inflow of international businesses and investors into the state. One of the key government actions that allowed the state to attract foreign businesses to Dubai was the establishment of free trade zones. Today, there are many free trade zones located in Dubai, and a large variety of international companies and investors have used this opportunity to set up a business or a branch.
For instance, the Jebel Ali Free Trade Zone includes 5,500 companies from 120 countries (Stephens Balakrishnan, 2008). Each free zone is dedicated to a particular business sphere, such as IT, trade, logistics, or manufacturing (Stephens Balakrishnan, 2008). Free trade zones are attractive to international businesses for three main reasons. First, the geographical location of Dubai is desirable for large international corporations as it is located close to Europe and Asia. Second, free trade zones offer foreign investors the opportunity to retain full ownership of their companies, whereas other areas of Dubai require at least 50% of a business to be owned by an Emirati citizen.
Lastly, companies located in the free zones are subject to tax exemptions and other significant business benefits such as full property ownership, operational license, lack of restrictions on the number of business lines or activities, and more. The inflow of foreign investors, as well as the diversification of business and entry into the global trading market, have prompted increased cooperation between Dubai-based firms and international entities.
For example, as mentioned earlier, one of the limitations for foreign business activity is that at least half of a company operating outside of free trade zones has to be owned by locals (Nyarko, 2010). Although such rules make it more difficult for international businesses to operate in Dubai, they promote international cooperation and the consequent sharing of knowledge and expertise. In other words, in order to cooperate successfully with foreign partners, investors, and companies, Dubai's businesses must adhere to internationally recognized standards such as the standards of business excellence. According to Mann, Adebanjo, Laosirihongthong, and Punnakitikashem (2011), another motivation for adopting business excellence standards is achieving a competitive advantage in the global market.
Business excellence allows companies to improve the efficiency of their business processes, enhance relations with partners and customers, and build competency to increase financial profit (Mann et al., 2011). The two key drivers of business excellence in Dubai have thus been the Government Excellence program, which promoted business excellence standards, and increased international cooperation, which required companies to adopt internationally recognized standards of excellence.
E-Government
Piecowye (2007) defined e-government as "the electronic enablement of services provided or commissioned by the public sector specifically capitalizing upon applications of information and communication technology (ICT) tools to the wide range of service activities undertaken by the state" (p. 411). Given the strategy behind Dubai's growth and development, it comes as no surprise that the government initiated the e-government project in 2000 in anticipation of future development.
Before the initiative, the provision of state services involved much bureaucracy as all applications for governmental services had to be made by traditional means and by submitting hard-copy documents (Sethi & Sethi, 2008). E-government development and implementation were an extensive process governed by a high-level executive committee and including multiple strategies: operational, organizational, legal, financial, and IT (Sethi & Sethi, 2008).
Each strategy was dedicated to ensuring the correct development and implementation of the respective e-government component. For instance, the IT strategy was aimed at constructing and initiating robust IT systems to establish the electronic structure of e-government. The purpose of the legal strategy, on the other hand, was to ensure that all services rendered to customers should be legally valid. This thorough approach to e-government planning and implementation contributed to the success of the initiative: Dubai has named the second-best state in the Middle East for the efficiency of its e-government as well as 26th in the world (Piecowye, 2007).
Innovation
Another aspect of Dubai's excellence is its continuous innovation in all spheres of business and governance. For example, innovation in health care and education are the key components of Dubai's 2021 vision. Another significant innovation project is the Dubai strategic development city model or smart city (Efthymiopoulos, 2016). Led by the executive council, the initiative aims to put Dubai at the forefront of urban growth and development by combining improved infrastructure and governance with environmental sustainability.
As in the e-government initiative, the smart city project is divided into several key strategies with distinctive goals and areas of application, such as infrastructure, governance, public services, and more (Efthymiopoulos, 2016). Turning Dubai into a smart city will allow an increase in the efficiency of all public services, making the state more attractive for visitors and residents, as well as promoting an environmentally-friendly approach to innovation.
Environmental sustainability, including the reduction of waste and the use of resources, is embedded in the project and supported by technological innovation, from electric vehicles to solar energy sources (Efthymiopoulos, 2016). Most areas of business in Dubai also rely on technological innovations and developments for increased efficiency and productivity. The use of innovation in Dubai's firms allows for a significant competitive advantage, thus making the companies more profitable and sustainable. For instance, a study by Al-Ansari, Altalib, and Sardoh (2013) examined 200 SMEs operating in Dubai regarding their use of innovation and technology orientation.
The researchers found that innovation had a significant direct influence on firm performance, indicating the active application of innovation. Moreover, innovation allows local Dubai businesses to remain profitable in the changing market environment despite the presence of large international companies (Al-Ansari et al., 2013).
Summary and Conclusions
Overall, Dubai's excellence in business, innovation, and governance has been largely driven by the government's strategy of economic development. First, the government's decision to refrain from relying solely on the oil trade has enabled the country to build a thriving economy and to diversify the business sector. This, in turn, allows for more sustainability and growth in the future, as it ensures that the state's economy does not suffer from changes in oil prices as much as the economies of other countries do. Second, the Government Excellence Model has allowed the state to eliminate bureaucracy and to build stable relations between the public and private sectors.
Moreover, it has also contributed to the spreading of business excellence into the public sector by promoting values, processes, and principles that are integral to quality management. The economic shifts that took place in Dubai were also initiated by the government with the intention of stabilizing and enhancing the state's economy. Diversification and internationalization of business in Dubai also prompted the movement of international companies into the state.
Foreign businesses are benefiting from free trade zones, tax exemptions, and an advantageous geographical location. Dubai, on the other hand, is also benefiting from the presence of international corporations and investors as such cooperation adds to economic growth and promotes knowledge sharing. Finally, the effective implementation of e-government, as well as the continuous focus on innovation and growth, allow the state to pursue its future strategic goals and to retain its position as the benchmark of excellence and development for other emerging countries, both in the Middle East and all over the globe.
References
Al-Ansari, Y., Altalib, M., & Sardoh, M. (2013). Technology orientation, innovation, and business performance: A study of Dubai SMEs. The International Technology Management Review, 3(1), 1-11.
Efthymiopoulos, M. P. (2016). Cyber-security in smart cities: The case of Dubai. Journal of Innovation and Entrepreneurship, 5(1), 11-26.
Elbadawi, I. A., & Soto, R. (2012). Sources of economic growth and development strategy in Dubai. Web.
European Foundation of Quality Management (EFQM). (2013). An overview of the EFQM excellence model. Web.
Hvidt, M. (2007). Public–private ties and their contribution to development: The case of Dubai. Middle Eastern Studies, 43(4), 557-577.
Hvidt, M. (2009). The Dubai model: An outline of key development-process elements in Dubai. International Journal of Middle East Studies, 41(3), 397-418.
Mann, R., Adebanjo, D., Laosirihongthong, T., & Punnakitikashem, P. (2011). Awareness and impact of business excellence in Asia. Total Quality Management & Business Excellence, 22(11), 1237-1258.
McAdam, R., Keogh, W., Ahmed El Tigani, A., & Gardiner, P. (2013). An exploratory study of business excellence implementation in the United Arab Emirates (UAE) public sector: Management and employee perceptions. International Journal of Quality & Reliability Management, 30(4), 426-445.
Nyarko, Y. (2010). The United Arab Emirates: Some lessons in economic development. Web.
Nuseirat, A. (n.d.). Dubai Government Excellence Program: Achieving sustainable results. Web.
Piecowye, J. (2007). The Dubai e-government project. In A. Anttiroiko, & M. Malkia (Eds.), Encyclopedia of Digital Government (pp. 410-415). Hershey, PA: IGI Global. Web.
Sethi, N., & Sethi, V. (2008). E-government implementation: A case study of Dubai e-government. Web.
Stephens Balakrishnan, M. (2008). Dubai–A star in the east: A case study in strategic destination branding. Journal of Place management and Development, 1(1), 62-91.