Introduction
Farmers Trading Company has an extensive history of operations and was able to establish itself as a brand. The business was founded in 1909 in New Zealand, and since then, the department store chain was able to open 59 stores across the country. However, market conditions have changed, with more competitors opening their department stores, which reduced the profit margins of Farmers Trading Company. Brand marketing is one of the strategies that can help the company increase its profits, improve the experience of customers and improve the image of Farmers Trading Company.
On-Time Delivery!
Get your customized and
100% plagiarism-free paper
done in as little as
3 hours
This report is developed for managing directors of Farmers Trading Company. This brand marketing report aims to examine the specifics of brand marketing, explain the importance of it to individual consumers, discuss the opportunities and challenges connected to the diversity of New Zealand's population and provide recommendations for Farmers Trading Company. This report is structured in the following manner – after the introduction, the discussion section presents a synthesis of brand marketing literature, outlining key concepts and explaining the value of brand marketing.
Next, the recommendations section includes several suggestions that Farmers Trading Company can incorporate into its long-term and short-term marketing strategy to increase profitability. Finally, the conclusion summarises the key points of this brand marketing report. The scope of this report is the brand marketing, specifically applicable to department store chains. The definition, essential specifics of applying brand marketing in New Zealand, and possible challenges will be the focus. Different strategies of brand marketing will not be discussed in this report.
Discussion
Definition of Brand Marketing
Firstly, it is necessary to define brand marketing and explain its core characteristics. According to Gil (2020), it is a specific approach to managing the product and customer communication that allows improving brand's equity. In essence, this means that a company can develop a strategy, which allows communicating its value to a consumer. Natarelli and Plapler (2017) argue that brand marketing is a development of a relationship with a customer, with shared values, beliefs and performance expectations. This approach implies more emphasis on the interactions between an organisation and its clients, with a focus on how they impact each other.
Others, for instance, Arbouw, Ballantine and Ozanne (2019), Barnes and Higgins (2020) and Sexton (2015) state that brands are elements of a company's image, such as a logo, reputation, marketing campaigns, or communication with consumers. While these definitions are valid, they limit the scope of brand marketing to specific characteristics of a brand, which cannot be viewed as a marketing strategy. Due to this fact, this report suggests that band marketing is an establishment of a relationship between a business and its target audience through different communication channels. In general, different authors provide different definitions of brand marketing, however, there are common characteristics.
Purpose of Brand Marketing
A brand is one of the critical assets that a company can own, meaning that it contributes to the value of an organisation. The primary purpose of brand marketing is to increase the value of a company's offer from a customer's perspective (Shin, Casidy, Yoon & Yoon, 2016). This is the reason why marketing campaigns with a focus on brand do not imply direct sales. Instead, they raise awareness about an organisation to explain the specifics of its operations, for instance, a strategy to sell only sustainable products. This helps customers select businesses that correlate with their values and beliefs. Arguably, this correlation can exist without a direct application of brand marketing, however, in this case, a company is losing an opportunity to attract more attention to its offer. In addition, increased demand, justification of premium prices and customer loyalty are the key benefits that arise as a result of using brand marketing (Bailey, 2016; Hanssens & Pauwels, 2016; Natarelli & Plapler, 2017). Therefore, brand marketing creates a number of opportunities for businesses.
An established brand can help companies overcome brand crises and other organisational issues. In a contemporary environment, media publications that draw negative attention to a brand are standard (Hewett, & Lemon, 2019; Hollenbeck, 2018; Hsu, & Lawrence, 2016). Issues, such as product recalls, misunderstanding, or controversial situations arise from time to time, affecting the revenue of a company and by gaining the loyalty of customers and establishing a relationship with them, businesses can respond to these disruptive events efficiently. The implication of this is the ability to use an established brand of Farmers Trading Company to address difficulties, such as possible controversies and establish better communication with consumers. Responsiveness as an integral element of a brand becomes especially crucial since through brand management companies can receive instant feedback from their customers (Capelli & Tavis, 2016; Luxton, Reid, & Mavondo, 2017). In the case of Farmer Trading Corporation, this crisis is decreasing revenue.
Yes, we can!
Our experts can deliver a
custom Farmers Trading Company's Brand Management
paper
for only

$13.00

$11/page
Why Are Brands Important to Individual Consumers?
Brands are essential to individual consumers because even without realising it, people show a preference to a specific brand, which represents their values or socio-economic status. For example, Natarelli and Plapler (2017) argue that when asking about a person's favourite car, the respondent will name a brand he or she prefers. Similar examples can be seen in people's day to day life when they make purchasing decisions and choose companies that they trust. This relationship between a consumer and a brand allows both sides to impact each other (Natarelli & Plapler, 2017; Hanssens, 2020; Orazi, Spry, Theilacker & Vredenburg, 2017). Therefore, brands can affect the behaviour of their clients to some extent, while customers can encourage companies to work on different offerings to satisfy the needs of their target audience.
Challenges
The diversity of New Zealand's population has changed over the years. This results in an alteration of preferences and consumer demands, presenting a unique challenge for Farmers Trading Company – to examine new consumer segments, their values and develop a product and marketing strategy that would correlate with these characteristics. Most importantly, Natarelli and Plapler (2017) state that companies must consider the new population of consumers – the Millenials and their preferences to keep up with the challenges of the modern business environment. The demographic changes signify a change in purchasing and decision-making patterns and require updated marketing strategies, one of which is the focus on a brand. This presents unique challenges in the context of brand marketing, since it is essential to tailor efforts directed to communicating brand identity to the unique and diverse population of the New Zealand, which implies leveraging different channels, including social media (Chen, Nguyen & Melewar, 2016; Pace, Balboni & Gistri, 2017; Porcu, Del Barrio-García, & Kitchen, 2017). Millennials establish a different type of relationship with brands, with social media and influencers playing an essential role in their decision-making process.
Opportunities
Besides, the development of online shopping in New Zealand can become another challenge for Farmers trading, reflecting the changes within the population. As suggested by the report from the National Australia Bank (2019), department stores continue to increase their market presence, including online sales. Chart 1 presents the estimations of sales for different industries, including department stores. This provides some insight into understanding the intense competition and the demand for online brand presence in Australia that can be used as a model for estimating the challenges for department stores in New Zealand. However, this is also an opportunity for Farmers Trading Company, since it did not employe online sales and communication channels. By using brand marketing and social media, the department store chain can attract the population of Millenials into its offline stores, because they value novel communication channels.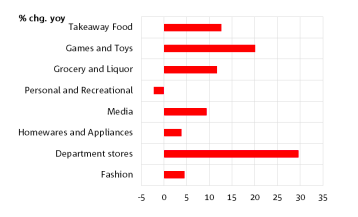 Therefore, one challenge is the increased number of new entrants, which is an issue that Farmers Trading Company has to face as well. Considering this, brand marketing allows communicating to a consumer the principal value of this department store chain and establishing identity that differentiates this brand from competitors (Shetty, Belavadi & Belavadi, 2019). Despite the prospects of online shopping, a well-established brand can help Farmers Trading attract consumers into its offline stores.
Conclusion
Farmers Trading Company has an extended history of operations, however, the current brand image does not fulfil the purpose of a business asset, since the organisation experiences loss of revenue.
Brand marketing is the development of a relationship with the customer. This includes elements such as communication, logo, marketing campaigns and other tools that allow explaining the value of this business.
Brand marketing's main objective is to communicate value to consumers through different communication and marketing channels. In this way, the brand becomes a company's asset.
For consumers, the brand is essential due to the connection they have with an image of a company.
Recommendations
Over the years, the primary purpose of department stores has not changed – they provide customers with a selection of different products, all in one place. The value of convenience and variety are the key characteristics that Farmers Trading Company can focus on in its branding campaign. Based on the findings of this report, Farmers Trading Company can incorporate some aspects of brand marketing into its marketing strategy, more specifically, social media communication and crisis management.
Farmers Trading Company should view brand marketing as a tool, which will help familiarise the consumer with the products offered by the organisation. This can be a beneficial and powerful approach that helps increase consumer demand (Natarelli & Plapler, 2017; Edeling & Fischer, 2016; Fornell, Morgeson & Hult, 2016). In order to enable the efficient functioning of this tool, the organisation must define the key aspects that differentiate it from the competitors. This is essential since Farmers Trading Company faces increased competition from new entrants, both online and offline. Currently, Farmers Trading Company already has an established brand, since it began its operations in 1909. Despite the fact that the organisation did no address brand marketing directly, its operations, services and reputation have formed a specific image that consumers use when evaluating the department store chain (Ballantine & Ozanne, 2019). The long history is the key characteristics of the brand, that can be associated with quality and excellent service, which Farmers Trading Company can leverage in its campaign.
Cut
15% OFF
your first order
We'll deliver a custom
Brand Management
paper tailored to your requirements with a good discount
Farmers Trading Company can immediately begin to assess the brand image that it already has, from the consumer's viewpoint. As was mentioned in the second section of this report, even though the organisation did not dedicate efforts to addressing this marketing tool, it has developed a specific brand. Currently, it is essential to examine it and highlight critical characteristics that consumers consider important. In the short-term, the goal is to address the critical positive aspects of the brand's image, that consumers already associate with Farmer's Trading Company. This should be done by emphasising the strengths that consumers already recognise.
In the long-term, the Farmers Trading Company should focus on employing the brand management strategy across all of its 59 stores and consider rethinking its distribution strategy, based on the demand of the Millennials. The main idea is that this target population values online presence and convenience, and an online store can address these preferences. Additionally, social media presence is a must in order to attract this population to the offline stores of Farmer's Trading Company. The company should create a strategy of communicating with customers, as a response to crises, such as negative media portrayal or issues with products. This will help prepare for any adverse events and maintain the company's reputation since the personnel responsible for branding will communicate with the consumers and address and issues. Such an approach will help establish the brand of Farmers Trading Company as an accountable organisation.
The recommendations expressed above consider the specifics of Farmers Trading Company, such as the time, resources, and budget required for implementing each of the strategies. Arguably, the recommendations are realistic, since the majority of recommendations can be enforced by the existing employees from the marketing department, with the exception of an online store. The recommendations include immediate, short-term and long term strategies, which helps plan ahead.
References
Arbouw, P., Ballantine, P. W., & Ozanne, L. K. (2019). Sustainable brand image: an examination of ad–brand incongruence. Marketing Intelligence & Planning, 1, 1-10. Web.
Bailey, M. (2016). Marketing to the Big Middle: establishing Australian discount department stores. Journal of Historical Research in Marketing, 8(3), 416–433. Web.
Barnes, F. & Higgins, D. M. (2020). Brand image, cultural association and marketing: 'New Zealand' butter and lamb exports to Britain, c. 1920–1938. Business History, 62(1), 70-97. Web.
Capelli, P. & Tavis, A. (2016). The performance management revolution. Harvard Business Review, 94(10), 58-67.
Get a custom-written paper
For only
$13.00
$11/page
you can get a
custom-written academic paper
according to your instructions
Chen, C. M., Nguyen, B. & Melewar, T.C. (2016). An investigation of the uses of corporate reputation: A managerial perspective in the Taiwanese pharmaceutical industry. Qualitative Market Research, 19(3), 357-376.
Edeling, A., & Fischer, M. (2016). Marketing's impact on firm value: Generalizations from a meta-analysis. Journal of Marketing Research, 53 (4), 515–534.
Fornell, C., Morgeson, F. & Hult, G. (2016). Stock returns on customer satisfaction do beat the market. Journal of Marketing, 80(5), 92–107.
Foroudi, P., Gupta, S., Kitchen, P. Foroudi, M.M., & Nguyen, B. (2016). A framework of place branding, place image, and place reputation. Qualitative Market Research: An International Journal, 9(2), 241 – 264.
Gil, C. (2020). The end of marketing: Humanizing your brand in the age of social media and AI. New York, NY: Kogan Page Limited.
Hanssens, D. M. & Pauwels, K. H. (2016). Demonstrating the value of marketing. Journal of Marketing, 80(6), 173-190.
Hanssens D.M. (2020). AI, marketing science and sustainable profit growth. In J. Canals & F. Heukamp (Eds.), The future of management in an AI world (pp. 40-68). London, United Kingdom: Palgrave Macmillan.
Hewett, K., & Lemon, L. L. (2019). A process view of the role of integrated marketing communications during brand crises. Qualitative Market Research: An International Journal, 00–00. Web.
Hollenbeck, B. (2018). Online reputation mechanisms and the decreasing value of chain affiliation. Journal of Marketing Research 55,(5), 636–654.
Hsu, L., & Lawrence, B. (2016). The role of social media and brand equity during a product recall crisis: A shareholder value perspective. International Journal of Research in Marketing, 3(1), 59-77.
Luxton, S., Reid, M., & Mavondo, F.(2017). IMC capability: Antecedents and implications for brand performance. European Journal of Marketing, 51(3), 421-444.
Natarelli, M. & Plapler, R. (2017). Brand intimacy: A new paradigm in marketing. Hobart, NY: Hatherleigh Press.
National Australia Bank. (2019). NAB online retail sales index January 2019. Web.
Orazi, D.C., Spry, A., Theilacker, M.N., & Vredenburg, J. (2017). A multi-stakeholder IMC framework for networked brand identity. European Journal of Marketing, 51(3), 551-571.
Pace, S., Balboni, B., & Gistri, G. (2017). The effects of social media on brand attitude and WOM during a brand crisis: Evidences from the Barilla case. Journal of Marketing Communications, 23(2), 135-148.
Porcu, L., Del Barrio-García, L. & Kitchen, P.J. (2017). Measuring integrated marketing communication by taking a broad organisational approach: The firm-wide IMC scale. European Journal of Marketing, 51(3), 692-718.
Sexton, D.E. (2015). Managing brands in a prickly digital world. Journal of Advertising Research, 55(3), 237-241. Web.
Shetty, A. S., Venkataramaiah, N. B. & Kerena, C. (2019). Brand activism and millennials: An empirical investigation into the perception of millennials towards brand activism. Problems and Perspectives in Management, 17(4), 163-175. Web.
Shin, H., Casidy, R., Yoon, A., & Yoon, S.H. (2016). Brand trust and avoidance following brand crisis: A quasi-experiment on the effect of franchisor statements. Journal of Brand Management, 23(5), 1-23.