Products, services, customers, purpose and goals of Google
Google was established in 1998 as a search engine that was mainly involved in text search where by it enabled its users in entering key words to facilitate retrieval of relevant information. Over the years, Google has turned out to be the world largest search engine in the world that sufficiently meets the needs of its clientele. From its humble beginning in 1998, Google has transformed and grown to encompass other services which include:
Google maps services that enable its users to navigate global maps to aid them in accessing different geographical locations.
Gmail services which provide email services to their clients.
YouTube service which is a free database services that facilitates access and sharing of visual information.
Nonetheless, there are various Google stakeholders as presented in the diagram below.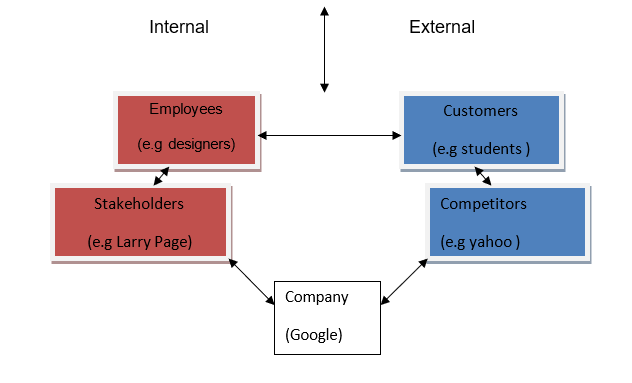 All these services are in line with Google's purpose and goals of organising the world information and making it universally accessible and useful (Vaiman, 2008).
External factors and their impact on the business activities of Google
Within the operating environment of Google, there exist various external factors that have influence on its business activities. These factors include:
Political factors
To begin with, political influence is a factor that is of great impact. It is important to note that these business activities are based on infrastructure. In some environments, the governments have not been keen on its improvement hence limiting company's operations.
Economic factors
Moreover, economic influences such as market growth have been slow hence negatively impacting on company's growth.
Social factors
Nonetheless, in terms of social influence, educational standards have recorded positive increase hence providing growth opportunity to the organisation.
Technological factors
Lastly, in terms of technology, there has been a change in communication methods where emails are being used as the core method of business communication in most organisations. As a result, good growth opportunities to the company have been availed to the company.
Structure and functions of the organisation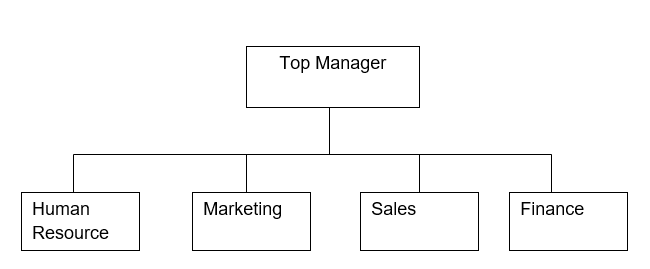 Google is organised in a matrix structure. Given its operational characteristics of organising its operational activities in team works where by experts with similar skills are grouped together for work assignments; it qualifies for a matrix kind of an organisation. Nonetheless, within these team works, employees are required to share their knowledge in their specific areas of specialisation. As a result, it qualifies to be a perfect example of a matrix structure.
With respect to its functions, Google has various operating functions that help it operate normally. First and foremost, human resource function is concerned with recruitment and development of talents that steer Google to its performance glory.
Secondly, marketing function is concerned with carrying out its marketing mix. For instance, it promotes various Google products and services which helps it to attain projects revenues.
Thirdly, Google sales function is closely related to marketing since all marketing strategies are intended to attain high sales. This operational function ensures that the company attains high sales of its products and services which in turn guarantee business sustainability.
Lastly, the finance function ensures that the company is operating within its budgets by ensuring that expenditures and incomes result to positive figures on the balance sheet. This is important to Google's business operations since it assures its liquidity.
How functions work together to optimise performance
Despite these functions being different in nature in terms of their functional operations, they work together to optimize Google's performance. For instance, the human resource function is concerned with recruiting and developing the best workforce who are responsible for effective operations of the other three functional areas. Moreover, marketing function is designed to contribute to optimisation of sales. On the other hand, the finance function is responsible for regulating the other three functional areas by ensuring that they operate within Google's budget to remain in liquidity.
Google organisation's culture and how it affects its performance
The organisation culture is a determinant of every aspect in the company (Jackson & Randall, 2000). As a result, its culture nurtures its employees in terms of behavior. With respect to Google, its culture was laid by Larry Page the founder of the organisation. The founder came from a generation that embraced new management approaches. As a result, a culture that embraces flexibility, diversity and the one that prioritises employees' motivation and happiness forms the basis of management culture of Google. According to Google (2012), culture of espoused value shapes their culture of commitment to innovation through motivation of their employees and as they are frees to share ideas and opinions. Moreover, a culture of free communication is a value that the organisation has created to cultivate teamwork atmosphere and to encourage sharing of ideas.
The organisation's strategy
According to Boudreau and Ravin (2011), Google pursue a Darwinian Strategy that relates to rolling out widest range of products. It is simply an evolutionary organisation as it begun as a search engine services and later developed into a conglomeration of various services. For that matter, it has successfully been employing Darwinian strategy as an evolutionary organisation.
How HR activities support the organisation's strategy
Notably, the HR activities support to a large extent implementation and attainment of this Google strategy. To begin with, this Darwinian strategy of evolutionary requires efficient and effective workforce. Therefore, activities of human resource comes in handy since it is responsible for identifying, attracting, recruiting, training and developing proficient staff to promote and enhance Google organisation's strategy (Gomez-Mejia & Cardy, 2011).
To begin with, one of the HR activities that support Google organisation's strategy is the talent sourcing. At Google, the HR department is tasked with implementing activities that are supposed to attract the best talents to its workforce (Bach, 2005). For instance, it is required to put in place good recruitment policies. As a result, in an environment where an organisation is able to attract the best, it is in a position to recruit the best talents that can guarantee its organisational strategy. With the Google's Darwinian's strategy, the HR activity is able to attract the best talents hence recruiting the best from the best. As for such, it is able to advance its strategy.
Secondly, Borkowski (2009) provided that once an individual talent has been attracted to the organisation and recruited; the HR department is responsible for developing it through training and development. This activity has several crucial purposes in the organisation. The initial training activity at Google include induction programme which is intended to; act as an avenue through which new recruits are able to learn its expectations, its organisation's culture is inculcated in the new recruit and it acts as a platform through which the new recruit is able to learn both the internal and external environment of Google (Johnson & Scholes, 2008).
Thirdly, in-house human resource responsibility is another activity that supports the Google organisational strategy. For instance, the department is tasked with performing employees' relocation, undertaking administration of life balance benefits and implementation of wellness program. This activity is required to motivate employees in order to make them more productive hence helping in attaining Google organisational strategy.
Fourthly, the HR department is also concerned with planning for organisation's engagement with people in terms of its work processes. For instance, it is responsible for ensuring that employees under its wings are adequate and productive enough to attain Google organisational strategy. This boosts their productivity in the organisation as their morale is developed further. As a result, management effectiveness is attained.
Ways through which HR professionals support line managers and their staff
There are several ways that HR professionals at Google support line managers and their staff in the effort of improving their productivity which contributes to the overall attainment of the organisational strategy. One of the ways according to Vaiman (2008) is through equipping them with the right working tools. This is important since they are the ones who are responsible in performing various business processes that help Google to attain its strategy.
Secondly, the HR professionals at Google provide regular training which is essential to make these line managers and their staff to be confident in performing their responsibilities. Even after a training programme, the HR is always there to address any questions. This makes the working processes of this group to be easier.
Thirdly, the HR professionals at Google supports line managers and their staff through recognition and appreciation. For instance, those who perform exceptionally are identified and recognised through appreciation. This helps in motivating them hence in the processing contributing to the overall Google's organisational strategy (Lynch, 2006).
Role of the HR (or L&D) function has to the overall success of the business
The role of HR function is significant to the overall success of Google's business. This is achieved from the value accrued from its activities and functions (Mintzberg & Quinn, 2003). Importantly, people are the most vital resource at Google for its business performance. Therefore, for knowledge organisations such as Google, it workforce is comprised of knowledge workers who are supposed to be attracted, recruited using good recruitment procedures and latter developed and retained. This helps the company to have people with the required skills and knowledge which drive it to effectiveness and efficiency.
Conclusion
To wind up, HR department in the organisation is a key player in bring forth management effectiveness since it helps in achieving organisational strategy. For that case, it is important to acknowledge contributions of this department in its business processes. As a result, it is ill advised for the organisation to phase out this department. Instead, it is important that the top management should be supportive to it to achieve if it is to attain its organisational strategy.
References
Bach, S. (2005). Managing human resources: Personnel management in transition. USA: Blackwell Publishing.
Borkowski, N. (2009). Organizational Behavior, Theory, and Design in Health Care. Canada: Jones & Bartlett Publishers.
Boudreau, J. & Ravin, J. (2011). Transformative HR: How great organisations use evidence-based change for sustainable advantage. San Francisco: Jossey-Bass.
Google. (2012). Our products and services. Web.
Gomez-Mejia, L., R. & Cardy, R. (2011) Managing human resources. USA: Prentice Hall.
Jackson, S., & Randall, S. S. (2000). Managing human resources: A partnership perspective. London: South-Western College Publishing.
Johnson, G. & Scholes, K. (2008) Exploring corporate strategy. London, Prentice Hall.
Lynch, R. (2006). Corporate strategy. London: Prentice Hall.
Mintzberg, H. & Quinn, J. (2003). Strategy process and cases. London: Prentice Hall.
Vaiman, V. (2008). Smart talent management: Building knowledge asset for competitive advantage. USA: Edward Elgar Publishing Ltd.