Wet Seal stands out as a fashion retailer targeting young and fashion conscious girls. It focuses on teenager and middle-aged girls that are not just keen about fashion, but also value their image which is portrayed by what they wear. Its core clients are fashion lovers, those that prefer to shop regularly, and those that can shop both in malls and online. As a matter of fact, its brand features are designed to meet the needs of fun-loving girls.
Other than targeting fashion conscious girls, Wet Seal also meets the needs of girls who are budget conscious. In essence, the store is a destination of tech-savvy, fashion loving girls. On the other hand, Wet Seal has a sister store known as Arden B. The sister store targets women aged between 21 and 39 years. This is a category of women who are not just conscious about fashion, but also keen to be at par with emerging trends, let alone frequently revamping their wardrobe. Addressing the needs of this dynamic market requires a carefully thought and planned product mix.
At a time when Wet Seal is keen on repositioning itself as hub of fashion, it is important that it adopts operating strategies that will help restore its growth and promote long-term success. Major focuses include delivery of quality products at affordable prices, understanding and appropriately responding to market trends, driving traffic through disruptive marketing and visual merchandizing, creating a relevant platform for social media outreach, reaching out to the market through popular media such as music, and leveraging of online presence to not just drive sales but also deliver real-time messages to prospective clients (Borden 286). As a matter of fact, Wet Seal's product mix should take into consideration all key characteristic of the target market.
Product
Wet Seal's product base must reflect the face of its target mix. Fashion and trend must be at the forefront. Conventionally, girls, and more especially young girls are keen about fashion. Additionally, a contemporary woman would want to not just look smart but also to be viewed as fashion compliant. Women aged between 21 and 39 years old are already earning and prefer to regularly change their wardrobe. Logically, they would not want to change their wardrobe with the same clothes they previously purchased. Consequently, it is important to keep re-stocking with latest fashion clothes.
Pricing
Price is an important factor for the targeted market (Banting and Ross 232). Although a considerable portion of the target market is already working, these are clients who are keen on saving and hence have rein on spending. Consequently, it is important that the products be averagely priced to match the needs of the targeted market. Additionally, most of the teenagers are yet to start earning and hence rely on parents. Not many parents can allow free spending and hence clothes would be fairly priced. The company should therefore adopt a fair pricing strategy.
Place
The target market includes clients who can shop both in malls and online. As a result, marketing approach should use both conventional and online marketing platforms (Brian 202). In malls, latest fashion clothes should be strategically placed to be visible to store's visitors. Online advertisement should also be upped taking into consideration the fact that the targeted market includes internet users. More precisely, the targeted market enjoys presence in social networks and hence lots of marketing campaigns should be directed towards these areas.
Promotion
This is an important aspect of marketing. The target market is characterized with clients who are keen on products being advertised (Kotler 112). Media such as music offers a good avenue for advertisements and so does the social media platforms such as Facebook, Whattsup and Twitter. It is important to note that Wet Seal's major competitors including American Eagle Outfitters Inc., Forever 21 Inc., and the Gap Inc. who already enjoy online sales and hence there is the need to heavily invest in this niche.
Merchandise
Wet Seal and Arden B business divisions enjoy a strong brand position. Unlike other apparel retail stores with diversified products, Wet Seal focuses on satisfaction of fashion requirements of two different client categories, teenage girls and middle aged women. This is achieved through Wet Seal and Arden B brands. The company brands have built a close relation to the clients, in addition to implementing merchandise strategies that reflect their varying fashion needs. The business divisions therefore present fashionable, trendy apparels and accessories at fair prices.
The merchandizing model delivering fashion at fair prices is applicable to Wet Seal. The model involves identification, stocking, and sales of an extensive range of trendy and fashionable apparels and accessories at affordable prices. The strategy also involves working with clients in order to ensure successful product selection, promotion as well as pricing strategy. A large portion of the merchandise should be domestically sourced and hence reflect the needs of the immediate market. Additionally, such a sourcing strategy will allow shipment of merchandise more often. The strategy will also involve periodical mark-downs to enable slow-moving stock to rapidly sell and hence facilitate regular replenishment (Jerome 37).
Assortment of merchandise
Summer is fast approaching. Typically, it would be expected that clients would turn to clothing that can provide comfort while still retaining a gorgeous look. It is on this basis that it is recommended that Wet Seal stocks jeans, leggings, and jackets. An extensive array of tops can be availed as they will be covered by jackets in case of cold. Some recommended collections are shown below,

Wearing such jeans, will make you look good and fashionable.

Like jeans, leggings cover the legs and hence minimize exposure to summer heat. However, unlike jeans which are heavy and might result into lack of comfort, leggings are light and more comfortable.

The tops can be worn as convenient and covered with jackets. The tops are priced at between $15 and $ 25.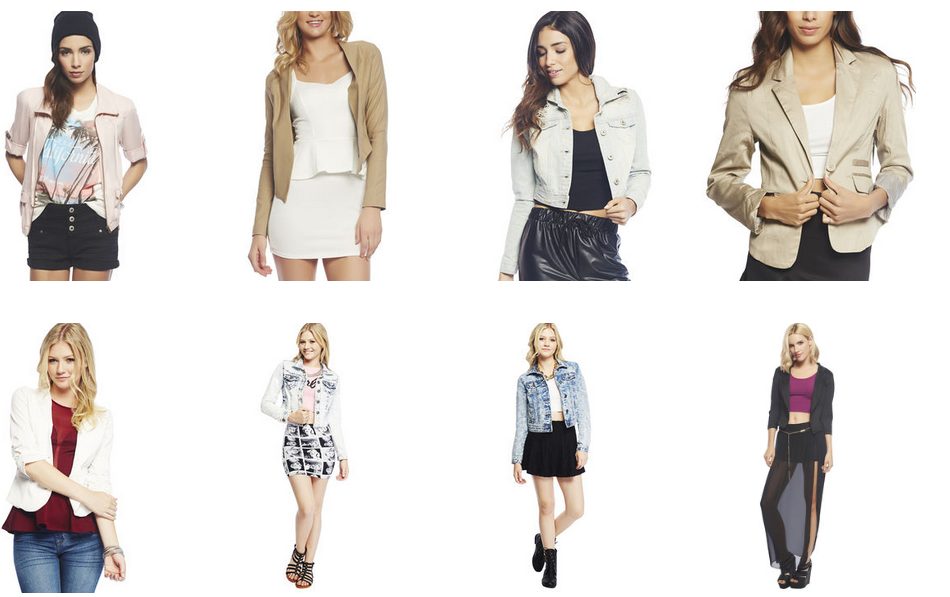 The proposed assortment of jackets help the teenagers and middle-aged women retain a gorgeous look while at the same time securing them against the winter cold. The jackets costs between $25 and $40 and hence affordable to targeted market.

Boots are the recommended footwear to match the conditions associated with winter and at affordable rates. The cost ranges between $32 and $36 and hence affordable to middle-aged women and teenagers alike.
Other than the proposed assortment of clothing, it is also recommended that more close shoes are included in the assortment in preparation for the cold season. In cold and wet seasons, closed shoes are more preferred as compared to open shoes which expose one to multiple effects of cold weather, including mud and cold. Boots will be more appropriate.
Marketing focus
Marketing is of great importance. The proposed strategy is to market clothing on basis of the upcoming season. This will involve social site based marketing campaigns alongside TV adverts. The aim is to provide as much visual presentation of the assorted wear as reasonable possible. The focus should be on both the middle aged women and the teenagers. While most of the middle aged women already working or still in college will be looking forward to revamp their wardrobe preparing for summer, teenagers will have just started long holidays and will look for appropriate clothing to match the summer holidays.
It is however important to note that the target market is cost conscious and hence market will be based on the philosophy of quality clothing at affordable pricing for the summer season. Social marketing will mainly involve posting of images and information about the wears to social platforms, accompanied by links to Wet Seals and Arden B site. As a matter of fact, this will involve lots of info graphics that will display the clothes as appropriate for fashion and trend, while at the same time, highlight their usability for the upcoming season. The clothing line as constituted will be primarily marketed as an affordable clothing line suitable for summer season and in line with emerging fashions and trends. Additionally, direct emails should be considered where such is available.
Works Cited
Banting, Peter and Ross, Randolph. "Choosing the right product mix." Journal of the Academy of Marketing Science 1.1 (2010): 231-234.
Borden, Neil. The Concept of the Marketing Mix. New York: Wiley. 2009. p. 286.
Brian, Solis. Engage: The Complete Guide for Brands and Businesses to Build, Cultivate, and Measure Success in the New Web. Washington DC: John Wiley & Sons, Inc. 2011. p. 201-202.
Jerome, McCarthy. Basic Marketing: A Managerial Approach. London: Richard D. Irwin, Inc., 2010, p.37.
Kotler, Keller. Marketing and Management. Upper Saddle River: Pearson Prentice Hall. 2008. p. 112.