Introduction
The purpose of this report is to assess the effect of tourism on the economy in the concerned Arab countries, such as United Arab Emirates, Jordan, and Egypt.
Unites Arab Emirates
Overview of UAE Tourism Sector
Library of Congress (13) stated that tourism is the fastest-growing sector in UAE, as all seven states especially Dubai and Emirates have experienced great prospects from tourism-related business, for example, Dubai generates more revenue from this sector than the oil segment. Library of Congress also reported that Asian, European, South African, and Australian tourists would like to visit this country to know about historical places, monuments, buildings, towers, graveyards, natural locations, scenarios, sports, museums, fairs, festivals and some of them like to stay in the world's tallest hotel in Dubai and Emirates (13).
Contribution to economy:
WEF reported that the UAE ranked 18th in the world in terms of global tourism competitiveness, so this sector has a positive impact on its overall financial position;
Ramadan (1) provided some important data that shows the significance of the tourism industry on the economic development of UAE, for instance, in 2006, more than 2870,000 passengers passed through Dubai International Airport and 6440,000 arrivals stayed in Dubai's hotels;
He further added that 1500,000 tourists will visit Dubai and the number of hotels will also increase accordingly within this year;
Besides the hotel of other states, Abu Dhabi's hotels earned more than AED8.6 billion from 13,50,000 hotel guests (Ramadan 1);
About 8.5% of total jobs have direct or indirect link with the tourism business;
Low-cost airways in this area experienced high profits due to enhancement of number of passengers;
In addition, new companies interested to invest in this industry to offer low-cost air services, such as, in 2009, Flydubai started operation at highly competitive price;
Hotels of this country hosted millions of visitors from India, Pakistan, Iran, Saudi Arabia, and Kuwait
Besides hotels and airways, the modern markets as well several conventional markets are still booming;
The FDI acts as another major catalyst for patronizing the tourism industry with an extra scope of free ownership to the outsider groups within this industry for generating more and more transportation, eatery and lodging support;
This sector helps this country to recover its financial position while the global tourism industry is passing through the challenge of overcoming a global financial crisis and recessionary impact, as well as sustainable Eco-friendly tourism;
Finally, the higher economic growth and per capita GDP make various tourism inventories available to the large extent of local community
Future projects:
Library of Congress mentioned that investors like to invest huge amounts of money for the development of the tourism sector, such as, Dubai has grandiose plans to invest $9.5bn for theme park and $3bn to establish 100 hotels and develop islands;
Ramadan said that government would invest about $10bn in this sector to earn more from the Abu Dhabi tourist zone.
Jordan
The effect of tourism on Jordan economy
Rosenberg & Hala pointed out that tourism is one of the most important sectors of Jordan's economy though this country has comparatively limited natural resources to support the financial growth of the country (2). He further added that Jordan has remarkably rich cultural and archaeological heritage, which make tourism a key driver of the economy and Jordan is in fourth position among Middle East countries, for example, more than 3.4 million tourists meant Jordan as their travel destination and in 2008, 14% of total GDP generated from this sector. However, the following points briefly consider the overall impact of tourism on the economy of Jordan:
Its revenue is increasing from this segment day by day because Jordan is a prime tourist destination on an international level and Jordan generated about US $2,312 million in 2007 from the international tourism segment whereas it earned only 1,441 million in 2005;
In addition, the government of Jordan tries to develop this sector to reduce unemployment problem and the government hope to create more than 51,000 new jobs by 2010;
In 2008, the total tourism income reached JD 1.77 billion whereas it was JD 1.41 billion in the previous year;
ABC Investment (8) reported that tourism is the fastest rising segment in Jordan as in 2007 the growth rate was 31.1% and in2008, it was 38.7%;

The following table demonstrates major statistics of the tourism sector in terms of number of arrivals, number of arrivals, overnight visitors, same-day visitors, tourism receipts (millions), packaged tourism, tourism employment, and so on;

According to Table- 1 and 2, tourism is the optimistic sector for national economy as all the variables is increasing;
Amman is the capital of Jordan, which experienced an outstanding improvement in the past few years in tourism sector as well as industrial sectors;
Figure no 1 demonstrates that nights tourist arrivals in Jordan are mainly subjugated by Arab travelers;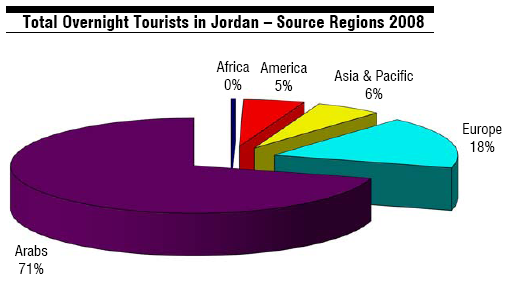 Rosenberg & Hala (9) also mentioned that the total traffic at Amman Airport grew at an average annual rate of 7.2% between 1995 and 2008;
However, Airport arrivals strongly enlarged in 2008 with a growth of 16.3%;
Finally, the income from Hotel and restaurant sectors have increased dramatically in the destination of Amman, Aqaba, Petra, the Dead Sea and another area.
Key factors of economic development:
Free trade agreement with European countries;
Private-public relationship;
Government policy;
Development of real estate sectors;
Concentration on security issues etc.
Challenges for the further expansion:
Hotels and restaurants play a vital role in the development of the tourism sector as 35% of hotel revenues generate from food and beverage sales and these sectors alone add JD 179.1m to Jordan's real GDP. However, these organizations have to follow rules and regulations to export, import and other food processing system, which creates hindrance for future growth;
In addition, many Jordanians refrain from alcoholic beverages;
Threats of natural disasters or terrorist attacks like 2005 hotel attacks;
Global financial crisis adversely affected the tourism sector of Jordan by decreasing the number of tourists though government has taken several initiatives to overcome this problem.
Egypt
Overview of Egyptian Tourism
In the most recent time, Russian tourists are at the highest contributor of Egyptian tourism industry, but it attracts visitors from all over world for its cultural heritage including warm autumn sun beats fall on the pyramids at Giza outer of the capital Cairo, gigantic numbers of tourists arrive in front of the Great Sphinx and walk through the temples' way. Obviously, it brings a sense of humor with a neighboring approach to 4500 years back heritage of human civilization including Red Sea's sustainable eco-tourism opportunity with high-quality service at most reasonable price.
Status of Egyptian Tourism Sector
WEF reported that the tourism sector of Egypt is next to South Africa, and in the regional ranking, it has placed at 9th while the global tourism ranking of the country is 64th in 2009 with the country's prosperous cultural heritage, one of the seven wonders, more than a few international trade fairs and exhibitions throughout the year. Moreover, the country has its own cultural attributes and strong economy that provides excellent price competitiveness and categorized Egypt at the top of all countries for its competitive hotel charges, lower fuel costs, and near the ground travel expenses with a strong governmental priority sector and huge public and private investment in this sector. Although Egypt needed to bring remarkable enhancement of tourism infrastructure, road transport infrastructure including its Information Technology integration in the tourism sector and more prior development of education and training on the hospitality industry to achieve overall competitiveness in the tourism industry of the country (22).
Economic Contribution of Egyptian Tourism Sector in Recent Years
Shahine quoted the tourism minister of Egypt Mr. Zoheir Garranah and pointed out that the Egyptian tourism sector gained a 24% growth of profits in the first quarter of 2010 that evidenced a boost of revenue about US$ 2.7 billion within first three months of this year while number of tourists increased 29 % and accounted 3.46 million tourists. After the US credit crush and financial downturn of 2008, that was the first year of the Egyptian tourism sector to demonstrate positive gain and it proved a significant recovery, which has elevated than expected, reported the local tourism office (Shahine 1).
The economy of contemporary Egypt has become dependent on tourism for its foreign currency earnings and FDI1 inflow;
It has contributed 12 % of job opportunities for the Egyptians;
This sector generated revenue of US$ 10.76 billion in 2009 as a downsized income;
Due to the global financial crisis, the tourism sector of Egypt faced a decline of tourism revenue by 3.4% than the previous year and the decrease of tourism revenue was most alarming in the first quarter of 2009 that accounted 13.2 % fall;
More than 11.45 million visitors arrived within the fiscal year 2009.
Economic Trend of Egyptian Tourism Sector
World Economic Forum mentioned that the potential growth of the Egyptian tourism sector recorded an overall growth rate of 15% from 2002 to 2006, which was accelerated by 20% in 2007 while the sector's GDP contribution estimated 11.3% (WEF 119). The tourism sector has considered around 40 % service export of the country against 19.3% foreign currency earning and created 12.6 % direct and indirect employment opportunity for the nation with 4 % of total investment from the private sector. In 2006, the revenue generated from the tourism sector was estimated at 6 billion while the investment prospect created for US$ 4.1 billion that has accounted for 2.7 % of the gross national investment of that year
Further Prospect of Egyptian Tourism Sector
The global financial crisis has thrown the Egyptian tourism sector with remarkable challenges of reducing the return on investments while the stakeholders have the prospect to overcome all threats with its price competitiveness, Eco-friendly environmental strategy, infrastructural and educational development, and welcoming foreign investment in this sector.
Works Cited
ABC Investment. Tourism Sector Report. 2009.
Library of Congress. Country Profile: United Arab Emirate. 2007.
Ramadan, Ahmed. United Arab Emirates tourism sector competitiveness ranked 18th globally. 2007.
Rosenberg, Paul. & Hala Matar Choufany. Jordan – A Vital Tourism Sector. 2008. Web.
Shahine, Alaa. "Egypt Tourism Revenue Surges as Tourists Flock Back." The Business Week, 2010.
WEF. The Travel & Tourism Competitiveness Report 2009. 2009.
Footnotes
Foreign Direct Investment.