Introduction
One of the main companies which operate single jet aircraft between San Francisco and the Fiji is Westcoast Air Co. On Mondays and Thursdays Flights leaves to San Francisco and on Wednesdays and Saturdays it depart from Fiji. Due to certain reasons more flights between San Francisco and Fiji could not be offered by Westcoast Air Co. The Westcoast Air Co. offers tourist-class seats. Therefore, the analyst has collected relevant cost information in order to analyze the net operating income and to take decisions.
Relevant costs for decision-making: before going into the case analysis we can see the relevant cost. "A relevant cost or benefit is one that will be affected by the decision." (Jay, 2009). So it is considered that fixed overhead, notional costs, past or sunk costs and book values do not come under relevant costs and they are irrelevant in decision making process i.e. costs and benefits which are independent of a decision do not fall under the category of relevant costs. "The relevant financial inputs for decision-making purposes are therefore future cash flows, which will differ between the various alternatives being considered." (Drury, 2007, p.192).
Sunk cost: already incurred cost of an outlay is called sunk cost. As it has already taken place it has no affect on the decision-making process.
Committed cost: "A cost related either to the long term investment in plant and equipment of a business or to the organizational personnel whom top management deem permanent; a cost that cannot be changed without long run detriment to the organization." (Definition of committed cost 2009).
Historical cost: U.S mainly uses Historical cost concept to assess the cost of the assets. Here the price of an asset is based on the nominal or original cost.
Opportunity cost: when an alternative asset generates cash flows which are not taken into consideration, then that cash flow is called opportunity cost. Or, in other words, it is the cost of an alternative asset that has been incurred to pursue certain action. It is also known as economic opportunity loss. Opportunity cost is not treated as actual cost. For any company analysis of opportunity cost is an important part in any decision-making process. For example, an organization has two options in which one is to invest $1 million for purchasing a new asset and the other is to do maintenance work of the existing asset. Then the opportunity cost here is the financial security on maintaining the existing assets by the organization.
Make or buy decision: An organization compares the price of purchasing or making a product, when the company wants to take a decision based on either one of it. If the purchasing price is higher than the manufacturing cost, then it is better to produce it if excess capacity is available. Qualitative factors like product quality; necessity for long run business etc, and quantitative factors like cost are involved in the make or buy decisions.
Calculation of the operating income of Westcoast Air which earns on each one-way flight between San Francisco and Fiji.
Revenue (175*$325) 56875
Variable costs
Fuel cost 14000
Food and beverage cost (4*175) 700
Commission to travel agents (325*10/100)*175 5687.5
Total variable cost 20388
Contribution 36487
Fixed costs
Ground services 7500
Flight crew salaries 7000
Total fixed cost 14500
Net operating income $21987 per one-way flight
The Market Research Department of Westcoast Air indicates that lowering the average one-way fare to $280 will increase the average number of passengers per flight to 212. Should the company lower its fare? Show your calculations.
Revenue (280*212) 59360
Variable costs
Fuel cost 14000
Food and beverage cost (4*212) 848
Commission to travel agents (280*10/100)*212 5936
Total variable cost 20784
Contribution 38576
Fixed costs
Ground services 7500
Flight crew salaries 7000
Total fixed cost 14500
Net operating income $24076 per one-way flight
Net operating income, when the company lowers the fare to $280 from $325 and consequently hopes to increase the number of passengers to 212 from 175 is $24076, which is $2089 higher than the original one-way fare. Therefore, it is feasible and advisable that the company lowers its fare.
Answer to question 3. i.e. whether Westcoast Air Co. should consider the proposal of Travel International.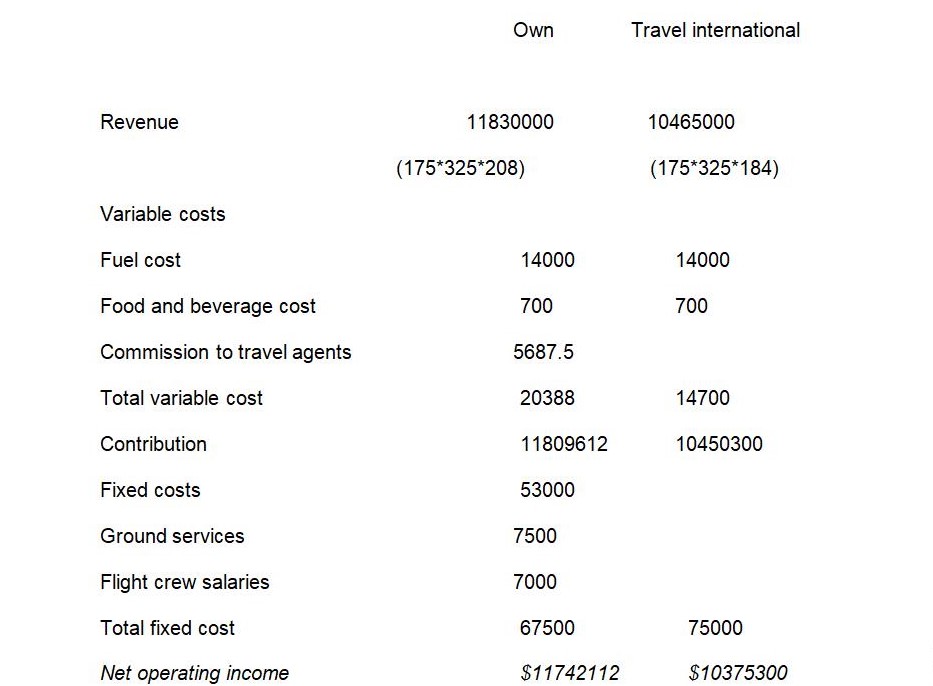 While analyzing financial considerations of Travel International it is seen that the operating income is less than the original one. The reason is due to the decrease in the number of flights or increase in the costs. Therefore, if the Travel International increases the flights or decreases the cost, the Westcoast Air Co may adopt their proposal.
Conclusion
While taking decisions like to sell or keep a business unit, make or buy an item, or to accept a special order, each organization should focus on the objective of maximizing the present value of future cash flows. Thus it is important to consider all relevant costs at the time of decision making.
References
Definition of committed cost: committed cost. (2009). Financial Costs.
Drury, Colin. (2007). Management and cost accounting. Cengage Learning EMEA. Edition: 7. 192.
Jay, Bev. (2009). Accounting article for students: relevant cost for decision making: What is relevant cost or benefit. Accountancy. Web.