Introduction
It is hard to disagree that numerous concepts and systems can play an essential role in a company's image, the number of clients, and overall performance. When talking about customers, it is vital to mention that not only pricing and a wide range of goods and services but also the way a firm takes care of its clients' needs and wishes can make a vast difference. A person is unlikely to choose the same travel agency again if they could not get support from the operators in their previous trip, and the customer's issues were resolved slowly or not addressed at all. Even if this company has low prices, it is typical for clients to select another travel agency with good customer service.
On-Time Delivery!
Get your customized and
100% plagiarism-free paper
done in as little as
3 hours
Overall, the customer service process is the act of advocating for clients during their optimization, use, or discovery of the company's service or product; providing them with support; and dealing with their issues and question in a quick, quality, and professional way. Certainly, this is a vital process that, if maintained on a high and effective level, can provide the firm with an extended number of regular and potential clients. Additionally, these customers will, in turn, give the company good feedback and increase its rates, which will also make the organization more successful and competitive. Unfortunately, even considering the necessity of having quality customer service, numerous companies prefer paying attention to other concepts, forgetting to take care of this process or postponing it.
There are many effective methods, systems, and techniques that allow firms to increase the level of their customer service. Moreover, there are also several support channels that a company can use to provide help to different clients and in various situations. For example, the most used channels are phones, live chats, social media platforms, emails, and online knowledge bases. Further, many firms decide to ask their clients for sincere feedbacks, and these questionaries typically include questions about the level of service the customer has received. Considering the efficiency and importance of the described process, the purpose of the following paragraphs is to discuss the customer service of Carnival Cruise Lines.
Carnival Cruise Lines' Customer Service Channels
To begin with, it is necessary to talk about those different support channels that Carnival Cruise Lines use to provide help to their clients. First, the company's website has valuable information for those people who prefer finding the answers to their questions by themselves. For example, there is a FAQs webpage that has "What to Pack and Bring," "Eating and Drinks," "Getting to and from Port," and "General Questions" sections (Carnival Cruise Lines, 2021c).
Each section has plenty of already answered questions with vast texts of essential information. Additionally, the company's website is ready to provide help and support to clients with disabilities, who can also find everything they need on the "Guests with Disabilities" page (Carnival Cruise Lines, 2021b). Thus, the company is quite successful in allowing its customers to have access to self-service any time they need.
At the same time, it may often be required to talk to a real employee and get personalized help with an issue. For such cases, Carnival Cruise has several phone numbers listed on their website (Carnival Cruise Lines, 2021a). For instance, one number to contact the firm's Customer Service team for questions related to booking or current reservations, and another one to contact the Online Support team for getting technical support (Carnival Cruise Lines, 2021a).
The company also has an email address for people who are already back from their cruise, and since the Guest Care call center is closed due to COVID-19, clients need to send detailed emails (Carnival Cruise Lines, 2021a). Unfortunately, these are the only support channels available for Carnival Cruise Lines' customers, and there is no possibility to have a live chat with an employee. However, it is still fair to claim that the company has quality customer service, and they allow their clients to use different ways to find answers to their questions.
Yes, we can!
Our experts can deliver a
custom Carnival Cruise Lines' Customer Service
paper
for only

$13.00

$11/page
Carnival Cruise Lines' Customer Service Techniques
Another advantage of the company is the fact that it uses different customer service techniques that enhance the clients' experiences when getting help. For instance, one such strategy is to make the website navigation easy and make the information and FAQs structured (Carnival Cruise Lines, 2021c). Another beneficial technique is to include empathy into the website's answers and make sure that those clients who prefer self-service feel taken care of. Finally, phone communication should be polite, and it is necessary for operators to respect the customers' needs and requests.
The Ocean Guest Experience Platform
It is hard to disagree that it may be challenging for the crew to provide quick and quality help and support to all passengers during a cruise. That is why clients may become dissatisfied, and their feedback can negatively influence the firm's image and rates. In 2010, Carnival Cruise did not have high passenger satisfaction compared with other cruise companies (Table 1).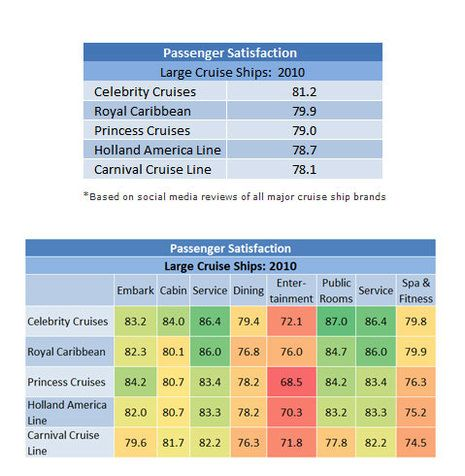 Therefore, Carnival Cruise Lines needed to improve the situation, and years later, they decided to create a special tool that will enhance passengers' experiences on the company's ships. According to Accenture's website (n.d.), "the approach was to embed smart digital technologies into the physical environment of ships that could sense and respond to guests' needs" (para. 3). Every guest receives a free OceanMedallion, which is a wearable device that builds a one-on-one connection between the crew and the passenger, making it easier for them to get help, find answers to their questions, and make payments.
The OceanMedallion also holds guests' unique digital identities and "connects them to an ecosystem of services and experiences powered by the platform" (Accenture, n.d., para. 3). In other words, this is another level of providing customers with support, needed services, and quality experiences.
Customer Relationship Management (CRM) System: Recommendations
In order to improve customer service and increase profitability, it is recommended for Carnival Cruise Lines to adopt a customer relationship management (CRM) system. According to Bowen et al. (2014), this strategy helps organizations manage their interactions with current and potential clients, which is a process necessary for enhancing and maintaining customer service. For example, "by collecting and analyzing granular individual-level data (which is enabled by the CRM system), the firm can tailor its services to more precisely match the habit and needs of customers" (Bowen et al., 2014, p. 4). Therefore, this system may be effective and beneficial for Carnival Cruise Lines, and it is recommended for the company to consider adopting it.
Conclusion
To draw a conclusion, one may say that Carnival Cruise Lines have a great customer support system. Still, slight changes and improvements may take the company to a higher level and increase client satisfaction rates and competitiveness. Indeed, despite having different support channels, including self-service resources, phones, and email address, it would be beneficial for the company to make sure that its passengers actually receive help and care whenever they need. Additionally, implementing a customer relationship management system would improve customer service and increase Carnival Cruise Lines' profitability.
References
Accenture. (n.d.). Reimagining guest experiences on the high seas. Web.
Cut
15% OFF
your first order
We'll deliver a custom
Management
paper tailored to your requirements with a good discount
Barsky, J. (2010). Cruise ships and passenger satisfaction. HospitalityNet. Web.
Bowen, R., Daigle, R., Stowell, G., & Strother, E. (2014). Carnival corporation case study. Web.
Carnival Cruise Lines. (2021a). Contact us. Carnival. Web.
Carnival Cruise Lines. (2021b). Guests with disabilities. Carnival. Web.
Carnival Cruise Lines. (2021c). How can we help you? Carnival. Web.