Introduction
As a mobile handset manufacturer, Nokia has had to face stiff competition from other market players such as Apple, Samsung, and Motorola among others. The competition not withstanding Nokia, still remains a market leader based on its market share. In the recent past, however, the mobile manufacturer's market dominance has been threatened by new technological developments, and cheaper handsets from competing manufacturers.
On-Time Delivery!
Get your customized and
100% plagiarism-free paper
done in as little as
3 hours
Hence, it is rather obvious that the company needs a change of strategy if at all it is to remain a competitive force in future. This essay starts with a historical rundown of Nokia, where its products and product lines are identified. In the historical section, past successes and failures are identified, since they provide critical future lessons for the company. The second part of the essay contains Nokia's market analysis, while the third part contains Nokia's market trend analysis. Finally, the essay develops 3-year, 5-year, and 10-year market strategies for the mobile handset manufacturer.
Nokia's History
Nokia's history is an extraordinary tale of a company that has changed with the times in order to retain its competitive edge. Founded in 1865 in Finland by Fredrick Idestam and Leo Mechelin, Nokia was initially a modest forestry company, which had its eyes set on making use of the boom that was being witnessed in the lumber industry (Steinbock 1). The founders of the company named their company Nokia in 1871 in a slight modification of the name for the Nokianvirta River, on whose banks the company was located (nokia.com).
Approximately 20 years later, the company had grown to a full-fledged lumber mill, which had other installations such as a pulp factory, a paper factory, and an electricity generating plant. According to (Steinbock 1), the company's ability to focus on the entire value chain through diversification was what made it a distinct entity with capabilities to withstand the rough forces of competition.
The second phase in Nokia's history started in the 1920s and lasted for approximately 60 years. During this time, Nokia was listed as a public company, and consequently moved into other business segments in an attempt to get as much advantage for the now wider category of shareholders. Among the business segments that interested the company most was the electricity generating sector. Through electricity generation, Nokia drew other companies who were willing to take advantage of cheap, reliable and convenient power supply, into the Nokianvirta River region.
One such company was the 'Finnish Rubber Works', which according to (Steinbock 1), "relocated to the Nokia region in the 1930s to take advantage of the electrical power supply". The Finish Cable Works- a company that manufactured electrical cables followed suit thereafter and talks to merge the three companies soon started. The merger talks were concluded in the 1960s, when it was agreed that the three companies should merge and operate under the name 'Oy Nokia Ab' (Steinbock 1) or what is simply referred to as the Nokia Corporation (Ainamo, Kasvio and Kukko 86).
Nokia Corporation was formalized in 1967, with four business divisions under its name. They included: electronics, rubber, cable and forestry. In Steinbock's words, Nokia's decision to merge with the two other companies was testament to the fact that the company was always prepared to seize opportunities (Steinbock 1). Notably, the company was aware that venturing into the new business exposed it to some risks; but it was also aware that there existed great opportunities for growth in the new ventures.
Yes, we can!
Our experts can deliver a
custom Nokia Company's Strategic Market Management
paper
for only

$13.00

$11/page
Following Finland's bilateral trade agreements with the Soviet Union in the 1960s for example, Nokia took advantage of the ease of doing business between the two countries. Consequently, it was able to export a significant percentage of its production to the soviets. Although the soviet market was attractive at that time, the leadership at Nokia made a deliberate decision to stop overlying on it; instead, it was agreed that the company would balance its marketing to diverse international (Europe, Africa and Asia) and domestic markets. This strategic decision is cited as the reason that Nokia was able to withstand the collapse of the Soviet Union (Steinbock 1).
The entry of a new managing director in to the company in the late 1970s also served the strategic interests of Nokia well. Kari Kairamo assumed the MD and CEO position at Nokia with an intention of transforming the company (Steinbock 1). He underscored the importance of Nokia outpacing its competitors in electronics research, innovations, and acquisitions (Steinbock 1).
Kairamo was especially an advocate of the high-tech electronics, and was at the forefront of convincing the Finnish government regarding the importance of a mobile communication network that could connect all Nordic Countries (Ainamo et al. 88). The Nordic countries responded by deregulating their respective telephone markets, and establishing a telephone network that connected them all. In a bid to take advantage of the new environment, Nokia bought two TV manufacturers – Finish Salora and Swedish Luxor (Ainamo et al. 88). With its acquisitions, Nokia started a series of innovations, which eventually led to the launch of the first light portable phone in 1984.
All through the second phase of Nokia's existence (i.e. from the 1960s to the 1980s), the company had attracted attention due to its innovations, but it had not acquired the might that would make it a market force to reckon with (Steinbock 1). Since it was invisible to many competitors, Nokia's telecommunication activities were usually underestimated. This gave the company a chance to curve a niche for itself, which was cemented by its willingness to discover consumer needs. A decade later, (Steinbock 2) it is observed that Nokia would be a legendary story of success.
The third phase in Nokia's existence started in the 1980s, during which time the company had 11 industrial groups operating under its brand name. Each of the groups wanted to move in different directions, and this awakened a new CEO Simo Vuorilehto to the need for strategic change and restructuring (Steinbock 2). Vuorileto oversaw the sale of all industrial units that were not considered strategic at Nokia. However, the company retained all its telecommunications, mobile phone, data communications and consumer electronic businesses.
This was a bold strategy to take, and as (Steinbock 2) observes, the old company was thriving to a "new and emerging industry" and was, therefore, set to enjoy the explosive growth that was to be observed in the telecommunications sector. Its position in the telecommunications was boosted by its earlier decision to purchase electronic companies such as Luxor and Salora, and its decision to expand its operations to "new lines of businesses" as observed by (Ali-Yrkkö 72). Consequently, Nokia not only become a recognizable electronics manufacturer in the Nordic countries, but its mobile phone unit – Mobira- was getting into the global market through alliances (Ali-Yrkkö 72).
In the early 1990s, Nokia faced its major hurdle when the Finnish economy went into recession. To shield itself from the financial turmoil that was slowly brewing in its home country, Nokia sold some of its business lines, which did not serve its strategic interests at the time. Businesses in the electronic industry were the only ones that the company did not dare sell. Some of the businesses that the company sold include the Rubber industry, the forest industry and the electricity distribution company (Ali-Yrkkö 72).
Cut
15% OFF
your first order
We'll deliver a custom
Strategic Management
paper tailored to your requirements with a good discount
By so doing, Nokia streamlined its operations towards the electronics business and by the 1980s; it was a fully fledged electronic business company. Its position in the electronics industry was further reinforced by its decision to acquire the Dutch Cable Company – Nederland Kabel Fabrik. However, in the 1990s, Nokia made telecommunications its core business and since then, it has been pursuing the same while divesting its operations in information technology sectors and related industry operations.
According to (Saunders n.pg.), Nokia's products fall into five distinct categories namely:
'The explore line': these are phones developed by Nokia for purposes of enhancing the company's technical leadership in the market, and pushing the boundaries of innovation. Phones in the N-series are in this category
'The Live and Classic Lines': These are handsets that have a wide appeal in the market. Additionally, products in this category are style oriented, have supporting features such as internet and email, and are also inspirational to the consumer market.
'The Achieve Line': These are handsets that target the enterprise market. They include mobile handsets in the E-series category
'The Entry Line': These are low-end phones, which target new buyers in emerging markets.
Market Analysis for Nokia
When Nokia entered the mobile phone industry, the focus of most manufacturers and consumers was on the functional roles of the mobile phone (Steinbock 3-4). Over the years, however, the innovation environment has driven industry expectations to higher levels. Lately, consumers' decisions when purchasing mobile handsets are not only influenced by their functionality, but also on the design and connections capabilities.
As Steinbock (3) observes, mobile handsets are increasingly being used as fashion items, and in the developing countries, they are significantly being used as internet-accessing devices. In 2004, for example, Nokia lost substantial market share after failing to launch folding models which were popular then (BBC news). The market share was lost to Motorola, which according to BBC news, saw its market share grow from 16.3 % to 17.8 percent. The growth was associated with the thin Razr phone models that Motorola developed for the high-end market, and the cheaper models that it developed for sale in the emerging markets (BBC news).
Potential Total Market
In its own estimates, Nokia hopes to attain 40 percent market share in the mobile phone handset market (Nokia.com). In some markets like Finland where it has loyal customers, Nokia does exceed the 40 percent market share target as portrayed in Figure 1, where the brand commandeered approximately 76 percent of the market share in the third quarter in 2010.
As other brands gained popularity however, it is rather evident that Nokia lost its market share to competitors such as Apple, Samsung, Sony Erickson and even new market entrants such as ZTE. Overall, Nokia distributes over 100 mobile handset models in different regional markets (Wild, Weinstein, MacEwan and Geach 526). The models serve diverse consumer needs and preferences ranging from the very basic mobile phones, to the high end phones.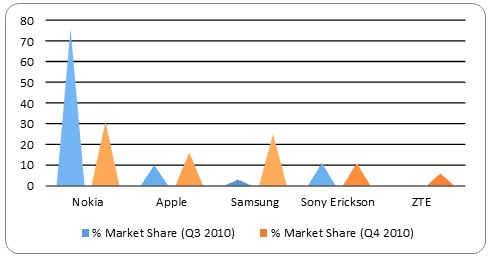 Estimated Market Share
Statistics released by Gartner and quoted by (Crook 1) indicates that Nokia had a 30.6 percent worldwide market share in the mobile phone industry having sold a total of 10, 105 units. In the first quarter of the 2011 financial year however, Nokia's market share had dropped to 25.1 percent having sold 107, 556 units.
Get a custom-written paper
For only
$13.00
$11/page
you can get a
custom-written academic paper
according to your instructions
Competing Products
Statistics released by Gartner and cited by (Crook 1) indicates that competition in the mobile phone industry is rife. Among the most challenging competitors are Samsung, LG, Apple, RIM, ZTE, HTC, Motorola, and Sony Erickson among others. Among the five top competing brands, Apple emerged the best in the 2010-2011 periods, having increased its market share from 2.3 percent in Q1 2010, to 3.9 in Q1 2011. Details of how the competing brands faired are detailed in Table 1 below.
Among reasons cited for Nokia's declining market share is the fact that new entrants into the market have brought with them cheaper mobile handsets (Weber). Additionally, companies such as Apple and Samsung broke new ground in the Smartphone sector before Nokia did, and this gave them some competitive edge over it.
Table 1: Market share projections for different mobile phone companies for Q1 2010, and Q1 2011.
| | | | | |
| --- | --- | --- | --- | --- |
| | Units Sold (Q1 2010) | Market Share (%) | Units Sold (Q1 2011) | Market Share (%) |
| Nokia | 110,105 | 30.6 | 107,556 | 25.1 |
| Samsung | 64,897 | 18 | 68,782 | 16.1 |
| LG | 27,190 | 7.6 | 23,997 | 5.6 |
| Apple | 8,270 | 2.3 | 16,883 | 3.9 |
| RIM | 10,752 | 3 | 13,004 | 3 |
| ZTE | 6,104 | 1.7 | 9,826 | 2.3 |
| HTC | 3,378 | 0.9 | 9,913 | 2.2 |
| Motorola | 9,574 | 2.7 | 8,789 | 2.1 |
| Sony Erickson | 9,865 | 2.7 | 7,919 | 1.9 |
| Huawei technologies co. Ltd. | 5,236 | 1.5 | 7,002 | 1.6 |
| Others | 104,230 | 29 | 154,770 | 36.2 |
Likely Price
The average wholesale price for Nokia handsets as of 2011 was $86 (Weber). This is a relatively fair price compared to competitors such as Apple, whose average wholesale price was put at $638. In the first quarter of 2011, Nokia sold 108.5 million handsets, while Apple sold 18.6 million handsets. Due to the price difference however, Apple earned $11.9 billion in handset revenues compared to Nokia's $9.4 billion (Weber).
Table 2:
Nokia v Apple (Q1, 2011)
Nokia
Apple
Handset Sales
108.5 million
18.6 million
Average Wholesale Price
87 dollars
638 dollars
Handset Revenues
9.4 billion dollars
11.9 billion dollars
Market Profitability
The profits that a firm earns are determined by three things namely: "1) the value of the product to customers; 2) the intensity of competition; and 3) the bargaining power of the producers relative to their suppliers" (Grant 63). On his part, Michael porter devised five pointers that analysts can use to gauge the attractiveness of a market, and the ability therein for a company to make profits; the five pointers include: "entry, threat of substitution, bargaining power of buyers, bargaining power of suppliers, and rivalry among current competitors" (Porter 6). Using the five pointers in Nokia's case indicates the following:
Threat of substitution
The prices that Nokia potential buyers are willing to pay are partly dependant on the availability of cheaper substitutes or more technology-enhanced models. Considering the stiff competition among phone manufacturers, it is obvious that Nokia has to compete on a price advantage, as well as on a superior quality advantage. Otherwise, the company is at risk of loosing considerable market share to competitors who either offer consumers cheaper models, or more tech-enhanced models. The mobile handset market is segmented into three distinct categories as illustrated in figure 2 below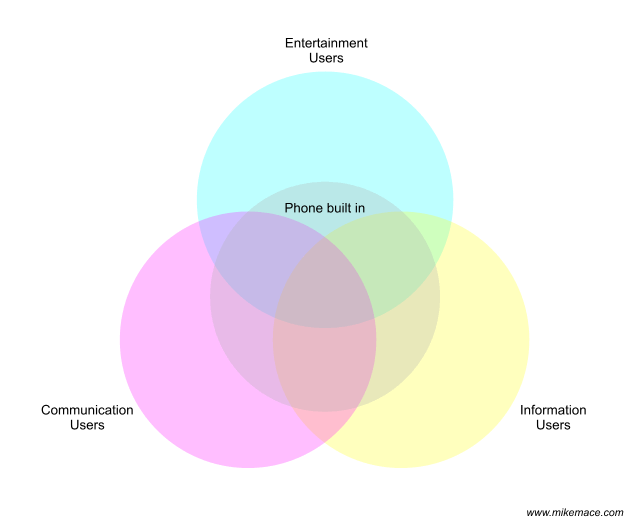 According to (Mace), entertainment users include those people who use the mobile handset for fun and social activities. The communication users on the other hand are those who are interested in the enhanced communication aspects of a mobile handset. The more communication devices a mobile handset has, the more compelling it is to them. Aspects that phone manufacturers should consider including in models that target this market segment include E-mail, voice, SMS, conferencing, Dual-SIM capability, and video-conferencing among others.
The information users on the other hand view their mobile phones as resources for use in the access and storage of information and ideas (Mace). Consumers in the latter category do not mind purchasing the phones at a premium price as long as they are assured that the device will act as a "memory supplement and a means to capture new information" (Mace n.pg.). As witnessed in the Nokia v Apple example in Table 2 above, a significant number of consumers are willing to purchase mobile handsets on a premium as long as those mobile phones are portrayed as worth the value.
Threat of New Entrants
While the handset market is concentrated, this has not stopped new entrants especially from Asia to enter the market. Consequently, Nokia has to deal with numerous competitors who are specifically targeting the emerging markets (The Associated Press n.pg.). A consequence of such new market entrants is seen in Nokia's 2011 announcement that it will cut 3,500 more jobs in 2012 in response to its declining market share (The Associated Press). In 2011, Nokia has already downsized its worldwide workforce by 7,000 people. According to the Associated Press, the job cuts are part of Nokia's strategy to reduce its operating expenses by $1.5 billion by 2013.
Bargaining Power of Buyers
Buyers have relatively little bargaining powers in the handset industry owing to the fact that phone manufacturers usually allow distributors to set the end price of the handsets. Usually, the handset retailers give fixed prices to the consumers, who then base their buying decisions on the price and the perceived value. To cater for the different price preferences represented in the consumer market, Nokia has different phones ranging from Smartphone brands, which retail at a premium to the handsets with basic functionalities, which cater for the low-income consumer market. In the recent past however, buyers are demanding more functions such as internet connectivity, and dual-SIM capacity in the mobile handsets, and this no doubt affect how Nokia chooses to conduct its operations in the future.
Bargaining power of Suppliers
Fortunately for Nokia, parts used in the development of mobile handsets are readily available from multiple suppliers, which give the company alternatives as far as access to parts is concerned. As (Wild et al. 525) highlights, Nokia has over the years adopted a trend where it dictates its relationships with suppliers. It was the company's desire to dictate how it related with suppliers that made it move from purely subcontracting its production activities into manufacturing partnerships.
The partnerships were then closely followed by subcontracting its research and development services, and this was soon replaced with partnerships in the company's research and development (Wild et al. 525). The main challenge that Nokia seems to be facing especially in relation to the Smartphone models is the software that enables users to interact effectively using the phones. Initially, Nokia used the Symbian platform, which it bought from the supplier thus making it an in-house production (Sorrel).
In 2011, however, Nokia announced that it would ditch Symbian Operating System for Microsoft's Windows Phone 7 OS. In addition to Symbian, Nokia will also add 'Bing' as the default search engine in all its handsets and the phone company will also introduce the Microsoft Marketplace, which will replace the Nokia application store (Sorrel). Considering the role that strategic supplier role that Microsoft will play in Nokia's Smartphone strategy, one can argue that it (Microsoft) will wield relatively high bargaining power against Nokia.
Rivalry among Current competitors
The main factors that underlie competitive rivalry in the mobile handset industry include the cost of mobile phones, functionality of the mobile phones; and technology improvement (Sorrel). Gauging the life cycle of the mobile handset industry based on the penetration of the same in the target market, one can argue that the industry is already mature. Hence, Rivalry among competitors is mainly pegged on shifting market share to favor the company whose products are most innovative, affordable and even stylish. According to (Sorrel), the inclusion of innovative technologies in future mobile handsets is probably one of the key aspects that will define how manufacturers compete in future.
SWOT analysis
Strengths

High Brand awareness
Nokia is a market leader in technology manufacturing of mobile handsets
Nokia's market penetration spans 150 countries

Weaknesses

Development and use of a reliable software seems like a major hurdle for Nokia
Does not have a significant market share in the United States

Opportunities

The loyal consumer base
Established presence in developing markets

Threats

Rapid changes in the mobile handset manufacturing technology
Threat from new market entrants especially from china.
Market Trend Analysis for Nokia
In management literature, it is stated that market trend analysis is a study of the behaviors and attitudes portrayed by customers towards competing products or services (Higham 48). Consequently, an effective market trend analysis should investigate the performance of a specific product in a given market, with the intention of gauging consumer behavior towards it, and devising a strategy for the future. According to (Higham 49), identifying trends in the consumer market without interpreting them and implementing such interpretations in a manner that would be useful to a product is not a worthwhile undertaking in management. Hence, market trend analysis should be done whenever marketers are willing to gain insight into trends that inform consumer perceptions in a specific market.
In this section, the paper identifies trends that will affect how Nokia strategize for the future and concludes by observing that trends in the industry are inspired by changes in consumer needs and purchase behaviors, which are in turn affected by consumers' perception of value. The following are trends which were found to have the greatest effect on how Nokia strategize for the future:
The Smartphone craze
Initially, the Smartphone was seen as a gadget for the individual consumer market. Lately however, enterprises have been purchasing Smartphone at increasing numbers in an effort to adapt to new technological changes that are affecting the workplace (Sorrel). Among the issues that handset manufacturers like Nokia, Apple and others have to deal with is, therefore, related to data security. The company that succeeds to offer the best priced Smartphone, with the maximal functionality on the most secure platform will probably succeed in acquiring the biggest market share.
The China factor
Citing a survey conducted by Accenture, (Cline 1) observes that 53% of the urban population in China owns Smartphones. As an emerging market, China is, therefore, a rich potential market for handset manufacturers like Nokia. Notably however, the Chinese market has its own dynamics that any manufacturer must consider in order to succeed therein. The language barrier, the price-sensitivity among Chinese consumers and the piracy issue are just some of the issues that phone manufacturers have to deal with.
Apart from serving as a potential market, China could also increase the threat of new market entrants as Chinese firms such as ZTE and Huawei gain acceptance among the local population and international consumers. As TechInsights note "China handset vendors are accelerating the time to commoditization for new Smart phone technologies, placing heavy competitive pressure on traditional mobile handset innovators" (TechInsights n.pg.)
'Superphones'
As phone manufacturers may have learned in the past few decades, technological innovations have made the handset industry an ever-changing and competitive one. Just as Smartphones are the stylish gadgets at the moment, they will likely be replaced by 'smarter' phones in the near future. One such gadget is the 'Superphone', which is also referred to as the 'App Phone' in industry jargon (Cline 1). Although there is no definition of what a 'SuperPhone' really is, there is widespread agreement among industry innovators that such device will have a powerful chip than the current Smartphone, in addition to having more speed, features and applications. Simply put, the 'Superphone' is the next big thing in the mobile handset industry.
Operating systems for Mobile handsets
As operating systems for mobile phones increase in number and fragmentation, (Cline 1) estimates that the next competitive frontier will be in their development and use. Once installed into handsets, the OS will either command acceptance or rejection from the consumer markets. Knowing the implications that an OS rejection would have on their sales, mobile handset manufacturers are likely to be very selective in the kind of operating systems they choose to use on their phones. A case in point is Nokia's decision to shift to Microsoft's Windows 7 for mobile devices upon realization that phone makers who were operating on the Android OS and the iOS platforms were doing much better when compared to it (Garside n.pg.).
The convergence of Smartphones and Tablet computers
Feeling pressure from iPhone's manufacturer, Samsung already released the Samsung galaxy Tab, while Nokia is expected to release its version of the tablet in 2012. Gauging by the size of the Tablet computers, it is likely that the manufacturers will consider integrating some of the popular handset functions into Tablet PCs. The possibility of such integration has already been raised by Nokia's CEO, who commented on the parallels and commonality of features between Smartphones and tablets from the user's perspective (Garside).
Mobile Commerce
It is likely that Smartphones will not only be used for connectivity purposes, but also for business and commerce. A survey done by Accenture and cited by (Cline 2), indicates that more Smartphone users (79% in the US) are using their handsets to download online coupons, while another 73% would prefer it if their Smartphones were able to alert them of discounts whenever they pass via a discount store via the Near Field Communication technology.
The demand for sophisticated embedded features will keep rising
It is rather obvious that the yearning for more versatile, sophisticated and flexible handsets is insatiable. Fuelling this quest is the continuous innovation among mobile manufacturers. Hence, one can expect that the trend where consumers shift allegiances to the manufacturers whose value proposition outweighs those offered by others will continue. Hence, handset manufacturers that are most likely to succeed in future are those that will respond in good time to consumer demands and expectations.
Marketing Strategies That Nokia Could Adopt
Market strategies deal with the interplay of three main forces, which (Jain 23) are identified as "the customer, the competition, and the corporation". Specifically, market strategies focus on how best a company can differentiate its brand and products from competitors, while capitalizing on its unique strengths to deliver superior value to the consumers. In Nokia's case, a good market strategy should contain a clear definition of the market that the Mobile handset manufacturer targets; A good match between Nokia's corporate strengths and consumer needs as projected in the market; and superior product performance relative to products released by the competition.
Nokia's market
As seen in the different product lines, Nokia's target market is diverse ranging from the high-end consumers who are interested in Smartphones and other technology enhanced feature phones that may come up in the future. Such group of consumers are early adopters and do not maintain loyalty with any phone manufacturer. Usually, the consumers who are willing to try out the technology enhanced phones are young and adventurous, and are not budget conscious. Nokia also has a middle-range class of consumers who are not as much interested in the new tech innovations included in the Smartphone.
For such consumers, their major interest is in the usability, design, and inspirational features contained in the mobile handsets. According to (Saunders n.pg.), such consumers are interested in the 'live and classic' product lines. Notably, products in these product lines have the largest consumer appeal amongst all handsets offered by Nokia, and are hence a major market segment for the company. Nokia also relies on the enterprise market segment, which it targets with the E-series handset series. Mobile handsets in this category can be classified as Smartphones, although they are optimized to serve the needs of business people.
In addition, the emerging markets most of which are in Africa and Asia present Nokia with the highest potential in untapped market territories. Most consumers in what is otherwise known as 'virgin market territories' are interested in handsets that have basic communication functions, which include voice and data capabilities as illustrated in figure 3 below. For such markets, Nokia needs to develop relatively affordable handsets, which must be equipped with functions such as internet connectivity, dual-SIM capability, camera, and FM radio. To cater for the increased storage needs, all Nokia models from 2012 onwards should have slots that consumers can fit with Memory cards.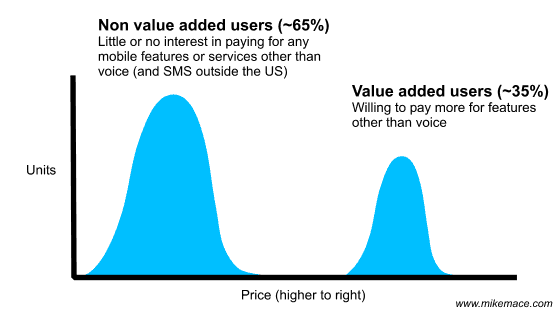 Proposed 3-year (2012-2014) Marketing Strategy for Nokia
Product differentiation
There is little doubt that Nokia needs to differentiate its handsets (in all product lines) from those offered by competitors in the short-term. In the Smartphones category for example, Nokia needs to increase consumer satisfaction by providing an operating system that is fast and reliable. The Symbian OS failed the speed test and was, therefore, deemed unfit for Smartphones. Although Nokia has already introduced the less popular Windows Phone 7 OS for use in its Smartphones, it must be prepared on what to do next should consumers be dissatisfied with the operating system.
Nokia should also consider partnering with software developers who will not only provide it with software solutions for its Smartphones, but also for all its Handset product lines. This is especially essential since internet connectivity has become an essential function in even the most basic handsets that the company is manufacturing. It is also worth noting that Nokia's image as a dependable handset manufacturer could be at stake due to the use of Software that does not fully satisfy customers.
Cost differentiation
Nokia should strive for enhanced operational efficiency, which should then drive down the cost of manufacturing. Low manufacturing costs means that the company will have sufficient financial leverage, which it can use to engage in price wars with its competitors. Instead of initiating price wars, however, Nokia should target attaining cost leadership in the mobile handset market, something which will most probably help the company gain increased market share.
Functional Strategy
It is clear that Nokia's product portfolio is too wide and diverse; hence, the mobile handset manufacturer should consider reducing the product lines in order to succeed in a more focused approach to product development and marketing. Additionally, Nokia should either pioneer developments in the Smartphone industry or keep a close eye on any developments therein. Such actions are necessary if the phone manufacturer is to avoid a situation where competitors create a functional advantage over it.
Corporate Strategy
In the next three years, Nokia needs to identify a corporate strategy that will reduce its operating expenses. Such a move is necessary if the company is to remain profitable especially considering the significant decline of its market share. Among such strategies should be the divestment of businesses that do not add or contribute to the company's overall market. As the consumers throughout the world embrace technological innovations and advancements, Nokia should also concentrate on gaining more market share for its Smartphone especially in the less-concentrated developing markets.
Proposed 5-Year (2012-2016) market Strategy for Nokia
Product differentiation
Nokia needs to start working on a Superphone in order to avoid a situation where its competitors launch such technologically enhanced devices before it does. Lessons from the Smartphone industry indicate that Apple still commands a significant market share, something that is attributed to it being the first company to release the Smartphone. Additionally, Nokia needs to take the tablet-Smartphone convergence possibility seriously and therefore, investigate ways that it can release tablets that contain the most enhanced features for the consumer market.
Cost differentiation
In order to deal with the China factor, Nokia needs to enhance its economies of scale in a manner that will enable it manufacturer Smartphones for the mass market at affordable prices. Such a strategy will also enable Nokia to deal with the threat posed by cheaper substitutes from Chinese manufacturer especially in the developing markets.
Functional Strategy
If Nokia is bent on retaining all its product portfolios, it should brand the high-end and low-end phones differently and develop specific marketing strategies for them. Additionally, Nokia should embrace a promotion strategy that invokes emotions in consumers. Specifically, Nokia should avoid categorizing its handset models in series, i.e. E-series, N-series among others. Instead, the company should name its products in a manner that invokes emotions in the consumer market.
Additionally, the phone manufacturer needs to change its marketing approach by considering famous people to endorse its products. In Africa, Samsung is currently using Didier Drogba (an Ivory Coast soccer player who works in a European football club) to endorse its products. Sony Erickson has Usher, while Motorola has David Beckham endorsing their products respectively (Woyke). Nokia could use the same strategy in order to elicit emotional purchases from consumers.
Corporate Strategy
In the medium-term, Nokia needs to devise an operational strategy that will balance the interest of low-end consumer markets, with those of the high-end consumer markets. Specifically, Nokia should market its feature phones in emerging markets instead of concentrating too much in the developed markets in Europe, North America and Asia. The developing markets have the lowest Smartphone penetration, and this should serve as a viable market for Nokia. Notably however, Nokia would have to work on its pricing mechanism in order to make the Smartphones affordable to consumers in such markets.
Proposed 10-year (2012-2021) Marketing Strategy for Nokia
In addition to what is proposed in the 3-year and 5-year marketing strategies, Nokia should strive to attain market leadership through mobile handsets that are not only affordable, but also 'smarter'. The quest for technologically enhanced mobile handsets will probably continue, and the research and development unit in Nokia has a huge role to play in ensuring that the consumer market gets the sophisticated features in good time, and that such features are better than any alternatives that competitors may offer.
To serve its functional strategy in the long-term, Nokia should monitor the mobile handset environment for any indication of consumer dissatisfaction either with its products or with products manufactured by its competitors. Such indications are important if Nokia is to gain a competitive advantage over its rivals, since it will be in a better position to respond to consumer needs.
To serve its corporate strategy, Nokia needs to identify the right strategy to follow and persevere with the same for the long-term. This does not, however, mean that the company cannot make changes in its strategies; rather, it is an indication that Nokia needs to seriously consider the right decisions to make for purposes of ensuring it remains a competitive force in the future.
Most importantly, Nokia should embark on enhancing the quality of its products rather than concentrating too much on developing diverse product lines. In the end, however, Nokia should exercise patience with the consumer market especially since success does not always occur instantly. It might take months or even years before the consumer market responds to Nokia's strategies; in the meantime, the company should work on advancing its product features, while engaging in marketing promotions in order to make such features known to the consumer market.
Works Cited
Ainamo, Antti, Kasvio Antti, and Kukko Marriane. "Local Champion as Outcome and Agent of Change". Nordiske Organisasjonsstudies 5.4(2003): 79-99. Print.
Ali-Yrkkö, Jyrki. "The Role of Nokia in the Finnish Economy." Articles, 1 (2001): 72-80. Web.
BBC News. "Nokia's Market Share Back at 35%." BBC News online, 2006. Web.
Cline, Mitch. "Seven Trends to Track in Mobile Handset Market." EE Times, 2011. Web.
Crook, Jordan. "Nokia Sees Lowest Market Share in 14 Years: Gartner.' Techcrunch. 2011. Web.
Garside, Juliette. "Nokia's Windows Tablet to Take on Apple's iPad." The Guardian, 2011. Web.
Grant, Robert M. Contemporary Strategy Analysis. 5th ed. Malden, MA: Blackwell Publishing, 2005. Print.
Higham, William. The Next Big Thing: Spotting and Forecasting Consumer Trends for Profit. London: Kogan Page publishers, 2009. Print.
Jain, Subhash C. Marketing Planning & Strategy. 6th Ed. Cincinnati, OH: South-Western College Publishing, 2000. Print.
Mace, Michael. "The Shape of the Smartphone and Mobile Data Markets." Mobile Opportunity, 2009. Web.
Nokia.com. "The Nokia Story- always adapting." n.d. Web.
Porter, Michael E. Competitive Strategy: Techniques for Analyzing Industry and Competitors. New York: Free Press, 1980. Print.
Saunders, Alec. "Nokia's Evolving Product Strategy". Saunderslog, 2008. Web.
Sorrel, Charlie. "Nokia Kills Symbian, Teams Up with Microsoft for Windows Phone 7." Gadget Lab. 2011. Web.
Steinbock, Dan. "The Nokia Revolution." Summaries. (2001): 1-8. Web.
TechInsights. "Five Trends that Will Shape the Mobile Industry in 2011." UBM LLC. 2011. Web.
The Associated Press. "Nokia Cutting 3,500 Jobs." CBS News. 2011. Web.
Weber, Tim. "Nokia Market Share Falls but Microsoft Deal Confirmed." BBC News-Business, 2011. Web.
Wild, Charles, Weinstein Stuart, MacEwan Neil, and Geach Neal. Electronic and Mobile Commerce Law: An Analysis of Trade, Finance, Media and Cybercrime in the Digital Age. Hertfordshire: University of Hertfordshire Press, 2011. Print.
Woyke, Elizabeth. "Usher's Favorite Phone". Forbes, 2008. Web.