Abstract
The aim of this study is to examine the impact of online shopping on both customers and retailers in the US. The paper investigates four major impacts of online shopping, namely, product promotion, consumer behavior, reduced product prices, and the modes of distribution/delivery. To achieve its objective, the paper qualitatively and quantitatively analyzes data obtained from primary and secondary sources of literature, including journals, case studies, websites, magazines, and newspaper articles.
From the findings, the article deduces that online shopping has caused a shift in the methods of product promotion and marketing from mainstream to online media. In addition, online shopping influences customer experiences, in turn, determining the various delivery methods to be adopted by online retailers. Finally, the study concludes that online-based purchasing has a role to play in terms of reducing product prices because of the corresponding decreased operations costs.
Introduction
E-commerce or online shopping refers to the buying and selling of goods and services using Internet-enabled platforms. In the US, more retail companies are undertaking e-commerce activities to gain a competitive advantage in their line of business. The success of e-commerce has been significantly influenced by the growing number of web users. Today, the number of Internet users in the US stands at 280 million, which is about 88 percent of the total population.
This observation implies that a large number of potential customers have embraced online shopping. Morganti, Seidel, Blanquart, Dablanc, and Lenz (2014) reveal how "shopping habits have changed fast during the last decade and a larger proportion of clientele now shop online" (p. 178). Therefore, online shopping has not only become a significant facet but has also turned out to be an unavoidable necessity for the US retailer. With this background, the primary objectives of this paper include:
To provide a general scope of e-commerce through an in-depth review of literature.
To qualitatively and quantitatively analyze and discuss the different impacts of online shopping on both customers and retailers in the US.
Literature Review
Despite being classified as an emerging trend by the retail business community, Lee (2013) points out that online shopping is not a new phenomenon in the world. In fact, the use of electronic commerce began in the 1970s during the evolution of the financial sector. Since its invention, the trend has had a great impact on the retail industry, including generating new modes of marketing and product promotion, enhancing consumer behavior, improving convenience and faster delivery to the customers, reducing product prices, and increasing the ability of expansion by the retail firms.
Online shopping has influenced the shift from traditional methods of marketing such as mainstream media to electronic and Internet marketing. Nonetheless, in e-commerce, Rahimnia and Hassanzadeh (2013) state that the customer is the starting point for a retailer's marketing and promotion activities. Customers have an ever-increasing array of needs that may influence each other.
For example, the needs of a customer dictate what to purchase, the best time to acquire products, and the convenient amount to procure (Rahimnia & Hassanzadeh, 2013). This aspect makes the customer a pivotal factor in online shopping. In this respect, one of the prerequisites for successful e-marketing is having a suitable website. For this reason, many retail organizations have created customer-friendly websites through which they promote and sell their products to their existing customers while at the same time using them to attract new potential clientele. Besides the use of websites, retailers have incorporated social commerce as part of their marketing strategy.
Zhou, Zhang, and Zimmermann (2013) define social commerce as the use of online social networking sites such as Facebook and Twitter by businesses to market and sell companies' products to the existing and potential customers. Social commerce has enabled retail organizations to increase their sales through targeting potential customers who use the social networking sites. To the consumers, social commerce has improved the experience of online shopping through increasing the accessibility of their favorite retailers who are now available on various shared platforms.
The most important element in enhancing trust between the online shopper and the retailer is the ability to get the right product, of the right quality, to the right customer, and at the opportune time. This situation presents a logistical challenge to retailers. In this regard, Colla and Lapoule (2012) highlight two issues that determine supply and distribution in e-commerce, namely, the preparation and storage of orders and the supply of the ordered products to the final consumer. In addressing the first issue, retail firms may choose to employ either of the two operational models.
These frameworks encompass picking orders directly from their physical retail stores or preparing them from a dedicated storage house. Once prepared, the retailer may deliver the products to consumers' homes or at the respective companies' pickup points.
According to Pappas, Pateli, Giannakos, and Chrissikopoulos (2014), online customer experience is important to an e-retailer since it influences buyer retention. Moreover, customers' experience is regarded as an important determinant in the formation of perceptions with reference to their expectations from online retailers. Besides, customers are more likely to purchase products that require no physical inspection due to their perceived product risk.
Therefore, Moshrefjavadi, Dolatabadi, Nourbakhsh, Poursaeedi, and Asadollahi (2012) suggest that online retailers should formulate strategies that reduce the perceived risk of online shopping by their customers to increase their level of sales. Another significant impact of online shopping to customers is attitude.
According to Miyatake, Nemuto, Nakaharai, and Hayashi (2016), a significant difference between brick and mortar type stores and online retail zones is the reduced operating costs such as labor, rent, and inventory management expenses. Usually, the consumer incurs these costs during their purchase of various products. This observation postulates that online shopping has significantly led to reduced operational costs, thus allowing e-retailers to provide lower prices for their products without hurting their profit margins.
Method of Analysis
The research adopts a qualitative and quantitative investigation of data obtained from primary and secondary sources of literature, including journals, books, newspapers, magazines, and websites. Qualitative analysis will allow a critical review of the arguments put forward by various authors while the quantitative analysis will enable the formulation of the statistical correlations of qualitative data through graphs, charts, and tables, including the derivation of statistical conclusions regarding the topic of discussion. After the analysis, the conclusions obtained will then be used to support or comment on the various postulations highlighted in the literature review of the paper.
The selection of the sources of literature will be based on their relevance to the topic of discussion and the year of publication. In this regard, only literature that contains information on the impact of online shopping on customers and/or retailers will be selected for analysis. Moreover, the study requires that the literature from which the data will be collected to be dated between the 2012 and 2017 to assure the relevance of the analyzed data to the prevailing market conditions.
Analysis
The data shown in Table 1 below was obtained from a study carried out by Pawar (2014) to explore the significance and efficacy of online marketing through e-commerce. The data was collected by issuing questionnaires to selected consumers residing in the US. The data collected was then analyzed and correlated with the study objectives. The study question revolved around asking clients to give their view concerning whether television and print media are no longer the preferred means of product promotion and marketing in the current world.
Table 1. Raw Data Concerning the Use of the Internet in Relation to Online Marketing.
Discount
Stay informed about the activities of company
Get updates on brands and its future extensions
For entertainment
Get access to exclusive content
Interaction
Most Important
F
%
F
%
F
%
F
%
F
%
F
%
Most Important
49
24
52
26
36
18
33
16.5
53
26.5
48
24.0
Important
66
33
52
26
49
24.5
56
28.0
59
29.5
61
30.0
Least important
44
22
42
21
61
30.5
45
22.5
42
21.0
36
18.0
Not important
41
20.5
54
27
54
27.0
66
33.0
46
23.0
55
27.5
Total
200
100
200
100
200
100
200
100
20
100
200
100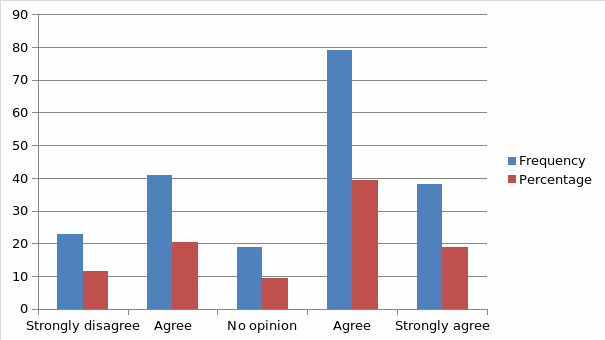 From the findings shown in the above Graph 1, it can be deduced that the majority of consumers were generally motivated to use the Internet to obtain information on their favorite retail companies. Moreover, the findings also highlight that most consumers did not prefer traditional mainstream media such as television or newspapers as a means of marketing by retail firms. Therefore, it suffices to infer that Internet-enabled shopping has influenced the witnessed shift of product promotion methods by retail firms from conventional to online marketing.
To enhance trust between the online retailer and the consumer, the retailer must devise an appropriate and convenient means of delivering the product to its customers. Moreover, the selected methods of delivery should be based on consumer preferences. According to a study report by Gesenhues (2016), most online consumers in the US prefer to use delivery options that encompass free shipping services, the same day delivery, and in-store pick-ups. The study findings also indicated that 60 percent of online shoppers have bought products online and picked them up at the store (Chiu, Tzeng, & Li, 2013).
Surprisingly, most consumers would not mind higher costs of delivery, provided the products arrive promptly without unnecessary delays. The study's deductions highlight the impact of online shopping on the modes of delivery to the final consumer. Due to the high consumer expectations, retail firms should devise strategies that meet those expectations such as ensuring that their delivery methods are fast, efficient, and that they do not cause any delays.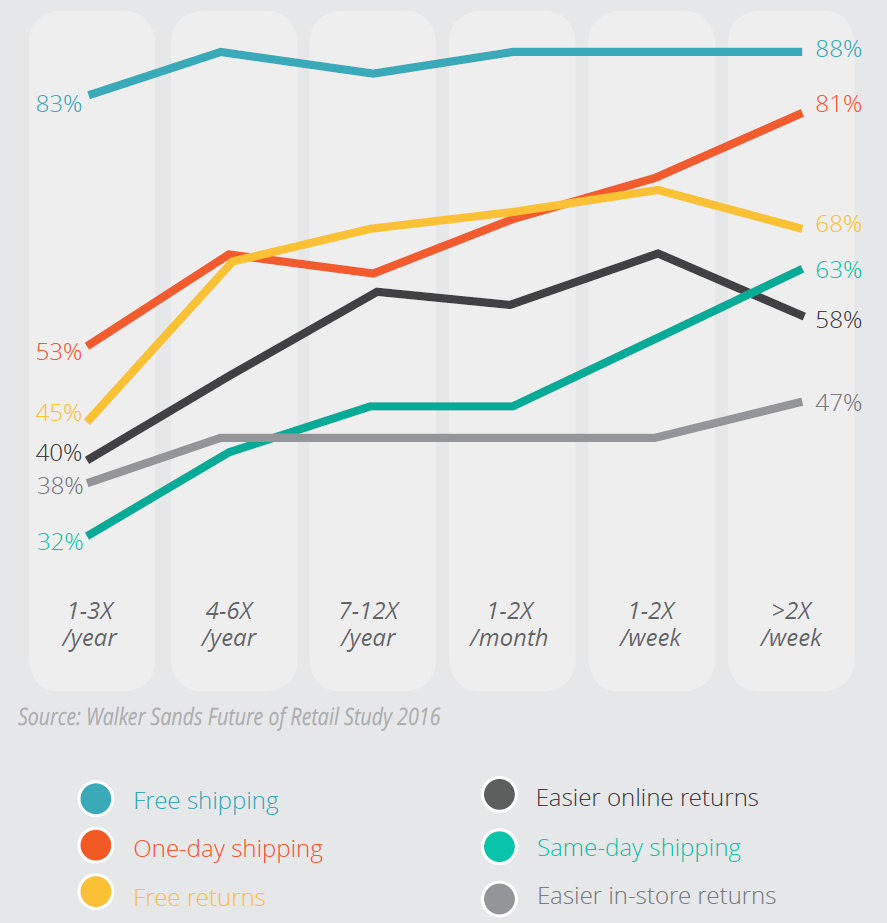 According to the US-based study report prepared by Nanji (2014) as shown in Graph 2 above, 65 percent of products offered through online channels were found to be cheaper compared to those offered in offline markets. In addition, the study also found out that consumers were likely to save more from purchasing products online compared to when they procured similar products offline with rare occasions of the reverse.
After comparing the prices of retailers who offered both online and in-store services, the study found out that 66 percent of retailers had better deals online relative to offline. For instance, the prices offered by retailers such as Walgreens, Target, CVS, and Best Buy were considerably lower when offered online, as opposed to when customers bought their products offline. Therefore, this study supports the assertion that online retailers offer considerably lower prices compared to their brick and mortar counterparts following the reduced cost of operation, reduced consumer costs, and the lower costs of inventory management.
E-commerce has had a more positive impact on the US customers in comparison with customers from other countries based on their perceptions of the associated risks. As a result, the changed perceptions have improved their overall intention to shop online. Brosdahl and Almousa (2013) sought to prove this postulation by carrying out a study that investigated various perceptions held by many consumers in the US in line with the views presented in the above Graph 1, including how this discernment influenced their intentions to shop online.
According to the findings of the study, consumers in the US perceived lower risks of online shopping when compared with Saudi Arabians. The study also required the respondents to talk about their diverse perceptions of the different types of risks they attached to online shopping, namely, psychological, social, financial, time, performance, and privacy risks. The researcher then ranked the risks from the one that was perceived to be the lowest to the highest one.
Specifically, the respondents generally regarded social risks as the lowest threat of online shopping while privacy violation was their main concern. According to the researcher, the reason for the lower perception of risk in the US market compared to other markets may be attributed to the positive experience of online retailers and shoppers regarding the practice.
Therefore, the experience of successful online shopping could have calmed down the US customers' fears of incurring the various types of risks, thus displaying a more positive attitude towards online shopping. Additionally, unlike Saudi Arabian customers, the US consumers portrayed a deeper knowledge of measures taken by online retailers to control Internet-enabled shopping risks, thus illustrating lower perceptions of risk and consequently a higher intention to purchase products online.
Therefore, it suffices to deduce that consumer preferences with respect to online shopping experiences have influenced the development of consumer-friendly, fast, and efficient delivery methods. In other words, the US customers have also been proven to portray a more positive attitude towards online shopping, thanks to their previous successful experiences.
Conclusion
Electronic commerce entails the buying and selling of goods and services online. The practice has gained momentum in the US and globally because of the increasing number of Internet users. In the US alone, it was estimated that over 88 percent of the residents were active Internet users. This spectacle makes online shopping an important and unavoidable aspect of the retail business. Online shopping in the US has influenced both the customers and retailers.
From the analysis of the reviewed literature and case studies, it is convenient to deduce that that online purchasing has influenced the way retailers conduct their marketing, a situation that has led to a shift from the traditional methods of marketing such as television and print media to more consumer-friendly models that include online marketing.
References
Brosdahl, D. J., & Almousa, M. (2013). Risk perception and internet shopping: Comparing United States and Saudi Arabian consumers. Journal of Management and Marketing Research, 13(1), 1-17.
Chiu, W. Y., Tzeng, G. H., & Li, H. L. (2013). A new hybrid MCDM model combining DANP with VIKOR to improve e-store business. Knowledge-Based Systems, 37(1), 48-61.
Colla, E., & Lapoule, P. (2012). E-commerce: Exploring the critical success factors. International Journal of Retail & Distribution Management, 40(11), 842-864.
Gesenhues, A. (2016). Retail study: 9 out of 10 consumers say free shipping no. 1 incentive to shop online more. Web.
Lee, I. (2013). Trends in e-Business, e-Services, and e-Commerce: Impact of technology on goods, services, and business transactions. Hershey, PA: IGI Global.
Miyatake, K., Nemuto, T., Nakaharai, S., & Hayashi, K. (2016). Reduction in consumers' purchasing cost by online shopping. Transportation Research Procedia, 12(1), 656-666.
Morganti, E., Seidel, S., Blanquart, C., Dablanc, L., & Lenz, B. (2014). The impact of e-commerce on final deliveries: Alternative parcel delivery services in France and Germany. Transportation Research Procedia, 4(1), 178-190.
Moshrefjavadi, M. H., Dolatabadi, H. R., Nourbakhsh, M., Poursaeedi, A., & Asadollahi, A. (2012). An analysis of factors affecting on online shopping behavior of consumers. International Journal of Marketing Studies, 4(5), 81-98.
Nanji, A. (2014). How does eCommerce reduce business transaction costs for a typical retail store? Web.
Pappas, I., Pateli, A., Giannakos, M., & Chrissikopoulos, V. (2014). Moderating effects of online shopping experience on customer satisfaction and repurchase intentions. International Journal of Retail & Distribution Management, 42(3), 187-204.
Pawar, A. V. (2014). Study of the effectiveness of online marketing on integrated marketing communication. Navi Mumbai, India: D.Y. Patil University.
Rahimnia, F., & Hassanzadeh, J. F. (2013). The impact of website content dimension and e-trust on e-marketing effectiveness: The case of Iranian commercial saffron corporations. Information & Management, 50(5), 240-247.
Zhou, L., Zhang, P., & Zimmermann, H. D. (2013). Social commerce research: An integrated view. Electronic Commerce Research and Applications, 12(2), 61-68.