Executive Summary
The Company
PICKME is a modern logistics company that offers differentiated delivery services from the ordinary. Our company operates on parcel pick-up stations rather than home or office delivery. PICKME was founded in November 2019 and has faced great success in the year 2020 because of the boom in online marketing. The company has five founding members; John Hughes, Natalie Columbia, Marram AIQuassem, Daniel Oldman, and Collin Penn. Our company operates from its headquarters based in Chicago, USA. However, PICKME has its branches countrywide.
Our Service
PICK ME is a logistics company that offers differentiated services from the ordinary. To access our services, customers choose us to deliver their goods from a particular region, maybe an online market. We have pick-up stations where we deliver their parcels instead of their homes and offices. Therefore, a customer is required to choose a pick-up station that is near their region to collect their parcel (Faugere & Montreuil, 2017). Upon deposition of their parcel, an SMS is sent to the customer, which includes their parcel's shipment number and password. On arrival, the client is identified at a central terminal by presenting their credentials, identification card number, and biometrics, giving them access to the locker. Nonetheless, the client is only required to collect their parcel but cannot drop off another.
Our Mission
PICK ME offers superior parcel delivery services, offering convenience to our clients' time schedules, geographical regions, and safety. We aim at ensuring flexibility and security for our customers. At PICKME, quality service is our core value.
Our Vision
To be the most trusted logistics partner to our clients by offering services that are world-class standards while enhancing safety, flexibility, and convenience to our customers.
Management Team
Our founding members form the company's management team, which is comprised of five executives who are experts in their area of administration.
John Hughes is the Chief Executive Officer
Natalie Columbia is the Chief Human Resource Officer
Maram AIQuassem is the Chief Finance Officer
Daniel Oldman is the Chief Commerce Officer
Collin Penn is the Chief Marketing Officer
Market Opportunity
There has been a boom in online shopping platforms as people turn to their cell phones to conduct most shopping activities (Faugere & Montreuil, 2017). However, clients are unsatisfied with the home and office delivery services as they are exposing their security and confidentiality. People are also trying to avoid physical contact with the public as the infection rate of Covid-9 is on the rise. Moreover, the government has advised its citizens to have limited travel to families and relatives. Hence, our platform offers clients an opportunity to send gifts and parcels to their loved ones with limited travel. This trend offers a suitable opportunity for the growth of smart locker systems that offer self-service stations.
Our Customers
A high percentage of our clients are the people who perform most of their shopping from online platforms. We deliver groceries, clothing, electronics, healthcare products, furniture, and others. We have adjustable lockers that can accommodate most commodities. Also, we serve clients who need to send a parcel to a person in a different locality.
Value Proposition
Benefits of Our Services
Automated Service: At PICK ME, we offer automated locker and box solutions to our customers, ensuring ease of access to the services. A customer is required to provide the credentials that we submitted at the initiation stage to open the smart locker. The automated services reduce the chances of mistakes or errors (Faugere & Montreuil, 2017). The company assures customers maximum security from theft since every customer has unique credentials.
24/7 Accessibility Service: Once a parcel arrives at a pick-up station, a client can access it at any time of the day. We do not depend on any staff for opening hours which makes our operations timely.
Security: We enhance the security of our customers' parcels by identifying the customer using their credentials. The client has to input the parcel's shipment number, personal identification card number, and fingerprint to get access to the locker room. It is nearly impossible to give access to the wrong customer (Faugere & Montreuil, 2017). Also, the company has installed surveillance and alarm systems that alert the security officers in case of any mischievous activities or breakage into the locker system.
Health Safety: Unlike other delivery services, our customers do not meet the service providers' agent. This ensures the health and safety of our customers by preventing them from communicable diseases like COVID-19. Also, the smart lockers are regularly fumigated to kill any disease-causing organisms that could have been attached to the surface. We also make sure that our delivery agents perform hygiene practices and wear protective gear to reduce the chances of transmitting diseases.
Flexibility: Our Locker boxes vary in size allowing accommodation for small and large parcels. The lockers can be adjusted to accommodate big furniture items and small gift boxes, and the clients are offered the flexibility of space. We also offer the flexibility of the customers' schedules by offering 24/7 service access.
Our Competitive Advantage
Our company prides itself on offering a differentiated logistic service from the ordinary. Unlike the usual home or office delivery companies, we operate on smart locker boxes where customers collect their parcels in a smart locker near their desired locality. Our company has eliminated person-to-person contact, reducing the chances of communicable disease transmission. Also, we ensure to protect our clients' privacy and confidentiality since our delivery agents do not get to their homes or offices.
Researching User Needs
The primary objective of PICKME is to offer clients an improved experience in the logistic service industry. For the success of our company and the establishment of a better customer experience, we will make sure that we offer the customers the services that meet their pain points. We plan to research our customers' needs by using tools that allow open-ended feedback from our customers. To identify our customers' needs and pain points, we will adapt qualitative data collection methods, which are surveys and online reviews. We shall offer survey questions attached to a parcel upon delivery for our clients to fill. Also, we shall provide a link to our customers upon enrolment to encourage them to post their reviews on our service.
Survey
We plan on surveying while asking the right type of questions, which are open-ended questions. Open-ended questions aim at collecting data without limiting the client to answer questions in a specific manner. We shall attach survey questionnaires to the customers' parcels during delivery. The client shall have an option of either filling the survey at the station and dropping them at our suggestion box or taking it with them to mail them to us. Here are some of the questions we intend to pose to our customers during the survey;
Survey Questions
Which needs were you trying to meet when using PICKME services?
What do you like about the services offered at PICKME?
What are some of the features you would like PICKME to improve for better service delivery?
Which services would you use as an alternative to PICKME services?
Would you recommend PICKME services to anyone? Why? Or Why not?
Online Reviews
Online reviews are a great way to fish for information about your clients' attitudes to a product or service. We shall encourage our clients to write their reviews after the service. Customers' reviews will help us gather data on our customers' preferences, attitudes, and competitors. We will also gather data on what to improve on our service delivery from online reviews. Moreover, we plan to perform a social media listening to trace our customers' comments on social media listening. We shall apply HubSpot, a software used for social media management. We shall use the tool to follow customers' comments on our service on various social media platforms such as Facebook, Twitter, and Instagram. We shall then analyze the number of positive and negative comments to get an insight into the customers' perspective of our services. Social media listening will also help us recognize our competitors and their strategies.
Personas
Primary Personas
Customers of most online platforms are our company's primary personas. Online customers regularly use our services to deliver their goods to their preferred stations. Hence, regular online customers form our loyal customers. We aim at meeting most of their needs which are timely delivery of parcels, security, confidentiality, and flexibility of services. Online customers' pain points are a lack of confidentiality and privacy as agents deliver parcels to their homes. Also, they are much concerned about their health safety as they interact with various delivery agents. Another issue of concern by online customers is the high cost of service delivery by most delivery companies.
PICKME meets online customers, needs by delivering their parcels to smart locker boxes near the locality of their choice. We offer timely delivery of products and provide the customers with 24/7 access to their parcels. Also, we enhance customers' privacy and confidentiality by identifying the parcel recipients using their identification card numbers and biometrics. The automated surveillance and alarm systems ensure maximum security of the client's parcel (Faugere & Montreuil, 2017).
Secondary Personas
PICKME considers the clients who have different types of disabilities as our secondary personas. These people include the blind, physically disabled, and deaf clients. The needs of our second persona clients are to interact with our system efficiently. Our secondary personas pain points having systems that are difficult to interact with a different system.
To meet our secondary personas' pain points, our company has placed the keypad at a lower position to enable the disabled key in their details with ease. Also, we have installed an LCD screen on the smart locker that directs the user on how to interact with the system. The LCD assists the deaf in visualizing the process without any assistance from a second person. It can also be helpful for non-disabled people. For blind users, we have installed a braille keyboard for easy interaction with the system. Together with the braille, the locker system has a microphone option where a user can press to listen to instructions on how to operate the system.
Empathy Map
An empathy map is a tool used by the organization to help them understand their customers more. The empathy map includes what the customers say, think, feel, and do about a product. It helps organizations realize their customers' concerns, pain points, and problems. Figure 1 represents an empathy map for PICKME Company Inc.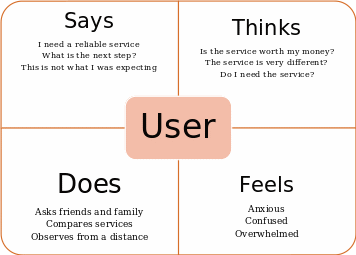 International Organization for Standards (ISO)
Usability
PICKME system service is simplified for easy usability by our clients. To enroll in the service, customers should choose us to deliver their goods from a particular region, maybe an online market. Customers choose our services from the delivery options provided by the online store or by downloading our mobile app from the Apple Store or Google play store. The client is also required to provide their Identification card number and biometric in the enrolment process. After the collection of their parcel, a message is sent to the clients with the details of the parcel's shipment number and password. Also, a client is informed of the pick-up station near their locality. Upon collection, the client only needs to key in their details to open the smart locker.
Accessibility
The company has set up many pick-up stations in the regions where we operate. The pick-up stations create easy accessibility to the customers as they are near their homes or offices. Also, the smart lockers have lowered their keypads for easy accessibility for the physically disabled. The keypad also comprises a braille keypad to ensure accessibility for the blind. In addition to the braille keypad, the locker system has a microphone option where a user can press to listen to instructions on how to operate the system. An LCD monitor is also attached to assist the deaf in accessing the service. The LCD system can be useful to non-disabled persons also as they can follow the steps demonstrated to understand the system's operations.
Online Presence
We plan on creating a website and a mobile application for the efficient operation of our services. The online presence shall be a significant factor in growing our business as it will enable customers to meet their satisfaction as they interact with our system. One of the primary factors that we shall focus on in the mobile application and website is to ensure the customer gets a friendly experience. We shall meet this target by designing an easy user interaction interface and applying the commonly used graphics. We also plan on using language: words, phrases, and concepts that are familiar to the users. A familiar language elevates a customer's confidence in the application and makes the process enjoyable.
Additionally, we will ensure that the website and application respond to the customers' requests quickly. A slow system may annoy the user, making them feel unsatisfied or lose trust in the application. We also plan on recruiting an online team that shall respond to customers' questions and requests on time. Timely response to customers' requests will build customers' trust and brand loyalty. Moreover, to offer our customers control and freedom as they interact with the system, we shall design options that enable a user to reverse the process in every step. Before submitting any information on the website, the system will require the customer's approval for an opportunity to counter-check the information provided.
We shall provide a feedback button on the application and the website to encourage the customers' to interact with the company's team. Encouraging the clients to give their insights or feedback will make them feel appreciated and part of the process. Hence, constant communication builds a customer's trust and confidence in the service.
Reference
Faugere, L., & Montreuil, B. (2017). Hyperconnected pick-up & delivery locker networks. In Proceedings of the 4th International Physical Internet Conference. Web.