The history of Google can be traced to the initial idea of developing a search engine dependent on links to determine the importance of various pages within the World Wide Web. In 1998, the company received its first investment prompting Google Inc's birth. The company began first among the student community, and later gained influence in Silicon Valley. It is currently regarded as the largest search engine; people use the word 'Google' as slang for searching information through the Internet.
On-Time Delivery!
Get your customized and
100% plagiarism-free paper
done in as little as
3 hours
Since its incorporation, the company's mission has been to organize the global information into a universally accessible place. The company's commitment is evident as it has managed to unify its practices, partnerships, and products around this single mission (Google, 2021a). Therefore, the organization has managed to positively impact its consumers by developing sustainable technology for today and the future. The vision of the entity is to provide unlimited access to information for people through only one click. The above concept is supported by the primary algorithm such as ranking, indexing, and quick and efficient access to accurate information based on user specifications.

From 2015, Google is considered a branch of Alphabet, which was incorporated in the same period. The rebranding of Google was attributed to the fact that a separation between the search engine and other similar emerging from Google was needed (Sharma, 2020). Furthermore, this separation ensured that each company under the cover of Alphabet had their safe place to conduct its experiment without impacting the head company's operation and other subsidiaries. The image below illustrates companies under Google and branches which were developed from the brand.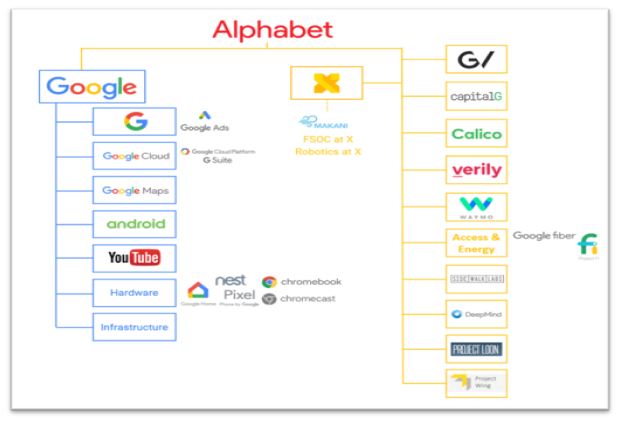 Financial Analysis of Alphabet Inc.
In determining the performance of Google within its respective industry, various ratios need to be analyzed. The rates include operating margin, revenue growth, price to sales ratio, price to earnings ratio, and debt-equity ratio. Each of these ratios will determine the financial viability of Google and compare it values which have been set by the industry to determine whether the company is performing above or below the industry's average.
Operating Margin
The operating margin of a company measures how profitable it is from conducting its current actual operations. The ratio can determine a company's actual financial state since it does not include revenue collected from prospects outside its regular business operations. What constitutes the right operating margin ratio varies across all industries. However, depending on industry performance, a value above 10% illustrates profitable operating; for Google, its current rate is at 22.79% ("Alphabet Inc Class A (GOOGL)," 2021). The margin is an illustration which the company performance is above average.
Revenue Growth
Financial analysis of a company through revenue growth requires comparing the most recent quarters' revenues with ones recorded in the previous fiscal year. A revenue growth that is above 10% illustrates that a company's core business is doing well, and it is growing. For Google, its first-quarter revenue was 13% higher from one year to another ("Alphabet Inc Class A (GOOGL)," 2021). The percentage is an illustration that the company's products are priced right and are on demand. Therefore, from the ratio, it is apparent that the company is growing at a reasonable rate.
Price to Sales Ratio
The price to sales ratio can be described as the value an investor places on each amount of revenue that a company earns at the dollar rate. The above ratio is an accurate measure of whether an investor is paying too much based on the company's gains from its business operations. On average, the price to sales ratio varies according to the type of industry. For Google, the price to sales ratio is 7.21, while the industry average stands at 7.75 ("Alphabet Inc Class A (GOOGL)," 2021). The above difference illustrates that other companies in the sector are performing well than Google, hence, the industry average is much higher.
Yes, we can!
Our experts can deliver a
custom Alphabet Inc. (GOOGLE) Strategic Analysis
paper
for only

$13.00

$11/page
Price to Earnings Ratio
The price to earnings ratio is considered as the gold standard for determining the value of a company. Although it is not everything, it compares the value of its share price with its earnings per share. One can decide if the company's share price is valued too high or too low through the ratio. A high price earning rate is an indication that investors are optimistic about the stock in achieving higher values. Simultaneously, a lower one is an indication that company investors have not discovered the store's earning potential. The current price-earnings ratio for Google is 35.31, while the industry average is 42.16 ("Alphabet Inc Class A (GOOGL)," 2021). Based on the industry average, it is unlikely that the stock value of Google will rise since its current Price-to-Earnings ratios (P/E) are below the industry's standard.
Debt to Equity Ratio
Another financial analysis tool that determines how a company performs within the industry is the debt to equity ratio. The above rate illustrates the amount of equity within a company that has been financed by debt capital. If a company has an enormous debt to equity ratio, it may find itself in a precarious position if the economy takes a turn for the worse. The current debt to equity ratio for Google is at 7.06%, while the industry average is 65.92% ("Alphabet Inc Class A (GOOGL)," 2021). The rate clearly illustrates that a good percentage of its capital has not been financed by debt. As a result, Google has a sound financial means that will enable it to grow in the future.
Competitors
Since the range of products and services offered by Google is diverse, competitors of the company vary. In search engines, the organization is the leader with 70% market share, Bing and Baidu each have 10%, the rest 5% is owned by Yahoo (Chaffey, 2020). Thus, in 2020 compared to 2019, there is a decrease in Google's market share in this sector. It is worth noting that the company cannot operate in China, where Baidu is the leader. The acquisition of YouTube in 2006 brought the organization back into the entertainment market, competing against a variety of streaming platforms including Netflix, Vimeo, Twitch and others. In the U.S., YouTube accounts for over 20% of traffic, making it the 2nd most visited website in the world and the 1st in its category ("Youtube.com: December 2020 overview," n. d.). Thus, Google is the world leader in the provision of Internet technology and entertainment. However, there is a trend in the reduction of market shares and the development of competitors.
Mission, Vision, and Value Evaluation of Google
The mission statement of Google is to organize the world's information under one platform so that it is accessible and useful for all parties in the world. The company is perhaps considered the only one that managed to organize the world's information and have it accessible in one platform from the mission statement. Based on this assessment, it is apparent that some of the objectives the company wants to achieve include sharing of new ideas, boosting of the organization, and global accessibility.
Google vision statements are providing users access to information in only one click. The company's vision was promoted by identifying problems that customers experience in accessing information about various products before they purchase them (Google, 2021b). In solving this problem, the company's founders designed a platform which would provide users with unlimited access to information. Products such as Google search have not only enabled the company to achieve its vision, they have also brought a lot of value to the company's brand. Furthermore, in achieving one of its primary objectives of universal accessibility, the company has created numerous products based on users' specifications.
Marketing Strategy of Google
Google's marketing strategy can be summed up as a mixture of various techniques that have enabled the company to reach its current glory. A crucial process that the company has used in establishing connections with the rest of the world is its ability to market the Google brand. The way Google has marketed its brand has enabled them to build brand equity, which they have used to dominate the technological market. In this regard, some of the effective marketing strategies that the company has used include quality and effective pricing strategies, brand recall through a large image, and user-friendliness of its products (Google, 2021c). Since Google has focused its approach on the overall user experience and brand image, it has attained a large customer base. Furthermore, the company has an extensive product mix catering to every typical individual's needs in the world. Through this effective marketing strategy, all consumers prefer the company, even kids who have just learned to use computers.
Basic Business Model of Google
Last year alone, Google's business model enabled the company to earn revenue of about $21 billion. About 95% of the revenue comes from companies' advertisements in various internet products owned by the company ("Google Business Model – Google and the Fundamentals of Internet Business," 2021). In comparing currently available search engines, the Google search engine has ranked number one as the preferred search tool by most users. As a result, the company's business model revolves around using its search engines to place adverts for companies and individuals at a rate. The data collected by Google from its users enables it to tailor adverts for companies that want to target a particular market base.
Cut
15% OFF
your first order
We'll deliver a custom
Company Analysis
paper tailored to your requirements with a good discount
Generic Strategy of Google
The generic strategy adopted by Google is based on Michael Porter's model of differentiation and intensive growth. The technique involves developing specific capabilities within the company to make it more competitive (Thompson, 2019). Google has implemented this strategy within its business operations since it developed unique products that have set it apart from its competitors. The company's uniqueness has been achieved through innovation, enabling it to register intensive growth within the technological world. As the company continues to implement this generic differentiation strategy of intensive development, it has also managed to ensure that its customers receive highly effective services. As a result, the design has enabled the company to retain and gain more market size.
Resources, Capabilities, and Competencies of Google
The core business of Google is online advertising and over the last few decades, the firm has become a significant player in the industry with and is facing competitors such as Microsoft and Facebook. Other than the Google search engine, the company is also known for other products such as YouTube, Gmail, Google Maps, and several more, giving it a lot of competitive advantage over its rivals in the industry (Thompson, 2019). Sources of Google's competitive advantage come from brand equity, technological innovations, a large customer base, a profitable online presence, an extensive product line, and good human resource management. With each of the above elements adding a specific advantage to the company's brand, Google has reached heights of success that are rivaled by all its competitors.
Value Chain Analysis of Google
The value chain analysis is a framework used to determine which business activities can create more value to the company to earn a sizeable competitive advantage. The figure below illustrates the value chain analysis of Google by depicting which operations have provided Google with a considerable competitive edge. From the chart below, Google generates a lot of its value from inbound logistics. Since one of the company's primary services is through its search engines, the company can create results that have been posted by private users and companies with no additional costs incurred by it (Dudovskiy, 2017). Another source of value for the company is its technological capabilities.
Since the company operates one of the world's largest search engines, it has managed technological advancements that have made it to be considered the only search engine available. In particular, its search algorithm is so advanced that other rival companies have attempted to replicate it. The outbound logistics is also a value source since the company sells hardware that has been developed by its engineers. The last source of value for Google is marketing and sales strategy. The sales approach adopted by the company is based on a combination of offline and online communication messages. The source of value for the company in marketing and sales is already evident since Google is the owner of one of the most popular and preferred marketing platforms by consumers.
Figure 3. Google's operational strategy (Dudovskiy, 2017).
Competitive Analysis of Google
Porter Five Forces
The first force that has put pressure on Google's competitive advantage is the threat of new entrants. As it stands, the technological market is affected by the emergence of new companies who have brought new innovative ways of doing business to the industry. However, Google has tackled this competitive threat by always providing innovation and services to its customers ("Alphabet Inc. Porter Five (5) Forces & Industry Analysis [Strategy]", 2021). Furthermore, being an already developed firm, the company has used its economies of scale to its advantage by lowering the overall production costs, which puts it in a position to charge lower prices for its products.
Get a custom-written paper
For only
$13.00
$11/page
you can get a
custom-written academic paper
according to your instructions
Another force that is threatening the competitive advantage of the company is the bargaining power of suppliers. For Google, this is not a significant issue since it has built an efficient supply chain using multiple suppliers ("Alphabet Inc. Porter Five (5) Forces & Industry Analysis [Strategy]", 2021). Another force to consider is the bargaining power of buyers. As new products that offer the same services are continually being innovated, consumers' purchasing power has increased by a considerable margin threatening the company's ability to retain its current market positioning. However, since Google has a large customer base, the company has streamlined its sales and production process.
The current industry that Google operates in is regularly affected by the threat of substitute products and services as more technology companies are struggling to gain the available market size. However, Google has tackled this threat by not just being product-oriented but also service-oriented in terms of customer assistance ("Alphabet Inc. Porter Five (5) Forces & Industry Analysis [Strategy]", 2021). Furthermore, the company has also made its customers realize that switching from its customers may incur more costs. The last force to consider is rivalry among existing competitors, including Facebook and Microsoft. Google has been able to tackle this force and remain competitive by implementing its generic differentiation strategy and collaborating with its competitors to increase its current market size.
PESTEL Analysis of Google
The Pestle analysis for Google incorporates the political, economic, social, technological, legal and environmental aspect that influences the company from the outside. The political elements that have affected Google operations include the EU's current trade war with Silicon Valley companies and implementation of politically backed regulations within the online search market. In terms of the economics aspects, the only factor that has affected the company is its growth in various emerging markets. The social elements that have impacted the company include the increase of literacy globally, leading to an increment of users for the internet. The technological factors which are affecting the company are increased focus by companies on customer experience and the ability of technological firms to leverage emerging technologies. The legal and environmental factors which have impacted Google are the impacts of new regulations and the incorporation of a climate resilience strategy by companies, respectively.
Competitive Strategy
An industry analysis of the tech industry indicates that competitors are doing much more innovation to gain the competitive advantage which is currently enjoyed by Google. Companies such as Facebook are making use of machine learning technologies to ensure that they are able to serve their customers the best way. For instance, by using this technology, the company is able to analyze consumer behavior and use the data generated from user to tailor advertisement products for companies which target a particular market. As a result, if Google wants to stay ahead of the competition, it should continue to introduce new technologies which will enable them to serve their customers better.
Summary and Recommendations
The current report on Google is a clear illustration of what a company needs to know to succeed and retain its competitive advantages for a long time. However, if Google wants to maintain these benefits, there are a few recommendations which the company should consider and implement. For instance, the company should revise and modify its current mission and vision statement to reflect the wide range of products it has developed over the last few years. The new vision and mission adopted should depict the company's future state as a diversified entity that caters to clients' different needs. Another recommendation of the company is on the generic strategy adopted. Google should concentrate its efforts on product development so that it is not left behind innovations by companies that have invested heavily in such areas. The only way the company can implement its intensive growth strategy is by increasing the variety of its products and reducing its over-dependence on advertising revenues. The introducing of these recommendations will not only ensure the company maintains its intensive growth strategy but will also enable it to retain the current competitive advantages it enjoys.
References
Alphabet Inc Class A (GOOGL). (2021). Investing.com. Web.
Alphabet Inc. Porter five (5) forces & industry analysis [Strategy]. (2021). Fern Fort University. Web.
Chaffey, D. (2020). Search engine marketing statistics 2020. Smart Insight. Web.
CB Insights. (2020). Alphabet's Next Billion-Dollar Business: 10 Industries to Watch. Web.
Dudovskiy, J. (2017). Google Value Chain Analysis: Benefiting from No-Cost Inbound Logistics – Research-Methodology. Research-Methodology. Web.
Goodman, M. F. (2018). Vision and Mission Statements 5 Leading Fortune 500 Companies & 5 Large Indian Companies presented by Group Number: 5 Roll Numbers: HR052-HR ppt download. Web.
Google. (2021a). How we started and where we are today. Web.
Google. (2021b). Google Org Chart. Web.
Google. (2021c). Google's Mission, Values & Commitments. Web.
Google Business Model – Google and the Fundamentals of Internet Business. (2021). Sites.google.com. Web.
Sharma, R. (2020). Why Google Became Alphabet. Investopedia. Web.
Thompson, A. (2019). Google's Generic Strategy (Porter's) & Intensive Growth Strategies – Panmore Institute. Panmure Institute. Web.
Youtube.com: December 2020 overview. (n. d.). SimilarWeb. Web.