Introduction
FedEx is a logistic service company whose headquarters are located in Memphis, USA. FedEx is an abbreviation of the word Federal Express used from 1973 to 2000 (Dhir, 2019). Federal Express Company can be recognized as successful because it was the only company that had reached revenues of $1 billion without merging or acquiring anything (Dhir, 2019). However, the company received various companies such as Caliber System Inc in 1998, Caribbean Transportation Services in 1999, and in 2004, Kinko's Inc and Parcel Direct were acquired.
Background/History
The FedEx Express Company operates in the shipping services industry. The field consists of a few known companies such as TNT, UPS, DHL, and FedEx (Dhir, 2019). Four of the leading companies have total control of the industry, thus making it oligopolistic. Currently, the industry is highly growing, with over 1.3 million persons having already secured employment for the past few years and overall revenues of $ 200 billion (Dhir, 2019). Back in 2008, the express delivery industry contributed $80 billion to the global GDP (Global Express Association). Similarly, the sector shows continued growth because of increased demand for an effective and faster transport mode.
History
FedEx Express Industry was founded by Frederick W. Smith. Smith studied at Yale University and earned a B.A in 1966. Additionally, Smith worked in the "U.S. Marine Corps" from 1966-1979. FedEx as "Federal Express" was later founded in 1971 when Smith was 28 years old ("Leadership | FedEx", 2021). The thought of having an overnight delivery service had been outlined by Smith at Yale University about the effects of society automation. Just then, Smith explained that air cargo had varying necessities compared to an air passenger flight. Therefore, investing in a corporation focusing on air freight would be a profitable business niche ("Leadership | FedEx", 2021). Consequently, a few years after school, Smith embarked on his dream and made it come true.
Advancement in technology has dramatically changed the shipping service industry. On the contrary, information technology and the internet have caused severe risk to the industry by delivering documents using online electronic mail (Dhir, 2019). Nevertheless, it enables companies to provide customers with extra benefits by using information technology and the internet (Dhir, 2019). Technology has changed everything because currently, customers are not required to go to the nearest franchise or delivery center for dropping their packages. They can do this through the internet or make a call to order for the pickup (Dhir, 2019). Also, customers can track the progress of their package using shipment status systems.
Managerial Aspects
Corporate Culture/Philosophy
FedEx Corporation Company offers businesses and customers globally a wide selection of services, electronic payments and transportation. The corporation provides integrated business applications by being in charge of corporations competing jointly and collaborative supervision under the FedEx trademark ("Overview of services | FedEx", 2021). FedEx Company's Operation occurs via these segments: FedEx Freight, FedEx Ground, TNT Express, and FedEx Express ("Overview of services | FedEx", 2021).
Their network functions differently to provide excellent service to the clients. There is a collective competition of a broad portfolio of client's solution under the respected brands of FedEx ("Overview of services | FedEx", 2021). Five sections offer global services outside of the United States: Canada; Asia Pacific; Europe; Indian Subcontinent and Africa; Middle East; and Latin America Caribbean.
Key Individuals Involved
Top Management Composition
Frederick W. Smith is the founder, chairman, president and CEO of FedEx Corporation. The other individuals involved in the management of FedEx Express Company include; Alan B. Graf, Jr., is in charge of all issues associated with international monetary functions. Robert B. Carter, CIO and information Services EVP: Robert is in charge of the management of advanced networks and data centers, overseeing technology infrastructure and significant applications, and setting up technological directions ("Leadership | FedEx", 2021).
T. Michael Glenn, EVP, in charge of "Market Development and Corporate Communications, and CEO of FedEx Corporate Services." Christine P. Richards is the EVP and Secretary of the General Counsel. Arigo Christine is in charge of making certain that all global actions comply with the global, national, state and local government ("Leadership | FedEx", 2021). Also, Arigo Christine is accountable for ensuring there is international and domestic security as well as government affairs for all companies and subsidiaries operating under FedEx Company.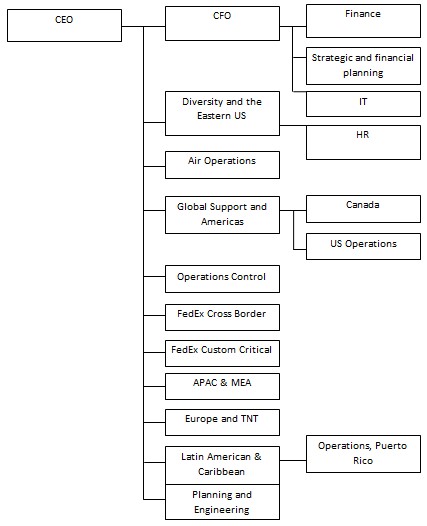 Mission Statement
The mission of FedEx states that "FedEx Corporation will produce superior financial returns for its shareowners by providing high value-added logistics, transportation, and related business services through operational focus companies" ("FedEx Mission, Vision & Values", 2021). The statement sums up the activities and the projections that the corporation looks forward to employing to achieve its customers' requirements. Moreover, the report further defines its estimated goals and the areas of operations ("FedEx Mission, Vision & Values", 2021).
The sections below are associated with this mission statement. Life improvement; FedEx summarizes everything founded on making life simple and more satisfying ("FedEx Mission, Vision & Values", 2021). The business can only achieve this by being a dependable partner in creating good relationships with customers, their goods and services.
Resources
Vehicles and Employees
Trucks are the most used means of transporting cargo all around the world. Their flexibility allows them to travel for long and short distances ("FedEx | Tracking, Shipping, and Locations", 2021). However, the distance travelled is determined by the size of the truck. The central hub in Memphis has an average of 12,000 workers and sorts almost 1.5 million orders daily according to their destinations ("FedEx | Tracking, Shipping, and Locations", 2021). Therefore, this is the reason customers will see their goods in Memphis at sometime if they track them.
Key Facilities and Equipment
FedEx Express Corporation operates several facilities. They consist of about 2,250 Express stations, 13 air hubs, 40 Ground hubs, more than 550 Ground Operating facilities, 400 freight service centres, 2,200 Office locations, and more than 100 million unique website visitors monthly. Additionally, there are over 400 million package-status tracking requests daily ("FedEx | Tracking, Shipping, and Locations", 2021). There are over 600 Operating facilities, 39 ground hubs, 6,050 authorized ship centre locations and alliance partners, 17,850 onsite locations, and 2,075 office locations.
Main Airports Served
Memphis Super Hub
The operation of FedEx happens in an expansive distribution centre network comprising of ports located all over the United States. The primary centre of distribution is located in Memphis, which serves as company headquarters ("FedEx | Tracking, Shipping, and Locations", 2021). Other than the Super Hub, there are additional FedEx Express airport-based centres that process packages during the night. Memphis is the primary distribution centre for FedEx Express Corporation Company. This is the "Super Hub" of the company because it is even larger than some cities ("FedEx | Tracking, Shipping, and Locations", 2021).
Cargos from the distant place are brought to this centre, where they are sorted and then distributed to their respective destinations ("FedEx | Tracking, Shipping, and Locations", 2021). This helps decrease the number of flights required and also lowers fuel expenses.
FedEx Express Hubs
Some of the cargos shipped never go through Memphis; nevertheless, most of them do. However, there are other extra airport-based centres for processing cargos ("FedEx | Tracking, Shipping, and Locations", 2021). Examples of these Express centres in the U.S. include Indianapolis, Dallas, California, Oakland, and Miami. The remaining centres are situated in various parts of the world, such as China and Australia ("FedEx | Tracking, Shipping, and Locations", 2021). These hubs facilitate processing of almost 5 million express packages every night through the entire global distribution system.
Number and Type of Aircraft
FedEx Express Corporation operates the most significant cargo air fleets in the world with more than 650 aircraft. The company uses the largest Airbus "McDonnell Douglas MD-11, McDonnell Douglas DC-10/MD-10," Cessna 208, ATR 42, and A300 ("FedEx | Tracking, Shipping, and Locations", 2021). There is also the 777 aircraft, able to carry 102 metric tones of cargo. These planes are capable of operating in six straight routes, including "Memphis to Dubai to Delhi to Paris and back to Memphis" ("FedEx | Tracking, Shipping, and Locations", 2021).
Being the largest cargo airline with hubs worldwide, FedEx Express has Boeing 767, a big part of the cargo airline's fleet with over 80 aircrafts in service and more than 40 on order. In addition to this, FedEx also flies Boeing 777F aircraft ("FedEx | Tracking, Shipping, and Locations", 2021). These are the planes operated by FedEx Corporation Company which aids in cargo transportation all over the world.
Operations
Operational Philosophies
Operational philosophies in FedEx Express Corporation include the People-Service-Profit philosophy (P-S-P). The philosophy is founded on the idea of creating an optimistic work surrounding for workers. It makes it easier for the company to offer a good working environment for customers ("FedEx Attributes Success to People-First Philosophy", 2021).
Consequently, there will be an increased number of customers using FedEx services and products. FedEx Express Corporation uses a "pay for performance philosophy"; therefore, the top administration is highly interested in the financial performance of the company ("FedEx Attributes Success to People-First Philosophy", 2021). FedEx also uses an 'executive compensation philosophy' which closely lines up with the executive compensation of the company's performance on both short-term and long-term basis ("FedEx Attributes Success to People-First Philosophy", 2021). Therefore, operational objectives are set to promote long-term monetary goals and prevent promotional of extreme risk.
Markets Served
FedEx Express Corporation Company's role is to deliver packages in the fastest way using the most efficient way possible. The market served by FedEx Express Corporation Company is large ("FedEx Attributes Success to People-First Philosophy", 2021). Some markets that rely on FedEx services consist of hospitals and clinics, the pharmaceutical industry, schools and Universities, printing companies, law firms, accounting firms, real estate companies, manufacturing companies, and e-commerce businesses. All these markets rely on FedEx Corporation Company to deliver their cargo to their respective destinations.
Types of Cargo
Some commodities shipped by FedEx Express Corporation include susceptible goods such as seafood products, electronics consumer goods, production samples, fashion garments, pharmaceuticals products, and documents. They also transport inputs to attain just-in-time production and emergence shipments of spare parts ("FedEx | Tracking, Shipping, and Locations", 2021). Other types of cargo shipped from developing countries are vegetables, fresh fruits, and cut flowers ("FedEx | Tracking, Shipping, and Locations", 2021). The company shipments are placed on pallets, but one can ship heavy items such as furniture, cars, and many other objects.
Limitations/Problems
One of the limitations encountered in FedEx Express Corporation is the restrictions on shipping. These restrictions cover items that fall below FedEx shipping restrictions. However, the item can still be shipped, but the owner must have a regular contract and follow all regulations before FedEx decides to accept the item (Dhir, 2019). FedEx dangerous goods are on this list.
The items considered by FedEx to be hazardous are those that might have hazardous materials. Examples of FedEx Restricted Items include any transaction involving international traffic in Arms Regulations (ITAR) or other issues related to import licenses, biological agents, etiological, and hosts (Dhir, 2019). There are also the vectors of human disease, flowers, fresh foods, hazardous and radioactive materials, lithium-ion and lithium metal batteries, tranquillizing guns and ammunition, flammable and corrosive items.
Business Relationships
Principle Customers
Some analysts have made claims that FedEx's largest customers are the U.S. Postal Service, for which FedEx carries premium mail products by air under a multiyear, $1.5 billion contract annually (Dhir, 2019). The confession arose during a conversation about FedEx Extra Hours. This new service helps retailers such as Best Buy and AutoZone compete better with Amazon by increasing the speeds of making deliveries.
Partners
Microsoft and FedEx have been on a multiyear partnership to help customers use analytics to improve shipping times and supply chains. Through collaboration which includes joint product development, customers can always connect data from FedEx logistics networks and analyze it via the Azure Cloud. FedEx Smart Post is a shipping service that employs both U.S. Postal Service and FedEx's ground shipping network (Dhir, 2019). In this type of hybrid model, shippers give their parcels to FedEx Corporation. FedEx Express Corporation then makes that shipment from their warehouses using trucks to the final destination.
The last transportation journey is usually the FedEx trucks shipping service to the final customer's doorsteps. However, this is the most inefficient and the most expensive part of the journey ("FedEx | Tracking, Shipping, and Locations", 2021). Rather than moving dozens or hundreds of packages together, drivers drop them off one by one to their destinations ("FedEx | Tracking, Shipping, and Locations", 2021). Therefore, the U.S. Postal Service's work is to drop them house-to-house daily, delivering to every address in the U.S.
Alliances
FedEx has created various ways to help save money daily. Alliances with different reputable businesses, foreign trade associations, and government organizations have been made to provide valuable services and support with competitive and quality prices ("Leadership | FedEx", 2021). Moreover, FedEx Express Corporation provides special low prices for small and medium-sized business involved in Save Program and the PyMEx Ship ("Leadership | FedEx", 2021). When a company decides to engage with FedEx and the USCS, it is provided with end-to-end export support to help one business hit the ground running. Businesses are allowed with such export needs, to discover new international markets that offer appropriate growth opportunities.
Pact
FedEx Express Corporation and the Air Line Pilots Association reached a tentative agreement. The deal was about collective bargaining pact for its 3,000 pilots ("Leadership | FedEx", 2021). The deal includes raises, where some are tied to corporate profitability and productivity. The following step is voting on the contract by the pilots' executive council and the union membership ("Leadership | FedEx", 2021). No date for that voting has been set. The contract aims to address issues while providing management with the cost structure it requires to ensure that FedEx will always be the most profitable and successful carrier of its kind globally.
The U.S. Postal Service and NEW YORK (CNNfn) – FedEx Corp came into n agreement that was estimated to bring FedEx $7 billion in sales, ending weeks of speculation that the two competitors were to work together to deliver some services. The agreement was meant to run for seven years where FedEx Express, a subsidiary of Memphis Tenn.-base FedEx, will provide postal shipment by air ("Leadership | FedEx", 2021). The deal is expected to bring more than $5 billion in income for FedEx for more than seven years.
Code-Sharing, Joint Ventures
FedEx and VARIG LOG have used code-sharing on Sao Paulo – Buenos Aires – Santiago de Chile. The route is operated by VAG LOG, in which the application requests permission to display FedEx's "F.X." code as well as a mutual block-space contract. Moreover, FedEx is set or run its joint venture in China ("FedEx | Tracking, Shipping, and Locations", 2021). FedEx, the world largest express transportation company, went into contract with Chinese partner Tianjin DTW group Co., Ltd. To purchase up Federal Express-DTW Co., Ltd., a Beijing company based on 50-50 express joint venture on both sides ("FedEx | Tracking, Shipping, and Locations", 2021). Currently, sources claim that FedEx has two acquisitions solutions. Purchase a 50% stake in the Tianjin DTW group venture for CNY 100 million or buy both stakes and DTW Express Co., Ltd., a service band under its Chinese partner, from CNY 240 million to CNY 320 million.
Future Plans
FedEx Express Corporation Company could have a bright future because it has significantly invested in technology to enhance its effectiveness and economic performance. For instance, the company has already installed its "Dynamic Route Optimization (DRO)" technology ("FedEx | Tracking, Shipping, and Locations", 2021). The technology will be providing real-time data to drivers on the best routes to use when distributing cargos to customers. It might result in timely delivery to the customers, thus enhancing its market position over its competitors ("FedEx | Tracking, Shipping, and Locations", 2021). This technology might facilitate the company drivers becoming more productive, thus increasing the number of packages delivered daily than before. Therefore, the probability of catalyzing the company's financial performance after implementing its new technology is high.
Summary/Comments
Conclusively, the paper has provided a detailed description of FedEx Corporation Company. The history and the background of the company have been explained. The prominent individuals involved in the leadership and the management of the corporation have been identified. The paper has provided the company's organizational structure, the mission statement, and the resources used by the company, such as vehicles and employees, leading facilities and company equipment. The main airports served by the company have also been identified together with the market the company operates. The partners, alliances and pacts the company has been involved in have been explained among others. Therefore, the paper has provided deeper and detailed information about FedEx Express Corporation, which offers a better understanding of the company.
References
Dhir, S. (2019). Federal Express. In Cases in Strategic Management (pp. 91-105). Springer, Singapore. Web.
Fedex attributes success to people-first philosophy. FedEx Newsroom. (2021). Web.
FedEx mission, vision & values comparably. (2021). Web.
FedEx tracking, shipping, and locations. Fedex. (2021). Web.
Leadership FedEx. Fedex. (2021). Web.
Overview of services FedEx. Investors.fedex. (2021). Web.