Introduction
The dissenting impact of the ongoing global financial crisis is becoming a major hassle for the world's economy, including the economy of UK and international market. According to the concepts of evolution of the overall economic environment, the car manufacturing industry in UK and other parts of the world is facing instability in financial sectors and economic slowdown in specific countries. In this paper, the impact of recession on car manufacturing industry is analyzed to understand and evaluate with the base of ensuring implementation according to robust in a consistent way. The recession has affected large environmental and financial sectors, so the paper will provide qualitative and evidential data to the related parties and stakeholders of car manufacturing industry all over the world.
Car Manufacturing Industry of UK and Other Countries
UNCTAD (2009) reported that global automotive manufacturing industry diversifies and depends on different sectors to assemble total cars into a shape and in this sector, global leaders are United States, Japan, China, Germany, and South Korea. From them, US has proven itself as world's largest producer of car industry with around 6.6 million cars every year. In this industry, almost 25 million people are engaging all over the world. Williams (2010) pointed out that this industry has mainly dominated by five major automobile manufacturing companies, which are Toyota, GM, Ford, Volkswagen, and Honda and these companies have spread their business all over the world, with the markets of US, Europe, India, and other markets in Asia.
On the other hand, within 25 years of successful production level of automobile industry in UK, 2009 has proven itself as difficult year, when production has failed to maintain and operate its business. According to the Society of Motor Manufacturers and Traders (SMMT), in 2009, UK has produced only 999,460 new cars, which are 30.9% less than 2008 and lowest annual output since 1984. These only happened during economic recession, which was directly impact commercial automobile manufacturers in UK market. However, this industry hopes to recover for its own good, and CEO of SMMT ensured to recovers the automotive markets with 1.4 to 1.5 million cars at pre-recessional level every year (Wearden, 2010).
Current Recessionary Effect on Car Manufacturing Industry
The recession has affected hardly in UK car manufacturing industry. From the analysis of SMMT, within April 2009, the car production reduced to 55.3% than previous year's production in UK (Mearns, 2010). The main reason for fall of production is economical recession as the price of raw materials is increasing. For this reason, many giant car manufacturers, like General Motors, have fallen into bankruptcy in United States, and then restructuring itself with the help of European arm. This company is directly and indirectly employed more than 5,500 UK workers, which would be supported by Government officials of UK to support UK car production (IMI Research Department, 2009). The following figure shows the new car registrations in UK from 2006 to 2009: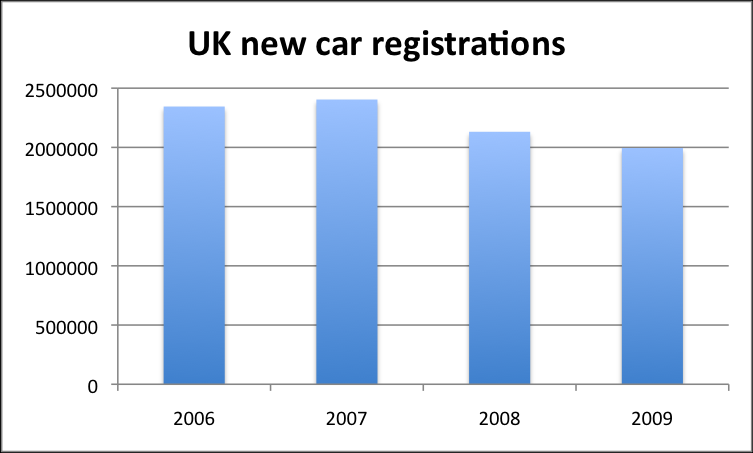 The recession has not only affected the car manufacturing industry, it has also affected sub-sectors of the business with increased levels of redundancies. From these sub-sectors, employment levels of this industry have declined, and number of job seekers increased day by day. As the experienced employees are losing their jobs, for this reason, lower-skilled staffs are increased. That has directly impacted on minimizing of productivity in this industry. Williams (2010) stated that the recession has affected on new car manufacturing industry, but not in used vehicles sales. Car production in UK has fallen to 58.7% with 61,404 vehicles in commercial market of UK.
According to the study of SMMT, UK-based car manufacturing has forecasted to lower in January of 2010. Major automobile companies, like Ford, Aston, Martin, and Vauxhall have decided to shutdowns their productions in winter period. These companies also need government assistance, with £2.3bn packages in 2010. These government actions will help to provide easy access to finance and credit in recessional crisis period. After governmental support, UK car manufacturers exported up to 83.5% of all vehicles with some European markets also. That is why; government response is most important need of automobile manufacturing industry in present times, which can also reduce cost of £13bn of funds of employment costs in recent unemployment handling (Wearden, 2010).
Evaluation of Global Impact after Recessional Downturn
In recession downturn period, the UK car manufacturing industry has to be examined and evaluated according to global impact. For this reason, the industry should evaluate with the help of specific model and in that case, porter's five forces model will use in this paper to assess the current market position (Pearce II & Richard, 2006). The following figure will show the model and be discussed after the figure: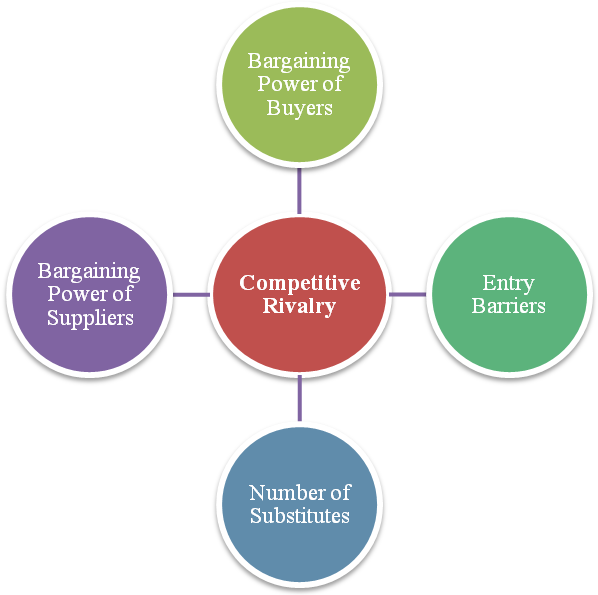 Bargaining Power of Buyers- LOW: The buyers of UK automobile industry are mainly US and other countries, like Germany, South Korea, China, Japan, and South Asian countries all over the world. However, for global financial crisis, the buying power of buyers has decreased as a result the bargaining power of the customers is becoming lower day by day
Bargaining Power of Suppliers- HIGH: Automobile manufacturing industry is mainly running its production system by assembling, so, the business is totally dependent on suppliers of different sectors, like steel, body parts, tier, etc. Therefore, bargaining power of suppliers is obviously high although in recessional period.
Competitive Rivalry- HIGH: For UK markets of car manufacturing industry, major competitors around the world are in United States, Japan, China, Germany, and South Korea. From them, US is the largest producer of automobile vehicles with 6.6 million cars per year. The productivity level of UK manufacturers is decreased due to recession, but other producers tried to produce higher than UK manufacturers to spread their business all over the world.
Entry Barriers- LOW: After recession, every industry has affected very badly, automobile manufacturing industry is not far from it. This industry mainly needs high access to finance and government support but due to recession, it would be difficult for new companies to arrange these funds to entrant as a car manufacture. For this reason, new car manufacturing industry cannot enter the market in this unstable position of the economic environment.
Number of Substitutes- LOW: For car manufacturing industry, main substitutes would be other vehicles like, aircraft, ships etc. However, in recession, these industries were also affected very badly. This can be seen, when EADS (France) and Boeing (United States) have been canceled their order of production in 2009. Therefore, number of substitutes cannot affect on car manufacturing industry in UK and other markets worldwide.
Strategic Implication
In the crucial moment of car manufacturing industry, the strategic implications are much more important for future prospects. For this reason, three generic forces models would develop for further development of this industry, which has shown with figure and discussed below: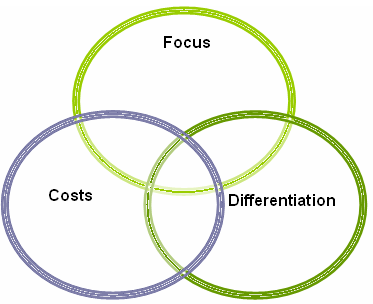 Costs: When the industry can reduce its costs as cost leadership in the market, then it can develop and implement costs as strategic implementation. However, for car manufacturing industry, costs cannot be maintained as lower as cost leaders in the market. So, this strategy cannot be implemented
Differentiation: The industry is presenting itself as unique as others, then it can establish differentiation as its strategic implementation. The differentiation in car manufacturing industry is identical as well as rare; therefore, it would not be fruitful to implement this strategy.
Focus: When the industry is focusing on some specific factors, or areas in the environment, then it can be called as focus as strategic implementation.
For car manufacturers in UK, it should focus on governmental support and incremental market share than before to increase its sales like before. Therefore, it should focus on these factors as strategic implementation
By implementing focus as strategy, car-manufacturing industry could recover its position as their previous situation. With the help of Boston Consultant Growth Matrix, how car manufacturers can improve their position would be showed and analyzed below: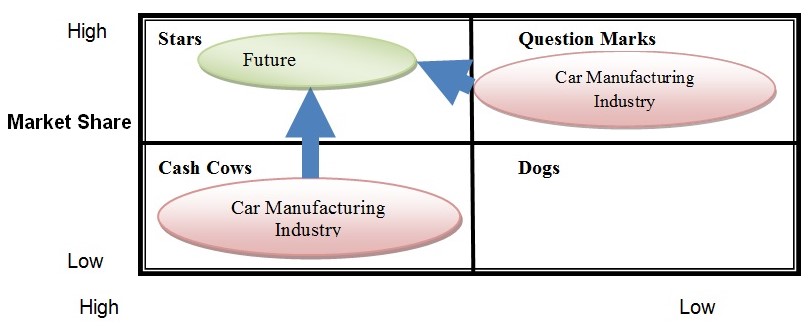 Before the recession time, UK has prospectus business in car manufacturing industry. It was selling more than 6.6 million cars every year. It was highest employment source and earned higher profit in the market than other industry in worldwide. Therefore, it was representing itself as Cash Cow in the UK market with economic and financial success.
In the mid-time of recession, profit generation from car manufacturing businesses has reduced and lowered day by day. However, market share is stable, because of brand identity and previous impressions of business in the market. As a result, the car manufacturing industry of UK occupies the position of Question Mark at that time.
Therefore, after bad history of recession, car manufacturers of UK have greatest future possibilities to represent themselves as Star in the market. This would be possible with the help of the existing huge market share and government support to build up financial stability and accessibility to run the business successfully in the market.
Conclusion
Nevertheless, the recession has opened up opportunities for the car manufacturing industry through governmental responses; this is supportive for the industry to achieve a stable financial condition and to stimulate economic growth in the market. In addition, various agencies are undertaking many promotional activities against recession for future prosperity of different industries in the UK, which is also helpful for the car manufacturing industry. To conclude this paper, it can be argued that, the ongoing recessional crisis is very uncertain for all industries, but by dealing with these uncertainties, the car-manufacturing industry can maintain a favorable business environment and financial climate as protectionist in the market.
Reference
Berthiaume, R. Joshi, B. Longdo, E. & Seshadri, V. (2007) Toyota Marketing Strategy for Plug-in Hybrids. Web.
GM Corporation. (2009) Form 10-K General Motors Corp – GM. Web.
Hitt, M. A., Ireland, R. D., & Hoskisson, R. E. (2001) Strategic Management. 4th ed. South-Western Thomson Learning.
IMI Research Department. (2009) The Automotive Retail Sector – Impact of the Recession. Web.
Mearns, E. (2010) UK new car sales and the recession. Web.
Pearce II, J.A. & Robinson, R.B. (2006) Strategic Management. 8th ed. London: McGraw-Hill.
Rodriguez, A. & Page. C. (2004) A Comparison of Toyota and Honda Hybrid Vehicle Marketing Strategies. Web.
Toyota Industries (2009) Corporate Philosophy: Basic Philosophy (Toyota Industries' Corporate Philosophy). Web.
Toyota Motor Co. Annual Report 2009: The Right Way Forward. Web.
Toyota Motor Co. (2009) Company profile of Toyota. Web.
Toyota Motor Co. FY2009 Financial Results. Web.
Toyota Motor Co. Toyota in the World 2009. Web.
TQM (2009) Total Quality Management: 5S in Toyota Motor Corporation. Web.
UNCTAD. (2009) Assessing the impact of the current financial and economic crisis on global FDI flows. Web.
Wearden, G. (2010) SMMT says car industry faces bad year. Web.
Williams, B. (2010) Automobile Industry and the Recession. Web.