Whole Foods in the US
The changing trends in the global food industry
A picture of global food consumption reveals that consumers are increasingly changing their food consumption patterns. While natural foods were most preferred by many consumers in the 20th century, the 21st century has shifted consumer demand to organic foods. It is important to note that natural foods are not the same as organic foods. The term "natural" refers to foods that are free from any form of artificial additives or preservatives but are minimally processed (FMI, 2007). The term "organic", on the other hand, refers to both the food and its production procedures. Such foods are regulated and must meet certain clearly defined standards.
For instance, organic crops must be grown without the use of biotechnology, pesticides, and both petroleum-based and sewage-based fertilizers (FMI, 2007). This type of food has attracted substantial demand, especially in the US and Europe in recent years. In the U.S., for instance, sales of organic foods rose by 22% from $ 3.4 billion in 1997 to $ 16.9 billion in 2006 (FMI, 2007) as illustrated in figure 1 below.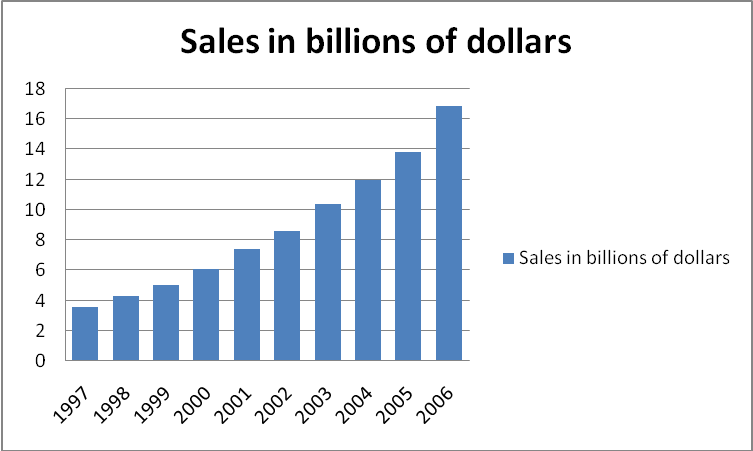 It is clear from this graph that the demand for organic foods has increased over the years in the US. But why the growing demand for organic foods?
Consumers are increasingly becoming conscious of their food consumption patterns and behaviour. The main factors driving consumers towards the consumption of organic foods are: health, taste, ethics and concern for the environment. With consumers becoming more aware of nutrition, most people are now more interested in foods with a high nutritional value, but fewer side-effects; something that is only found in organic foods.
According to FMI (2007), approximately 81% of Americans is attracted to organic foods because of their nutritional value. Apart from health, environmentally conscious consumers are lured to organic foods because of the strong emphasis it places on environmental protection since it emphasizes the use of renewable energy, soil and water conservation, and no chemicals. The increasing global awareness of environmental issues promises a bright future for the organic foods market. The regulation of organic foods with standardized codes of conduct makes it more ethical hence attractive to consumers concerned about ethics. Further, most consumers believe that organic foods taste better, making it attractive to consumers interested in more flavoured foods (FMI. 2007).
The 'Fairy Tale Success Story' of Whole Foods Market Inc. in the U.S.
Started as a single store in Austin, Texas in 1980 by John Mackey, Whole Foods expanded rapidly to about 150 stores in the US by 2003 offering employment to 23, 000 citizens (Srinath and Madhow, 2004). It was labelled the largest and the fastest-growing nation's natural-food chain outperforming renowned food companies such as Kroger, Safeway, Kmart, and Wal-Mart (Srinath and Madhow, 2004). Every market analyst would be interested in knowing Whole Foods' success strategy.
Whole Foods fairy tale success story was attributed to its marketing and expansion strategies. Whole Foods marketing strategy was based on Maslow's "Hierarchy of Human Needs" theory which places basic food needs at the bottom while lifestyle food needs at the top. According to Maslow's theory, the satisfaction of needs at the bottom of the hierarchy acts as a natural motivation to pursue the next level needs. Assuming that consumers' basic food needs are already taken care of; Mackey focused on lifestyle food needs. Organic food is more of a lifestyle food than basic, and this is reflected in its price.
Whole Foods relied on food for health concept retailing the best of organic and natural foods (Srinath and Madhow, 2004). Besides, Whole Foods stores took the design of large stores capable of stocking a complete range of organic products hence making them attractive to lifestyle shoppers. As a marketing mechanism, Mackey educated consumers on the benefits of organic foods stocked at Whole Foods including information on recipes, cooking tips, food safety, and serving suggestions (Srinath and Madhow, 2004). Hence, Whole Foods became more of a lifestyle shopping destination for both health-seeking shoppers and lifestyle-seeking shoppers.
Apart from its marketing strategy, Whole Foods also used mergers and acquisition as its growth strategy. Mergers and acquisitions are business expansion strategies in which case a company either merges with or acquires an already established company (DePamphilis, 2008).
This saves both facility and market establishment costs. Instead of starting its outlets from scratch, Whole Foods opted to either acquire or merge with already established organic foods stores and brands within the US. Some of the stores it acquired included Fresh Fields, Allegro Coffee, Bread & Circus, and Nature's Heartland (Srinath and Madhow, 2004). This made it easier for Wholefoods to grow rapidly as it already had an established market in the new location to gear start it.
Whole Foods expansion into the UK
Whole Foods' foray into the UK
Having almost exhausted organics market in Northern America, Whole Foods had to think hard on where else to expand in order to continue with its success story. Though accidentally identified through Mr. Lannon's vacation in London, the UK turned out to be an attractive destination for Whole Foods. The demand for organic foods in the UK had already overtaken supplies (Srinath and Madhow, 2004).
To provide the deficit, the UK had to rely on imports. Hence, Whole Foods expansion into the UK was based on the readily available demand for organic foods. This assured Whole Foods of realizing sales as it had done in the US. Besides, the existence of organic food stores in the UK would make it easier for Whole Foods to venture into the UK using its expansion strategy of merger and acquisition.
Hence, Whole Foods became optimistic about repeating its US' fairy tale success story in the UK and Europe as a whole. But was this easy? Business strategies may work best in one region but fail in another. This was the situation Whole Foods found itself in. The UK already had established organic food chain stores, which commanded a big share of the organics market, making it difficult for Whole Foods to penetrate as will be discussed later in this paper.
Whole Foods acquisition strategy and its significance in the UK
Whole Foods entered the UK by acquiring Fresh and Wild Market. Fresh and Wild provided a perfect acquisition fit for Whole Foods, given its specialization in organic foods and chain store arrangement, which made it look exactly like Whole Foods stores in the US. As Lannon states, when he entered Fresh and Wild, the environment and range of organic foods looked exactly like what Whole Foods provided in the US. In fact, for a moment he thought he had visited Whole Foods store only to remind himself that he was in London and not in the US. With such synergies, Fresh and Wild became a perfect acquisition fit for Whole foods as it did not have to change anything to make it look like its US stores except for the store sizes. But was the acquisition the right option for Whole Foods' foray into the UK?
Acquiring an established store meant that Whole Foods inherit an already established store chain with market presence and supply chain facilities (Srinath and Madhow, 2004). This would save Whole Foods from expenses resulting from market establishment and supply chain facilities. Hence, acquisition is a cheaper way to expand business. Besides, organic foods industry in the UK was already immensely consolidated with over 300, 000 retailers (Srinath and Madhow, 2004).
In such a market, it was difficult for Whole Foods to penetrate and succeed as a new entrant in the market. The only viable strategy was to acquire already established stores and capitalize on their market presence. According to (Gilbert, 2003), acquisition is a significant expansion strategy into a consolidated market as it assures the acquiring company an already established market.
Major competitors of Whole Foods in the UK and how Whole Foods would successfully compete for market penetration
While Whole Foods enjoyed being a market leader in the US, its expansion into the UK exposed it to an immensely consolidated industry with more than three thousand retailers and only five hundred companies controlling eighty-five per cent of organics market (Srinath and Madhow, 2004). It is these market leaders that Whole Foods would have to compete with in the UK. Some of them, labelled the 'Big Five' included Tesco commanding 26% on the market, Wal-Mart-owned ASDA Group Ltd. commanding 17%, J Sainsbury commanding 16%, Safeway commanding 10%, and Wm Morrisons commanding 6% on the organics market (Srinath and Madhow, 2004).
Other competitors dealing with organic and natural foods included Marks & Spencer, Waitrose, Grampian Health Foods, Marlow Foods, Heinz Frozen & Chilled Foods, Premier Foods, Queenswood Natural Foods Ltd., Rayner foods Group, Kraft Foods, Goodlife Foods, Nichols Foods, and Halden Foods (Srinath and Madhow, 2004). These are established organic food retailers in the UK that had been in the market since long. A pictorial illustration of the UK's organic foods market share is illustrated in figure 2 below. Faced with such stiff competition, Whole Foods had to formulate a workable market penetration strategy that would make it stand out from the other competitors. One such strategy was to use the approach of specialist and health food stores.
Through market evaluation Whole Foods executives discovered consumers' high preference and trust for organic foods sold through health specialists and stores. As I had mentioned earlier in this paper, one of the drivers for increasing demand for organic foods is health factor. People in the UK had more trust for organic foods sold through health stores and specialists as they perceived them to be healthier than those stocked in the supermarkets and food stores.
Having realized that most its competitors use the supermarket and stores arrangement strategy, Whole Foods believed that this strategy would offer it a market penetration advantage. Besides, the UK had very few retailers using the health stores and specialist approach. This strategy thus proved to be a potential solution to challenges offered by the immensely consolidated organic foods industry in the UK.
Challenges to Whole Foods in the UK and how the company overcame them
Whole Foods was so optimistic about its foray into the UK, but the situation proved otherwise as after six months of operation the company was not able to expand as promised earlier. This was due to a number of challenges, most of which were not taken into consideration when making the decision to expand into the UK.
First, organics market in the UK was already saturated. Hence, Whole Foods had nothing new to offer consumers. Already, there were close to 300,000 retailers in the market and even supermarkets had sections set aside for organic foods (Srinath and Madhow, 2004). It was thus difficult for Whole Foods to attract sufficient number of consumers to sustain its growth in the UK. Besides, the consumer demand for organic foods was already stable making it difficult for new entrants to penetrate the market (Srinath and Madhow, 2004).
Second, the high land rates in the UK required higher sales densities, which was a challenge for Whole Foods given the high number of competitors some of which offered low prices. There was no way Whole Foods could reduce its prices and still afford to pay the high land rates. Third, Whole Foods marketing strategy was based on integrity and trust (Srinath and Madhow, 2004). This was, however, not possible in the UK where consumers were more concerned about convenience shopping.
Hence, supermarkets still remained their number one choice. Fourth, the difference in business culture between the US and European countries posed a challenge to Whole Foods' growth in Europe. Some of the marketing strategies that worked best in the US might not be successful in Europe. As noted from the case study, prosperous American companies like Horizon Organic failed to achieve their strategic goals in Europe mainly due to difference in business culture. Just like Whole Foods, Horizon Organic had planned to conquer Europe using the UK as its entry point, but even after five years of operation Horizon Organic was unable to expand outside the UK (Srinath and Madhow, 2004).
To overcome these challenges, Whole Foods had to design a strategy that took care of both competition and customer needs. It was clear that Whole Foods underestimated the UK's organics market. Its lack of differentiation remained its main weakness. Hence, Whole Foods had to design a strategy that offered something new in the UK's organics market as a solution. To overcome this challenge, Whole Foods considered a marketing strategy that uses health stores and specialist approach to make it different from the already established organic food chains in the UK.
Another possible solution was mergers with some of the competitors. This would make it possible for Whole Foods to expand its market share by capitalizing on established markets. Further, Whole Foods could still opt to duplicate successful strategies of some of its competitors, but this would still make it no different from existing stores. Hence, it would be difficult for Whole Foods to overcome competition in the UK using such a strategy.
Strategy for Whole Foods to succeed in the UK
Whole Foods had two options on the table for it to succeed in the UK. The first option was to duplicate the successful strategies of the 'Big Five' and the second option was to devise a unique strategy to attract customers to its stores. In my opinion, the second strategy would be more successful. Adopting the success strategies of the 'Big Five' would mean that Whole Foods bring nothing new into the market.
Remember, consumers are always fascinated with new things. This does not have to be a new product, but rather an idea. If Whole Foods devise a unique and attractive strategy that has never been used by any of the competitors in the market, chances are that most consumers will be lured into their stores. I believe its US lifestyle shopping experience where consumers are educated as they shop would make it different and attractive to consumers who want to know more about organic foods. This would blend well with its health stores and specialist strategy and make it a shopping destination for health-seeking consumers.
Besides, it would be difficult for Whole Foods to succeed by duplicating the successful strategies of the 'Big Five' given its limitations. For instance, Tesco's strategy is 'Pile High and Sell Cheap' (Srinath and Madhow, 2004). While this strategy has made Tesco succeed as a market leader in the UK, duplicating it would require Whole Foods to have high supply chain sources to be able to pile high.
In addition, Whole Foods might end up incurring heavy losses if it sells cheap. What works best for one company may not work for the other. Therefore, Whole Foods should design its own strategy based on market evaluation. It is important to study and understand consumer behaviours before designing a strategy. Once Whole Foods understand consumer behaviours and establish a marketing gap, it is likely that it will design a strategy that will meet consumer needs and be able to compete alongside the 'Big Five'.
References
DePamphilis, D., 2008. Mergers, acquisitions, and other restructuring activities. New York: Elsevier Academic Press.
Food Marketing Institute (FMI), 2007. Natural and organic foods. Web.
Gilbert, D.M., 2003. Retail marketing management, 2nd ed. New York: Prentice Hall.
Srinath, M. and Madhow, T.P., 2004. Whole Foods in the UK: The growth challenges. The case for learning. New York: IBSCDC.