Air Arabia Overview
Air Arabia is among the leading low-cost carriers in the global airline industry. The airline is mainly based at the Sharjah International Airport in the United Arab Emirates (UAE) (Air Arabia, 2012). The airline came into inception in 2003 after His Highness Dr. Sheik Mohammed Al Qassimi, the Ruler of Sharjah, issued an Emiri Decree. Later, Air Arabia was transformed into a limited liability company. For nearly a decade, Air Arabia has witnessed tremendous growth, resulting in increased fleet size and improved sales revenues as well.
At the same time, Air Arabia has managed to create a renowned brand that offers reliable and safe services (Dubai Media Incorporated, 2012). Air Arabia identifies itself as a low-cost carrier by offering low fares in the industry. Some of the key strengths of the airline include punctuality and safety. This is aimed at ensuring that the airline serves its customers in the most efficient manner by observing safety requirements set by the industry and by adhering to the landing and takeoff schedules (De Kluyver, 2010).
Currently, Air Arabia only has two hubs from where it operates namely, Sharjah, which is based in the UAE, as well as the Casablanca hub, based in Morocco. The former hub mainly serves the Asian, European, and the Middle East markets, while the latter mainly serves the North American market. Since Air Arabia was incorporated, it has managed to safely flow over 11 million passengers in its fleet of aircraft across the route network that it serves. Air Arabia is a pioneer in the low-cost segment of the airline industry in the Middle East.
The main travel destinations of Air Arabia are Central Asia and the Middle East. Others include North Africa and Europe. The 46 destinations where the airline flies to and fro are to be found in 22 countries, although the main hub at Sharjah airport action acts as the center of penetration (Air Arabia, 2012). On the other hand, the Casablanca hub service 10 countries and 11 destinations, while a further 5 destinations located in 5 countries are served using the hub in Alexandria.
The airline is also an official member of the Arab Air Carriers Organization. As a result of increased inflation and increased oil prices due to the recent global financial crisis, Air Arabia anticipates its load factor to decline in the next few years, as shown in Chart 1 (Appendix 1). At the same time, the company witnessed a 28.1 % rise in sales ratio in 2008, compared with 2007, after three more aircraft were added to its growing fleet of aircraft (Air Arabia, 2012). The company saw its sales drop in 2009 as it started to feel the full effects of the global financial crisis.
However, in 2010, the sales ratio improved with the acquisition of more aircraft, as shown in chart 2 (Appendix 2). Air Arabia strongly believes in enhancing customer relations as evidenced by the airline's mission statements. In this case, the airline is committed to providing a comfortable, enjoyable, and smooth journey while at the same time also ensuring that customer gets real value for their money. As part of the airline's commitment to fulfilling its esteemed customer's expectations, Air Arabia provides unique devices and competitive offers.
As a pioneer of the low-cost carrier (LCC) concept in the MENA region, Air Arabia has also succeeded in integrating this business model to meet market demand (Air Arabia, 2012). For instance, in order to reach a wider audience, the airline has identified appointed money exchange bureaus and Air Arabia sale shops as the distribution points of its tickets. This is especially convenient for passengers who are not in a position to book tickets over the internet as they could be lacking a credit card.
By adopting cost and operating efficiencies, Air Arabia has managed to provide airfares as comparatively discounted prices in comparison with conventional carriers operating in the same routes. The strategy has enabled Air Arabia to appeal to a wide group of precise-sensitive customers. The leading strengths of Air Arabia include operational efficiencies, first-mover advantage, and a dynamic and lean management structure. Harjah is also strategically located close to Dubai and this enables the airline to attract visiting tourist and expatriates who opt to take advantage of the airport as they evade the delays and congestions at Dubai airport.
Air Arabia Loyalty Programs
As part of its customer loyalty program, Air Arabia has entered into an agreement with Mashreq bank in which the two institutions have launched a credit card that provides travel rewards to airline customers in the region. The credit cards have been co-branded as Platinum and classic and offer free flights for passenger flying with Air Arabia but they have to have spent AED 25,000 on their Mashreq credit cards first (Mashreq Bank, 2012).
The loyalty program will also see regular customers who possess the Mashreq-Air Arabia credit card receiving nearly 2 % on any money that they have spent as fair on the airline. Other travel benefits available to customers of Air Arabia include the ability to access more than 600 airports across the world discounts to the tune of nearly 10 % that can be used to support Air Arabia Holidays, duty-free shopping, as well as complimentary beverages in flight.
Air Arabia is the preferred choice of air travel to an increasingly larger number of passengers. Since the airline was started in 2003, it has managed to carry more than 14 million passengers. At inception, Air Arabia had only two Airbus A320 aircraft (Air Arabia, 2012). However, this has since increased to 21, including aircraft that the airline owns, as well as leased aircraft.
Passengers flying with Air Arabia enjoy numerous benefits that the airline has to offer, including fast check-in procedure, quick access, friendly airport staff, low congestion, and the ability to connect with other commercial carriers operating at both the Casablanca and Sharjah airports. In 2007, the airline entered to an agreement with the aircraft manufacturer Airbus for the supply of 44 aircraft, speared across several years, with the final batch being delivered in 2016. Air Arabia has undertaken an aggressive expansion strategy (Air Arabia, 2012).
The airline has also earmarked various partnerships aimed at ensuring that it achieves its intended growth strategy. Also, Air Arabia has entered into joint ventures with various institutions with a view to achieving its intended growth. They include the Alpha Catering Group that is geared towards improving the quality of products offered on board; Sharjah Airport, and John Keells Holdings which is a leading Information Systems Associate in order to attend to the company's technological requirements, in effect ensuring fast growth of the airline.
The airline industry has become increasingly competitive even as most other airlines struggle to sustain profitability and gain market share. This has worsened after the recent global economic crisis that has paved the way for an economically demanding and fiercely competitive environment. For these reasons, airlines have no choice but to come up with novel approaches of managing customer relationships with a view to increasing revenues and customer loyalty (Sambridge, 2010).
Although many airlines have embarked on a mission to enhance their operations and minimize costs, they should not ignore the plight of the customer. An increasingly larger number of airlines have now been forced to embrace customer relationship management (CRM) in an attempt to manage customer relationships. Sadly, not many airlines have realized that CRM is a holistic strategy and for this reason, they see it as a form of frequent flyer programs.
There are certain areas of customer care where Air Arabia has fallen short of customers' expectations, and this has hindered the airline from competing on an equal footing with such other competitors as Etihad and Emirates airlines. One of these areas is customer segmentation. It is important for airlines to realize the inadequacy of lineage-based segmentation and instead focus on needs-based and valued-based approaches in a bid to drive enhanced insight and investment decisions.
This way, airlines are able to meet the needs of high-value customers. Air Arabia has failed to differentiate itself from other low-cost carriers and conventional carriers in the MENA region. Conventional carriers have realized the need to categorize their customers based on needs and values (The National Investor, 2008).
The success of a CRM strategy is based solely on effective customer segmentation. Air Arabia has been slow to evaluate customers' value to the business as well as in meeting their needs. Air Arabia uses the frequent fly program attributes and demographic characteristics as a basis for its customer-segmentation scheme. It is worth noting that the two methods are limiting in the sense that the airline's management is not in a position to identify and target key market segments, and this has an effect on its profitability.
Another area of customer care where Air Arabia has fallen short of expectations and which has seen the airline ranked lowly by Skytrax is the issue of advice about possible delays or cancellation (The National Investor, 2008). Like other airlines, Air Arabia always endeavors to ensure that all its flights are operating according to the established schedule. However, at times, some of the flights may not operate according to the schedule for reasons that could be beyond the control of the airline management.
In this respect, Air Arabia has been slow in making alternative arrangements for the stranded customer. This includes making alternative arrangements for stranded passengers to fly with another Air Arabia aircraft. At times, some customers may opt not to utilize the option and in such a case, Air Arabia is supposed to ensure that the customer's airfare has been credited to his/her account so that he/she can use it in future. In case of any changes in flight, the airline should notify the customer immediately via the telephone, SMS, or email (Air Arabia, 2012).
Again, the airline has been slow in communicating such delays or cancellation with customers in comparison with other competitive airlines like Etihad and Emirates. When a flight has been canceled and customers are stranded at the airport, Air Arabia is supposed to provide them with hotel accommodation and complimentary meals for the duration of time that they have been delayed. These arrangements have also fallen short of customers' expectations, especially when compared with the speed and efficiency with which other airlines in the region are able to manage the issue.
Most airlines have embraced a "fast follower" approach in an attempt to reduce overall operating costs. In this case, Air Arabia has also not been left behind. However, this has done little to give the airline a competitive edge in the market because adopting such an approach makes it very difficult for Air Arabia to differentiate itself from the rest of the competition.
At the same time, an increasingly higher number of airlines have embraced advanced technological capabilities, which means that many airlines are now able to access similar technologies. Consequently, it becomes extremely hard for Air Arabia to introduce services to its customers with sustainable differentiation (Albawaba, 2007). However, Air Arabia can start using relationship building components of CRM in a bid to distinguish itself from the rest of the competition. Mimicking one's competitors by offering similar services is not enough to give an airline an edge in the industry.
There is a dire need for airlines such as Air Arabia to fully understand the manner in which their core customers respond to various services offered to them. For example, Air Arabia could utilize novel initiatives with a view to improving customer value, in addition to driving customer insights. Airlines may start to abandon competitor-driven, reactive CRM strategy should they decide to use the needs of crucial customer segments.
5-Star Airlines: Emirates & Etihad Comparison
One of the major customer loyalty programs adopted by five start airlines is the frequent flyer program (FFP). FFP is a form of discount awarded to frequent flyers with the objective of retaining the closer customer-airline relationship, thereby increasing customer loyalty (ECA 2006). Air Arabia needs to adopt this program for its customers. For instance, Etihad Airways has a flyer loyalty program whose benefits include reward points flexibility and a discount webshop offered to members only (Etihad Airways, 2008).
By traveling with partners of Etihad airways, members are guaranteed of travel points. In this case, Air Arabia should consider establishing flexible frequent flyer loyalty program. A good example of a flexible frequent flyer program that Air Arabia should consider adopting is the Baby club loyalty program that has been designed to enable airline increase the sale of baby products (Forbes, 2007). This program would also be appealing to families with young children. A 5-star Airline such as Qatar Airways (Qatar Airways, 2011) and four-star airlines such as Emirates and Etihad are known for their outstanding customer care services such as assisting customers in case of flight delays or cancellation.
Therefore, Air Arabia needs to increase its speed and efficiency in addressing flight delays and cancellations. It also needs to improve its slow pace in making alternative arrangements for the stranded customer. In case of flight cancellations, the airline should ensure that customers' airfare has been credited for future use. Compared to Etihad or Emirates, Air Arabia has been slow in communicating flight delays and cancellations. Therefore, the airline should adopt modern communication tools in order to reach out to customers in the shortest time possible.
Airlines such as Etihad, Emirates, or 5 start airlines have different market segments such as first-class, economy class, or business class. Each of these classes is associated with different benefits. Therefore, Air Arabia should emulate this form of segmentation strategy. Etihad Airline has a family membership and Etihad loyalty programs that have enabled the airline to increase its customer base. In this case, Air Arabia should consider adopting a similar program. Instead of adopting lineage-based segmentation, Air Arabia should consider adopting a needs-based and valued-based approach.
Compared with Qatar or Emirates, Air Arabia is a low-cost carrier that treats all its customers the same way. There is need therefore for the airline to differentiate itself from other conventional airlines in the Middle East. Air Arabia can do so by adopting a value-based segmentation which allows the airline to fully understand and appreciate the profitability of an individual customer.
In addition, just like Emirates and Qatar Airways, Air Arabia needs to target tourists, expatriates, and businessmen. As noted by Forbes (2007), an organization like Air Arabia should develop its unique loyalty program so as to provide customers with differentiated services and products. The programs need to be based on customers' purchasing patterns, preferences, and profitability.
Five-star Airlines have adopted creative adverting methods which appeal consumers (Nicholson, 2012). This represents the form of products and services offered by the organization. Therefore, Air Arabia can adopt this form of advertisement instead of using traditional methods. Also, Etihad or Emirates have redeemed award travel which allows customers to redeem their flights and choose the class that they would want to be in (Nicholson, 2012). This increases customer satisfaction, which in turn results in brand loyalty. Therefore, customers would be loyal, thus increasing the number of loyal customer base.
Proposed CRM Strategy for Air Arabia
The first step that Air Arabia can take towards achieving an ideal CRM strategy is to design policies that promote customer loyalty programs. For instance, the company needs to abandon the first follower approach and design its CRM strategies which can differentiate the airline from market leaders and competitors. After designing the policies, Arab Airlines need to undertake a research study to determine the needs and expectations of its customers. This will assist in strengthening the proposed strategies.
In addition, it could also assist the airline in understanding how its core customers respond to various services offered and the changes that need to be made to improve customer experience. Through the use of consumer insights and available research findings, the company can then embark on establishing the aspects of the proposed CRM strategy that require immediate attention.
Like any other organizational change, Air Arabia needs to inform different stakeholders on the changes being implemented in the CRM program. After informing different stakeholders, consultants would be required to undertake a cost-benefit analysis to determine the most innovative features which can be incorporated in the final CRM strategy. After that, the airline can then embark on the implementation process. The major customer loyalty programs would have to be implemented and monitored for six months.
It should be noted that the first implementation needs to be carried on a segment of the airline market segment, followed by monitoring before embarking on full organizational change. A contingency plan should be developed to address any anticipated problems or challenges which may arise. Assessment should be carried out after the first implementation process to determine the outcomes and the viability of the proposed CRM strategy.
After the success or failure, the organization should be in a position to determine whether to continue with the implementation process. Assuming that the outcomes after assessment are positive after the first year of implementation, the organization should conduct another research study to determine the feedback from its loyal customers. This would enable Air Arabia to determine which customer loyalty features needs to be improved and which ones need to be maintained. A follow up would then have to be conducted in the second year of implementation.
Summary
The major lesson to be learned from this exercise is that Air Arabia is part of the leading low-cost carriers in THE airline sector. Also, the airline operates under two main hubs namely, Sharjah and Casablanca. Its major market segments are Asia, Europe, the Middle East, and North Africa. In total, Air Arabia flies to 46 destinations. The airline is a member of the Arab Air Carriers Organization and was the pioneer low-cost carrier airline in the Middle East region. The airliner ensures that its customers get real value for money by providing comfortable, enjoyable, and smooth flight to its loyal customers.
Air Arabia's major strengths include operational efficiencies, first-mover advantage, and a dynamic and lean management structure. The organization has recently adopted a credit card as part of its loyal program. It also offers discounts to its members. Air Arabia started with 2 Airbus aircraft but has since grown to more than 20 aircraft. Also, the airline plans to increase its fleet of aircraft to 44 by 2016. It has entered into various joint ventures as part of diversification. The airline does not have a defined segmentation compared to other competitors such as Etihad and Emirates airlines.
The airliner has failed to target high-value segments which comprise of expatriates, tourist, and businessmen. The organization is faced with delays and cancellation problems and when this happens, customers are not given the appropriate advice. The airline is slower when it comes to communicating delays or cancellation to customers in comparison with Etihad or Emirates. In other words, the airline lacks speed and efficiency. The airline has not differentiated itself from its major competitors because it has adopted the same technological capabilities instead of being more innovative.
The major recommendation that can be made is that Air Arabia should improve its customer care program. For instance, in case of delays, the airline should advise its customers appropriately. It should stop emulating its competitors but instead utilize novel initiatives with a view to improving customer value and adding customer insights. As such, it is important that Air Arabia embrace a reactive CRM strategy to meet the expectations and needs of its growing customer base. It has also been proposed that Air Arabia should adopt its loyalty programs which are unique in their way. Frequent flyer programs would also be appropriate for the company. To implement the CRM strategy, the organization is required to design relevant policies, undertake market research, carry out a cost-benefit analysis, inform stakeholders on the proposed organizational changes, implement the first phase, monitor the progress, carry out assessments and seek customer feedback before embarking on the full implementation process.
Reference List
Air Arabia. (2012). Staff discount on Dufry item is re-activiated!
Air Arabia. (2012). About us.
Air Arabia. (2012). Fleet.
Albawaba. (2007). Air Arabia Ups Customer Service in Saudi with Frontliners and Altitude Software. Web.
Dubai Media Incorporated. (2012). Air Arabia adds 2 aircraft. Web.
ECA. (2005). Loyalty programmes in civil aviation.
Etihad Airways. (2008). Etihad Airways.
Forbes. (2007). The lowdown on customer loyalty programs. Web.
Mashreq Bank. (2012). Air Arabia Mashreq bank loyalty account.
Nicholson, J. (2012). America Needs A Five-Star Airline. Web.
Qatar Airways. (2011). Qatar Airways named airline of the year at Skytrax world airline awards 2011. PR Newswire.
Sambridge, A. (2010). Air Arabia signs deal to launch budget carrier in Jordan. Web.
The National Investor. (2008). Air Arabia: growth and turbulence in the desert.
Appendices
Appendix 1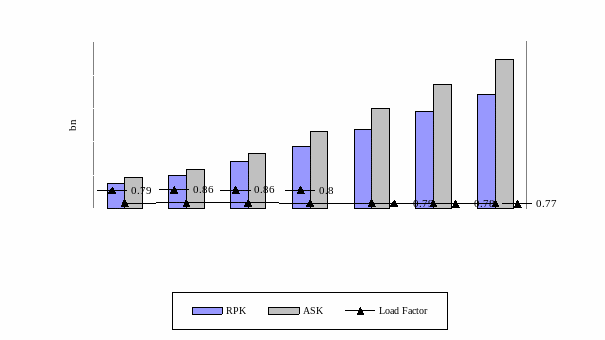 Appendix 2