Abstract
Bayer group is a well-known pharmaceutical and Life Science company founded in 1863 and based in Leverkusen, Germany. The company has successfully operated in many regions worldwide, including the United States, as well as European and Asian countries. The company carries out its core operations in such spheres as agricultural science, veterinarian studies, and healthcare products. The company has existed for over one hundred and fifty years, and its position nowadays is extraordinarily strong. Their success has always been based on and linked both directly and indirectly to the researchers' passion and the company's innovative strength. It is also well positioned globally as its three hundred and ninety-two consolidated companies distribute in eighty-seven countries around the globe (Bayer, 2020). In 2020, Bayer Group entered the list of thirty companies characterized by extensive innovations and inventions in the area of pharmaceuticals (Idea Pharma, 2020). Additionally, this direction has contributed to the company's revenues of USD 48.02 billion, making it the fourth-largest pharmaceutical company in the world (BizVibe, 2020). Overall, Bayer remains one of the most successful players in its sphere in the 21st century.
Remarkably, the company is also investing massively in marketing activities to effectively reach its customers and competitors, both existing and potential. Undoubtedly, these marketing activities cannot be implemented unless all the 110,838 employees are fully aware of the business vision and what value they want to deliver, with an integrated marketing strategy that includes the correct implementation of marketing programs and processes. The purpose of this report is to analyse the situation of the Bayer Group and its marketing methodology based on the holistic marketing approach and evaluate its current status in delivering value to its clients. There is also an assessment of integration level between its activities and, more importantly, what could be applied to capitalize its capabilities within its operations and provide an effective value delivery across markets worldwide.
Holistic Marketing and the Case of Bayer
If a company follows an approach, according to which its marketing activities encompass all stakeholders or elements impacting the business directly or indirectly, it may be considered a holistic marketing organization. The elements in question can be both internal and external and exist in the form of the company's workers, suppliers, stakeholders, customers, or the overall environment. At the same time, these elements serve as the baseline for all marketing decisions.
It is more effective when the resources of the entire business within a particular direction, as it is obvious in the case of Bayer Group, are moving toward a common objective. As for holistic marketing in general, there are four distinct advertising additives, which are relationship, integrated, internal, and societal (Kotler & Keller, 2016). According to Kotler and Keller (2016), the implementation of a holistic marketing approach begins with the identification of strong internal relations of all levels. As far as holistic marketing components are concerned, Internal, Integrated, Relationship, and Performance types are distinguished. Bayer serves as a great example of a company that demonstrates the aforementioned approach based on the following analysis.
Internal Marketing
This aspect depends on internal processes, which ensure that all employees are satisfied. Their satisfaction is a critical factor of an organization's success in achieving its long and short-term goals. Kotler and Keller (2016) state that the internal marketing purpose is to make sure that the employees are ready to provide the value that the customers need. Therefore, internal marketing consists of personnel recruitment, training, and motivation serving to improve the quality of customer care.
As mentioned above, the Bayer Group demonstrates state-of-the-art advancements in healthcare, agriculture, and nutrition. The company has enacted the Bayer Societal Engagement Principles (BASE) to respond to the customers' expectations. The purpose of the principles is stated as "science for a better life," life being an acronym for leadership, integrity, flexibility, and efficiency (Bayer, 2020). These values are incredibly unique and not adapted by all organizations. They allow for higher employee retention rates and loyalty, resulting in overall operational improvement.
In addition, the company has received several awards related to a healthy workplace environment. Bayer was named the leader in terms of diversity and inclusion, as well as gender equality (Bayer, 2020). The ratings were calculated based on the proportion of women in management, payment equality, corporate culture, and measures against sexual harassment. Besides, the company received a number of other awards related to scientific research, employee development, and innovations (Bayer, 2020). These prizes indicate a healthy and motivating business environment crucial for sustainable development, credibility, and a positive workplace atmosphere.
Integrated Marketing
The next aspect of holistic marketing encompasses products and channels in which products and services are delivered, as well as corresponding communication. The concept suggests shifting from single marketing activities to having a consolidative and comprehensive program. The nature of this component consists of making, communicating, and producing the value for the customers while ensuring synergy between marketing activities. Bayer Group has succeeded in it, as its direction involves customers, suppliers, innovators, and even governments (Bayer, 2020). The communication method is highly effective since it depends on a direct and indirect way of communication and avoids excessive content. By using campaigns and being transparent to their clients, partners, and all relevant stakeholders, Bayer ensures high levels of engagement, leading to proper marketing and development.
Relationship Marketing
This aspect concentrates on establishing links and relationships with all parties related to the area of business, such as customers, partners, governmental officials, and rivals. In general, relationship marketing consists of maintaining relations with those who may influence the company's success. Today's business environment dictates that the level of interaction between companies and their clients should transcend the act of selling itself. In other words, it is vital to establish and maintain a continuous connection to keep the brand recognizable. Nowadays, businesses aim at increasing the number of returning clients, and this purpose calls for strong bonds between consumers and manufacturers. Moreover, relationship marketing suggests that such relations should be enhanced over time. Bayer Group has a worldwide research and development network, in which nearly 15.000 people work on global healthcare issues (Bayer, 2020). According to Kotler and Keller (2016), marketing relationships are characterized by values that the organization aims at transmitting to its clients. Overall, positive and long-lasting relationships play a role of paramount importance in today's business activities.
Performance Marketing
This category is not limited to the number of customers who purchase the product or sales numbers. The term encompasses society in general, along with the way it is influenced by the company's products. Performance marketing implies that law, ethics, and social landscape are supposed to be taken into account when business activities are proposed and introduced. According to Bayer Group's sustainability report (2019), the company follows an advanced strategy that allows it to deal with significant modern challenges and ensure a positive societal impact. Sustainability for Bayer consists of more than risk-countering, as the company aims at sharing global progress among the population while respecting the planet and the nature. This approach is indispensable in today's environment, as it promotes sustainable development on all levels.
Factors Affecting Bayer Group in the Long Run
When companies effectively operate both in their country and worldwide, there will always be a changing factor that might impact their positioning. This point is especially topical nowadays, as there is a continuous demand for innovation and new technologically advanced products. The list of factors in question may comprise three major groups: economic, political, and social. Every large company has to take these aspects into account, as they may have a significant impact on the business, both positively and negatively.
Economic Factors
Bayer group has undertaken several mergers and acquisitions in recent years, continuing its history of significant acquisitions and divestitures. These actions allowed the company to offer a comprehensive range of products through additional internal research and development. Bayer funds a large portion of its operations through the sale of assets and shares, as well as bank loans and sales revenue. Simultaneously, the economies of such important markets as the United States and the United Kingdom have grown significantly in terms of chemical and pharmaceutical organizations.
Political Factors
Bayer continuously changing to political aspects in other countries may cause profoundly serious implications. The range of possible issues includes differences in regulations and standards, which is why adapting products initially tailored to another market's requirements, entails additional operating costs. When it comes to a large company like Bayer, which is present in eighty-seven markets around the world, there will always be a need to design a strategic plan to follow. It includes not only marketing activities but also all functions of the business.
Bayer Group follows particular guidelines in terms of legal aspect regulation. The company pays attention to fighting corruption, and its Code of Conduct for Responsible Lobbying sets limits for the organizations' involvement in political processes (Bayer, 2020). Additionally, the company partakes in transparency programs initiated by a variety of institutions both in the European Union and the United States. Such approach to political issues and corruption improves the company's reputation and creates its positive image.
Social Factors
Bayer has an exceptionally great impact in the area of corporate social responsibility and supporting research and development-related activities. This role has recently become evident amid the global emergency known as the COVID-19 pandemic. As a part of the company's response to the force majeure, Bayer implemented a crop-relief program for two million farmers affected by the pandemic. Additionally, the company spends a lot of resources on research and development, working on products that are required to mitigate the consequences of this disaster. According to their report, the company is contributing to the global fight against the coronavirus through product, as well as their expertise in healthcare (Bayer, 2020). When it comes to healthcare, Bayer has also expanded the necessary health-related production in such difficult times. Therefore, Bayer emphasizes the importance of quality healthcare in the 21st century, which is a distinct feature of every sustainable business's social policy.
The three factor groups discussed above should be taken into account by any large-scale multinational business, especially in the industry of pharmaceuticals, as they promote sustainable growth and development. It is important to protect the company against possible legal or social implications, which may result in significant financial and reputational losses. In addition, a company that has spent 150 years building its image cannot afford to sustain such losses.
Strategic Marketing at a Product Level
Bayer Group offers an array of quality products, including globally famous ones that shaped the brand as it is today. Bepanthen is a product that was first introduced in 1944 and has been led by Bayer Group since 2005 (Bepanthen, 2020). It is well-known as a cream designed for different purposes, such as rash or burns treatment. Although this product is remarkably successful and had an impact on households around the world, there is still confusion regarding the product's different types in social media and blogs. This issue can be tackled by effective marketing campaigns and awareness of the benefits and the purposes of the product.
Strategic Marketing Campaign for the product involves using its consumers' feedback, as well as guiding its different types and effects. It is important to utilize the right channels to transmit this information, as advertising should focus on the target audience. The results of marketing research are presented (Figure 1). In addition, holistic marketing is applied for this product's campaign as well in terms of using different social groups for a particular type of product.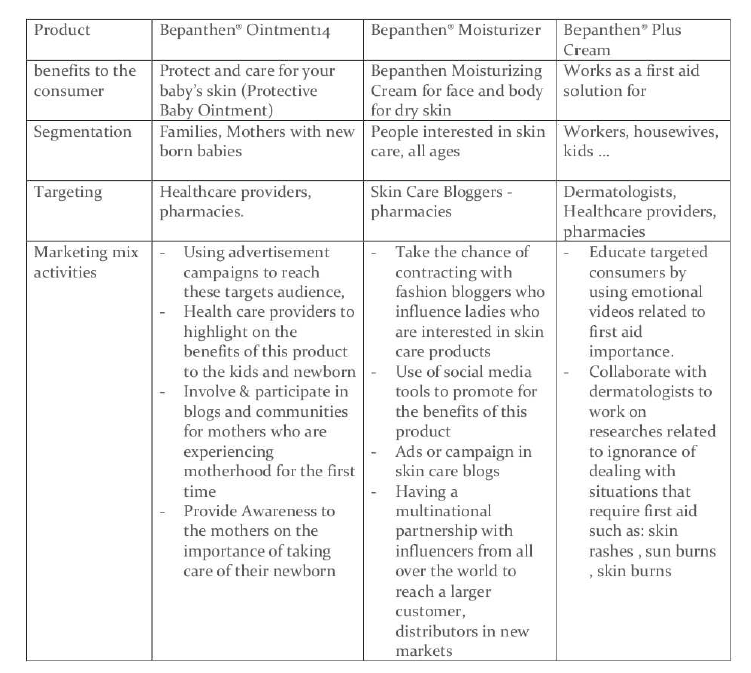 As the research shows, Bayer Group can redirect its marketing activities for this product toward more up-to-date approaches, involving social media as the bridge to its consumers. It might also be useful to collaborate with influencers to highlight the products' advantages. Generally, modern companies tend to increase profits by collaborating with influencers, the latter being people popular online who are paid to endorse products. Some companies even use the services of "micro-influencers" with a smaller follower base. Overall, social media presence is a key element of marketing in the 21st century, and its impact cannot be disregarded.
Organizational Level Recommendations
Based on potential challenges that Bayer Group might face in the next five years, there is a range of actions that might be proposed. First of all, the company's rivals may demonstrate a breakthrough in terms of marketing innovations. As the level of competition grows, all market players need to continue developing innovative strategies and working on improving the business in general. According to Sappin (2016), three-fourths of company executives admit the crucial role of innovation in today's business development and even survival. Bayer Group is an excellent example of a company that has successfully implemented the holistic marketing approach, starting from internal levels and reaching its customers and relevant stakeholders. It is recommended that the company should continue working in this direction and utilize its immense resources at the maximum level.
Secondly, another useful strategy would be to increase investments in research and development. This area is one of Bayer's key advantages, as attention to research has made the company one of the world's leaders in pharmaceuticals. Quality research allows the company to enhance its capabilities in terms of providing the best value for customers. It is an important element of sustainable development, as research and development procedures unite different departments to find effective solutions to both current and potential issues. When carried out and implemented correctly, research and development improve the company's cost efficiency and increase the overall quality and revenue.
Third, the company should aim at implementing modern technologies, such as artificial intelligence. The new technology provides an array of possible ways to improve the quality of the sphere. A new medication can be developed and tested in shorter periods, which allows for the quick transition from development to utilization and profit. Overall, the company of the 21st century should become proactive rather than remain reactive. At the same time, the company must remain protected from possible legal repercussions caused by modern challenges. It is indispensable to monitor the development of legislation in all markets, where the company is present. Laws and regulations may vary from one market to another, which is why research is necessary before launching new products and advertising in a particular area.
Finally, human resources have become the fundamental and most valuable element of modern companies' infrastructures. It may be difficult to assemble people of different origins and backgrounds within one organization, and it is even more challenging to have them work together toward a common goal. Nevertheless, companies like Bayer focus on improving the workplace environment, making it more inclusive and friendly. As the results show, such approach proves to be beneficial for all parties involved, including employees, customers, and the company in general.
Reference List
Bayer (2020). Bayer's Commitment during the Coronavirus Pandemic. Web.
Bayer. (2019) Sustainability report. Web.
BizVibe. (2020) 'Top 10 Largest Pharmaceutical Companies in the World by Revenue 2020, Pharmaceutical Industry Factsheet'. BizVibe. Web.
Idea Pharma. (2020) 'These pharmaceutical companies are the top inventors and innovators'. Fortune, Web.
Kotler, P. and Keller, K. (2016) Marketing management 15th edition. London: Pearson.
Sappin, E. (2016) "6 Ways to Leverage Global Innovation to Grow Your Business", Entrepreneur, Web.