Hertz Global Holdings is among the prominent actors in the car and equipment rental market. It exists in the conditions of serious competition, which suggests constant development and improvement of its strategy. The latter should take into account a great number of factors that affect the company's performance.
Recently, there have been some issues related to Hertz's business operations that have caused dire consequences for the firm. Hence, the discussion on its business strategy in the current conditions seems to be a relevant action to undertake. This paper aims to determine Hertz' market position, analyse its corporate social responsibility and define growth opportunities for the company.
Hertz's Background
Hertz Global Holdings, Inc. is engaged in the global car and equipment rental industry. The company manages this equipment rental through Hertz Equipment Rental Corp. The firm operates in four segments: car rental in the US, international car rental, equipment rental worldwide and all other operations. The division in the United States provides cars, crossovers and light trucks, as well as related products and services in the US (Hertz Global Holdings, 2020).
The international car rental branch is involved in the rent at the global level. Then, equipment segment leases industrial, construction, material handling and other equipment. The All Other Operations branch includes the Donlen business, "which provides rental and fleet management services" (Hertz Global Holdings, 2020, p. 141).
According to Noe, Pully and Reavis (2018, p. 2), "in 2005, Hertz was acquired by a trio of private equity investment companies, which then took the company public in 2006." The firm is headquartered in Naples, Florida, and has modern properties around the globe.
Evaluating Internal and External Environment
It seems rational to state that the evaluation of Hertz's current position in the market requires the utilisation of several significant management models. In this regard, Porter's Five Forces, PESTLE, Porter's Value Chain and core competencies have proved their relevance. Thus, the mentioned tools are appropriate instruments to analyse Hertz's state of affairs. In order to provide a coherent train of thought, the evidence from reliable sources – both primary and secondary – will be applied.
PESTLE Analysis
The PESTLE model is a tool for analysing an external business environment. It considers political, economic, social, technological, legal and environmental factors (Hall, 2020). Today, for Hertz, the primary affecting factor in the framework of politics is the withdrawal agreement related to the exit of UK from the European Union.
Keeping in mind that the company conducts its operations internationally and that the European market is an important segment, such circumstances result in an uncertainty in the car rental industry. Nevertheless, generally, this industry does not tend to be affected by political factors substantially – for the firm, this environment might be considered friendly.
It should be noted that the consequences of the Tax Cuts and Jobs Act (TCJA) in the United States are among essential economic aspects for Hertz. It is claimed that this reform is to cause a reduction in tax rates on real estate and corporate profits, as well as to lead to increased market activity. Then, reducing mortgage interest and cutting tax benefits at the state and municipal levels will wean the government from the harmful practice of interfering in pricing processes. Furthermore, rental demand is another vital factor to consider, and it might be assumed that it is quite stable and favourable for the company.
There is also a number of social aspects to take into account. Recently, there has been a tendency to lower the minimum age for car rentals for customers. Such an approach is founded on significant demand that comes from young drivers in the developed countries. Hertz follows this tendency and lowers "the minimum age to rent a vehicle at all corporate-owned locations in the US and Canada from 20 to 18 years old" (Tore, 2020, para. 1).
It should be emphasised that COVID-19 also has a substantial societal impact. People are forced to reduce their use of public transport, and many individuals have to rent a car. Hence, despite its drastic consequences for the whole world and any company, for the rental industry, the pandemic brings some benefits. On the other hand, COVID-19 forced Hertz to file for US bankruptcy protection (CNBC, 2020). These benefits did not lead to profits in the long term.
In the framework of technology, Hertz also has achieved some notable results. For instance, the firm has launched a service called DriveU. It is a driver service that collects a passenger from a chosen location and takes him or her to the desired destination. In cooperation with Air France, the company is "now offering passengers of the French flag carrier the new transfer service with private driver Hertz DriveU at more than 300 airports globally" (Hertz and Air France, 2019, para. 1).
There are attached digital dashboards that display passengers' names and track their flight if there are any on-the-spot changes. Contemporary competition implies intensive investments in technological development, and Hertz does not seem to be an outsider in this regard. The company's representatives constantly claim that such an approach results in better strategic fleet management. Hertz also adheres to the tendency of implementing the biometric technology within the industry, which is supported by positive customers' feedback.
Then, several legal issues are to be explored; the car rental market exists in a highly regulated environment due to a significant number of the laws that protect a consumer. Such conditions result from the necessity of protection of customers' personal data and interests. Clients should provide a considerable amount of this personal data that is to remain confidential. For example, within the European scope, there is the General Data Protection Regulation, or GDPR.
The GDPR was created to harmonise data privacy legislation in Europe, protect citizens and reshape the approach of organisations to this data privacy (Navoar, 2018). According to Navotar (2018, para. 6), "GDPR should be looked at as more of an opportunity than a threat." If a company is GDPR-compliant, it creates a solid relationship with a client. He or she is aware that the data given will be safe; hence, he or she will not hesitate to provide more.
Finally, contemporary environmental situation and the regulations of international organisations require the development and implementation of sustainable business practices. It means that Hertz should adhere to environment-friendly operations, such as fuel-efficient fleet. In particular, the UN Sustainable Development Goals frame the policies of any industry to a great extent (The SDGs explained for business, no date). Hertz is to demonstrate an advanced understanding and adherence to these goals in order to save the recognised brand and reputation.
Porter's Five Forces Analysis
Porter's instrument for evaluating an external environment implies five indicators – threats of new entrants, bargaining power of suppliers, threats of substitute services or products and competitive rivalry. The utilisation of this tool allows depicting Hertz's external conditions in which it exists through the listed dimensions (The five forces, no date). It seems reasonable to claim that the direction for improving the company's competitiveness is highly depended on an appropriate perception of the above factors.
The threat of new entrants is relatively low as the industry requires substantial initial investments and implies intense competition. For these entrants, it is challenging to remain competitive in the rivalry with such giants as Hertz or Avis. Nevertheless, new industry actors may bring innovations or lower pricing strategies, which could affect Hertz's performance. In order to avert this threat, the firm is to dedicate to sustainability and continuous improvement. New rivals will not be able to compete with such an appropriate policy of the recognised brand.
In the car rent industry, the bargaining power of suppliers may be reduced by cooperating with multiple partners that provide raw materials. Hertz used to adhere to this approach for a period; recently, the company decided to follow the formula of one supplier per country (Ludwig, 2014). Thus, the mentioned power might be considered high; however, Hertz establishes significant relationships with these suppliers and chooses the ones that tend to depend upon the firm. This brings a great extent of certainty into the strategy and confidence in the initial segments of the value chain.
The bargaining power of buyers is low due to the international scope of the company. Hertz has a broad base of customers that is formed of clients around the world. The demand is high, and the reputation and brand of the firm make consumers choose Hertz regularly. Hertz Global Holdings does not seem to feel any pressure in this regard. Although the clients have some alternatives, Hertz is not affected by these opportunities substantially.
The threat of substitute products or services is also low as there are no uniquely different offers in the market. Hertz realises the importance of being not only a product-oriented company but also the service-oriented one. This implies the essential strategic element of understanding the customer's needs and requirements, which the firm seems to implement noticeably. Hence, the primary purpose of Hertz Global Holdings – within the scope of this threat – is not to reduce the quality of its services and maintain the process of development. It might be enough for the company that has such international opportunities and reputation.
Finally, the competitive rivalry of the industry is intense; Hertz is to struggle against such giants as Enterprise Holdings and Avis Budget Group because of its transnational activities. This characteristic of the industry may lead to lower prices and the decrease in the overall profitability of the market. "Competitive pressures from outside the industry are increasing" (Baker, 2019, para. 11).
Rivals are adapting their policies, improve sustainable practices and do not miss the opportunity to imply even a little innovation. These severe conditions make Hertz spend a lot on continuous market research and hire related specialists to figure out the best business model possible. At this point, it seems vital to turn to the analysis of the internal environment of the firm by using Porter's Value Chain and core competencies tools.
Porter's Value Chain Analysis
Michael Porter's significant instrument for assessing an internal environment aims to determine how a company creates its added value and how it gains its competitive advantage. There are two types of a firm's activities – the primary and the support ones (Tardi, 2020). The former includes inbound logistics, operations, outbound logistics, marketing and sales and service, while the latter consists of the firm's infrastructure, technological development, HR management and procurement.
In the framework of inbound logistics, the car rent industry might be considered as a specific segment. Hertz does not produce its vehicles but purchases them from suppliers – it does not have any manufacturing activities. The company has no need to arrange the inbound movement of raw materials to plants or warehouses. Here, inbound logistics refer to the ones of vehicle manufacturers – GM, Fiat, Ford, Kia, Toyota, Nissan, Hyundai and others (Hertz Global Holdings, 2020). Hertz's partners tend to demonstrate a significant adherence to the established standards of the automotive industry in this regard.
It might be rational to claim that Hertz has developed an appropriate and coherent operations system. The firm operates "both airport and off airport locations which utilise common vehicle fleets, are supervised by common country, regional and local area management, use many common systems" (Hertz Global Holdings, 2020, p. 2).
Then, according to Hertz Global Holdings (2020, p. 2), the company regards "both types of locations as aspects of a single, unitary, vehicle rental business." Hertz conducts its operations both in the United States and internationally. The firm provides the opportunity to rent a vehicle for business and leisure purposes, having, as stated above, airport and off-airport locations. This broadens the scope of Hertz's business operations to a great extent.
Then, "in addition to vehicle rental, we provide integrated vehicle leasing and fleet management solutions through our Donlen subsidiary" (Hertz Global Holdings, 2020, p. 44). Thus, the firm has a diversified revenue capacity and flexible cost structure, and it is capable of adjusting fleet possibilities.
The company's outbound logistics also has several specific characteristics. As was mentioned during the five forces analysis, Hertz tends to reduce the number of suppliers per one country to a minimum. These suppliers transport their vehicles to the locations of the firm, providing all the necessary documentation and warranties. "During the year ended December 31, 2019, we [Hertz] operated a peak rental fleet in our US and International Rental Car segments of approximately 567,600 vehicles and 204,000 vehicles, respectively" (Hertz Global Holdings, 2020, p. 9). It might be assumed that such a significant fleet and impressive numbers are among the primary competitive advantages of the company.
Hertz is among the most experienced actors in the market. Its story and solid reputation imply that the firm does not have to pay a lot of attention to advertising and spend too much on marketing. Nevertheless, it conducts several appropriate sales and marketing programs to attract and retain clients.
Hertz's "sales force calls on companies and other organisations whose employees and associates need to rent vehicles for business purposes or for replacement rental needs, including insurance and leasing companies, automobile repair companies and vehicle dealers" (Hertz Global Holdings, 2020, p. 4). The company advertises its vehicle rental offers via various media channels, partner publications, as well as direct mailing. Additionally, Hertz implements a number of other promotional activities – such as the press and public relations ones.
The firm has a well-developed and noticeable customer service offerings that may be perceived as another particular competitive advantage of Hertz. Support is available 24/7 and is primed to satisfy all requests and needs of a client. Furthermore, the company provides numerous loyalty programmes from which customers gain many benefits.
For instance, participants in "Hertz Gold Plus Rewards program often bypass the rental counter entirely and proceed directly to their vehicle upon arrival at our facility" (Hertz Global Holdings, 2020, p. 6). Another notable service is Hertz Fast Lane that is a distinguishable feature of the firm's performance. It allows Hertz Gold Plus Rewards customers "to skip the rental counter and exit the gate by utilising expedited ID verification using biometrics" (Hertz Global Holdings, 2020, p. 7). The company tends to show a substantial concern about customer care, which emphasises its service-oriented strategy.
Now, it is vital to analyse the company's support activities; the first one will be the firm's infrastructure. Hertz's corporate governance is conducted by the Board of Directors and five committees – Audit Committee, Compensation Committee, Finance Committee, Nominating and Governance Committee and Technology Committee (Hertz Global Holdings, 2020).
All the top managers are recognised and experienced professionals who know how to remain competitive in the severe competition. The company claims that it has established "corporate governance policies which are intended to ensure that our corporate affairs will be managed in compliance with high ethical standards and the requirements of law" (Hertz, no date, para. 1). Such an approach shows that Hertz has no issues with crucial strategic management decisions.
Within the scope of technology development, the firm has always adhered to the best practices. Its history shows that Hertz tries to seize the opportunity to implement an innovation whenever possible (Hertz heritage, no date). According to Fexco (2019), the company even aims to get benefits from the technology that may determine the large part of humanity's future life – autonomous vehicles. Hertz follows such a policy worldwide and takes part in many notable projects. For instance, it participates in the sponsorship of a smart mobility centre in Israel (Hertz announces, 2017).
In Europe, the firm also has a number of significant innovative collaborations. For example, it cooperates with Amigo – a company that provides global enterprises with the opportunity to innovate – in the framework of five projects (Amigo, no date). Hertz fully realises the importance of timely and proper technology development and implementation.
Then, human resource management is another critical support activity of the firm. It understands that employees are the key to success and claims that they "help drive our progress, innovation and success" (Hertz Global Holdings, 2020, p. 14). The company aspires to create a healthy and inclusive working environment so that the personnel could demonstrate significant performance. Hertz emphasises that the attraction and retainment of top talents is its core value that drives the firm towards various achievements.
Employees are provided with a great number of benefits, "including medical and dental plans, paid leave, retirement plans with company contributions and life insurance coverage" (Hertz Global Holdings, 2020, p. 14). Furthermore, there are free health screening and wellness coaching available for the staff. Hertz gives the latter equal opportunities, as well as averts all kinds of discrimination and harassment.
Given the recognised brand and substantial financial possibilities, the company procures only high-quality vehicles from the top manufacturers. Nevertheless, Hertz sets high standards and firm principles of cooperating with these manufacturers. "If any manufacturer of our program vehicles does not fulfil its obligations under its repurchase or guaranteed depreciation agreement …, then we would have to dispose of those program vehicles without receiving the benefits" (Hertz Global Holdings, 2020, p. 21). It seems that the company establishes such strict rules in order to provide a customer only with top-quality services.
Hertz's Core Competencies
Hertz might be considered as a crucial actor in the industry. Hence, it definitely has a number of core competencies that are its primary competitive advantages (Twin, 2019). First, the firm is presented in premium, middle-cost and low-cost vehicle rental brands. The company prices and accepts "reservations for our [its] vehicles on a brand-by-brand basis" (Hertz Global Holdings, 2020, p. 7).
It means that Hertz's rates change by brand and at various locations – it depends on domestic market conditions. Then, the company operates both airport and off-airport locations for business and leisure purposes. Thus, the first core competence might be the flexible and complex business strategy that covers many industry's segments.
The firm has achieved some remarkable results in the framework of corporate responsibility. In 2017, it gained the Corporate Responsibility Champion Award for significant performance in this area (Hertz recognized, 2017). This was due to a broad range of factors, starting from the fuel-efficient fleet and ending with environmental-efficiency programmes.
What is more, the company's HR practices tend to be effective as 78% of the employees are proud to be a part of Hertz, which is a convincing indicator (Comparably, no date). The second core competence of Hertz may be formulated as a significant and sophisticated corporate responsibility.
As was discussed in the analyses above, Hertz pays attention to its technological development to a great extent. The firm believes that in order to remain competitive in such severe conditions, it is essential to bring innovations into the operations system. The advanced and continuous implementation of contemporary technologies – such as biometrical identification – supports the latter statement. Hertz participates in numerous related projects and cooperates with prominent actors within the sphere of start-ups. Hence, the third core competence of the firm is a focus on technological development.
To summarise, the above investigation contributes to an in-depth understanding of Hertz's current position in the market. Generally, the company exists in the favourable external environment – legal, political, economic, technological and environmental factors contribute to such an assumption. However, Hertz – despite the recognised brand and the good reputation – has to deal with severe competition and the recent consequences of the COVID-19 pandemic.
The latter even has led to the statement about bankruptcy. Then, the discussed value chain shows that Hertz has developed the significant, coherent and consistent one. It revealed that the company has three primary core competencies – technological development, significant corporate responsibility and flexible and sophisticated vehicle rental strategy. Thus, the company's competitive advantages and approach to its policies allow Hertz to be among crucial actors in the market in the long term.
Hertz's CSR
Corporate social responsibility, or CSR, is a vital concept that is to be implemented by any firm that aspires to achieve success. Chen (2020, para. 1) claims, "By practicing corporate social responsibility, … , companies can be conscious of the kind of impact they are having on all aspects of society, including economic, social, and environmental." The three latter segments form a core of this management concept, reflecting aspects on which a company should concentrate while developing its business strategy.
In the scholarly dimension, CSR is seen as promoting responsible practices that benefit business and society, as well as maintaining social, economic and environmentally sustainable development. Its primary aim is to maximise the positive impact of the operations system on society and minimise the negative one (UNIDO, no date).
CSR means achieving commercial success in ways that value the fundamental principles of society and the environment. It seems reasonable to emphasise that CSR should be understood as a responsible perception of any firm of its products or services, stakeholders and active societal position (Lins, Servaes, and Tamayo, 2017). This implies harmonious coexistence, interaction and interdependence with founding ethical determinants of the society and continuous contribution to resolving various social issues.
The benefits to companies of implementing corporate responsibility strategies include increased staff satisfaction, reduced staff turnover and increased brand value. Companies that do not develop CSR lose business opportunities, competitive advantages and lag behind in management (Aguinis and Glavas, 2019). Without implementing CSR strategies, they do not monitor and control the impact of their production on society and the environment, and secondly, do not fully realise their economic potential. There are two primary components of the concept of CSR.
The first is to minimise business risks or to identify and fill all the gaps that exist in the relationship between the company and society. Identifying these gaps is the first step towards implementing CSR. Some compare it to an insurance policy that protects the company from surprises and problems in the future. Thus, one of the additional functions of CSR is the early notification of issues that may arise and catch the company by surprise (Investopedia, 2015). The second component of CSR is the transformation of problems that exist in public life and the environment into business opportunities.
In developed international corporations, forms of CSR in recent years have been significantly transformed and manifested in the use of earmarked capital and various types of public-private partnerships. It allows large-scale national and regional investment projects, staff development and effective interaction with consumers and the environment.
The state has the right to regulate this process through taxation and social dialogue with business. The concept of CSR contributes to the formation of the so-called green economy in developed countries. It is characterised by an effective system of environmental protection, reduction of carbon emissions, the use of safe technologies, energy conservation and job creation.
As mentioned above, corporate social responsibility might be perceived as Hertz's core competence and competitive advantage. The firm's practices in this regard have gained significant recognition, and there is a number of reasons for this (Hertz recognized, 2017). The company believes that the management of the operations in an ethical and responsible manner is critical to its success.
Hertz is "committed to continuous improvement that drives sustainable innovation and enhances our [Hertz's] business performance in three key areas: People, Planet and Product" (Hertz, 2017, p. 4). It is apparent that the firm adheres to the established and proper understanding of CSR as these three areas reflect social, environmental and economic concerns. What is more, the company tends to have a great capacity for implementing innovations as it pays a lot of attention to improve the operations' quality when possible.
Hertz has consistent and relevant CSR that covers all the crucial elements of sustainability. It seems that this CSR fully includes the fundamental principles provided by the UN Sustainable Development Goals (The UN, no date). The firm's social aspirations (People) follow the ideas of diversity, philanthropy, career development and health and wellness for the employees.
Then, Hertz demonstrates concern about environmental issues (Planet) – it undertakes water conservation, waste reduction and recycling, green construction, as well as renewable energy utilisation. Finally, the company's commitment is to ensure the safety and provision of innovative and sustainable offers for the clients (Product) (Hertz, 2017). Hence, it acts in accordance with the best practices in the framework of CSR.
It seems rational to claim that the firm does not have any crucial issues with CSR; however, there is one point that needs to be mentioned. According to the survey, 75% of Hertz's employees are not motivated by its vision, values and mission (Comparably, no date). Hence, the firm is to encourage the staff to get acquainted with these aspects more closely and collect their feedback.
Then, it might be reasonable to, for instance, take into account this feedback and adapt some provisions of CSR to the personnel's recommendations. They will understand that the company cares about its human resources and demonstrate more enthusiasm during meeting Hertz's goals. It will lead to improved performance and indicators of job satisfaction.
Growth Opportunities
Now, it is important to determine possible strategic options for growth for Hertz. In this framework, the model provided by Igor Ansoff seems an appropriate tool to apply. It allows exploring four strategies that a company may follow in order to increase profitability in future – market penetration, product development, market development and diversification (CFI, no date; IONOS, 2019). Below, these four options for Hertz will be discussed, and the most proper one will be emphasised.
The first strategy is market penetration, which implies the use of Hertz's products in the existing market. There are three possible directions within the scope of this strategy. The firm may decrease prices for its services to lure new clients. Given the severe competition, this option might be relevant; however, it will lead to reduced incomes, which Hertz cannot allow in the current conditions. Then, it could increase the promotion of its services, but it seems that the firm already demonstrates sufficient efforts in this regard. Hertz also can acquire a competitor in the same marketplace, but given the bankruptcy issue, the firm does not have enough resources for such an action today.
In the product development strategy, Hertz may create a new service in the existing market. Such an opportunity is appropriate for companies that have a solid understanding of their operations, customers' needs and contemporary market trends. Hertz may invest more in research and development activities or even establish a strategic partnership with a rival to get access to its distribution channels. However, it might seem that for Hertz, the critical point here is the provision of a new service.
For instance, it could provide the exclusive offer of renting electric cars to the broader scope than its competitors. This might be rational as there is a necessity to continuously improve sustainability practices, as well as the fact that customers in the market have become more environmentally conscious.
According to the market development strategy, Hertz can enter a new market with its current services. This option is reasonable when consumers in this new market are profitable, and their behaviour is not significantly distinctive from existing customers. The company could expand domestically (the US market), expand internationally or cater to a different client segment.
Again, due to the current reorganisation process, this strategy is not beneficial for Hertz. Nevertheless, keeping in mind that the international car rental demonstrates less significant numbers than the US one (Annex 1), more consistent exploration of the global market – in the long term – might be justified.
There are two types of diversification strategy – related and unrelated. The former means that "there are potential synergies to be realised between the existing business and the new product/market" (CFI, no date, para. 15). For instance, Hertz could start renting private planes, which would diversify its services and operations system substantially.
Then, unrelated diversification implies that "there are no potential synergies to be realised between the existing business and the new product/market" (CFI, no date, para. 17). For example, Hertz can launch the manufacturing of military equipment, which is absolutely not aligned with the current services that the company offers. It should be emphasised that the diversification approach should be perceived as the riskiest and the most resource-taking one.
Thus, four possible growth opportunities for Hertz – according to the Ansoff matrix – were presented. The market penetration one does not fit the firm's needs for today as it cannot allow nor the decreased profits, nor substantial expenses on acquisitions. The market development strategy might be relevant – but only in the long perspective – after the company will overcome the bankruptcy. Then, the diversification option also cannot be accepted due to the high risk and the immense amount of resources.
Hence, the most appropriate variant for Hertz is the product development strategy. The firm is among the most experienced actors in the industry and is well-acquainted with the customers' interests and market trends. The new service of renting electric vehicles will also require some extra spending; nevertheless, a partnership in the frame of this strategic innovation will mitigate the expenses.
Conclusion
To conclude, Hertz Global Holdings, Inc. seems to be involved in the contradictive situation. The above research shows that the firm exists in favourable external conditions – the PESTLE and Porter's five forces analyses justify this argument (Annex 2; Annex 3). Severe competition contributes to the necessity of continuous development and improvements. Then, Porter's value chain and the core competencies reveal that the company has some distinctive competitive advantages (Annex 4).
Moreover, the firm has created the congruous CSR that reflects the Sustainable Development Goals. However, due to the COVID-19 pandemic, Hertz was forced to file for bankruptcy protection. It implies the implementation of several innovations in the future strategy (Annex 5). It was suggested that Hertz could adhere to the option of product development by renting electric cars and the strategic partnership.
Reference List
Aguinis, H. and Glavas, A. (2019). 'On corporate social responsibility, sensemaking, and the search for meaningfulness through work'. Journal of Management, 45(3), pp. 1–30. Web.
Amigo (no date). Hertz Europe: a case study in constraint-based innovation. Web.
Baker, M. (2019) 'Car rental competition intensifies'. BTN. Web.
CFI (no date). Ansoff Matrix: The product/market expansion grid. Web.
Chen, J. (2020). Corporate social responsibility (CSR). Web.
CNBC (2020). 'Hertz files for U.S. bankruptcy protection as car rentals evaporate in pandemic'. Web.
Comparably (no date). Hertz mission, vision & values. Web.
Fexco (2019) 'How technology is driving change in the car rental industry'. Web.
Hall, M. (2020). Porter's 5 forces vs. PESTLE analysis: What's the difference?. Web.
Hertz. (2017). Corporate responsibility report 2017. Web.
Hertz. (no date). Corporate governance. Web.
Hertz and Air France launch Hertz DriveU, a new high-quality, hassle-free airport transfer service (2019). Web.
Hertz announces sponsorship of new smart mobility center to help foster top start-ups in Israel (2017). Web.
Hertz Global Holdings (2020) Annual report on form 10-K. Web.
Hertz heritage: Hertz in the digital age. (no date). Web.
Hertz recognized with Corporate Responsibility Champion Award (2017). Web.
Hill, B. (2019) The impact of corporate social responsibility on organizational stability. Web.
Investopedia (2015) What are key points to a good corporate social responsibility policy? Web.
IONOS (2019) Ansoff Matrix – what actually is it?. Web.
Lins, K, Servaes, H. and Tamayo, A. (2017) 'Social capital, trust, and firm performance: the value of corporate social responsibility during the financial crisis'. The Journal of Finance, 72(4), pp. 1785–1824. Web.
Ludwig, C. (2014). Hertz consolidates vehicle logistics services. Web.
Navotar (2018). Should car rental companies comply with GDPR (General Data Protection Regulation. Web.
Noe, C., Pully, L. and Reavis, C. (2018). Hertz Global Holdings, Inc. Web.
Tardi, C. (2020) Value chain. Web.
The five forces. (no date). Web.
The SDGs explained for business. (no date). Web.
The UN (no date). About the Sustainable Development Goals. Web.
Tore, O. (2020). Hertz lowers rental age to 18. Web.
Twin, A. (2019). Core competencies. Web.
UNIDO (no date). What is CSR?. Web.
Annex 1

Annex 2
Element
Factor
Political

Withdrawal agreement related to the exit of UK from the European Union
The industry does not tend to be affected by political factors substantially

Economic

Tax Cuts and Jobs Act
Rental demand is stable and favourable for the company

Sociological

Tendency to lower the minimum age for car rent
COVID-19

Technological

Contemporary competition implies intensive investments in the technological development
Such development is supported by customers' feedback

Legal

Highly regulated environment
Significant number of the laws that protect a consumer

Environmental

The necessity of sustainable business practices
Requirement to adhere to the UN Sustainable Development Goals
Table 2. PESTLE analysis.
Annex 3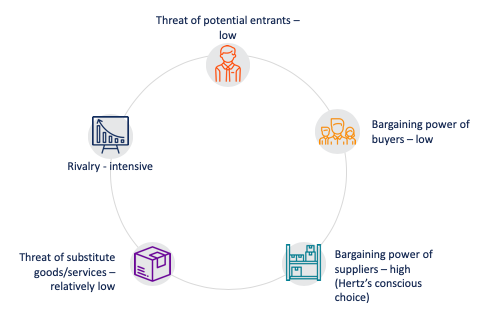 Annex 4
Primary activities
Inbound Logistics: no need to arrange the inbound movement of raw materials to plants or ware houses.
Operations: the firm operates both airport and off airport locations which utilize common vehicle fleets; operations both in the United States and internationally; diversified revenue capacity.
Outbound Logistics: aim to reduce the number of suppliers per one country to a minimum.
Marketing and Sales: several appropriate sales and marketing programs; recognised brand.
Services: significant customer care; numerous loyalty programmes.
Procurement:
high-quality vehicles from the top manufacturers;
strict rules for suppliers.
Technology development: new technology is a key to success; many significant projects.
HRM:
focus on healthy working environment;
great number of benefits for the staff.
Firm Infrastructure:
no issues with crucial strategic management decisions;
all the top managers are recognized and experienced professionals.
Support activities
Table 3. Porter's value chain.
Annex 5