Introduction
Etihad Airways established in 2003, is the secondary national carrier airline in UAE. Based in Abu Dhabi, the airline is solely owned by the UAE government. It is recognized as a rapidly growing player in the aviation industry, becoming a dominant international airline over a short period of time. Etihad maintains a fleet of 109 modern aircraft, with over 1000 flights per week to 120 cargo and passenger destinations worldwide to 49 countries.
On-Time Delivery!
Get your customized and
100% plagiarism-free paper
done in as little as
3 hours
In addition, Etihad maintains a comprehensive terminal at the Abu Dhabi hub with airport services and complex engineering teams (Etihad Aviation Group, 2019). The company is well-known as one of the big three major Gulf Carriers that maintains a reputation of high-quality service and luxury air travel. Etihad describes its business strategy as sustainable growth, choosing to develop strategical partnerships and continuously modernizing all aspects of the airline capabilities and services. This report will provide an industry analysis and discusses strategic management up-to-date and going forward for Etihad Airways.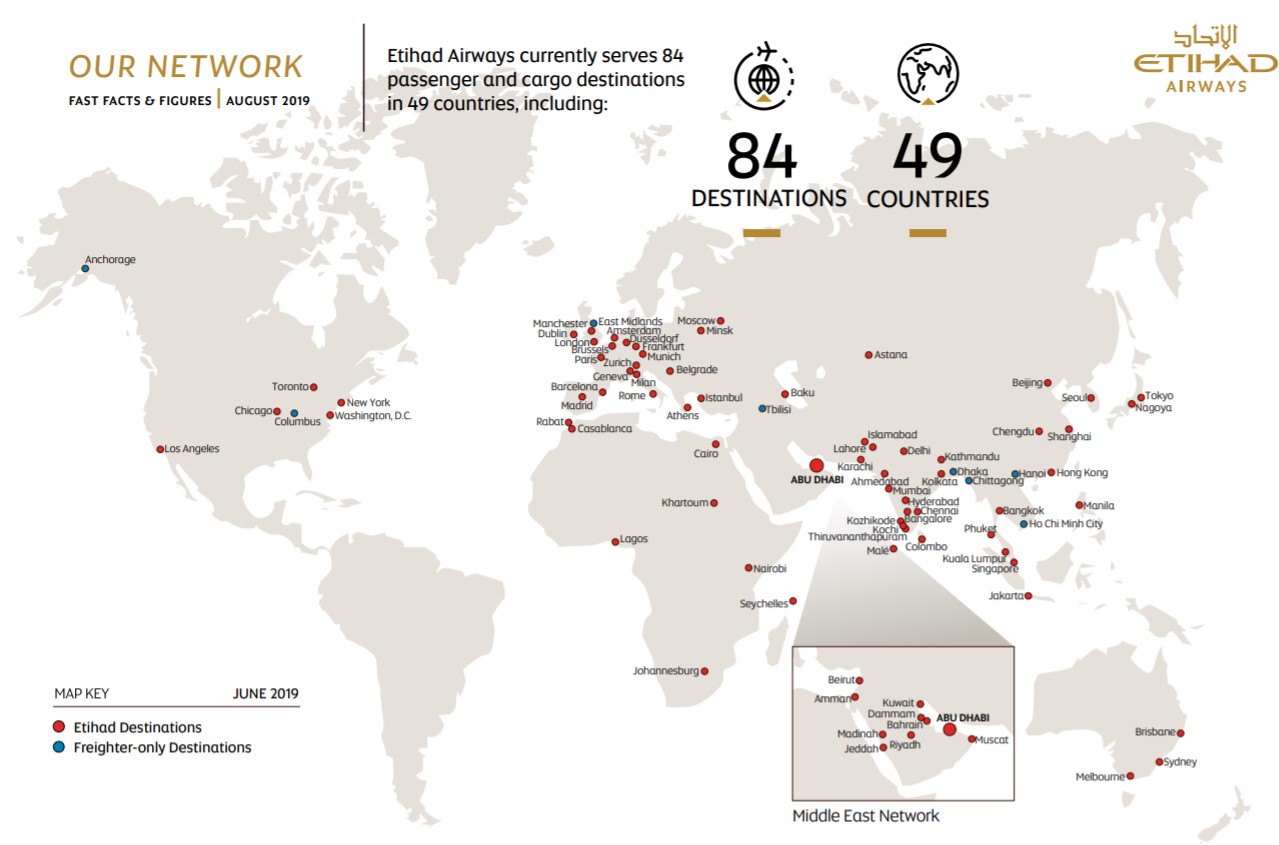 Literature Review
Al Ali & Ahmad (2014) present a case synopsis on the history and strategic growth of Etihad, helping to outlines it strategic choices. According to Al Ali & Ahmad (2014), from a theoretical perspective a strategic partnership is a mutual agreement to share resources and knowledge for mutual benefit.
Tactical integration focuses on medium-term strategies in the organization such as structural and support services or policies. Meanwhile strategic integration consists of long-term aspects such as customer care, system advancement, knowledge management, product differentiation, and workforce management among others (Al Ali & Ahmad, 2014). Etihad seeks to achieve strategic competitiveness by integrating said strategies via its partnerships.
Most major airlines are part of what is known as an airline alliance, an industry arrangement between partners that cooperate on various levels to enhance business and reduce operational costs, such as through codesharing. Etihad took a strategic approach of not joining one of the major airline alliances unlike its major regional competitors. Instead, Etihad pursued a strategy of equity investments, purchasing stakes in other airlines, mostly second-tier or regional carriers (Ellis, 2019). Ellis (2019) authors an article which examines the industry and how the major gulf carriers evolved over time, relevant to the topic.
In 2011, the Etihad CEO at the time, James Hogan entered into an equity alliance to counter the growth of the other Gulf rivals. Etihad held minority interests in either airline companies in Europe, Asia, and Australia. By acquiring equity stakes and spending billions, Etihad hoped to develop tight partnerships that along with code-sharing practices would increase its competitiveness and growth the Abu Dhabi hub and network.
However, this endeavor failed significantly, as some of the airlines that Etihad invested in went bankrupt, while protectionist measures and competitive responses in the regional markets became aggressive to inhibit the success of the investments (Jory et al., 2019). Jory et al. (2019) present a case study on Etihad's strategic approaches in the context of the equity alliance that is relevant to the topic.
Yes, we can!
Our experts can deliver a
custom Strategic Management Etihad Airways
paper
for only

$13.00

$11/page
PESTEL
| | |
| --- | --- |
| Political | Operating internationally, Etihad is exposed to various political developments globally, that also stem from the airline's ownership stake being held by the UAE government. Travel bans from Muslim countries that have been instituted by the U.S. as well as lobbying efforts of Western nations to restrict Middle Eastern carriers' expansion to other markets are detrimental to growth. |
| Economic | Airlines are highly exposed to volatile changes in the global economy and macro environment changes that may affect demand for air travel, such as the recent pandemic. Airline margins strongly depend on passenger traffic as well as oil prices affecting cost of airplane fuel, both of which are unpredictable and can have repercussions on the industry players. |
| Social | Etihad is a prominent company in the Emiritisation program which attracts its large expatriate workforce to become citizens of UAE. Demand for air travel is increasing, particularly to emerging markets such as the Middle East, Asia, and Africa where airlines can achieve organic growth. Consumer spending on luxury has increased as well, making airlines with a focus on business class and higher popular. |
| Technological | The industry faces rapid technological changes in regard to service development and delivery, bookings, and customer service. There is an increase of digital and online services that can build on flexibilities and capabilities of modern technologies. Companies are consistently attempt to improve safety and elements such as fuel efficiency that is vital for economic and environmental purposes. |
| Environmental | The airline industry is one of the major contributors to global warming due to a significant carbon footprint. There are calls from activists and politicians to reduce this. Many companies in the industry are investing heavily into research and development of alternative fuel for engines or development of sustainable energy technology. |
| Legal | International airlines must abide by a number of regulations regarding safety and avionics. These regulations are legally enforced and are universal for all airlines. Airlines must follow legal codes both in their domestic hub but also external hubs. |
Porter's 5 Forces
Threats of new entrants – weak force. In terms of international airlines, costs to entry are significantly high, requiring large amount of capital and a strong customer base. Major firms often retaliate against newer firms or acquire them. Despite low switching costs for consumers, travellers prefer well-known brands due to reputation and safety since airline tickets are relatively expensive. Regulation and licensing are also difficult to acquire, requiring time and capital before beginning to function as a business. Airplane leases and fuel and servicing costs are also consistently increasing, greatly lowering margins on many flights, even for major airlines.
Bargaining power of buyers –medium force. There are commonly low switching costs between firms, while most locations have a wide variety of company choices for desirable routes. Even if codesharing practices are used, the consumers ultimately choose the best pricing and efficiency of travel for them. Some loyalty to firms may exist particularly in business organized travel such as through travel agencies or corporate travel, while other airlines maintain a niche (ultra-luxury and expensive).
Bargaining power of suppliers –medium force. Suppliers can be considered as airplane manufacturers but also firms that provide service products, fuel, and other elements to the airlines. Airline companies cannot easily switch suppliers, having long-term contracts. Although most major airlines have planes from the two major producers Boeing and Airbus, there are certain aspects which give suppliers power. For example, fixing and servicing the airplanes, extra parts, software updates, and expertise necessary can only be provided by the maker of the airplane, making the airline dependent on them.
Threat of substitute products or services –weak force. There is currently no existing technology which can substitute long-distance travel at similar speeds and comfort. Travel services and accommodations can be similar in certain maritime travel, but the speed of reaching one's destination cannot be matched by any other method of transportation.
Industry rivalry – highly competitive in the global sense, but only a medium force when taking only the Middle East into account. There are high barriers to entry which lessens the competition, as managing costs, experience, and supplier chains are difficult elements to deal with. However, the established players are highly competitive, and relatively low margins make it easy for major airlines to go bankrupt in cases of crisis. Although each airline attempts to position itself uniquely, ultimately there is little differentiation, making it highly challenging to acquire consumers and thrive.
Findings
The industry analysis indicates that Etihad airways operates in a very competitive, low margin industry. Airlines must compete on products and services that are easily interchangeable as consumers rarely choose the airline for the product itself but rather their efficiency and destinations. Meanwhile, due to the sensitive nature of the industry, it is heavily regulated legally while facing tremendous economic, political, and social pressures.
Overall, the aviation industry is heavily reliant on a number of factors such as technology, fuel pricing, weather, border openness, tourism/business travel, as well as reputational factors that occur due to rare accidents. Airlines must navigate these challenges and prepare to mitigate a range of negative influences, many of which are highly unpredictable or cannot be controlled for. Airlines such as Etihad rely on government support as flag carriers while other airlines compete in markets, while also forming alliances to ensure survival in the global industry.
Competitors
The largest competitor to Etihad in the region is Emirates airline, a Dubai-based subsidiary of the state-owned Emirates Group, making it the official carrier of UAE, although Etihad also holds a similar title in many aspects. Emirates Airline is the largest airline in UAE and the Middle East. Emirates positions itself as a global airline, seeking to disrupt existing networks and popular destination in the industry.
Emirates has also strongly positioned itself as a luxury brand of travel, known globally for its offerings of high-quality service and amenities for business class and executive travel. Emirates is highly profitable with a $25.1 billion yearly revenue with net incomes of $288 million (The Emirates Group, 2020).
Qatar Airways is another major regional airline and state-owned flag carrier for Qatar, with the airline hub being based in Doha. Established in 1993, Qatar Airways serves 350 destinations and over 32 billion passengers annually. Qatar is a trendsetter in premium services and maintains excellent customer satisfaction, maintaining excellent scores on Skytrax surveys. Its close relation with the Qatar government allows it to maintain a range of privileges and international bargaining power, but this has also affected it politically due to disputes that Qatar has with the GCC and some Western governments.
Qatar Airways only runs international flights and attempts to position Doha as the transfer point for long-haul travel but is also known as one of the few major airlines for running record-setting distance routes between continents (Qatar Airways, n.d.).
Saudia (Saudi Arabian Airlines) is the national carrier for Saudi Arabia, based in Jeddah, with secondary hubs in Riyadh and Dammam. It is the third largest airline by revenue after Emirates and Qatar Airways. Saudia serves both international and domestic markets, experiencing stable year on year growth of approximately 8% in passenger.
Cut
15% OFF
your first order
We'll deliver a custom
Company Analysis
paper tailored to your requirements with a good discount
However, Saudia's international presence is significantly lower than its competitors, with about 52% of traffic coming from domestic travel or regional business and religious travel. Saudia is not universally known for any specific competitive advantage or reputation, but remains a company that pursues stable growth and developing all elements of air travel and customer service (CAPA, 2018).
Strategy Directions
Etihad's strategic and operational vision is to produce the best Arabian hospitality in its services, maintaining a regional culture and enhance the prestige of the Abu Dhabi hub as the center of hospitality between the West and East. Supply chain management is critical to Etihad as it seeks to attain consumer fulfillment. Procurement and supply chain management strategies have been responsible to attaining various categories of supplies that ultimately allow to produce its high quality of service including fuel, information technology, airline contracts, ground services, hotels and accommodations, and others (Sandybayev, 2018).
Sandybayev (2018) presents a research paper which examines strategic direction of Etihad from the perspective of supply chain management that is critical to any international firm. Through advanced ordering of aircraft and parts, Etihad operates a very young and modern fleet. This is on par with Etihad's strategy of providing reliable service along with reducing maintenance costs and optimizing staff towards the best customer experience.
Etihad positions itself as an airline of choice with an embedded "Choose Well" brand in every aspect of the customer experience. Consumers have a greater level of personalization, particularly for in-flight retail offerings and the unbundling of services. In the 2018 organizational restructure, there was an emphasis on inclusion and consumer experience that takes advantage of the company's global footprint and advancing technology that drive efficiency and commercial performance (Etihad, 2019a). This came as part of the company's press release identifying changes to its quality and service models.
After 2010, when aircraft capabilities caught up with designer trends, established airlines such as Emirates introduced a luxury first class that included beds and hot showers with other unique amenities. However, came along Etihad and revolutionized the concept of luxury travel by launching The Residence by Etihad in 2014.
It presented an innovation in luxury commercial flight, providing a literally 125 square foot residence on Airbus A380 flights alongside with personalized exclusive first-class service Recently, Etihad began to introduce value-added services, including perks that previously only available to business class and higher, now became available to economy class passengers for an additional price (Carmela, 2018).
Technology has become a central part to Etihad's strategic efforts to improve both the consumer experience and operational efficiency. Etihad partnered with IBM cloud services to redesign its own service offerings with a digital efficiency and quality that differentiate it from other premium carriers. The Choose Well personalization experience is a fully digital experience allowing the passenger to indicate preferences for meals and in-flight services so that all expectations are met.
Get a custom-written paper
For only
$13.00
$11/page
you can get a
custom-written academic paper
according to your instructions
Before IBM, Etihad utilized an outdated check-in application that did not offer a smooth or reliable experience to consumers. The airline has now launched an API-driven backend technology and parallel mobile app that modernized its check-in system (IBM, n.d.). Furthermore, Etihad partnered with IBS technologies for automation of monitoring numerous elements of operations. This includes tracking guests and baggage as they travel, which at the global level will allow for optimal aircraft assignment, route planning, and flight tracking. Etihad can maintain situational awareness and resolve any issues, thus delivering high quality service (Etihad, 2019b).
ANSOFF Matrix
Products/Services
Existing
New
Markets
Existing
Market Penetration

Market acquisition of minority shares in other airlines.
Competing with Middle Eastern carriers in the luxury sector through the ultra-expensive services and high quality of service

Product Development

Greater technological integration and consumer virtual booking and registration.
Building on its luxury brand, Etihad continues to evolve offerings and services available to its Residence and first-class passengers

New
Market Development

Introducing new services to business class and value-added services to economy to appeal to a greater range of consumers.
New international routes directly to establish Abu Dhabi as the central transition hub of air travel.

Diversification

Expanding the Etihad brand to the airport terminal and a wide range of commercial services available both in air and on the ground due to availability of both wide and narrowbody aircraft distinguishing it from others in the region.
Transformation
Etihad started operations in November of 2003, almost a decade later than its regional rivals, but quickly became one of the 'Big Three' Gulf airlines. Etihad is government owned and since aviation is a critical cluster industry of UAE's 2030 Plan for economic diversification, Etihad became one of the central pillars to the economic development.
By 2012, Etihad directly and indirectly contributed 10.5% of non-oil GDP in the country. By 2008, the company made orders for more than 200 aircraft, and opened a new terminal at the Abu Dhabi International Airport (Aviation Strategy, 2013). This source comes from an aviation-focused commercial journal, highlighting the rise of Etihad in the regional market.
As discussed earlier, early on, Etihad made a series of minority equity investments in global airlines. It was an ongoing expansion that represented a sustainable growth strategy for Etihad with the aim to become competitive and dominate commercial aviation. Etihad was attempting to copy strategic expansion of some European airlines, by breaking records in frequency and destination numbers at the time. In 2012, Etihad was one of the fastest growing airlines with over 100 stock purchase agreements and 41 code-sharing agreements that represented a wide range of diversification strategies (Al Ali & Ahmad, 2014).
By modern day, Etihad slightly shifted its strategy to being more focused on its fleet and Abu Dhabi hub rather than aggressive expansion. The company's investment is focused on distribution, the terminals, and aircraft along with services. It is strategically increasing the fleet size while greatly improving quality for all passenger segments, no longer focusing solely on the luxury class, but encompassing even the economy class in order to compete with all airlines in the current global environment (Kamark & Frascogna, 2019). Kamark & Frascogna (2019) is an article interviewing the top executives at Etihad, discussing how the company has and plans to transform itself in the competitive industry.
After years of financial failures caused by the poorly implemented equity investment strategy, Etihad underwent a massive organizational restructure in 2018, changing the operational model and reforming business divisions with a new executive leadership team. The carrier has shifted focus from being a Middle East "connector" to being a hub and spoke operating model similar to Emirates, with sensible and stable growth. Since Etihad's alliance was disbanded, it is no longer considered a competitor to major alliances, allowing to form code sharing agreements, including with Emirates (The Blue Swan Daily, 2018).
Etihad has sought to reduce overhead costs by cutting jobs, restructuring plane orders, and changing routes. The company has also recognized the value of ancillary revenue, becoming a mandatory component for all airlines. So far, the carrier has narrowed its annual losses by up to 16% annually, but despite discontinuing many routes, has continued to boost growth and passenger flow (Rahman, 2019).
Although COVID-19 has created a devastating effect on the global economy, particularly the aviation industry, Etihad leadership assures the company will survive and adapt. The pandemic has shifted business plans and operations, and it is prognosed that recovery could take as long as three years
Etihad has a privileged position of being a state carrier for the UAE alongside Emirates. It is likely that it will continue to receive funding and support until air travel demand returns to pre-crisis levels, which although has always been internationally criticized before, will be invaluable during this time. However, without government relief, Middle Eastern airlines such as Etihad can continue cutting costs such as cancelling multibillion aircraft orders and slashing salaries. The crisis will contribute to Etihad's efforts to restructure and streamline its business (Arabian Business, 2020).
Strategic Plan
SWOT/TOWS
Etihad Airlines
Strengths

State-owned airline, government support
Wide range of aircraft fleet and destinations
Reputation and experience in outstanding luxury services
Well-recognized brand-name
Centrally located hub between Europe and Asia

Weaknesses

High operating costs of serving only international destinations
Partner investment strategy volatile, results in losses due to partner alliances
Lack of focus on economy passengers
Consistent financial problems, consecutive years of billions of dollars in losses

Opportunities

Find a foothold in new potential and emerging markets
Organic growth in critical regions such as Asia
Increase number of destinations and frequency of flights to key locations
Improve availability and quality of services to build on existing reputation

S-O Strategies

Take advantage of aircraft fleet to reach new destinations and frequency of flights for popular routes
Utilize reputation and brand name to build an identity in emerging or profitable markets

W-O Strategies

Reducing operating costs by focusing on functional and profitable routes, regional short-distance routes in emerging markets.
Addressing the problems of economy passengers and trickling down some of the services for business class. Improving overall experience

Threats

Industry experiencing significant downturns, with analysts predicting slowdown of growth of airlines in the Gulf region
Political factors that may reduce investment or access to the region, as seen with some restrictions being placed against Qatar Airways

S-T Strategies

As a national flag carrier, Etihad will be supported by the UAE government for a prolonged period.
Maintain a reputation and brand away from politics to avoid restrictions
Achieve competitive advantage through innovation in its fleet and service capabilities

W-T Strategies

Reducing high operating costs that are bleeding cash in industry downturns
Strategy of investing in partner airlines is unsuccessful and does not reduce competition in the industry
Going forward, Etihad must adopt a multilateral strategy of addressing safety, technology, and efficiency alongside its traditional focus on the consumer experience to achieve optimal success in the industry. When undergoing reorganization in 2018, Etihad developed a 5-year plan with a sustainable approach that it will make it profitable by 2023. The airline will be offering passengers a wide range of personalized services for additional fees as well as re-designing the economy class on narrow-body planes that maximize yields and adding upgraded seats with improved onboard entertainment systems that enhances experience of all passengers and will boost revenue.
The company will plan to massively cut costs by dropping unprofitable routes, with the top management indicating a return to the 'basics' that emphasizes a disciplined approach to operations and a flexible response to market demand (Rahman, 2019). Rahman (2019) is a magazine article that discusses the 5-year plan that Etihad has developed as part of its operational strategy, relevant to the strategic plan section of the topic.
Recommendations
Developing and integrating technological solution to various business challenges to achieve leadership in aviation (IBM, n.d.).
Create a refined customer experience and marketing mix on various platforms while modernizing existing assets.
Improve efficiency of operational capabilities and logistics management. Establish an integrated system will allow for improved communications between various elements of airline operations as well as optimizing load distributions, safer flights, and preventing costly delays (Cobbold, 2019).
Achieve long-term operational sustainability within the context of the current global business and aviation environment through streamlining and focusing its processes and services.
Conclusion
From a strategic management perspective, Etihad needs to recognize the detailed view of the environment in which it operates, considering both external and internal analysis that are essential to formulate and adapt strategies (Bose & Mugambi, 2019). Etihad, based in the UAE, experienced how strategically viable plans can significantly fail if not evaluated in the context of the industry or macro environment, that would have potentially identified that a Middle Eastern company at the time would not have been able to achieve success with aggressive expansion as European airlines did.
The mission of Etihad is to deliver Arabian hospitality to the world; therefore, the focus should be on the social environment and perception of other services, realizing the vision of making Abu Dhabi a central travel hub. Etihad also needs to identify and implement key drivers for change, including advances in technology and revolutionizing air travel via technology that improve customer satisfaction and experience, an area where Etihad excels. By taking advantage of its strengths, Etihad can adapt its strategy to be in harmony with the macro environment and reach leading positions in the industry.
References
Al Ali, H. A., & Ahmad, S. Z. (2014). Etihad Airlines: Growth through successful strategic partnerships. Emerald Emerging Markets Case Studies, 4(5), 1–12. Web.
Arabian Business. (2020). Survival of the fittest: Mideast airlines brace for Covid-19 impact. Web.
Aviation Strategy. (2013). Etihad Airways: Carving out a distinct identity. Aviation Strategy, 191. Web.
Bose, I., &Mugambi, P. (2019). Strategic effectiveness of selected organizations in UAE: Cases of Etihad Airways and Emirates NBD Bank. Web.
CAPA. (2018). Saudia: Transformation and dual brand strategy drive rapid growth. Web.
Carmela, J. (2018). Luxury brand innovation in aviation: The interesting case of Etihad Airways. Web.
Cobbold, L. (2019). Etihad Airways strengthens flight management systems with Amadeus technology. Web.
Ellis, D. (2019). The strategic context of the three major Gulf carriers. Transportation Research Procedia, 43, 188-198.
Etihad. (2019a). Etihad Airways improves core performance in 2018 as transformation continues. Web.
Etihad. (2019a). Etihad Airways selects IBS software to transform operational efficiency and improve guest satisfaction. Web.
Etihad Aviation Group. (2019). Fast facts & figures August 2019. Web.
Etihad Airways reports improvement in core operating performance. (2020). Arabian Aerospace Online News Service. Web.
IBM. (n.d.). Etihad Airways. Web.
Jory, S. R., Benamraoui, A., Tunahan, H., &Çitçi, U.S. (2019). A critical examination of Etihad Airways Equity Alliance strategy using a case study approach. Web.
Kamark, R., &Frascogna, V. (2019). Etihad Airways targets corporates with 'boutique' strategy. Business Travel News. Web.
Qatar Airways. (n.d.). About Qatar Airways. Web.
Rahman, F. (2019). Etihad Airways to be profitable by 2023. Web.
Sandybayev, A. (2018). Quality and supply chain management integration: A conceptual model of EtihadAirways. International Journal of Afro-Eurasian Research, 6, 24-31. Web.
The Blue Swan Daily. (2018). Etihad Airways targets more revenue diversification following corporate restructuring. Web.
The Emirates Group. (2020). Annual report 2019-20. Web.