Entering a prestigious college and getting a quality education is one of the top priorities for high school graduates. But how do you know if the college you are considering is really worth it?
Well, luckily, there is accreditation: a process of evaluating educational institutions. Accreditation is an important factor to consider when selecting a college: after all, unaccredited schools don't provide you with widely recognized diplomas and can leave you with insufficient knowledge and skills.
Want to know more? You're in the right place! This article covers the essential information every college applicant should know about accreditation.
And don't forget to check out our essay sample base! It'll give you tons of inspiration for your business assignments.
🎓 What Is College Accreditation?
You've probably heard phrases like "this university is accredited" or "this program needs accreditation." But have you ever asked yourself, "What is accreditation, exactly? And why are some people so concerned about not getting it?"
Well, accreditation is a status granted to educational institutions to verify that they meet quality standards. Basically, if a college is accredited, it provides students with sufficient knowledge and a widely recognized diploma. Unaccredited colleges are less prestigious, and many of them are scams.
Agencies responsible for accreditation evaluate colleges according to the following criteria:
The institution's mission. It should be clearly stated and demonstrate the school's commitment to the public good.
Ethical integrity. The college should favor appropriate behavior, fairness, and academic freedom.
Quality teaching and learning. This includes using current educational programs, setting high standards for student performance, and having professional staff members.
Constant evaluation and improvement. This criterion implies a continuous assessment of students' progress and striving for excellence.
Effective use of resources. An accredited college should be able to fulfill its mission with the help of its teaching and learning materials.
Accreditation vs. Certification: What's the Difference?
Accreditation and certification are very similar processes. They both prove the quality of a product or service. Many people use these terms interchangeably. However, there are several crucial differences between them. Let's look at these more closely.
Why Accreditation Matters
Accreditation matters because it assures you that the college will provide high-quality education and a recognized diploma. Accreditation is especially important if you are planning to acquire a degree online. In this case, it proves that your chosen online school is not a scam: reputable online colleges are always accredited.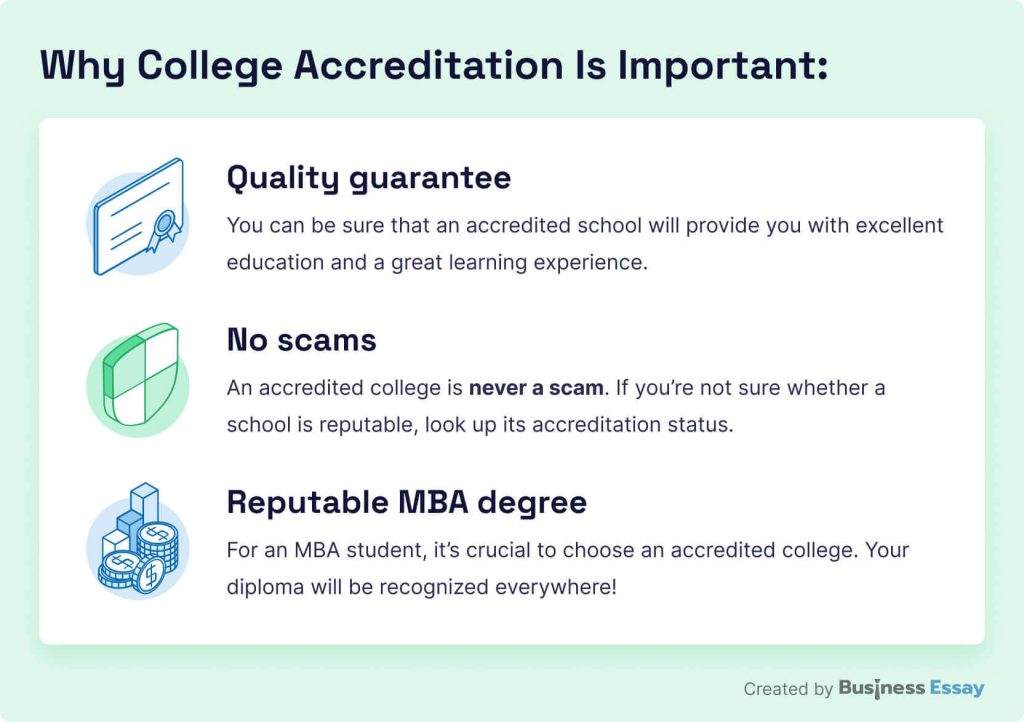 When choosing an MBA program, one essential criterion is accreditation. MBA programs need to be accredited because:
It proves the quality of your education to employers and increases your chance of getting a well-paid job.
Accredited MBA diplomas are internationally recognized, which allows participation in educational exchange programs.
You may be eligible for financial aid and scholarships from the state if your university is accredited.
💫 Types of College Accreditation
When you check information about various colleges, you may notice they have different types of accreditation: institutional, national, regional, and programmatic. Let's look at the distinctions between them.
Institutional Accreditation
This type of accreditation certifies that an entire educational institution meets quality standards. If a college wants to receive and maintain such accreditation, it needs to be monitored by regular reviews and checks of academic and financial reports. Institutional accreditation can be conducted on regional or national levels.
Regional Accreditation
This is the most common accreditation type granted to local higher education institutions. Regionally accredited schools meet the highest academic excellence standards and offer several advantages, such as credits transfer and tuition reimbursement programs.
There are 6 geographical regions in the United States accredited by the following agencies:
North Central Association of Colleges and Schools
Northwest Accreditation Commission
Middle States Association of Colleges and Schools
New England Association of Schools and Colleges
Western Association of Schools and Colleges
Southern Association of Colleges and Schools
National Accreditation
National accreditation is granted to institutions focusing on career education, such as vocational, trade, and technical schools. This accreditation type is less prestigious compared to regional accreditation. Credits earned at a nationally accredited school cannot be transferred to other institutions. On the plus side, schools with national accreditation provide focused programs that can be finished faster.
National accreditation agencies include:
National Accrediting Commission of Career Arts and Sciences
Accrediting Council for Independent Colleges and Schools
Distance Education Accrediting Commission
Programmatic Accreditation
This type of accreditation focuses on educational programs offered in post-secondary educational institutions. For programmatic accreditation, the agency evaluates a program's curriculum, the level of faculty qualifications, and student outcomes.
Some examples of programmatic accrediting agencies include:
Association to Advance Collegiate Schools of Business.
Accreditation Commission for Education in Nursing.
Teacher Education Accreditation Council.
Accreditation Board for Engineering and Technology.
✅ The Accreditation Process Explained: Step by Step
Receiving and keeping accreditation is essential for schools that seek to deliver quality education. But how exactly do institutions become accredited? Let's examine the process in detail.
To receive accreditation, colleges need to undertake the following steps:
Identification of which accreditation type they wish to obtain. The college administration must decide whether it needs institutional or programmatic, national or regional accreditation.
Satisfaction of the eligibility requirements. At the same time, they get familiar with the accreditation standards and ensure that the institution meets them.
Submission of paperwork and documentation. This may include reports about the school's faculty and staff members, class syllabi, financial statements, graduation requirements, and samples of student academic works.
Peer-reviewing process. College administration and faculty must evaluate written reports, programs curriculum, and other important materials.
Meeting with the examination team. These are the professionals who will review the institution.
Waiting for a decision. The accreditation agency will analyze the collected information and confirm or deny accreditation status.
Maintaining accreditation. Once a college gets accredited, it is supposed to uphold quality standards. Periodic reviews will be held by the agency regularly.
🚀 Why You Should Apply to an Accredited College
A diversity of post-secondary educational institutions offers you a wide range of options. You have complete freedom of choice! However, we recommend you select an accredited school. The key benefits of studying at an accredited college are: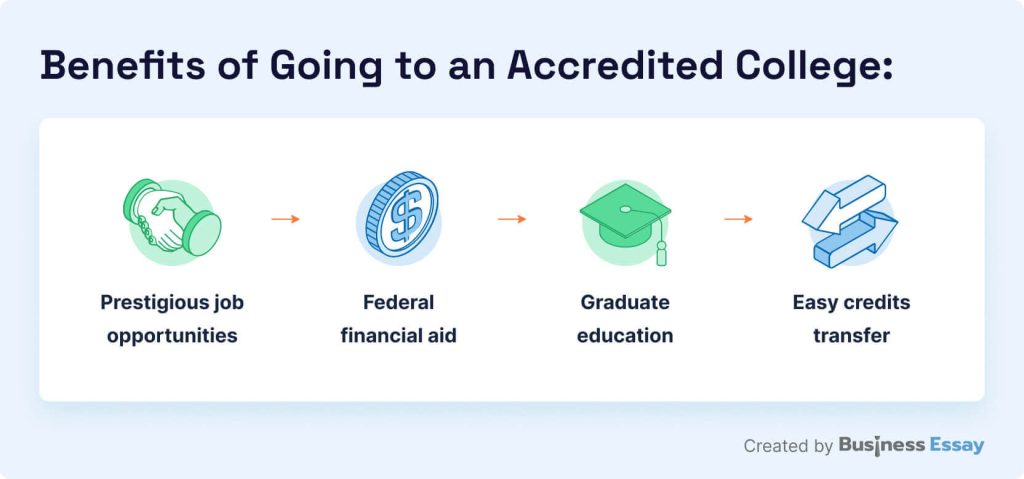 😱 What Happens If a College Loses Accreditation?
Now you know how an institution becomes accredited. But how does a college lose accreditation? Unfortunately, this can happen if a school fails to maintain quality standards and fails to pass the agencies' reviews. What it means for you depends on whether you're still a student.
Imagine this situation: you have graduated from your college, and then it loses its accreditation. In this case, you have nothing to worry about! If you've earned a degree, its legitimacy will remain unchanged, regardless of whether the institution holds or loses accreditation after your graduation.
But what if your college loses accreditation while you are still studying? Unfortunately, you'll face some problems. This is what may happen:
It will be harder for you to find a well-paid job since employers prefer hiring those with diplomas from accredited institutions.
If you have a scholarship, a tuition discount, or any other kind of financial aid, you may lose it as your college loses accreditation.
The earned credits may lose their validity, and you may be unable to transfer them to another educational institution. Some colleges accept credits for some time after the loss of accreditation. But the longer a student waits, the harder it will be to find an alternative.
So, what should you do if your college loses accreditation? We strongly recommend that you transfer to another institution as soon as possible. If you do it quickly, it is still possible to successfully transfer credits to another accredited school and graduate with a widely recognized diploma.
🔍 How to Tell if a College Is Accredited
Distinguishing accredited schools from unaccredited ones can be challenging.
Some fake colleges and diploma mills may pretend that they have accreditation. Other schools may fool students by convincing them that certification is unnecessary because the institution has other unique benefits. This is particularly dangerous when it comes to online schools that you can't visit in person.
We recommend you look out for the following red flags:
Automatic acceptance into college.
Unusually high or low tuition prices.
Unavailable faculty credentials.
Pending accreditation status, with no estimated date of obtainment.
Unavailable address of campus or office locations.
Unusually short program durations.
A website very similar in appearance to a well-known accredited university.
No application or attendance requirements.
If you've noticed these red flags, be especially careful. It is highly possible that the college holds fake accreditation or does not have it at all.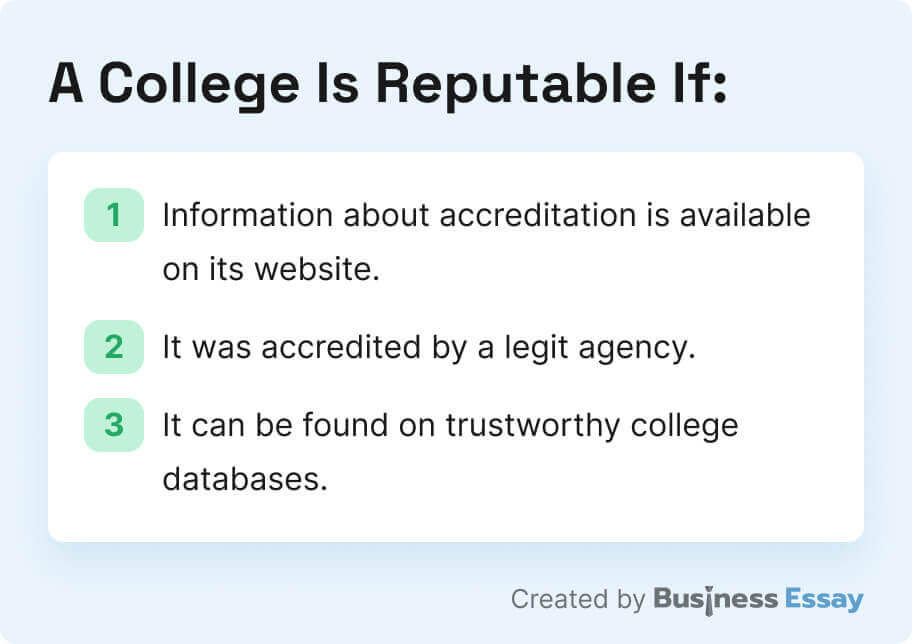 Now, how can a student confirm that a college is accredited? There is a simple three-step process:
Examine the college's website.
Information on accreditation should be displayed on the college's website. Usually, a link to its status is located at the bottom or corner of the main page. If not, you should be able to find it through the search function easily.
Study the accrediting agency.
Have you found information on accreditation on the school's website? It's time to look up the accrediting agency itself! If it is reputable, it will have a user-friendly website where you can easily find a particular school's accreditation status.
Check out trustworthy college databases.
The last step is to ensure that the accreditation agency is recognized by the US Department of Education or any other reputable database. Not sure where to find a trustworthy directory of accredited institutions? Keep reading!
🎁 Bonus: 7 Best Resources for Finding Accredited Colleges
We want to help make your college selection process as smooth as possible. That's why we have prepared a list of helpful directories containing only accredited colleges! These will help you search for schools with various specializations.
Thanks for reading! Now that you have a better understanding of why accreditation is important, we wish you the best of luck on your educational path! Don't forget to share this page with other prospective students!
🔗 References