Standardized testing requires all participants to answer the same set of questions and evaluates the results according to a unified scoring system. The SAT and ACT are standardized tests used by colleges for admission.
Some say these exams only reveal which students are good at taking tests and that GPA is a better indicator of academic progress than standardized test scores. However, most colleges consider ACT and SAT scores more important than GPA. So, you probably need to study hard this year to pass one of those tests!
The question is which one to choose – SAT or ACT?
In this article, we'll discuss the peculiarities of the SAT and ACT and how to prepare for each test. Read this page to make the right choice and avoid mistakes on your way to your dream college. We also recommend checking our database for inspirational free research essay samples.
🧐 SAT & ACT Overview
Let's start with clear definitions of both exams and their features. This will help you to choose the best option for you. Read this section carefully to get a general idea of the tests.
SAT
SAT stands for Scholastic Assessment Test. Its purpose is to get a complete picture of the knowledge a student has gained at school. Most test takers are junior and senior high school students who take the SAT to apply for college.
There are 7 SAT dates available in the USA: March, May, June, August, October, November, and December. You can also take the test outside the US, but only four time slots are available. Students can take the SAT as often as needed to receive their desired score. We recommend doing it at least twice.
The test lasts for 3 hours and includes these three parts:
The reading section, or evidence-based reading followed by multiple-choice questions.
The writing & language section also combines reading and multiple-choice questions.
The Math section has two subsections, and no calculator is allowed.
You can earn 400 to 1600 points overall or 200 to 800 points in each section. The online score report is available approximately 2-3 weeks after taking the test.
Before June 2021, there was also an optional essay section. The College Board eliminated it due to challenges caused by COVID-19. SAT Subjects tests are no longer available after June 2021.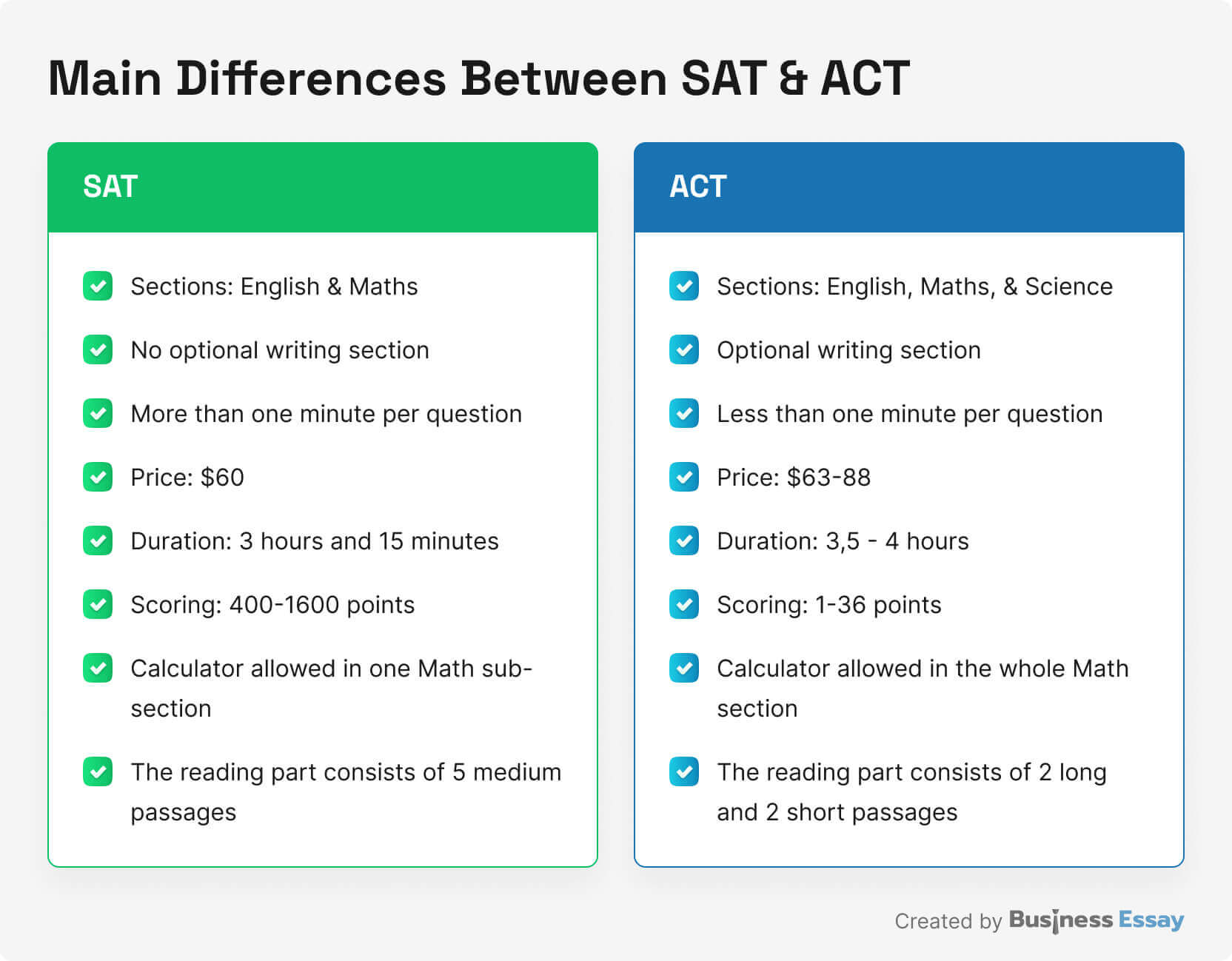 ACT
ACT stands for American College Testing, administered by ACT, Inc. The exam is as popular as the SAT and even outnumbers it in half of the states. The ACT is obligatory for high school students in 13 American States. Test-takers use their results for college admissions and scholarships.
There are seven available dates to take the ACT in the US, Puerto Rico, and Canada, and five dates in other locations. Just like with the SAT, your attempts are not limited.
There are four main sections and one optional section:
The English section challenges you to edit a text.
The Math section checks your skills from 11th grade.
The reading section requires you to answer various questions about a text's logic, key ideas, etc.
The science section measures your ability to interpret, evaluate, and analyze.
The writing section (optional) assesses your writing skills on a high-school/college-entry level.
You can earn up to 36 points in each of the required test parts. Your final test score (or composite score) is the average of all the test sections. The writing section has a separate score with a maximum of 12 points. It does not influence the overall score.
The test scores are available online two weeks after the test date. However, October and February test takers might have to wait up to 8 weeks. You can usually receive the writing section results two weeks after you receive your test scores.
Comparison
It is hard to say which test is better. Regardless of the chosen test, your results are the most crucial factor. Generally, students residing on the East and West coasts prefer the SAT. Students in the Midwest and the Southern states usually choose the ACT.
Let's compare the main features of these tests:
SAT
ACT
Areas of knowledge
English and Math
English, Math, and Science
Deeper knowledge required
Math (or analytical number-oriented skills)
Social and Natural Sciences (or theoretical problem-solving skills)
Time per one question
More than one minute
Less than one minute
Cost
$60
$63-88
Fee waiver
Yes
Yes
Test duration
3 hours and 15 minutes
3,5 – 4 hours
Scoring system
400 – 1600, or 200 – 800 in each section
1 – 36 composite score and 1 – 36 in each section
Number of tests per year
7 test dates in the US:
March, May, June, August, October, November, December
7 test dates in the US:
February, April, June, July, September, October, December
Merit-based scholarships for students with high test scores
Yes
Yes
Math section
Algebra and Data analysis,
a few Geometry and Trigonometry questions.
You can use a calculator in one sub-section.
Algebra, Geometry, Trigonometry, Probability, and Statistics.
You can use a calculator. No formula sheets are allowed.
Reading section
Five medium passages;
Focus on details
Two long and two short passages;
Focus on the general idea
Writing section (is obligatory in some colleges)
Not available
Available
Number of attempts
Unlimited
Unlimited
⚖️ How to Choose between SAT and ACT?
You can try both tests before deciding which is better for you. There are plenty of free resources with ACT and SAT samples online. Try to pass both tests at home with a timer. This will help you to determine your strong and weak areas.
If you are good at thinking fast and working under pressure, the ACT might be the right choice. The SAT will be better for those who prefer deeper and more moderately-paced thinking.
Also, one of the tests might be obligatory in your state to graduate from high school. In this case, you only need to pass the test your school requires.
Of course, you can always take both tests. There are no restrictions. But we recommend focusing on one to achieve better results.
🗓️ The SAT & ACT Dates
We have prepared a list of 2022-2023 academic year test dates. Here you can see the nearest testing days and application deadlines: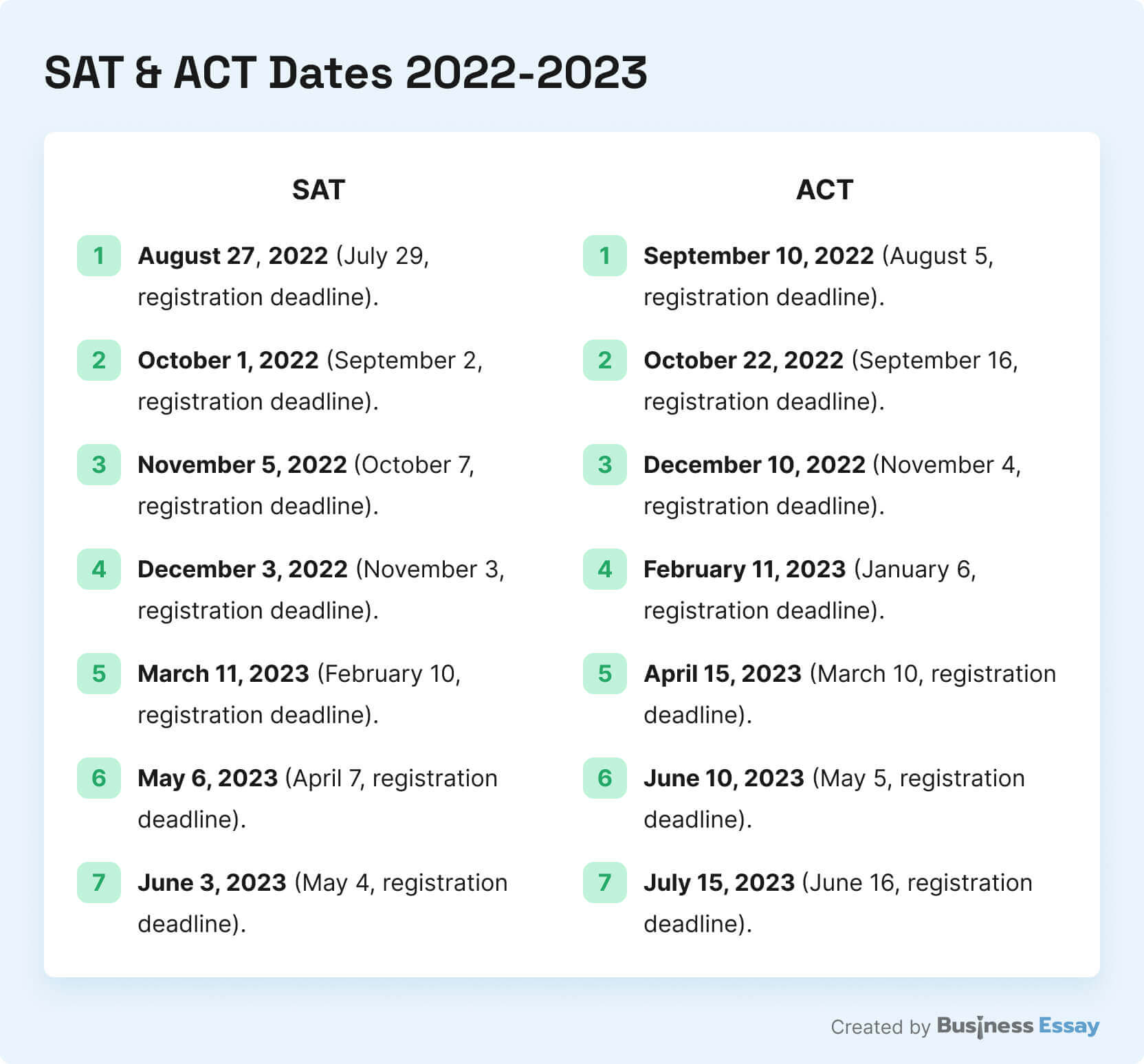 📚 How to Prepare for the ACT?
Now we will discuss how to prepare for the ACT. It is better to practice one section at a time to measure your progress and find your weak spots more quickly.
1. The ACT English Section
This part of the test consists of a few passages and multiple-choice questions. There are 75 questions in total. You are given 45 minutes to read the text and answer the questions. The questions test your grammar, vocabulary, and rhetorical skills. You must decide whether to change the structure of the text, delete any words, or modify sentences.
This section tests your vocabulary, your understanding of the text's tone, and your ability to write correctly. If you read a lot in your spare time, it might be easier for you to receive a high score. However, you should read texts on different topics while preparing for the ACT. Also, it's a good practice to devote most of your reading time to textbooks and scientific articles.
Besides reading, we recommend completing a test from beginning to end at least once a week. After you check the answers, find your weak spots and focus on them.
2. The ACT Math Section
Math is less tricky than English but requires a lot of practice too. You will have only 60 minutes to answer 60 multiple-choice questions, so you need to think fast.
The first thing you should do is to check your current knowledge of basic concepts of algebra and geometry. Then take your first practice test to detect any holes in your knowledge. After that, you can study independently, join online or offline classes, or find a tutor. You can prepare every day or do longer studying sessions a few times a week. Just make sure that you manage to study everything you need to before the test date.
Take a practice test several times a week with a timer to get used to the pace of the test. Remember that you are free to use a calculator, but you can't have a formula sheet during the ACT.
3. The ACT Reading Section
Many students find the reading section the most confusing. It often seems that some questions have more than one answer.
Here's the truth: they don't. Every question has one and only one correct answer.
That is why you need to prepare for the tricks the ACT will play on you. Learn the typical question patterns and strategies. Take practice tests and work on your mistakes. Each time your answer is wrong, go back to the text and examine why the correct answer is the only option for that question.
Try to understand your weaknesses. Is it time management or a lack of vocabulary? You might read for too long or hesitate too much. If you have problems with your vocabulary range, write down all the unknown words you see in practice tests. Make flashcards with these words and review them from time to time.
4. The ACT Science Section
During this part, you will have to read seven passages and answer 40 questions in 35 minutes. In other words, you have only 5 minutes for each passage.
The types of passages you will need to deal with:
3 data representations.
3 research summaries.
1 conflicting viewpoint.
The best way to prepare for all the possible science questions is to study with official ACT materials. These passages are unlike any other test, so official practice tests will serve you well.
Analyzing the results of each practice test is probably the most crucial part of your preparation. Highlight your mistakes, the answers you were unsure about, and the answers for which you guessed. Try to find patterns in your choices and weak spots. For example, maybe for you, it is hard to read bar graphs and identify trends. Or you don't understand texts on specific topics because you lack theoretical basics. Note the things you need to work on and learn before you take your next practice test.
Do your best to study the subjects involved in the ACT Science section. But don't rely only on theoretical knowledge. Remember that it is impossible to know everything in the science section; your problem-solving and logic skills are essential.
5. The ACT Writing Section
Since this is an optional section, ensure you need it for college admission. Preparation for each part takes time. You will need a few extra hours a week to master your writing skills in addition to studying for the other ACT sections.
To prepare for the writing section, you must first understand its logic. The good news is that you don't need to verify the facts you plan to use as evidence. ACT scorers don't have time for fact-checking. That is why every plausible statement is taken as truth. Also, essay length is important even if ACT, Inc. doesn't mention it. On average, students who write more extended essays receive better scores.
Before you write, work on the outline for your essays. Note your position, arguments, counterarguments, examples you plan to use, and transitions. No matter how strong your arguments are, scorers pay more attention to the introduction and conclusion of your essay. Make sure your thesis statement is solid and fully represents the content of the essay. The conclusion should restate the thesis and analyze the information you presented.
Practice writing an essay without timing yourself at first to make fewer mistakes. Scorers also evaluate your literacy, vocabulary, ideas, essay structure, and coherence. When you get used to the task, add a timer.
The ACT Tips
Preparation for the ACT and taking the actual test are entirely different experiences. Time limitations make the real thing a lot more stressful and challenging.
Here are tips that will save you time and help you get a better score:
English. Review and broaden your grammatical knowledge even if you think you know everything.
English. NO CHANGE is the correct answer 25% of the time, so don't overthink correct sentences.
Math. Memorize all the formulas you might need.
Math. Use a calculator to save time, even if you can do the calculations yourself.
Reading. Don't reread the whole passage if you didn't understand something or lost your focus.
Reading & Science. Read the questions before you read the text itself.
Science. Start with the easiest passages.
Writing. Outline your essay according to the prompt.
Writing. Leave up to 5 minutes for proofreading.
Useful Resources for the ACT Preparation
Use these online resources to prepare for the ACT:
📔 How to Prepare for the SAT?
Spending too much time on preparation might work, but the key is to study smarter. In this part, we will describe how to master each SAT section.
1. The SAT Reading Section
For the reading section, you will have 65 minutes to read five passages and answer 52 questions.
If some questions or answers seem to have a double meaning, that's ok. The ACT and SAT use these ambiguous questions to confuse students. Eliminate wrong answers one by one. First, cross out the wrong answers. Then get rid of the options that are too broad, too narrow, or where the wording or relation is reversed.
Another technique you can use is to predict the answer as soon as you read the question. Then you will need to find the closest option to what you initially thought. Knowing the strategies won't help you unless you practice. Analyze your mistakes. This will help you find the areas in which you need to improve. It might be your reading speed, attention to detail, analytic skills, etc.
Aim to finish the reading part before the time runs out. Then you will have time to return to ambiguous questions or check your answers.
2. The SAT Writing & Language Section
Here you will need to read 4 passages and answer 44 questions in 35 minutes. This part of the test is very similar to the ACT.
You will see two types of questions here:
Standard English questions. These questions check your understanding of grammar and punctuation.
Rhetorical skills questions. These questions examine writing skills, proper word choice, and vocabulary.
Don't spend too much time on texts. You have no more than 9 minutes for each passage. We recommend reading the questions first and then looking for the answers since your time is limited. You can scan the texts to get the general idea before working with the questions.
The key is to find what works best for you. When you take practice tests, try different reading techniques and choose the fastest.
3. The SAT Math Section
The SAT Math section lasts for 80 minutes. There are 58 questions you need to answer within this time limit. Even if you are good at Math, you still should take practice tests to get used to the format. Most questions are not like what you see in your Calculus problems.
Track your time during practice tests. You might get all the answers right, but you might be using extra time. There is no spare time on the SAT, so try to figure out what slows you down. Find the questions that are harder to answer for you. Write down the formulas and solutions with the correct answers.
Dig deeper into the theory if you made a mistake and cannot immediately identify it. Some practice tests provide explanations for the correct answers. If not, search for similar problems online and discover how to solve them. Then compare your methods with the ones that give the right answer.
The SAT Tips
Use these tips to boost your SAT results:
Reading. Answer specific questions first. Then move on to general ones.
Reading. Rely on the text, not your opinion on the matter.
Reading, Writing & Language. Use skimming and scatting to save you time.
Reading, Writing & Language. Start with the easiest passages and finish with the hardest ones.
Math. Even if the test provides them, memorize formulas to save time.
Writing & Language. Use the changing item in the answer options to understand the questions better.
Writing & Language. Try to pronounce the options in your head to choose the one that sounds the most natural.
Math. Study each area of knowledge separately. Don't rush into algebra, trigonometry, and geometry simultaneously.
Useful Resources
Here are the websites we recommend to prepare for the SAT:
🏁 Conclusion + Common Study Tips
The core advice we want you to take from this article is that having a strategy is half of your success. With all the stress caused by the admission process, using a reliable system will help you both while preparing for and taking the exam. Always remember that the SAT and ACT are very different from the exams you have in school; therefore, they require much more practice, skill, and concentration.
Finally, we've gathered some general tips for you to use while you practice.
Plan your preparation. Divide your schedule into sections and sub-sections, so you can focus on each task separately.
Be consistent. It is more efficient to practice every day for 30-40 minutes than twice a week for 2 hours.
Start with the easy tasks. When taking a test, prioritize the easiest questions instead of wasting time on ambiguous ones.
Any answer is better than no answer at all. Better to guess the answer than think too long or leave an answer blank – you might just hit the bull's eye.
Take the full tests regularly. Before taking the exam, you need to get used to the test structure.
Read, read, and read. Read everything in English that you can get your hands on: newspapers, online magazines, books, scientific articles, etc. You'll expand your vocabulary, remember facts for your essay examples, and interact with professional language.
❓ FAQ
What are the SAT and ACT?
The SAT and ACT are standardized tests to assess students' knowledge. These tests are mainly used for American college admissions. Some universities outside of the US require an ACT or SAT score from students who graduated from a US high school.
What is the difference between the ACT and SAT?
While both tests focus on English and Math, only the ACT has a Science section. Also, the essay section is currently available only on the ACT. On the contrary, the SAT has two Math sections, while the ACT has only one. The SAT's math focus is Algebra, and the ACT features Trigonometry and Geometry questions.
Which is easier, the ACT or SAT?
It depends on your knowledge and skills. The SAT is believed to be better for students with an analytical mindset since Math makes up 50% of the score. It is better to try both tests at home to understand which format is better for you. You can also research whether the colleges you want to attend offer any merit scholarships for high SAT or ACT scores.
What colleges do not require SAT or ACT scores?
During 2022/2023 college admissions, more than 100 colleges did not require ACT or SAT scores due to the COVID-19 pandemic. Check the universities' websites to keep updated on changes. Among the colleges that generally don't require SAT or ACT scores are New York University, Pitzer College, Hampshire College, Cornell College, and University of the People.
When do you take the SAT and ACT?
Both exams have seven testing dates in the US and 4-5 dates outside the country. We recommend taking a test once during your junior high school year and at least once during your senior year. You can take both tests as many times as you need.
🔗 References