Mark Zuckerberg earned his first $1 million at 22, while Jack Ma only started using a computer in his 30s. Imagine that! Now they are both billionaires. Some successful careers begin in college, while others need more time. You never know when you will become the next legendary entrepreneur, but it is better to start as soon as possible. A side job you have during college might make you a billionaire in the future!
A side hustle for a student is a part-time job to earn extra money. The number of options is endless, but we've gathered the best ones in this article!
After finishing here, check our 100% free essays on various business topics. It's a hidden gem for students.
🔥 Best Side Hustles for College Students – 2023
Sell items on Etsy or Amazon.
Teach business online.
Drive for Uber taxi.
Rent your spare apartment or room.
Manage social media for local businesses.
Organize a garage sale.
Start a TikTok or Instagram blog.
Create and sell digital products.
Start investing.
Create an online course.
📍 Side Hustle Definition [What Is a Side Job?]
A side hustle (a side job or a side gig) is any type of employment taken on in addition to a full-time job or your studies. It is usually freelance in nature, meaning that students earn money per task completed. A side job gives you the freedom to decide how much you want to work and make.
A side hustle helps students solve financial security problems, such as college loans. At the same time, it is a chance to challenge your entrepreneurial skills. Whereas for some people, a side gig is just an enjoyable hobby and might bring in some money as well.
Who Can Have a Side Hustle?
Increasing demand for freelancers has created many opportunities to start side hustles. There are several significant reasons why people approach a side job.
Students have several reasons to start a side job. For example, a side hustle is a chance to get work experience, acquire new professional skills, and increase income.
People who are already employed usually start a side hustle to gain financial independence or pay their debts.
Some people want to fulfill their artistic potential. For example, office workers often choose writing, music production, or photography as their side job.
Types of Side Jobs
You can start a side job in any field. We've collected the most popular options and listed them below.
Benefits of Having a Side Hustle
Financial freedom.
A side hustle helps students get out of debt and save money for a rainy day. With good management, a side gig can become a step forward to bigger dreams, like buying a car.
A professional network.
A side hustle opens doors to a professional community. Having contacts in your industry is essential to getting a full-time job after graduation.
New skills and knowledge.
Starting a side job is a chance to prove yourself in a new area. Your side hustle can be completely different from your college major.
An opportunity to explore your passion.
If you want to turn your hobby into a career, start it as a side hustle. There will be no need to sacrifice your studying or personal life since you manage your time yourself.
🤔 Having a Side Hustle – Things to Consider
After learning all the benefits of a side hustle, you may be wondering: "Where do I start?". We've compiled a list of all the aspects you need to consider when choosing a side job.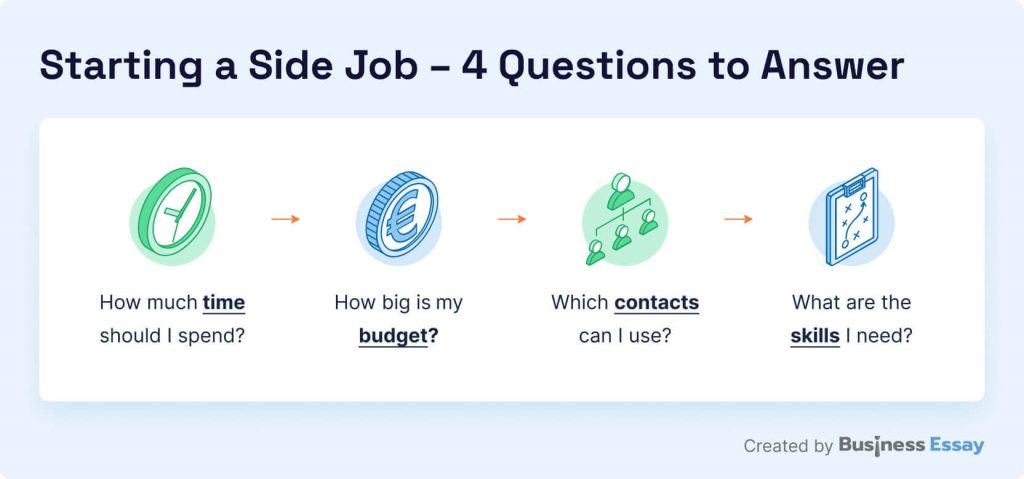 Time
Before you start a side gig, it is essential to calculate how much time you can and should spend on it. A side hustle shouldn't influence your studies or personal life negatively. Otherwise, you'll regret starting it. Use a diary or your Google calendar to see how many hours a week you have to dedicate to your side job.
Another issue is that your side hustle should be constant if you want to succeed. Schedule your calendar a few weeks in advance to ensure that you'll have time. Remember that one of the keys to success is consistency!
Money
If you are considering starting a small business, you should develop a budget. This includes all the start-up costs, such as materials and advertisement. Don't worry; you do not need to buy everything at once. The planning stage might take some time!
Finally, do not forget about tax planning. The tax system can be complicated, so you might want to consult a tax professional. Our main advice here is to always keep a record of your income. Keep an eye on the dates when you need to pay your taxes to avoid fines.
Contacts
One of the first challenges is where to find your first clients. Whether you're starting your own local business or doing freelance work, you need to be a part of a network. Start by talking to your friends about the services you provide. Ask them to recommend you to other people.
If you want to get into a professional community, you need to develop a presence on social media. Websites like Twitter, Instagram, and Facebook can help you become recognizable and gain more clients. At the same time, you can share knowledge and working experience with other specialists. Collaborating is so much more accessible online!
Skills
Consider the skills you need to start a side hustle. You might want to develop new abilities, like administrative skills. If so, the side job you choose should provide the necessary training.
You may have another goal – to put your business knowledge to practice. In this case, your side hustle should be connected to an entrepreneurial activity.
Last but not least, you may have some artistic hobbies you want to pursue. The side job you choose should help you realize your potential, so pick the one that best suits your needs.
🔍 Best Side Gigs for College Students – Where to Find Them
Now let's get to work!
Here's a list of resources for finding a perfect side hustle in different spheres.
1️⃣ Freelance
Freelance work offers a unique opportunity to choose your clients. This means you can control your workload and only spend time on the projects you find interesting. The list of freelance jobs is never-ending. It includes copywriting, graphic design, translation, and many others. Anyone can find something that interests them!
Upwork
Upwork offers tasks for freelancers in various spheres: development and IT, design and creative, writing and translation, and so on. It also facilitates video calls through the website to discuss any details with a potential employer.
Freelancer
Freelancer is the world's largest freelancing marketplace with over 50 million users! It allows you to choose a job based on your skills or the languages you know. Consider this option if you know a foreign language!
Skyword
Skyword defines itself as an elite creative community, and we cannot disagree! This website focuses on artistic tasks for graphic designers, photographers, and videographers. One more advantage is that on Skyword, you can upload your portfolio to attract more customers.
Fiverr
Companies like Netflix and Facebook use Fiverr to look for freelance workers. This might be your opportunity to become a part of something special! One interesting peculiarity is that Fiverr has no hourly rates, only project-based payment.
FlexJobs
Since 2007 FlexJobs has offered remote and office positions in different spheres. What makes them a real flex is that they also have online webinars, where you can learn how to write a great CV and find your dream job.
ServiceScape
ServiceScape is an excellent platform for editors, translators, and writers. If you are good at academic writing, you will find many job opportunities. The tasks are usually connected with research proposals, scholarly articles, dissertations, and theses.
2️⃣ Administrative Jobs
An administrative job is a wonderful start since it includes many tasks. Some of them are organizing and coordinating meetings, as well as managing staff, money, and inventory.
HigherEdJobs
HigherEdJobs has many administrative positions in college facilities, career centers, business services, entertainment, etc. All the job offers have detailed descriptions, so you can choose the one which best fits your needs.
Administrationjobs.com
This portal focuses only on administration professionals, so it will be easy to find what you're looking for here. You can find successful companies like Dell, United Health Group, and Comcast among employers.
Monster Jobs
Monster Jobs suggests job positions all around the globe. This is your chance to get a remote administrative job in another country if you want to boost your cultural communications skills.
3️⃣ Customer Service Jobs
A customer service job is a chance for business students to enhance their communication skills. There is no doubt that customer service specialists understand clients the best.
FlexJobs
In addition to freelance positions, FlexJobs offers remote customer service jobs. On the FlexJobs website, you can find detailed descriptions of the companies that focus on customer service.
Allstate
Allstate is a website that exclusively offers jobs in customer service and call centers. Allstate's team prepares the candidates with extensive training. You can even give it a try without any working experience!
Indeed Jobs
Indeed Jobs aims at creating a positive environment for job seekers and employers. One of their goals is to help students find employment. Now more than 200,000 customer service jobs are available on their website.
4️⃣ Retail & HoReCa Jobs
Retail and HoReCa jobs have more growth opportunities for business students than any other sphere. If you start as a sales representative, there is a strong chance of becoming a retail marketing manager. Check the websites below to find your dream job!
HoReCa Jobs
This HR agency mainly deals with restaurants, cafes, and hotel staff. This might be a match if you're interested in the hospitality industry. HoReCa Jobs provides legal employment and has plenty of part-time positions to combine with your studies.
Indeed Jobs
Even more potential retail jobs can be found on Indeed Jobs. The website has various options, including cashiers, store managers, inventory managers, and visual merchandisers. You can choose the side hustle that suits your timetable and salary expectations.
SimplyHired
The SimplyHired website contains job offers from worldwide and has a resume builder and salary estimator. Those instruments are beneficial for students or graduates applying for their first job. We recommend checking them out!
AT&T
AT&T offers jobs in finance, human resources, supply chain, and retail. Taking care of their workers, AT&T ensures that all the working positions provide personal protection equipment and a sanitized environment.
5️⃣ Startup Jobs
More young specialists choose to work for start-ups, and we totally understand them. From flexible schedules to an opportunity to learn how a business operates, there are a lot of benefits. This is truly a unique experience for a business student!
WayUp
WayUp helps candidates with different backgrounds to start their dream careers. The website offers paid internships and part-time jobs in the most promising start-ups. One more benefit is the automatic suggestion of the vacancies you might find appealing.
StartUp.Jobs
StartUp.Jobs features the fastest-growing technology start-ups. It offers opportunities to learn more about the IT sphere and become a part of the next Meta company. StartUp.Jobs have both remote positions as well as office jobs.
Tyba
Tyba is a portal for international start-ups. Besides the job offers, there are articles on starting a successful career or writing a great cover. It is a perfect mix of educational content and tools to find a side hustle!
1789 Community
This career lab regularly shares student competitions of funding for start-ups. Do not overlook this possibility if you have a business idea to turn into a reality!
Approach Companies Directly
Sometimes, to get your dream job, you need to be proactive. That is, you need to go directly to a company and offer your services. Approaching a company is an option for those who know exactly where they want to work. When contacting an HR manager, demonstrate that you are acquainted with the company's history and its brand values.
If you know someone from the team who can recommend you, definitely go for it!
🔮 Inspiration for Business Students
This section will highlight the most interesting blogs, magazines, and movies in the business sector. We recommend paying attention to them to be inspired during your studies.
Blogs to Follow
Harvard Business Review
As seen by the name, this online magazine was created by Harvard University. It explores the topics of leadership, marketing, finance, and many others, daily. Check it out to keep track of important events!
StrongBrands
Tim Calkins, a marketing professor at Northwestern University, runs this blog. He shares user-friendly insights on branding, communications, and marketing. The articles are both educational and entertaining.
SBA
All the materials on SBA focus on small businesses. There you can find tips on starting, growing, and expanding your own business. We also recommend reading the success stories of real people.
Mashable
Mashable is a global media and entertainment company. It covers news on culture, tech, science, and entertainment. Mashable has daily updates on their social media, including Instagram and Youtube, so you can follow any platform you like.
Business Insider
The authors of this business blog know everything about investing, law, and Wall Street. Each article has profound research behind it, so do not hesitate to visit their website. Business Insider will broaden your horizons!
Books & Articles to Read
CNBC: Bill Gates' book collection
Every year there are numerous business books published. You might be wondering: which one should I read? Learn what books are recommended by Bill Gates! We've picked out the famous psychological manual "How to Win Friends & Influence People" by Dale Carnegie in Gates's list of favorites. Sounds like a top skill for business people.
Inc: 5 books that are required reading at Harvard Business School
If you want to feel like a Harvard business student, check out the books they read. Literature is a powerful source of knowledge that can turn you into a successful entrepreneur. Another vital skill is leadership, and you can learn more about that in "True North: Discover Your Authentic Leadership" by Bill George.
Harvard Business Review: Reading Lists
Harvard Business Review's editors carefully craft reading lists on various topics: the hybrid workplace, management styles, diversity in business, etc. Reading lists help to deepen your knowledge in a particular sphere. In addition, many articles can be used as sources for your business essays and research.
Videos & Movies to Watch
Entrepreneur: 18 movies every entrepreneur should watch
There is a lot you can learn from documentaries and fictional movies. Especially when you're just starting your business career. The Entrepreneur has a list of movies with life-changing lessons, including our favorite, Catch Me If You Can. They cover the topics of negotiations, decision making, and conflict resolution.
Ted-Ed: Business lessons
Ted-Ed creates short, animated videos on various topics, including business. Ten-minute videos are perfect for getting acquainted with a new topic. If you want to learn more, Ted-Ed suggests a list of literature in the description of all their videos.
Entrepreneur: 10 must-see videos on business, creativity, and success
Entrepreneur collected public speeches of famous business people, influencers, and professors. They share their knowledge and talk openly about challenges they've experienced. Enjoy those hidden gems and stories of success!
Harvard Business Publishing: 18 business videos you're free to use in class
This article contains the most engaging videos on business topics for personal use or classroom activities. You can also use them if you are a tutor! Some videos explore core business concepts, while others focus on trending topics, like gender equality in business.
🚩 Side Hustle for Business Majors – Concluding Words
A side hustle that was started to make extra money can turn into a career for many students. However, there are essential factors to consider: time, money, contacts, and skills. Before starting a side gig, think about your big goal: do you want to pay for debts or acquire new skills? For business students, this is a chance to put their knowledge into practice. Achieving financial freedom is a powerful move that you can start right now!
Remember that it might not take a lot of time to start a side gig, but it can change your life forever. To be successful, you need to be consistent. Numerous opportunities are waiting for you to take advantage of them. Whether you want to start investing, selling your goods on Etsy, or sharing your knowledge as a tutor, it might turn into a successful career in the future. We believe in you and want you to believe in yourself!