The Federal Student Aid Application is the most prestigious study grant funded by the US government. The application is submitted online or in paper, absolutely free of charge. This grant is available to both citizens and green cardholders. Since deadlines and budget are tight, you need to fill out the application as thoroughly and accurately as possible.
Students often make many mistakes in completing the appropriate forms and completing the FAFSA in general. This can make getting the desired grant challenging. In the article below, our team has explained how to avoid common mistakes. We've also listed all the tips on how, when, and where to apply.
📝 Top 13 Mistakes to Avoid
Let's start by exploring the main errors that are made when applying for funding. In a hurry, students can even get confused and start filling out forms on phishing websites. Therefore, here we will analyze all the common mistakes, even the most obvious ones, and tell you how to avoid them.
❌ Choosing the wrong website
Sometimes, students fill out forms on phishing sites. It is the biggest mistake you can make. Cybercriminals will steal any data you post on these pages. Make sure you use the official website and fill out the right form.
❌ Missing the earliest FAFSA deadline
Since FASA has limited funds, the aid is often given to the students that fill out the form as soon as possible. So, don't leave your application process till the very last minute. Typically, the FAFSA opens on October 1 of the following academic year.
❌ Forgetting about FSA ID
The FSA ID is the name and password that you get when creating an account on the official FAFSA website. Remember that it may take up to three days to create and verify your account. So, make sure you complete this step beforehand. This way, you won't waste time when the FAFSA application opens. Moreover, with your FSA ID, you can be sure that your information in the FAFSA form matches your FSA ID.
❌ Typing tax information by hand
Entering financial information is one of the most challenging steps. But we have good news! A partnership with the IRS allows students and parents to automatically transfer necessary tax information into the FAFSA form using the IRS DRT. Take advantage of this method to save time and make sure that you enter valid data.
❌ Not reporting all financial data required
Make sure that you recognize what financial data you are required to report. Sometimes, even if you fully support yourself financially, you are still considered a dependent student. In this case, you should provide your parents' financial data. Don't forget to include your additional sources of income (pensions, child support, disability income, etc.).
❌ Skipping or skimming instructions
Take time to read the instructions carefully. Sometimes, even the most minor misunderstanding can lead to negative outcomes. Visit the FAQ section on the FASA website if you experience any difficulties filling out the form.
❌ Ignoring the definitions listed
It is essential to read every definition in the application carefully and make sure you fully understand them. Sometimes, questions that may seem obvious can be quite tricky. Thus, take enough time to figure out the meaning of each definition in the FAFSA application.
❌ Leaving blank spaces
Blank spaces will lead to application rejection. Therefore, enter "not applicable" instead of leaving an empty field.
❌ Adding other symbols in the numeric fields
Only enter numbers in the numeric fields. No letters are allowed there. Also, you cannot use commas, so always round to the nearest integer number.
❌ Specifying only ONE college
The application accepts up to 10 schools at a time. Don't miss the opportunity to increase your chances of receiving a FAFSA scholarship. It costs you nothing to add more than one school.
❌ Mixing up student and parent data
Ensure you and your parents have separate accounts. You should use your FSA ID, and your parents should use their own FSA IDs to complete the form. Failing to do so correctly will lead to delays with your financial aid or even the rejection of your application.
❌ Entering information that doesn't correspond to your FSA ID
The mismatch of data between your FAFSA form and FSA ID will lead to an automatic rejection. It is essential to enter valid information and double-check every single detail in your application. If you complete all the steps according to the instructions, your personal data will automatically transfer from your FSA ID to your FAFSA application.
❌ Failing to sign and date the form
Use your FSA ID to sign the form, and let your parents do as well. There is also an opportunity to mail a signature page. Check this page for mailing details. To verify that your application is submitted, you can check your status right after you complete the form.
And the most crucial tip:

💻 How to Apply for FAFSA: Step by Step
After reviewing the main mistakes you can make, the next step is to learn how to fill in the FAFSA form correctly. In the following sections, we have gathered everything you need to know. We've covered filling in the application, the process, and the steps that come after submission.
Before Applying FAFSA: Preparation
Any significant work starts with preparation, and it applies even to our case. Thus, before proceeding to complete the FAFSA form, you should take all the preparatory steps. We've listed them below.
✅ Figure out the deadlines
Due dates can be different from school to school, from state to state, and also from study to study. Long before submission, check your dates not to miss the due date. Make sure to submit the FAFSA form as sooner as possible according to the assigned deadlines.
✅ Get all the required documents
Gather all the essential documents required for the application. It includes Social Security Card, Driver's license, Green Card Number, etc.
✅ Figure out the deadlines
Due dates can be different from school to school, from state to state, and also from study to study. Long before submission, check your dates not to miss the due date. Make sure to submit the FAFSA form as sooner as possible according to the assigned deadlines.
✅ Get all the required documents
Gather all the essential documents required for the application. It includes Social Security Card, Driver's license, Green Card Number, etc.
✅ Create an FSA ID
You should create an FSA ID at fafsa.gov. Don't wait till FAFSA starts to register your ID! It will be handy to have everything ready when the application window opens.
✅ Check if your parent needs FSA ID
If you have a defendant status, your parents have to register as well. They will need to provide the information listed on the FAFSA site. Give your parent enough time to gather all the data and submit it.
✅ Gather your financial data
The FAFSA uses tax information from the two-class years. It also relies on the most recent bank accounts. Besides, you can use a printout from your bank statement.
✅ Choose colleges for the form
Choose a college list for your FAFSA application. You need at least one school for it to be processed. Since it is a state grant, it is good to have one public state college.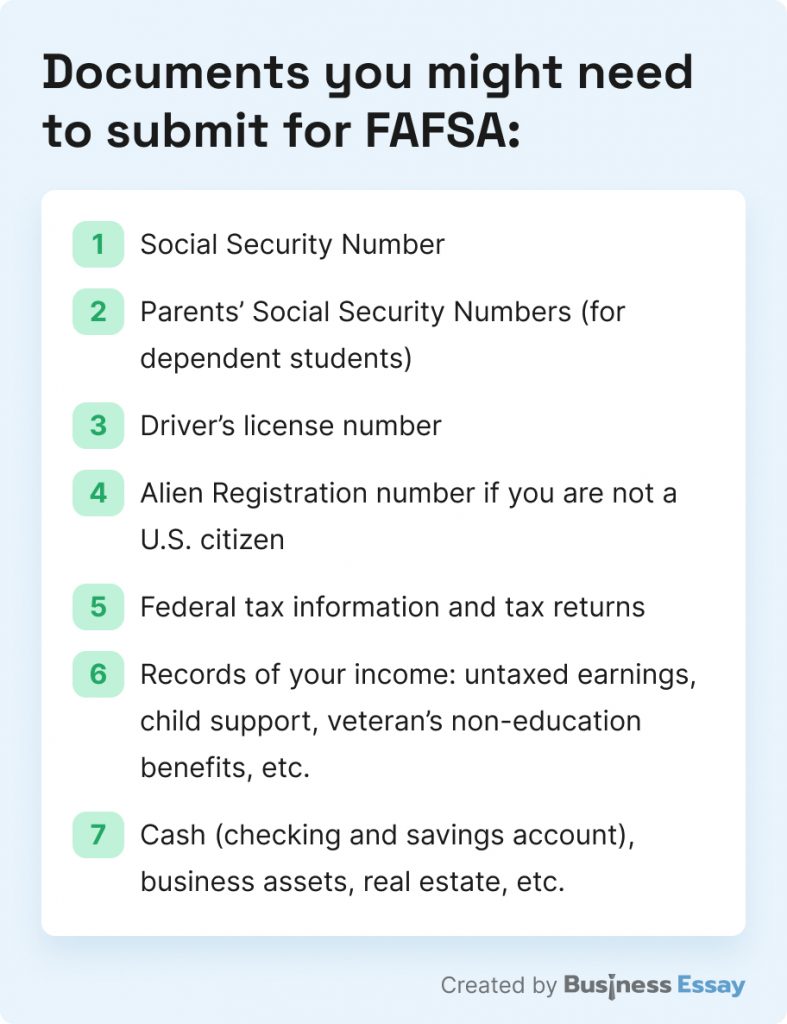 How to Fill out the FAFSA Form
We can now go to the main part of the FAFSA application: filling and sending it. Here, we have elaborated on everything a student will need to do:
Go to fafsa.gov. Have you created your FAFSA account before? Go to the website and start filling your form. If the colleges did not open their deadlines, you should complete the 2022-23 one.
Start with the Student Demographics section. Here, insert your name, date of birth, gender, and other personal information. Make sure you enter your SSN information as it appears on your card. This section will be auto-populated if you have logged in using your FAFSA ID.
List the colleges you've picked. List the schools you would like to enter. You can put up to 10 colleges or universities into your application. Don't worry: school officials do not see this list. We suggest that you put more options than you decided initially. Plus, you can swap the schools if needed.
Explain your dependency status. Read the U.S. Congress dependency guidelines carefully as those are different from IRS ones. Even if you live alone, pay your bills, and file your taxes, you can still be regarded as a dependent for federal student aid purposes. If that's the case, provide information about your parents.
Proceed to the Parent Demographics section. In the FAFSA form, you will see a series of questions that will help determine your status. As a dependent student, you need to enter data about your parents. If you cannot supply specific information based on your circumstances, there is a particular guideline for that.
Add info about your finances. Next, you need to provide information about your and your parents' finances. Insert all the required tax returns, real estate, banking accounts data, etc.
Transfer your tax data automatically. Use the IRS Data Retrieval Tool for that. It will reduce the number of forms you need to submit. This is one of the benefits of applying for FAFSA online.
Review and check for blank fields. Before submitting, you should reread your application carefully. Look for empty spots to ensure that you didn't forget anything. Check the list of colleges and your personal and financial information for any errors and typos.
Sign your form and submit it. Your application is not completed before you sign it. The fastest way is to use your FSA ID. If you log in using it, you will not need to provide this information again. In case you have a dependent status, your parents need to do so before you. However, be careful not to mix up your FSA ID and your parent's ID.
If you still have questions while filling out the official form, you can try getting help on the official page. There are several options you have:
Go to the FAFSA "Help" page. There are FAQs for more information.
If you did not find the answer to the question, you could click on "Contact Us." You will have an option of calling, emailing, and chatting with live technical support staff.
You can also contact the financial aid office at your university.
After Applying FAFSA: Waiting
First of all, congratulations on successfully filling the form! What's next? We have several tips on how to wait correctly (and patiently) after submitting the form.
✅ Ensure your form was processed
See the application status by logging in to fafsa.gov or contacting the Federal Student Aid center directly. If it is still being processed, wait for a bit as it usually takes 3-5 days. There may also be a missing signature or action required for your form. In the latter case, contact your school to find out what is needed.
✅ Consider your Student Aid Report
Once your form is processed, you will get a Student Aid Report. It is not the same as a Financial Aid Award Letter. Your SAR will have the information you have provided on your FAFSA form. Plus, it will include the list of schools you are considering.
✅ Supply the verification if needed
Your college might request additional data from you if you are selected for verification. It is the process of providing documents that support the info you have reported. People are selected for verification randomly. So, it does not mean you've done something wrong. Just send the requested documents timely and meet your school's deadline.
✅ Correct any mistakes in the form if needed
If you realize that there was a typo or mistake, you can correct the form at any given time. For that, login into your FAFSA account. It is more convenient to fix everything online.
✅ Update the application if needed
Suppose there were some changes to your name, marital status, address, financial circumstances, etc. Not a problem! You can continually update the application to reflect the most current information. After that, the college of your choice will determine your eligibility. If you're considered suitable for help, you will receive a monetary award letter. It will include the cost of the college academic year and some form of financial aid.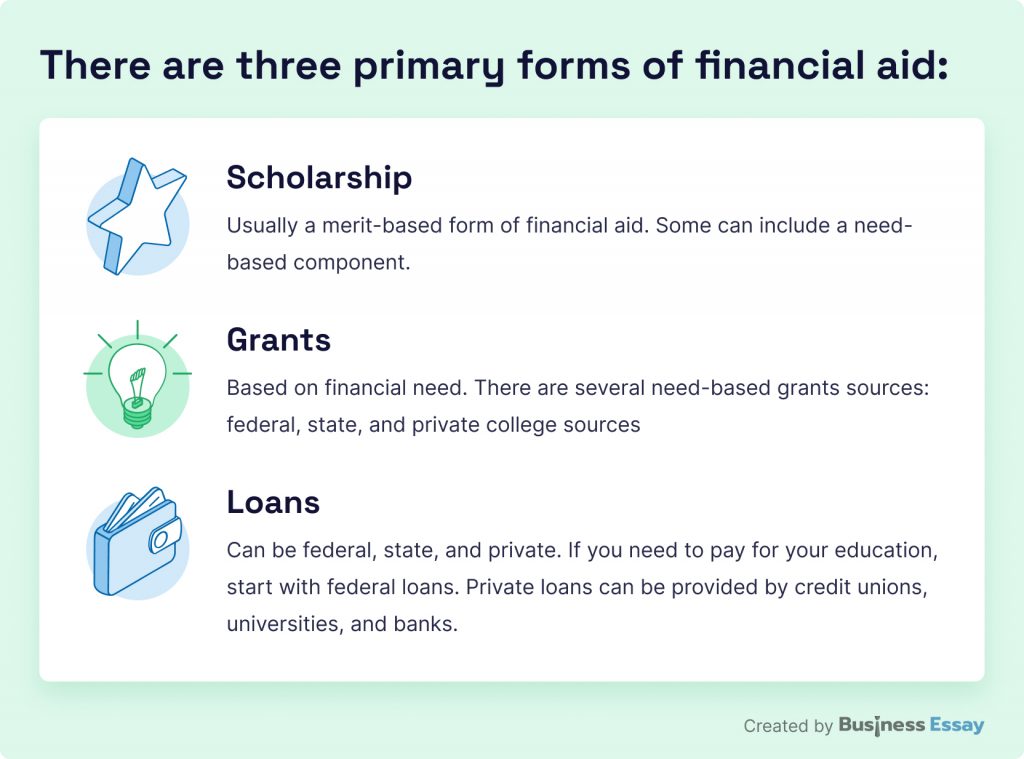 Most universities allow students to use a combination of different forms of financial help to sponsor their education. For instance, you can get a scholarship to pay for your living expenses and a federal loan to pay for your tuition.
Keep in mind:
Colleges will send the financial aid award letters around the same time as admission letters. So, see what each school is offering, evaluate the proposals, and choose the one that fits your budget and academic expectations. Besides, you can re-apply for financial help every single year.
That's all! Thank you for reading the article. We hope filling the FAFSA application will be easier for you. If your friends are thinking about financial help, share this article with them.
📌 References