Recent Harvard research has shown that people who set goals are ten times more likely to succeed than those who don't. This comes as no surprise, considering all the benefits of goal setting, such as time optimization, productivity, and the ability to seize the moment.
Goal setting might be especially beneficial for students who have trouble juggling their studies and personal lives. This powerful tool can provide them with a clear path to success and help them make every day count. As for the goals of this article, we plan to discuss the most effective goal-setting techniques and how to integrate them into your routine.
Read the page till the end, and don't miss our database of essays – it is full of helpful study materials.
🎯 The Importance of Goal Setting: 3 Key Questions
There are people with never-ending lists of goals but no actual accomplishments. This can occur when goal setting is not performed mindfully. Below, we will cover everything you need to know about effective goal setting.
1. What Is (Effective) Goal Setting?
Goal setting requires you to identify what you want to achieve, when you want to achieve it, and how you want to achieve it. You need to be able to state your desires clearly, set a timeframe, and work on the task until it is accomplished.

Your objectives might be influenced by your lifestyle, values, and perception of success. For that reason, it's crucial to have clarity around your goals to understand the steps you need to take and enjoy a sense of accomplishment when you get there.
Imagine you have a goal to achieve financial freedom. If you apply the principles of effective goal setting, you must identify the smaller steps that will contribute to your success:
Browse LinkedIn regularly.
Work on your CV.
Prepare for job interviews.
2. Why Is It Important?
Goal setting is crucial for academic success and areas of life beyond college. It improves your self-awareness, boosts your confidence, and strengthens essential skills like planning and organization. Some other reasons why goal setting is beneficial are the following:
It motivates you to move forward.
It reduces procrastination and improves time-management skills.
It breaks down large and intimidating goals into smaller ones.
It increases your awareness of your actions.
It improves your ability to set boundaries around your time, energy, and focus.
3. What Do the Numbers Say?
Much research backs up the benefits of goal setting for academic performance, mental health, and long-term success. Check out some of the most inspiring findings!
📋 How to Set Goals [and Achieve Them]
So, what is effective goal setting? This process involves several steps, in both the preparation and implementation stages. For the procedure to be more effective, we recommend using several methods, for example, the SMART criteria.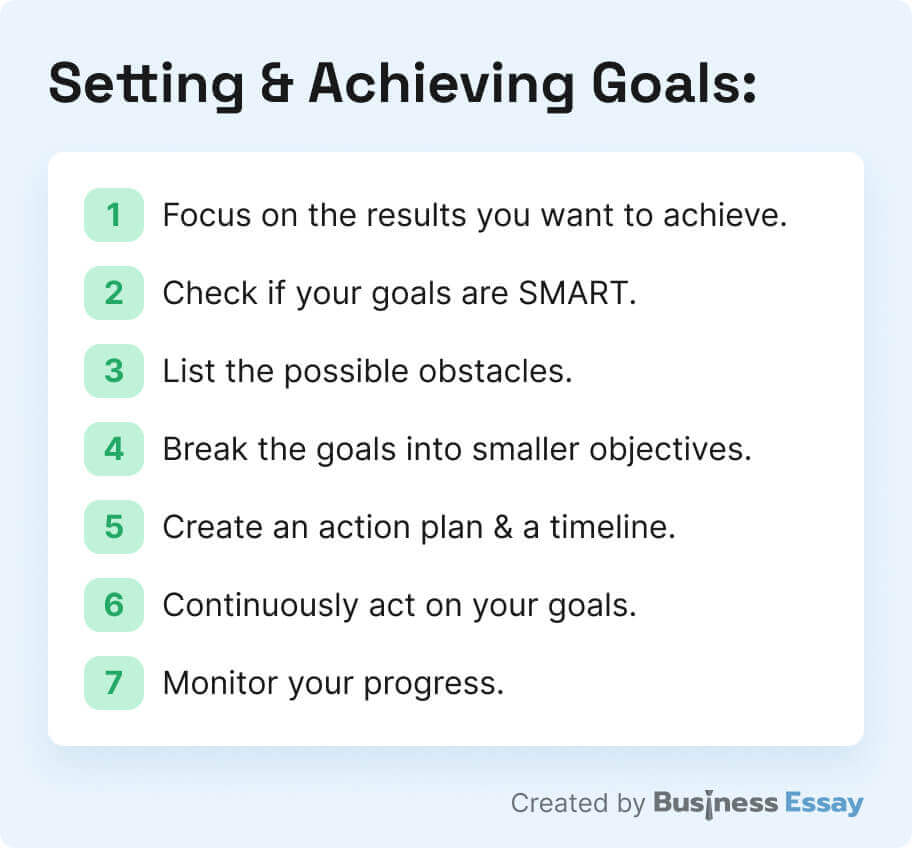 Goal Setting in 7 Steps
Step #1 Focus on the results you want to achieve.
Goal setting starts with getting a closer look into the areas where you want to succeed. Ask yourself: Is this what I want to achieve? Is it worth my time and effort? By evaluating your goals, you can determine what truly matters to you.
Step #2 Check if your goals are SMART.
SMART goals are Specific, Measurable, Achievable, Relevant, and Time-specific. These criteria will help you track your progress. The more goals that fit the SMART characteristics, the higher the chance you'll complete them. Learn more about SMART goals in the next section!
Step #3 List the possible obstacles.
Forewarned is forearmed, right? There might be various obstacles in your way, such as a lack of experience, knowledge, or motivation. Think about them in advance and come up with a plan of how you can overcome these barriers.
Step #4 Break the bigger goals into smaller objectives.
Objectives are specific steps that help you to achieve your goals. When you write your objectives down, your dreams become real instead of vague, overwhelming ideas. Once you have your list of objectives written, keep them visible, for example, near your computer screen.
Step #5 Create an action plan & a timeline.
Create an action plan with your objectives and set each step's deadline. Using this action plan, you will see what you need to do each day or week. By breaking goals into practical tasks, you'll experience a sense of achievement and stay motivated!
Step #6 Continuously act on your goals.
If you work on your goals daily, you have a higher chance of achieving them. However, remember to review and revise your action plan since your goals may change. Even though consistency is important, don't be too hard on yourself if your plans change.
Step #7 Monitor your progress.
Finally, recognizing your progress and celebrating it is essential to encourage yourself to continue. An excellent life hack is to reward yourself and be proud of the work you've done. Some goals take longer to reveal the results, so remember to give yourself a boost of energy by celebrating your progress!
SMART Goals – Definition & Manual
Have you ever felt like you're working a lot but haven't achieved anything? You might need to set SMART goals. SMART is an abbreviation for specific, measurable, achievable, relevant, and time-specific goals. Let's discuss each characteristic separately.
| Feature | Description | Example |
| --- | --- | --- |
| Specific | Vague goals are not practical, even if they are noble. Think about precise actions that need to be accomplished and plan specific steps accordingly. | Find a job in IT with a flexible timetable and monthly salary of at least $2,000. |
| Measurable | It is easier to track your progress if you quantify your goal. To make it more impactful, come up with deadlines or measurable benchmarks. | Read at least 50 pages of Ulysses by James Joyce every week. |
| Achievable | Goals often need a severe reality check. If your goal isn't realistic, you might lose motivation soon after starting. | Post at least once a week and share a few stories daily to increase the number of followers to 1000. |
| Relevant | When setting your goals, you must consider the big picture of your future. Relevant goals contribute to your long-term success. | Attend the English-speaking club meetings every weekend, so I can apply to the exchange program in college next year. |
| Time-specific | Your goal should have a realistic deadline for task prioritization and extra motivation. Having a timeline for your objectives will help you to track your progress and stay on track. | Write at least 5000 words per month to finish my thesis by June. |
How to Use SMART Goals
As you can see, SMART goals turn your aspirations into achievable objectives. One of the most valuable techniques for applying the SMART method to your goal is to ask these powerful questions.
Specificity questions:

What exactly do you plan to accomplish?
What are your reasons for reaching this goal?
How can you describe the outcome to make it clear?
What external and internal factors might influence your progress?

Measurability questions:

How will you know that your goal is accomplished?
What criteria can you use to measure your goal?
What are the possible indicators of your success?
What alternative methods can you apply to measure your progress?

Achievability questions:

What resources do you already have that can contribute to your success?
What skills and knowledge can help to improve your progress?
Do you have enough time to accomplish your goal?
How confident are you that this goal is achievable for you?

Relevance questions:

What makes this goal significant to you?
Is this goal worth your time and effort?
Will this goal contribute to your long-term success?
How will this goal benefit you?

Time-specificity questions:

Does your goal have starting and ending points?
Is your deadline realistic?
When will you undertake the activities to accomplish your goal?
When do you expect to see the first outcomes?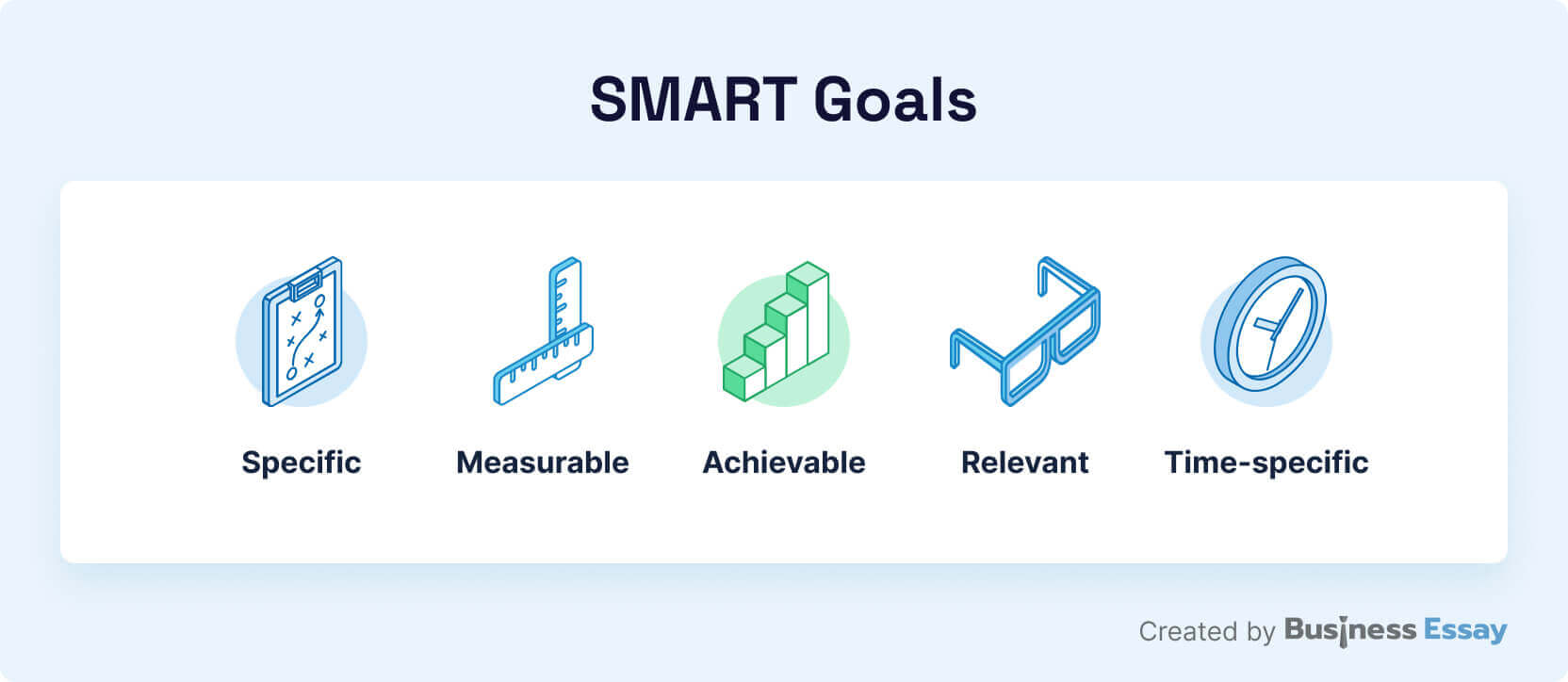 🧨 Types of Goals & Examples
There are numerous kinds of goals you may have in your life. Learning how your goals differ and how to group them can significantly increase your productivity. Let's consider each type.
Goals by time period.
Lifelong


Lifelong goals are the ones that perfectly align with your values and motivate you to become the best version of yourself.
Examples: committing to a fitness routine, volunteering, or becoming a better partner.

Long-term


Long-term goals require a significant amount of time and effort. To reach these goals, you must invest your energy for long periods of time, for example, a year, five years, or ten years.
Examples: starting a small business on ETSY, learning a foreign language, or moving out of your parent's house.

Short-term


Short-term goals are smaller, with more accessible steps that can contribute to your long-term goals. Those can be goals you want to achieve before the end of the day or during the week.
Examples: daily journaling, completing your homework, or preparing breakfast for the next day.
Goals by area of life.
Education


These goals focus on your education and academic performance. They can also refer to the skills and competencies you want to develop outside the classroom.
Examples: dedicating one hour a day to your thesis, finding an internship, or building new study habits.

Career


Career goals are essential for building a successful professional life. Setting these goals allows you to gain more experience and grow professionally.
Examples: increasing your job performance, receiving a new certificate, or developing your management skills.

Hobbies


Goals related to hobbies can help you spend your free time more productively. Planning your leisure time increases your ability to cope with stress and avoid burnout.
Examples: going to a dance class, reading at least 20 minutes a day, or writing a review on a new Netflix tv-show.

Sports


Sports goals can increase your general well-being, whether you are a professional athlete or an amateur. Also, these goals strengthen your daily routine and turn exercise into a habit.
Examples: going to a gym at least twice a week, starting your morning with yoga, or increasing your speed on a running track.
Financial goals.
Financial goals deserve a separate category because they are relevant to everyone at a certain point in their life. These goals aim at managing your money correctly and involve saving, spending, and investing objectives.
Examples: saving at least $100 monthly or developing an alternative income source.
Goals by participants.
Individual goals


Individual goals are the ones you accomplish yourself. They relate to all aspects of life, including work, relationships, and college. Personal goals are based on your needs and values and can be one of the greatest motivators.
Examples: becoming a better public speaker, switching to a healthier diet.

Collective goals


Collective goals are inevitable in studying, working, or personal relationships. These objectives unite people in a team or a group.
Examples: creating a book club at your college, finishing a work project, or helping a local charity center to raise money.
Inter-personal goals.
Interpersonal goals aim at developing your relationship with yourself and others. They involve working on interpersonal skills like communication, active listening, and conflict resolution.
Examples: being empathetic with your classmates, taking more initiative, and working on leadership skills at work.
💻 Goal Setting Techniques & Tools
Besides the SMART technique, some other practical strategies and tools can improve your goal setting. Have a look at them to find what works best for you.
Techniques
WOOP. The WOOP method stands for Wish, Outcome, Obstacle, and Plan. This technique has you consider these four elements throughout the goal-setting process. Contemplating the desired outcome and possible threats will make your goals more realistic and achievable.
HARD. HARD goals are Heartfelt, Animated, Required, and Difficult. Evaluate your goals based on these four parameters to make the most sense out of your situation. Moreover, the HARD technique can be perfectly combined with SMART.
OKR. OKR method stands for Objectives and Key Results. This technique aims to create measurable goals and track the results—a perfect choice for people who value realistic and practical life goals.
Backward goal-setting. Backward planning is a popular deductive method in education and work training. It focuses on the ultimate objective a person or team wants to achieve. After identifying the end goal, you can work backward to develop an action plan.
Locke and Latham's goal-setting theory. Locke and Latham's theory defines five fundamental principles that influence the effectiveness of goals. These are clarity, challenge, acceptance, feedback, and complexity. Some characteristics are similar to the SMART goals. However, the theory also considers the possible difficulties on your way to success.
One-word goals. This technique is effortless. It involves you coming up with just one word to guide you during a certain period of your life. Focusing on one specific goal will keep you concentrated and motivated during times of hardship.
Visualized goals. Visualizing your goals is a powerful technique to help you avoid distractions from a constant news and entertainment cycle. Try creating a dream board, visualization meditation, or using index cards to visualize your goals. Give yourself room to picture your perfect future!
Tools
Tool
Description
Format
Key features
Pricing
Toodledo
Toodledo offers various goal-setting techniques, such as to-do lists, long notes, structured outlines, and tracks.
Web; iOS and Android mobile apps.

Import data from other applications.
Share your success with friends and family.
Customize widgets for iOS phones.

Free
Engagedly
Engagedly has simplified and easy-to-use software with a dashboard and personal and organizational goals.
Web; iOS and Android mobile apps.

Get feedback on your goals from other people.
Win points and awards for accomplishing your goals.

Free
Weekdone
Weekdone is based on the benefit of having weekly check-ins with your goals.
Web; iOS and Android mobile apps.

Organize goals into charts, tracks, or mind-maps.
Set weekly reminders to review your goals.

Free (up to three people)
n-Task
N-Task allows you to create milestones, sub-tasks, and dependencies, which is essential to completing any goal.
Web; iOS and Android mobile apps.

Set goal status and priorities.
Set the actual due date.
Attach documents and pictures of your goals.

Basic: free.
Premium: starts at $3/month.
Strides
The best thing about Strides is an opportunity to adjust a tracker to your goal.
Web; iOS mobile app.

Flexible trackers.
Progress bars, streaks, and success rates.
Opportunity to set reminders.

Basic: free.
Premium: $4.99/month.
ClickUp
ClickUp is a productive app both for personal goals as well as collective ones.
Web; iOS and Android mobile apps.

Organize your goals into thematic folders.
Share your goal trackers with your teammates.

Basic: free.
Premium: $5/month.
Goals on Track
This app will help break your bigger goals into smaller, manageable steps.
Web; iOS and Android mobile apps.

Create an action plan for your goals.
Get ready-made goal templates with various designs.
New habits tracker.

$68/year.
Coach.me
The most promising feature of the app is that it allows you to share your progress with the community and appoint a personal coach.
Web; iOS and Android mobile apps.

Personal coaching.
Weekly and monthly reviews of your progress.
Opportunity to start your career as a goal coach.

$25/week for a personal coach.
🪄 Tips for Achieving Your Goals
Now that the time has come to polish your goal-setting skills, look at these extra tips:
Put your goals on paper or use apps to make them tangible and realistic.
Make your goals visible and put them somewhere you can see them.
Create a deadline for objectives that don't have a specific timeframe.
Identify potential obstacles in advance and devise a plan to overcome them.
Keep yourself accountable by sharing your goals and progress with friends or family.
Revisit your goals since they tend to change over time.
Reward yourself every time you achieve a sub-goal to celebrate your progress.
Prioritize one bigger goal at a time instead of trying complete everything at one time.
Evaluate each goal you have or haven't accomplished.
Set regular reminders to continue working on your goals.
💼 Goal Setting in Business: Features & Examples
Goal setting skills might be beneficial for business students and young entrepreneurs. In this section, we'll take a closer look at business goals and their key features.
Now,
what are business goals?
Business goals are specific targets a person or an organization plans to achieve in a set time frame. In other words, business goals are like a roadmap for an organization to maintain its work and develop.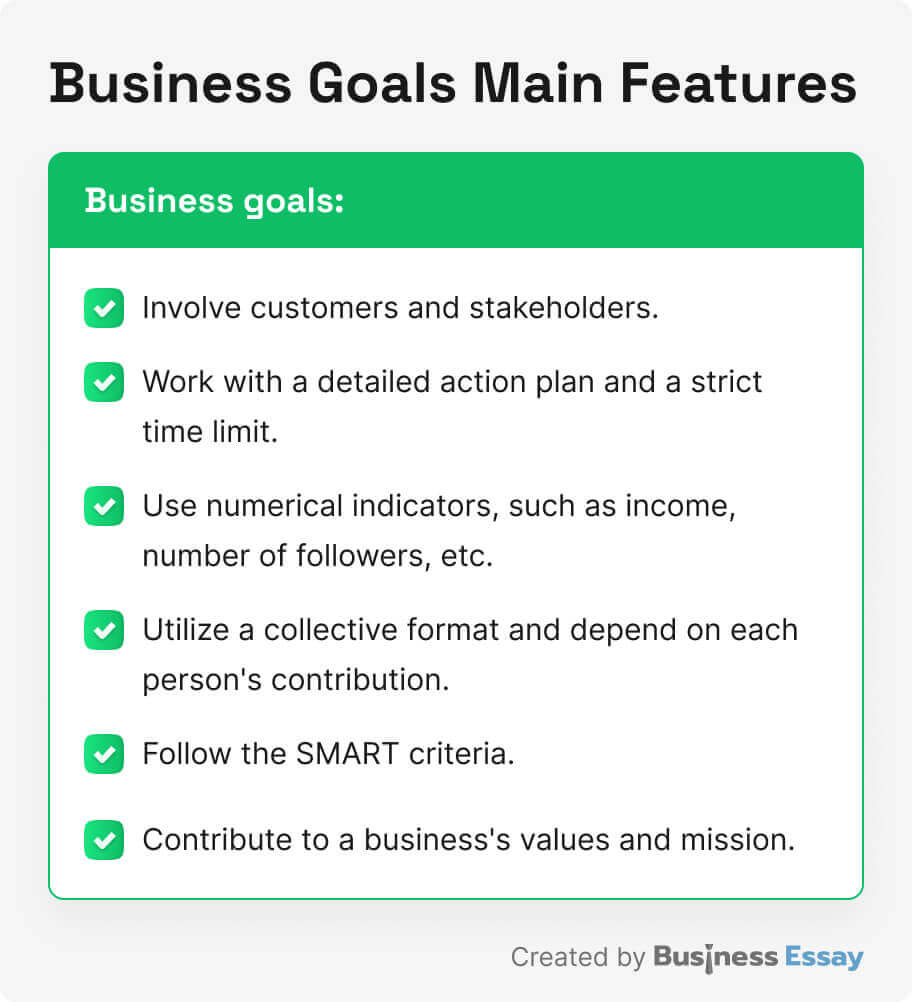 Business goals are important because they align a team, maintain accountability, and improve decision-making and leadership skills.
Types of Business Goals
1. Long-term vs. short-term business goals.
Business goals also fall into the categories of short and long-term time periods. While long-term goals represent the overall direction of a business, short-term objectives are defined and measurable.
Imagine that your business aims to become the market leader. That would be an ambitious long-term goal that contains these short-term objectives:
Analyze customer reviews and improve the product.
Increase awareness among customers and gain 100k new followers on Instagram before the end of the year.
2. Performance-based goals.
Performance-based goals are short-term objectives held by specific employees. Hence, they are often used to measure employee performance.
Examples of performance-based goals are:
Invest 25% more time in new marketing campaign planning.
Sign up new employees for an organizational training course.
3. Outcome vs. process business goals.
Outcome goals are oriented to the results you want to achieve. However, an organization doesn't always have complete control over those and focuses on process goals that are all about actions rather than outcomes.
If your company plans to launch a new website, that would be an outcome goal. As for the process ones, they include:
Launching daily meetings with software developers and designers.
Creating a content plan for the website with daily updates.
4. Quantitative vs. qualitative business goals.
Business goals can't be vague; they need to be specific and measurable. That is why every organization needs quantitative goals with metrics like monthly views, customer satisfaction, or an increase in income.
However, some business goals are essential but cannot be measured in numbers. Examples of qualitative goals are:
Feeling more confident about your product.
Creating a life-work balance for your employees.
5. Ambitious vs. realistic business goals.
Finally, every business needs to balance realistic and ambitious goals. "Dream" goals are the ones that motivate employees to put in a little more effort. They form the vision of the company and key beliefs.
However, more realistic goals are the ones that create a feeling of achievement. Imagine you want to open the most popular publishing house. Before that, you want to ensure you have at least one book printed and celebrate this tiny victory.
🔗 References