Introduction
"The main story of 2009 was the impact on our business of one of the most severe economic downturns in recent memory. The global slump resulted in extremely challenging business conditions for the Cathay Pacific Group and commercial aviation in general." – Christopher Pratt, Chairman (Cathay Pacific, 2009, p.3)
The Chairman's letter in the Annual Report of 2009 began with the above quoted lines. Global recession resulted in loss in 2008, and continued unsatisfactory performance of the airline in 2009. Cathay Pacific faced a passenger yield drop of 19.5 percent in 2009, as business and leisure travellers deferred from travelling due to the global recession (Leung, 2010; Cathay Pacific, 2009). The company turnover fell by 22.6 percent in the FY2009 (Cathay Pacific, 2009). Further, there was a drop in aircraft utilization by 2.6 percent. Rise in inflation and fuel prices worldwide added to the woes of the aviation industry. Caution is the word that the Chairman advocates as the company moves into 2010. The case study provides the past and present history of the company, and the road for the future ahead.
Company Background
Cathay Pacific is an international airline that operates in 116 destinations and 35 countries (Datamonitor, 2009a). The company has its operations in Asia, Europe, the US< China, and Africa (Datamonitor, 2009a). Cathay has two operational divisions –
airline business,
non-airline business.
The airline business handles passenger and cargo operations. The non-airline business segment handles catering, ground handling, aircraft ramp handling services, etc. (Datamonitor, 2009a).
The major subsidiaries of the company are Hong Kong Dragon Airlines (better known as Dragonair), Cathay Pacific Catering Services, Cathay Holidays, Vogue Laundry Services, Hong Kong Airport Services, and Cathay Pacific Services (Datamonitor, 2009a).
Brief History
Cathay Pacific is a Hong Kong based airline company, which was founded in 1946 (McFarnal & Young, 2003; Datamonitor, 2009a; Cathay Pacific, 2009). Roy C. Farrell and Sydney H. De Kantxov founded the company. Butterfield & Swire (presently known as Swire Group) acquired a 45 percent stake in the company. By 1960s, business grew profitably at a rate of 20 percent and the company first entered Japan.
In 1970s, Cathay developed an in-house computerized reservation system and completely converted its aircrafts into1979, an all-jet fleet. By the end of 1979, the airline had made inroads into London and eventually to North America and Europe. However, deregulation of the airline industry in the 1980s created a highly competitive environment led all the major carriers to cut costs and improve efficiency. In 1980s, Cathay started its operations in "London, Brisbane, Frankfurt, Vancouver, Amsterdam, Rome, San Francisco, Paris, Zurich, and Manchester" (Datamonitor, 2009a, p.6).
In the 1990s, Cathay began its corporate re-branding exercise. Hong Kong being a travel and trade hub, facilitated in the airline's continuous growth (McFarnal & Young, 2003). Cathay's cargo division grew too, and formed 30 percent of the total company revenue in 2002 (McFarnal & Young, 2003). By the mid-1990s, the company had the youngest aircraft fleet (Datamonitor, 2009a).
In 1998, Cathay shifted its global headquarters to Cathay City. The new millennium brought in its internet advantage and Cathay started providing its customers a variety of special services like online booking facility, trip scheduling, etc. (McFarnal & Young, 2003). The airline completed the installation of its business class in its Boeing and Airbus fleet in 2003 (Datamonitor, 2009a). In 2004, the company entered a code sharing agreement with Aeroflot (Russian national airline) and Iberia (Spanish national carrier) (Datamonitor, 2009a). In 2006, there was a change done with the shareholder structure at Cathay, Dragon Air, and Air China, under which Cathay retained complete control over Dragonair, Air China held a 17.5 percent stake of Cathay and Cathay held a stake of 20 percent in Air China (Datamonitor, 2009a; Foreman, 9 June 2006; Bloomberg, 17 August 2009). In May 2009, Cathay introduced 'Manage My Booking' option that allowed passengers to receive the latest updated flight status, and edit their personal information (Datamonitor, 2009a).
Environmental Analysis
Financial Crisis and Airline Industry
The global recession had hit the airline industry of Asia negatively. According to the estimates of International Air Transport Association (IATA), global airline industry losses amount to $11 billion (Manila Bulletin Publishing Corporation, 2009). In late 2008, Asian economies were hard hit by the global recession due to downfall in trade and export.
Asian economic condition has become very bad in early 2009 (Economist, 2009). The reason for such a bad state of the Asian economy is said to be "the plunge in output in late 2008 and early this year was exacerbated by massive destocking (companies were living off their existing supplies)." (Economist, 2009) Inflation and housing bubble posed another risk for the Asian economy (Economist, 2009). However, by second quarter of 2009, the economy has started to recover with Taiwan's annualised industrial production increasing by 89 percent and Japan's by 38 percent (Economist, 2009). Second quarter GDP of Korea increased by 10 percent in 2009 from first quarter (Economist, 2009).
Porter's Five Forces Model
Porter's Five forces model is used to see the competitive forces that operate in the external environment of Cathay Pacific. Figure 1 (see appendix) shows the competitive forces that operate on the company. Global financial condition has affected heavily the airline industry, which has led to mergers and acquisitions, and thus risen competition in the industry (Datamonitor, 2009b). The main competitors of Cathay Pacific are Japan Airlines System Corporation, Singapore Airlines Limited, China Southern Airlines Company Limited, China Airlines, Malaysia Airline System Berhad, Qantas Airways,
Korean Airlines Co. Ltd. and Lufthansa (Datamonitor, 2009a). As customer loyalty is low in the industry and customers are highly price sensitive, competition between the airline operators is high (Datamonitor, 2009b). As price sensitive customers seek cheap prices to travel, price competition in the industry is common. Therefore, the competitive forces in the industry are high.
The suppliers of aircrafts are Boeing and Airbus, thus creating a duopolistic market structure in the supply side. Duopoly increases supplier power. Cathay has been trying to reduce the power of the supplier by entering into contact with Boeing in 2009 to build aircrafts for the company (Datamonitor, 2009). Commonly alliances help in reducing the bargaining power of the supplier, which is very high in the airline industry in Asia Pacific.
There are high barrier for new entrants in the industry due to the requirement of large capital requirement, which acts as a deterrent factor. Thus, entry barrier in the industry is high. The substitutes for air travel are railways, or waterways, though these modes of travel are costly and slow. However, the substitutes can increase threat to business travel by incorporating technologies like video conferencing (Datamonitor, 2009b).
Cathay Pacific – Present
Financial and Operating Analysis
Exhibit 2 presents the financial and operating performance of Cathay from 2006 through 2009. The turnover of the company from its passenger division had been HK$ 49,520 in 2006, which increased in 2007 by 17 percent (Cathay Pacific Airways, 2010). However, there was a decline of 51 percent in 2008 and of 22 percent in 2009 in the turnover of the company from its passenger section. The cargo section too faced a fall in the turnover by 51 percent in 2008 and 39 percent in 2009. However, there has been an increase in profit before taxes in 2009 by 78 percent (Cathay Pacific Airways, 2010). The reason for the dilapidated performance of 2008 was due to shrinkage in passenger and cargo demand along with losses faced by the company for non cash hedging (Thomas, 2009). In order to cut cost in the face of the recession the company took measures like reducing customer capacity by 8 percent and requesting employees to take unpaid leave (Thomas, 2009). A few other woes that the company faced in 2009 were "low fares, a big drop in premium travel, weak cargo loads, poor yields and a negative currency impact" (Thomas, 2009, p.27). The next section provides a SWOT analysis of Cathay to demonstrate the problems that the company is presently undergoing.
SWOT Analysis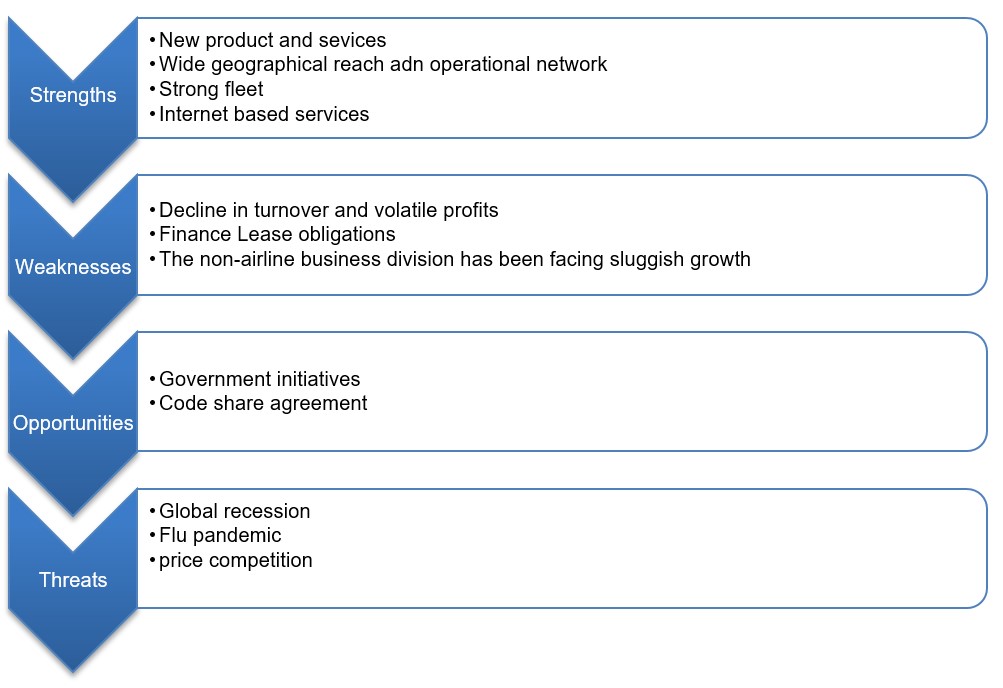 Strength
Strength of the company has been focused on providing better services and products. Annual Report of 2009 stated that the company had opened new hub and introduced new services for the customers (Cathay Pacific, 2009). It has made three class cabins to cater to customers with different needs in 41 new aircrafts (Cathay Pacific, 2009). It has opened business class lounges in Kuala Lumpur and introduced business class travel in Dragonair (Cathay Pacific, 2009). The Asian Wall Street Journal has named Cathay "Asia's 200 Most Admired Companies" (Cathay Pacific, 2009). Further Cathay has spread its operations to 116 destinations in 35 countries. Dragonair has expanded its operations to Kathmandu, Guangzhou, and Hong Kong. Presently Cathay has increased flight frequency to Hanoi, Vietnam, Surabaya, Indonesia, and Dhaka, Bangladesh (Datamonitor, 2009a). The company has a strong fleet operations with 162 aircrafts out of which 35 operate for Dragonair. Datamonitor reports:
"Cathay Pacific operated 48 A330-300, 23 747-400, 15 A340-300, 12 747-400BCF and 12 777-300 aircraft in FY2008. In FY2008, the airline took delivery of nine more new aircraft. The airline now has a total of 44 aircraft on firm order, nine of which will arrive in 2009." (Datamonitor, 2009a, p.20)
Cathay has successfully used technology, especially the Internet to retain old customers, and attract new ones (Business Wire, 1 March 2010). Passenger booking online continues to grow by 70 percent in 2008. Online check-in grew by 11.9 percent in 2008.
Weaknesses
The company profits has been fluctuating drastically in 2008-09, with 108.8 percent decline in profit before tax in 2007 and a rise in profit in 2008 by 78.79 percent (Cathay Pacific Airways, 2010; BBC News, 6 November 2008). Operating expenses of the company rose by 39 percent in 2008, and operating margins declined by 8.6 percent in 2008 (Datamonitor, 2009a). The company has a high level of financial obligation due to the finance lease agreement related to aircraft equipment expiry (Datamonitor, 2009a). Further, the company's non-airline business segment has faced a sluggish growth with a decline in sales by 20.6 percent in 2008 (Datamonitor, 2009a).
Opportunities
The Asia economy is indicating a sign of recovery with the global recession declining and increased export demand (Economist, 2009). Further, the freight division of the company too is expected to boost due to renewed demand of freight cargo (Datamonitor, 2009a). Code share agreement with many domestic and international airlines to provide greater choice of destination to customers has helped to boost the airline industry.
Threats
Global recession has made the international airline industry lose a lot of passenger as well as revenue (Manila Bulletin Publishing Corporation, 2009). According to IMF, GDP growth is expected to be -1.4 percent, thus posing challenges to Cathay (Datamonitor, 2009a). The swine or bird flu pandemic had reduced international travel and had reduced airline revenue (Bradsher, 12 April 2003). Due to highly competitive nature of the airline industry, there has been heavy price competition, through discounting, fare matching, increased capacity, etc. (Datamonitor, 2009a). This poses challenge to Cathay Pacific.
Road Ahead
Presently Cathay has returned to profit after deep recessionary pressure (Wassener, 5 August 2009; Dow Jones, 10 March 2010). However, the company will lose $710,000 a day due to the prevalence of dust cloud in the environment (Ling et al., 19 April 2010). As the airspace closes down due to environmental concerns, it posts huge losses to operators like Cathay (Viscusi & Parkin, 19 April 2010). In the future Cathay will concentrate more on environmental issues like lower fuel emission (Manila Bullitin Publishing Corporation, 11 October 2009). The key for the business future of the company is to remain efficient, and expand and provide better services and product offerings to customers. The company aims at expanding its car and freight operations (Leung, 25 February 2010).
Conclusion
Cathay Pacific Airways had faced a severe downturn in the face of global economic recession as fuel prices soared and passenger demand declined. However, from the 2009-second quarter, the company had started to recover. Environmental conditions pose a threat to the company's operations in Europe. The company must undergo a complete revamp of its operations in order to become more efficient as the airline industry has become very competitive. Further, the company must look at cutting cost, as its operating expenses have become very high which is holding down its margins. Further, external economic conditions has adversely affected the internal operations of the company, due to which there were initiatives to cut costs in the company.
Reference List
BBC News, 2008. Cathay Pacific in profit warning. Web.
Bloomberg, 2009. Air China to Raise Cathay Pacific Stake to 29.99%. Web.
Bradsher, K., 2003. Cathay Pacific and Singapore Air Cut Back on Asian Service Because of Deadly Virus. Web.
Business Wire, 2010. Cathay Pacific Airways and JDA Software Embark on a Comprehensive Revenue Management Project to Improve Cargo Business Profitability. Web.
Cathay Pacific Airways, 2010. Cathay Pacific Airways. Web.
Cathay Pacific, 2009. Annual Report. Web.
Datamonitor, 2009. Cathay Pacific Airways Limited. Company Profile. London, UK: Datamonitor.
Datamonitor, 2009. Airlines in Tainwan. Industry Profile. London, UK: Datamonitor.
Datamonitor, 2009. Airlines in Asia-Pacific. Industry Profile. London, UK: Datamonitor.
Dow Jones, 2010. Cathay Pacific Swings To 2009 Profit; Operations Weak. Web.
Economist, 2009. From slump to jump. Web.
Foreman, W., 2006. Cathay Pacific to Buy Out Dragon Airlines. Web.
Leung, W., 2010. Cathay Pacific Posts Profit on Capacity, Haeco Sale. Web.
Leung, W., 2010. Cathay Pacific to Buy Air China Cargo Stake on Trade. Web.
Ling, C.S., Greber, J. & Fenner, R., 2010. Qantas Says Europe Airspace Shutdown Costing $1.4 Million a Day. Web.
Manila Bulletin Publishing Corporation, 2009. Asia's airlines begin to pull out of severe slump due to recession. Web.
Manila Bullitin Publishing Corporation, 2009. Cathay Pacific CEO stresses need to reduce aviation emission. Web.
McFarnal, F.W. & Young, F., 2003. Cathay Pacific: Doing More with Less. Web.
Thomas, G., 2009. Cathay at the Crossroad. Air Transport World, 46(12), pp.26-30.
Viscusi, G. & Parkin, B., 2010. Air France, Lufthansa Press for Airspace Re-Opening (Update2). Web.
Wassener, B., 2009. Cathay Pacific Returns to Profit. Web.
Appendix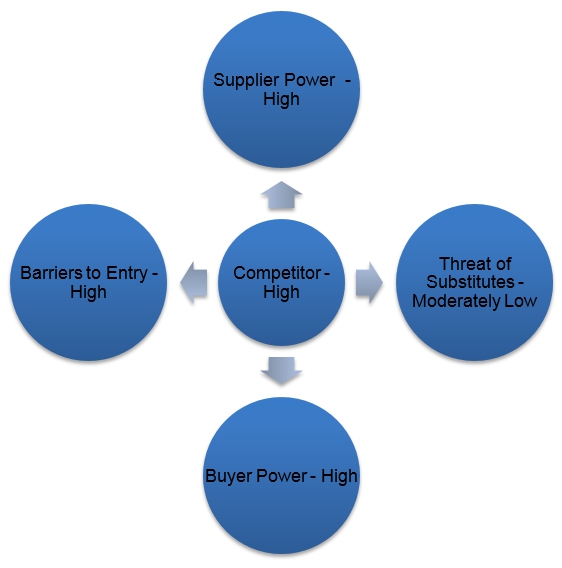 Turnover
2009
2008
2007
2006
Passenger
21,809
28,287
58,046
$49,520
Cargo
7,264
12,005
24,623
21,783
Other
1,848
2,098
3,909
4,055
Total
30,921
42,390
86,578
75,358
Total Expenses
28,878
42,620
94,039
67,619
Operating Profit (Loss)
2,043
-698
-7,929
7,739
Profit (Loss) Before Tax
1,180
660
-9,671
8,009
Profit (Loss) Attributable to Cathay Pacific Shareholders
812
760
-8,558
7,023
Operating
Passengers (000)
11,938
12,463
24,959
23,253
RPKs (mil.)
45,758
45,580
90,975
81,801
ASK (mil.)
55,750
56,949
115,478
102,462
Load Factor (%)
78.5
80
78.8
75.6
Yield/RTK (HK cents)
49.7
61.9
63.6
60.4
Cost/ATK (HK cents)
2.57
3.46
3.79
2.87
Cargo (000, tonnes)
701
828
1,645
1,670
Daily Aircraft Utilization (hr.)
11.1
11.4
11.5
11.7
Exhibit 2: Financial and Operating Performance.