Introduction
Organizational changes are normally instigated by opportunities or challenges in the manner in which an organization conducts its business. However, other additional causes of change also exist. These include instances of organizational management changes in which the incoming management team has new ideas that would enable an organization to secure better success. Change may also emanate from replacement of a CEO of an organization.
Amid all these triggers of change, Burnes (2009) insists that, "the main two are problems and opportunities – current or future – real or perceived" (p.23). An opportunity or a problem may arise in an organization internally or externally. An internal problem may entail excessive turnover of employees while an internal opportunity may be the existence of new potential and capabilities. An example of an external problem is sudden emergence of a new competitor while an external opportunity may entail a new technology, which while incorporated in the organization may enhance its success.
All organizational changes occur in three phases. These are unfreeze, change and freeze phases. The unfreezing phase entails understanding that there is need for change implementation in an organization. It involves preparing employees for the coming changes. The more employees feel that there is need for change, the more they embrace the intended changes. The change or transition phase entails implementing the identified changes. It marks the exodus made by an organization in response to a change. This is the most difficult phase as people are afraid of embracing changes. Kurt Lewin posits that freezing phase involves attaining stability after an organization implements changes.
Unfreezing
The unfreezing stage involves understanding that the organization is in dire need for change. This is the most important phase in the organization. It is hard to implement changes in an organization if the management does not acknowledge the need for change (Senior & Fleming 2005, p.312). In this phase, the organization embarks on preparing its staffs for the upcoming changes. Motivating employees leads to reduction in change opposition thus quickening the pace for change implementation. Unfreezing and embracing changes in an organization involves weighing the benefits and demerits associated with the intended changes.
If benefits outweigh the demerits, organizations embrace and implement the changes. This is referred to as Force field analysis by Kurt Lewin. There are numerous forces that are at play during change implementation. Some of the forces support change implementation while some oppose the implementation. It is only by motivating the employees that an organization is capable of overcoming these forces.
Change or Transition
Change or the transition phase entangles changing the culture of doing work for organizational employees. Since people are normally reluctant to change their manner of doing work, in organizational settings, changes are hard to implement. Amid these hardships, various models for implementing changes are prescribed by various organization system management scholars. One of such models is organizational development (OD). OD is pegged on four principles.
The first principle views people as organisms that musts operate harmoniously within an organization. The second principle goes further to assert that "organizations are occupational and political systems as well as rational resource allocation systems" (Tarr 2009. p.67). This implies that, for an organization to be able to achieve its goals and objectives, it must be controlled to meet the desired change. The third principle states that all people working for an organization functions in a simultaneously manner with all the aforementioned systems in the second principle.
The forth principle states that a "change is most likely to be acceptable where people are basically successful but have tensions and failure in some part" (Tarr 2009, p.78). To implement an OD, a number of change approaches are vital for deployment. All these approaches have distinctive characteristics. They include a planned strategy cutting across a range of disciplines such as organizational theory, political science, behavioral science, and sociology among others. Another critical characteristic of OD change approaches is that "the fit between the change process and the challenge makes the difference between success and failure" (Tarr 2009, p.78). Lastly, external facilitators are required to ensure that managing and planning the change process is conducted in the most appropriate manner.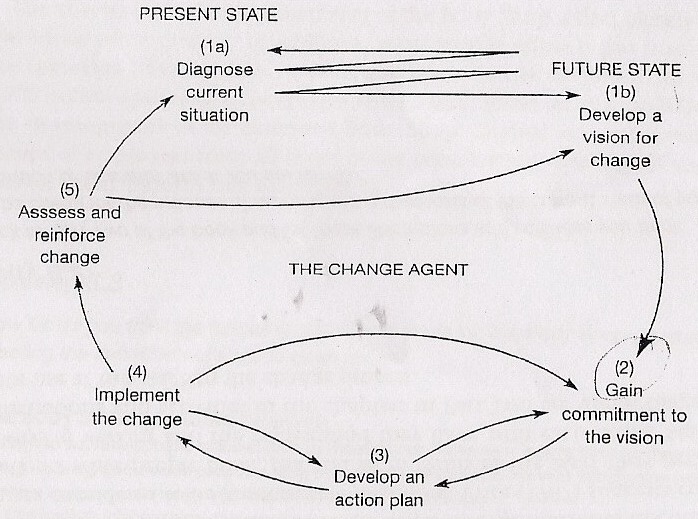 Freezing
The freezing phase entails attaining stability after change implementation. The phase is at times referred to as refreezing phase. There are people who claim that this phase does not exist since change is a continuous process.
The current competition in business environment does not give room for organizations to procrastinate. Its is hard for organizations to stick to a particular routine. According to Lewin, the freezing stage involves supporting the implemented change and making sure that employees do not abandon it and go back to their old ways of doing things. In an airline company, the freezing phase comprises of the effort made by the management to ensure that employees embrace the implemented changes. It may include establishment of rewards to appreciate employees that work efficiently with established system. In the process, other employees may end up embracing the implemented change to be recognized.
Unfreezing phase in Emirates Airlines
Emirates encompass one of the reputable airlines organizations operating in the Asian continent. The organization has been in operation for more than two decades. It is owned by the government of Dubai. The "company flies to ninety destinations found throughout the world and manages to reach about sixty different countries in the world" (Butler & Keller, 2000, p.5). Increased competition in the airline industry is leading to Emirates airline desiring to come up with more attractive economic policies to attract more customers and experienced staffs. The fact that economies of most of the countries in the Asian pacific region are developing at a rapid rate implies that demand for air transport in the region is expected to grow. According to Tayeh (2006) reckons that "Markets are changing rapidly and more governments in the region are streamlining their economic policies so as to suite the Airline industry" (p.2).
Economic challenges associated with global financial crisis experienced in the recent past have resulted to a tremendous decline in the world airline traffic. Nevertheless, "the middle eastern regions have improved especially for emirates" (Doganis 2001, p.7). This growth is associated with the incredible growth of the city of Dubai as both a tourism and a business hub. As people from varied cultural background continue visiting the city of Dubai, Emirates airline has identified the need to embrace multiculturalism in its operations. The company intends to come up with a pool of staffs capable of offering differentiated services to customers with varied cultural backgrounds.
Emirates Airline has a working website where its customers are able to log in and learn more about the airline company. Nevertheless, for many years, the company has not been furnishing its customers with all emerging trends. Hence, it has not been able to communicate and interact with potential clients effectively. Currently, the company is looking for ways to enhance its public relations through the social media. Furthermore, Emirates Airline is working to ensure that it has communications staffs that will be responsible for monitoring and responding to employee commentaries. It also intends to establish search engine in the social media to assist in accessing information about the company easily.
Change phase in Emirates Airline
In 1990's, the whole world experienced an ardent technological boom that was accompanied by sophistication of many organizational systems. This technological improvement has had the impact of making clients more informed about their air transport service quality. Therefore, as Doganis (2001) notes, "Airline companies have to deal with the advent of better informed clients since most people are now more knowledgeable about the reputable companies" (p.3).
For example, availability of internet to many of the people across the world enables them to cutely understand the weaknesses and strengths of various companies, airline companies included. This impact on airline industry is exemplified by the fact that "many clients tend to shy away from airlines with numerous stopovers in comparison to those with one or have direct routes" (Doganis 2001, p.). Emirates Airline has incorporated social media in its communication system to enhance its communication with existing and potential customers. Moreover, the company has increased the number of its flights and reduced stopovers as a way of attracting more Clients.
Increased competition in the airline industry has led to Emirates airline investing heavily in technological advancement. The company's public relations officers monitor the social media to identify customer commentaries and respond to them. Besides, as a way of attracting more customers, the company has invested on the state of the art airplanes. This is to address the varied needs of its customers. Tayeh, (2006) ascertains this impact and further argues that "Emirates Airlines has been affected by this issue because it needs to ascertain that it offers better services to its clients and that it can meet future demand "(p.11). He posits that to enhance the performance and continued success the Emirates Airlines, has embarked on further investment in technological systems as part of changes.
Freezing phase in Emirates Airline
Ensuring that employees embrace the established changes is a hard task for any organization. Employees are in most cases opposed to changes since they affect their way of doing things. Besides, some fear that they might lose their jobs due to lack of experience on the implemented changes. To ensure that its employees cope with established changes and offer quality services to clients, Emirates Airline is continuously training its staffs on the various cultural practices exercised by their target customers. The company wish to ensure that it enhances customer satisfaction by offering products and services that meet their cultural needs.
For instance, the airline company has staffs that serve varied drinks and snacks to its different customers based on their cultural practices (Senior & Fleming 2005, p.353). Besides, to enhance customer satisfaction, Emirates airline is working hard to ensure that it responds to all complaints aired by customers through its social media page. The airline's management team emphasizes on the need to always give customers the first priority. This is reflected in its management practice. For instance, the management ensures that its website is always updated to supply customers with up to date information. The company responds swiftly to customer complaints like loss of languages and delaying of flights (Asghah, 2012).
Initially, customers complained of poor or relaxed management as being the cause of the reasons why they are made to go through humiliating situations (Asghah 2012, Para 16.). However, today, this problem has been completely addressed. According to Tanner (2011, p.125), Emirates Airline is working on customers' complains and changing them to act as strengths as opposed to acting as threats. The airline company ardently appreciates and recognizes that the company handles people of valid cultural background. Hence, the company is training its employees on how to embrace multiculturalism in its services. Besides, the company is employing staffs with varied cultural background as a way of meet cultural needs of its varied customers.
Technological advance is a continuous process. It is hard for an organization to embrace one technology and remain competitive. Organizations continue adopting emerging technologies to keep them competitive and attractive in the industry. Emirates Airline is not left behind in terms of technological advancement. As the company adopt new technology, it continuously train its staffs to ensure that they get the best from the technology.
To ensure that customers are in immediate contact with the clients, the company's management is creating policies that will immensely improve customer service and reduce complains raised by the clients. Consequently, in all management levels, managers are exposed to customers and chat with them constantly. This action plan is inspired by the argument that work normally takes place at the point where the customers comes into contact with service providers. Where a manager spends some time with the customers awaiting to board a plane, the customers can develop a great deal of confidence and adequacy of the services provided by the cabin crew on board the plane with.
Cabin crew are currently involved in planning standards of customer service. Emirates Airlines cabin crew are the people who are in daily contact with the customers. They are the ones who really know what is required on the ground by the customers. Whenever business changes occur they are the first ones to know. Thus they can bring all this changes on board when customer's services policies are being designed and assessed (Morrison, & Winston, 1997).
In implementing changes, the airline company put into considerations the needs of every customer. Convenience, safety and comfort of these customers constitute the most paramount concerns of the organization. Safety here does not only imply just only the capacity of the airline to move the customer from point A to B, but also the belongings of the customer including their baggage. For the case of long delays, a rapid mechanism of providing essential services such as accommodation at the cost of the company have been put into place. Other critical issues for implementation is mechanisms of guaranteeing the baggage liability to the clients, ticket refunds and improvement of a two way form of communication while handling issues of concern about the service provisions of the company by customers. Management takes proactive roles in ensuring the efficiency and effectiveness of these changes.
Force field analysis
Enabling
Restraining

Need for improved services
Stiff competition in airline industry
Diverse cultural practices of target customers
Improved technology

Cost of change implementation
Duration taken during change implementation
Employee complacency and fear
There are numerous forces that both support and oppose change implementation at Emirates Airline. The company is in greed need of offering improved services to retain and attract more customers. Hence, it is in great need of coming up with new ways of doing things. Besides, the current competition in the airline industry requires Emirates Airline to come up with strategies to uniquely position itself in the industry.
This can only be achieved through implementing new operations strategies and services diversification. People from diverse cultural backgrounds use airline services. Emirates Airline is expanding its services to reach the global market. In the process, the airline company is facing immense challenges from cultural practices exhibited by its customers. To retain these customers, the company requires adopting multiculturalism in its operations. Almost every person has access to technology such as social media and internet. Consequently, airline companies can reach their target customers through social media and other internet services. To recruit more customers, Emirates Airline is in dire need of investing in the latest technology.
Despite the strong need for change within the airline company, there are some forces that are opposing change implementation. One of these forces is high cost associated with change implementation. The company will have to purchase the latest technological infrastructure to meet its technological improvement objective. Besides, these changes are hard to achieve within a short period. Consequently, Emirates airline can only implement the changes in several phases.
This implies the company will take long time to fully realize the desired changes. Employee complacency and fear is another force that opposes change implementation in Emirates Airline. Employees in the airline company are opposed to changes since they feel that it will affect their ways of doing things. There are employees who are opposed to changes since they fear that they may lose their jobs because of lack of experience.
Consequently, Emirates Airline has the task of explaining to its employees all the benefits associated with the intended changes. Besides, the company has to guarantee its employees on their job security once the changes are implemented. Failure to that, the management will has to contend with opposition from employees for a long time thus delaying change implementation.
Conclusion
Emirates Airlines immensely believes that adoption of concepts free market strategies are the cutest drivers that may make the company succeed in the future uncertain world. Consequently, it has refrained from mergers coupled with acquisitions. However, since the company plans to expand and reach global markets it are significant that it embraces global operation rules adopted by the companies in the industry across the globe. In this light, the paper has proposed changes of customer service provision as soft system changes and technological changes as hard system changes.
Reference List
Asghah, R 2012, Bad experience with Emirates Airline? You are not alone! Web.
Burnes, B 2009, Managing Change, Prentice Hall, New Jersey, NJ.
Butler, F & Keller, M 2000, Handbook of Airline Operations, McGraw-Hill Companies, Aviation Week.
Doganis, R 2001, The Airline Business in the 21st Century, Routledge, New York.
George, Y 1982, 'Gateways to Entry', Harvard Business Review, vol. 60 no.1, pp.
Morrison, S & Winston, C 1997, The fare skies: air transportation and Middle America. Brookings Fall, New York, NY.
Senior, B & Fleming, J 2005, Organizational Change, Financial Times / Prentice Hall, New Jersey, NJ.
Tanner, R 2011, 'Leading change: develop a change vision and strategy', Journal of Management, vol. 1 no. 2, 123-131.
Tarr, M 2009, Change management, Oxford University Press, Oxford.
Tayeh, T 2006, The View from Dubai: a speech by Senior Vice President Planning, international and Industry Affairs Emirates Airline, Euro control report, Dubai.