Introduction
Business managers ought to comprehend the relevant aspects impacting their organizations to ensure that their business operations run smoothly. Two significant factors affecting the company's success include the corporation's industrial environment and competitive forces, as well as its marketplace position, capabilities, and resources that determine its competitive strength. This paper provides a comprehensive analysis of the internal and external factors within Facebook's business surroundings and ascertains their effects on its organizational performance and competitive advantage.
Background Information
Facebook is a social networking website that provides interactive social networking services to users. During the 2020 financial year, the corporation made a $29.1 billion net income with a 33.9% net profit margin (O'Connell, 2018). The company sources its significant revenue from advertisement sales on its social media sites. According to O'Connell (2018), the firm's advertisement-related sales account for around ninety-eight percent of its $86.0 billion revenues. Facebook experiences several challenges that could impact its brand image and market position. These obstacles include regulatory and political impacts (antitrust and privacy contraventions), user addiction, harassment, and stalking (Mazur and Patakyova, 2019; Pornsakulvanich, 2018). The primary strategic issues affecting Facebook, include regulatory and political pressures (taxation), competitive pressure, and leadership.
Problem Statement
While Facebook's marketplace position within the digital sector is well-established, its business operations' potential strategic impacts are unclear. This view is supported by the findings of a survey by Brink (2017), which revealed that the perceptions of Facebook services' consumers are essentially negative. Approximately forty-two percent of the survey's respondents perceived Facebook as a negative social media site (Brink, 2017, p. 14). In contrast, only twenty-four percent gave positive reviews regarding its services (Brink, 2017, p. 14). Clarifying the company's strategic impacts is one of the purposes of this analysis.
Objectives
To ascertain the effects of Facebook's strategic problems on its critical success factors (CSF).
To establish the effects of Facebook's unique resources on its overall competitive advantage within the industry.
Research Questions
What are the significant effects of Facebook's strategic problems on its CSF?
Do the organization's unique resources create a competitive advantage against its rivals?
Methodology
The paper uses a literature review approach to distinguish the strategic problems impacting Facebook's business process. It synthesizes findings from recent empirical studies to ascertain the effect of the identified issues on the organization's CFS. The same method is utilized to determine the impact of the firm's unique resources on its competitive marketplace edge.
Taxation
Taxation is an external strategic issue caused by legal, regulatory, and political aspects. Taxation within the digital sector interests many governments. It is perceived that digital companies steal revenue from host countries. For instance, recently, the European Union publicized its intentions to instigate taxes in sectors typified by significant value creation; this includes revenues made from online commercials (Cuevas et al., 2017). Such policies could have considerable impacts on Facebook's cost competitiveness and the charges it imposes on advertisements.
Facebook is likely to increase its advertisement prices upon the aforementioned taxation policy's enforcement. This view is supported by Cuevas et al.'s (2017) findings which revealed the substantial increase in ad charges by U.K advertisers after the passage of the U.K Diverted Profit Tax into law. According to Cuevas et al. (2017), this taxation policy also led to a surge in ad prices within the promoters' host and home nations, with the tax burden being imposed on both foreign and local advertisers. From Cuevas et al.'s (2017) survey findings, it can be deduced that taxation within the digital sector is likely to influence how Facebook conducts its advertisement business in other nations. Taxation may cause a surge in Facebook's operational cost, which would influence its price offerings.
Competition
Rivalry is another external strategic problem typified by a higher buyer power. Mediums, including billboards and television networks, threaten Facebook marketplace position as a lead advertiser. Several firms offering similar services typically poses a moderate force because, according to Young (2018), variety attracts many consumers. Threats posed by new marketplace entrants are minimal due to Facebook's market domination and its significant capabilities and resources (Young, 2018). Young's (2018) Porter's Five Analysis of the organization revealed the weak nature of new entrants' threats since only a few corporations offer online promotional services. It is easy to switch from one social media platform to another. Competition, therefore, acts as a moderate force impacting Facebook's business operations, thus, it should be given a significant consideration level.
Leadership
Leadership is an internal strategic problem: it is a resource, which, if exploited, could help organizations acquire better marketplace positions. Facebook's management and leadership practices are instrumental in reinforcing its strategic moves to facilitate its strategic objectives' attainment. Although the company's centralized management approach has been critical to its success, this leadership approach could be detrimental to a firm's growth.
Question 2: The Company's Key Resources
Value Chain
Facebook utilizes its technological capacity, resources, and hardware to implement strategies for attracting and responding to consumers' demands.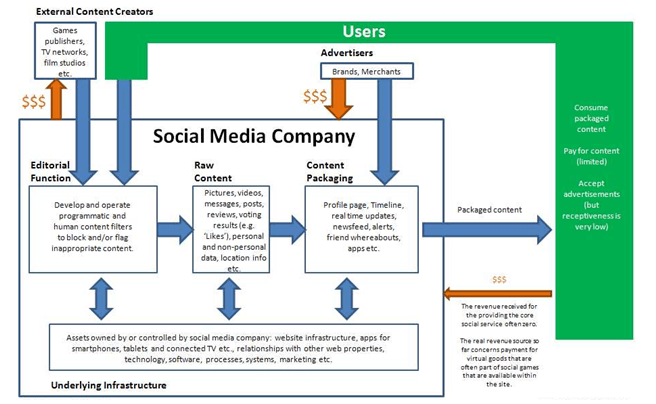 Business activities that elevate Facebook's value focus primarily on improving its content packaging and pre-existing product portfolio to promote better experiences for its users. Examples of resources that enhance Facebook's ability to attain value within the marketplace include its sophisticated information center, innovative software and hardware, and workforce (Dudovskiy, 2017). The organization also uses outbound logistics, such as decreased link load time to ensure quality service delivery to its consumers.
Critical Success Factors (CSF)
Facebook utilizes CSF metrics to monitor its performance and strengthen its strategy based on its recently developed value propositions. Examples of the company's CSF measures include engagement rate, aggregate advertising revenues, users' frequency or time spent on the company's social media sites, and the number of monthly unique visitors (Gazit and Bronstein, 2020). The organization's value proposition to its consumers is to enhance positive Internet experiences on its websites. This could, in turn, improve its revenue generation.
Facebook has adequate capabilities and resources that could help it attain its strategic objectives. A SWOT analysis by Young (2018) revealed that Facebook's significant capabilities include an innovative workforce, strong brand image, high revenue, and large consumer base. The organization should utilize these resources to outcompete its rivals and attain its CSF. These resources serve as defensive strategies that could be exploited by the enterprise to safeguard its marketplace position and prevent prospective competitors from accessing its segments.
The value chain activities impacted by Facebook's strategic issues include product development and sales and marketing. According to Roy (2020), interaction and interface elements encourage user acceptance upon their initial interaction with the applications. The unconventional product/service designs mentioned above can help the organization attain its consumer-centered CFR. According to Eydman (2019), Facebook's capability in product development enabled it to diversify into new markets. This innovative approach can also help the company outperform old and new competitors.
Facebook's products and services are easily imitable by competitors. This shortcoming increases the organization's susceptibility to external rivals: it could potentially decrease its market share. If a product or service is deprived of its value, competitors can win customers by reducing prices. According to Brink (2017), Facebook application's users have negative perceptions toward its online advertising services because of privacy breaches. This drawback can have considerable impacts on its business operations.
The major criticism associated with corporate taxation is that it adversely impacts investments linked with physical capital. To counter its effect, Facebook can utilize its research and development (R&D) strategies to create new services and products. Incentives obtained from R&D initiatives can help counter the impact of return rates or capital costs that emerge from data asymmetries (Gazit and Bronstein, 2020). The R&D program will help the organization identify the tax assigned to every value chain operation's expense and its physical capital economic depreciation.
Question 3. Facebook's Strategy
Strategic Options
Facebook reinforces its continuous strategic industrial growth and competitive edge by developing innovative products and services with improved functionality, including ease of access, high optimization, and enhanced operationality. The company also utilizes the cost leadership approach to expand its customer base and minimize costs to increase its profitability.
Distinctive Competency
Facebook has a strong marketplace position: it is the leading social networking business with regards to its revenue generation and users. It has approximately 2.6 billion active monthly users (Shukaev, 2019). As a market leader, Facebook takes resources away from its rivals, which, in turn, gives it its competitive edge (Grant, 2019). Advertisers typically prefer to target their advertisements to an audience attuned to the content included in the commercials: the company's well-equipped data center helps them attain this particular goal.
Business and Operational Strategy
Facebook utilizes the business process re-engineering approach (BPR) to strengthen its product creation and design operations. The BPR model involves restructuring the radical rethinking or operational procedures of an enterprise's operations to improve its performance ("What are the Facebook products," 2019). Instead of using its social media platforms solely for advertising purposes, Facebook also uses these websites to identify innovative ideas for generating new products and services (Rautela and Singhal, 2017). Its users, therefore, participate in the collaborative development or co-creation of its products/services.
Economies of scale is a cost economy concept, involving increasing a single product's output: it results from costs generated from product development. Facebook's product development and design have contributed to its economies of scale. Facebook offers its customers portability, customized services, and real-time content sharing, enhancing user experiences. According to Peng, Sun, and Tsai (2014), the company initiated an open-source project to improve hardware design to lower servers' costs.
Entry Strategy
Facebook utilizes alliances and acquisition strategies to access profitable marketplace segments and reach or acquire new consumer populaces. Its strategic alliances and partnerships allow it to penetrate new markets and strengthens its position in those marketplaces (Shim, 2013). Thompson (2020) supports this view, arguing that strategic alliances facilitate a company's access to new geographic segments by strengthening its bargaining power. For instance, Facebook's partnership with smartphone manufacturers and telecommunication companies improved its advertizing (The Economic Times, 2015). This approach allowed the company to merge its customers' consumption behavior data with that of telecom operators to personalize its advertisements further.
Question 4
Human Resources
Facebook's human resources department is responsible for timely development and implementation of innovative training sessions and workshops; this guarantees its efficient operation, better consumer service provision, and improved consumer experience. This approach helps increase its employees' problem-solving potential and critical-thinking capabilities.
Research and Development
Facebook has a robust and effective R&D capability, which has been instrumental in enabling it to keep pace with various industrial advancements. Its R&D capacity has also helped improve its brand image as an innovative company: Facebook's R&D initiatives help guarantees a continuous supply of improved or generic products to the marketplace (Shukaev, 2019).
Sales and Customer
The organization expands its consumer base through its seven-P promotional approach. It utilizes multi-segment targeting and positioning strategies to establish new client segments.
Results
Facebook's strategy is entirely consistent with the critical success factors, as they developed the current and future plans for the development of the enterprise. Depending on the circumstances prevailing company's internal processes are continue to improve. The company expands its customer base with various technologies, such as targeting. As it stands, stakeholders do not consent to the firm's corporate strategy, associated with improper data usage. The enterprise's primary value proposition is to meet its consumers' needs by providing a positive Internet experience. The company has created its image through various features, such as a convenient post format, targeted advertisements in the feed. Due to a large number of users, people can effectively promote their personal profiles. The company's number of users is growing because of the maximum compliance with the success factors. Therefore, the profitability from paid advertising and the increase in the value of shares are rising.
Question 5
Company needs to develop their unique capability by direct its efforts to safeguarding consumers' privacy by restricting user data access, this would enhance the experience of its users Furthermore, this strategy will help to gain more positive reputation. Investing in R&D could help the company venture into activities that reduce its operational costs, helping it maintain its cost strategy. Moreover, it is recommended to set priorities in all areas of development, that is, to identify those that first need to be adjusted.
Conclusion
Facebook should strive to diversify products to cope with competitive pressures, and this will reduce the threat of product substitution and increase its market share; it can improve revenue diversity, capital savings, and overall firm performance. The company has failed in its attempts to meet its CSF. In the future, the company needs to think about how to complete this indicator and what exciting innovations will help it attract even more audiences.
Reference List
Brink, E. (2017) Perception of Facebook among age groups. Web.
Cuevas, A., Cuevas, R., Lassmann, A., Liberini, F. and Russo, A. (2017) The taxman calls. How does Facebook answer? Global effects of taxation on online advertising. Web.
Dudovskiy, J. (2017) Facebook value chain analysis. Web.
Eydman, M. (2019) Facebook SWOT analysis. Web.
Gazit, T. and Bronstein, J. (2020) 'An exploration of the leadership strategies of Facebook community leaders', Online Information Review, 45(1), pp. 99-117.
Grant, R. M. (2019) Contemporary strategy analysis. 10th edn. Hoboken, NJ: John Wiley & Sons.
Mazur, J. and Patakyova, M. T. (2019) 'Regulatory approaches to Facebook and other social media platforms: towards platforms design accountability', Masaryk University Journal of Law and Technology, 13(2), pp. 219–240.
O'Connell, B. (2018) 'How does Facebook make money? Six primary revenue streams. The Street, Web.
Peng, R., Sun, D. and Tsai, W.-T. (2014) 'Success factors in mobile social networking application development', Proceedings of the 29th Annual ACM Symposium on Applied Computing, Gyeongju, Korea, 1072 – 1079.
Pornsakulvanich, V. (2018) 'Excessive use of Facebook: the influence of self-monitoring and Facebook usage on social support', Kasetsart Journal of Social Sciences, 39(1), pp. 116–121.
Rautela, S. and Singhal, T. K. (2017). Leveraging social media for new product development: a review. Information Technology Journal,16(3), pp. 91–100.
Roy, R. (2020) Top 5 companies owned by Facebook. Web.
Shim, J. (2013) 'Bank capital buffer and portfolio risk: the influence of business cycle and revenue diversification', Journal of Banking & Finance, 37(3), pp.761–772.
Shukaev, A. (2019) Facebook strategic analysis and recommendation. Honors Program Thesis. University of Nebraska–Lincoln. Web.
The Economic Times (2015) 'Facebook to partner telecom companies, OEMs to provide customised advertising', Web.
Thompson, A, (2020) Strategy: core concepts and analytical approaches. 6th edn. New York: McGraw-Hill Education.
What are the Facebook products? (no date) Web.
Young, J. (2018). Facebook five forces analysis (porter's model) & recommendations. Web.