Introduction
Hilton Worldwide Holdings is an American global hotel chain, which owns a huge portfolio of hotels and resorts. It was established in 1919 by Conrad Hilton, and currently, it is ruled by CEO Christophe Nassetta (Hahn, 2020). It unites 18 brands and owns more than 6,500 properties in 119 countries around the globe (Hahn, 2020). The company has its won history, regarding its founder Conrad Hilton, who intended to establish the best hotel in Texas. Moreover, Hilton Worldwide Holdings promotes its unique values: delivering expectational guest experiences, adherence to integrity, building healthy leadership and productive teams, and operating within the discipline. Therefore, analyzing its strengths and weaknesses, the company appears to be an interesting object of SWOT analysis.
On-Time Delivery!
Get your customized and
100% plagiarism-free paper
done in as little as
3 hours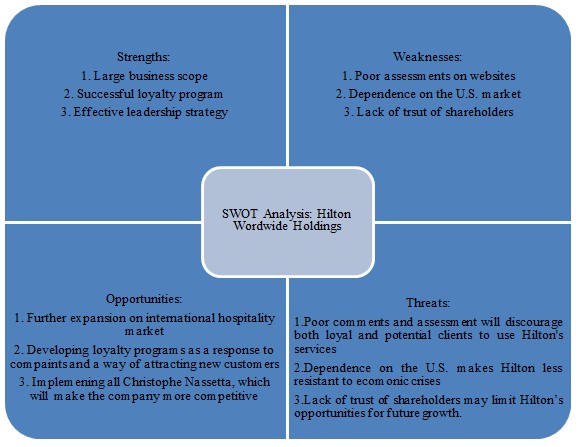 Strengths
One of the strengths of Hilton Worldwide Holdings regards its large business scope. The company unites 19 branches, which are well-known and respected in the hospitality field. They are Hilton Hotels and Resorts, Embassy Suites, Tempo, Waldorf Astoria, Conrad, DoubleTree, and many others (Hahn, 2020). In general, the company manages to provide approximately 140 million customers with high-quality service in more than 100 territories (Hahn, 2020). Economies of scale guarantee successful and profitable development in the future for the company.
In addition, Hilton Worldwide Holdings is respected for its loyalty program. It covers approximately 50 million guests of its hotels (Hahn, 2020). They are provided with the best prices for booking rooms in 18 brands of the company (Hahn, 2020). The loyalty program also includes customized guest experiences and promotions. Clients frequently highlight their appreciation of Hilton's loyalty program and mention that it has a significant impact on their choice of accommodation.
Another aspect, which allows Hilton Worldwide Holdings to stay on the top in its field is its leadership strategies. Christophe Nassetta occupies the position of CEO in the company, which introduces a range of incentives, stimulating Hilton's recovery ("Hilton President and CEO", 2019; Hahn, 2020). They include such important things as establishing corporate culture, providing the cost-cutting policy, and achieving synergy ("Hilton President and CEO", 2019). Christophe Nassetta's course contributes to the further growth of the company in the long run.
Weaknesses
Despite all the presented strengths, Hilton Worldwide Holdings has its own weaknesses, which may become pressing concerns. A range of poor assessments of accommodation in Hilton has been published on various tourism websites, for instance, TripAdvisor. They contain complaints on inappropriate service and internal atmosphere in hotels. This fact may worsen the company's reputation to a significant extent, prompting customers to choose their rivals in the hospitality field.
The company is considerably dependent on the United States market and its changes. The prevalent part of Hilton's revenue is located in the U.S., which increases its vulnerability in case of problems within the country or global economic crises. A minor part of revue refers to Asia, though investments in this region appear to be strategically important today (Hahn, 2020). Hilton's presence in Europe, other parts of America, the Middle East, and Africa is also insignificant, comparing to the U.S.
The last factor, which can worsen Hilton's position in the market is the lack of trust of shareholders. Despite the fact that the company's share prices increased significantly, the fact that private equity firm Blackstone Group L.P. sold 15 million of its shares cannot be ignored (Staff, 2018). This number of shares generated a profit of $1,32 billion, though Blackstone losing interest in Hilton affected other investors' perceptions and opinions on the company.
Yes, we can!
Our experts can deliver a
custom Hilton Worldwide Holdings: Strengths, Weaknesses, Opportunities and Threats
paper
for only

$13.00

$11/page
Opportunities
In case the company's strengths are approached competently, they can become opportunities for successful development in the long run. Firstly, Hilton's large business scope may benefit its further expansion in the international hospitality market (Hahn, 2020). Hilton Worldwide Holdings may increase its presence in South America, Africa, Europe, and Asia and establish new brands, which will be highly likely to be successful due to the current background of the company.
Secondly, an attractive loyalty program may become Hilton's unique feature, making it more competitive on global markets. The policy of supplying customers with individual discounts should be supported, as it may be an effective method of responding to multiple complaints on websites. In the long term, this approach will allow avoiding the worsening of Hilton's reputation. Moreover, in case of discounts on special occasions, it may attract a great number of new clients.
Thirdly, it should be mentioned that not all Christophe Nassetta's suggestions are implemented, though the beneficial outcome of the realized incentives is evident. Therefore, his leadership strategy and improvement suggestions should be continued in order to create a healthy working environment and make the company stronger and more competitive ("Hilton President and CEO", 2019). This way, Hilton may become a more attractive employment option for highly qualified and talented candidates.
Threats
The earlier described weaknesses of Hilton Worldwide Holdings may result in threats facing by the company. For instance, poor comments and assessment on the Internet after a stay at Hilton's hotel may become popular, discouraging both loyal and potential clients from using its services. The low reputation of the company may considerably impact its revenue and growth in a negative way, as guests would prefer to accommodate in hotels of other global chains.
Overdependence on the U.S. market may make Hilton Worldwide Holdings less resistant to possible economic crises. In case of any unexpected problems within the U.S. territories, the company will be deprived of significant parts of its revenue. If crises are long and profound, there is a likelihood of Hilton's bankruptcy. In addition, the company may lose its potential profit unless it makes investments in the rapidly developing Asian market.
Finally, the lack of trust of shareholders may significantly limit Hilton's opportunities for future growth. Sufficient financial support is vital for realizing new ideas, implementing incentives, improving service standards, and employing top professionals in the field (Staff, 2018). Consequently, the fact that Blackstone preferred to sell its shares may affect funding the company, making it less competitive in the hospitality market (Staff, 2018). It affects Hilton's authoritativeness in circles of shareholders, stimulating them to choose other businesses to invest their money in.
Conclusion
To conclude, Hilton Worldwide Holdings appears to be an interesting object of SWOT analysis, as all four aspects, strengths, weaknesses, opportunities, and threats, seem to be equally significant. The strengths of Hilton Worldwide Holdings vividly paint the route for opportunities. Namely, the Hilton's large business scope can allow further expansion in the international hospitality market, the loyalty program improves competitiveness, and the outstanding leadership strategies prove to be both considerable strength and opportunity for the company. However, as strengths result in opportunities, the weaknesses of Hilton Worldwide Holdings may result in threats. Its poor accommodation, dependency on the U.S. market, and lack of trust of shareholders can threaten the reputation of the company, make it less resistant to possible economic crises, and thus put at risk future growth.
Cut
15% OFF
your first order
We'll deliver a custom
Company Analysis
paper tailored to your requirements with a good discount
References
Hahn, J. (2020). COVID-19 hotel development analysis: Hilton Worldwide. Top Hotel News.
Hilton president and CEO named 2020 Hospitality Executive of the Year (2019). PennState News.
Staff, R. (2018). Blackstone to end its stay at Hilton after 11 years. Reuters.