Problem Statement
Infinity Contracting Company Ltd. is a small civil contracting organization that has been operating since 1972 in the UAE. The firm is involved in the construction of residential units. Generally, the company has been rather successful in its field, thereby winning governmental support and big contracts. Due to this success, the firm made a decision to venture into two business lines simultaneously, involving mega infrastructure projects and civil projects abroad.
On-Time Delivery!
Get your customized and
100% plagiarism-free paper
done in as little as
3 hours
There are five owners of the organization, who partner with a Spanish-based engineering and construction company (having 25% of the total shares), which renders assistance in infrastructure ventures. However, despite the expected success, the financial performance started to decline. At the same time, the major projects were lost due to the appearance of new competitors from India, China, and Greece.
This problematic situation requires reviewing organizational processes to understand the root causes of the failure. Innovative solutions are required to help the company return to its normal winning practices. Process models are to be built to identify which aspect of the organization's performance has led to the appearance of this critical situation and to provide recommendations to find the way out.
Organization Process View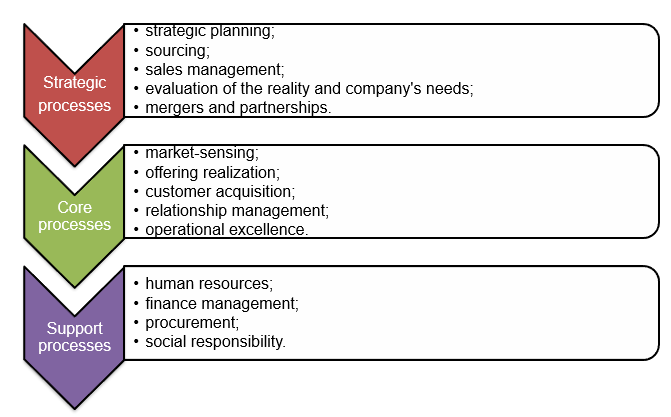 Strategic Processes
Strategic processes refer to the top-level processes running within the organization and determining its structure and functioning. They typically include challenging and demanding tasks that require the highest level of intellectual capability to be successfully performed. The major value strategic processes of the organization under analysis run in the following areas: planning, sourcing, sales management, evaluation of the reality and company needs, mergers, and partnerships.
As for strategic planning, it seems that the company lacks a centralized strategy since its purposes have not been achieved in either of the two business directions. This indicates that the plans were non-implementable at operative levels. Moreover, external factors (such as the appearance of new market players in other countries) were not taken into consideration.
Strategic sourcing is aimed to provide a common understanding of business goals, requirements, priorities, and limitations shared by all the stakeholders involved. Since there are five owners of the company and a partner possessing a big share, the development of long-term plans concerning penetration into new markets should take into account all their interests and views. Moreover, a good sourcing strategy is needed to analyze different future scenarios to evaluate risk factors.
Sales management is another important business driver since the company is engaged in civil projects in foreign markets. This implies that it should target a new client base. Planning sales operations should be conducted in accordance with localized customer portfolios.
Yes, we can!
Our experts can deliver a
custom Infinity Contracting Company's Process Improvement
paper
for only

$13.00

$11/page
Evaluation of the reality and company needs is the crucial factor for staying afloat in both business directions. This strategic process starts with a clarification of the organization's risk tolerance since it is aimed to compete with the industry leaders that are also engaged in mega infrastructure projects as well as with local companies in the emerging markets. Thus, the firm's current needs barely correspond to reality.
Mergers and partnerships are relevant for the firm since it currently partners with a Spanish company for mega infrastructure projects. Since the company possesses 25% of the total shares, its interests cannot be neglected. Moreover, the organization may also consider partnering or merging with some of Chinese, Indian or Greek competitors to facilitate development in foreign markets.
Core Processes
Core business processes refer to those essential business activities, without which the organization cannot exist. The success of any company depends not only on the performance of each separate department but also on the ability of the top management to coordinate all activities across the departments for them to pursue one common goal. The core business processes for the organization at hand include market-sensing, offering realization, customer acquisition, relationship management, and operational excellence.
The market-sensing process implies all the organization's activities connected with increasing marketing intelligence, especially in the foreign markets (since its success in the UAE is unquestionable). It turned out that the market strategy implemented for domestic operations does not give the same results abroad. That is why the company will have to introduce modifications into this process.
The offering realization process is connected with understanding the demand and developing corresponding offerings. Research and development will help the company find out what quality offerings may satisfy new customers. After being identified, they are to be planned within the budget.
The customer acquisition process is the continuation of the previous one. It covers activities aimed at defining a new target audience. As an ultimate result of this process, customer loyalty is to be achieved.
The relationship management process covers a wide range of relationships. In the case under analysis, the company has relationships with its shareholders, partners, and customers. All these relations are to be balanced to ensure effective performance.
Cut
15% OFF
your first order
We'll deliver a custom
Company Analysis
paper tailored to your requirements with a good discount
Finally, operational excellence is a process that ensures sustainable development. It relies on the identification of weaknesses and strengths alongside purposes. The process involves economic, social, environmental, and other perspectives since the construction industry, in which the company operates, depends on all these spheres to achieve excellence.
Support Processes
Support processes are those that accompany strategic and core processes. They enable the firm to operate legally. For Infinity Contracting Company, the major support processes include human resources, finance management, procurement, and social responsibility.
Human resource management may be a challenge in the given case. There is no information on the company's HR policies. However, its failure in the emerging markets indicates that there may be problems with recruiting the locals.
Finance management is connected with the allocation of financial resources. The firm is tasked to distribute its finances between the two business lines. That is why it must be able to predict their prospects and distribute money accordingly.
Procurement is the process of finding and purchasing goods necessary for performing the company's activities from external sellers. Since the company is involved in construction, it requires a lot of raw materials. Procurement is needed to identify the particularities of each market in terms of supplies and their costs.
Social responsibility deals with impacts a business may produce on the environment. A construction company should be able to assess its effect on the ecological situation as well as on the social environment. Since the firm is engaged in macro infrastructure projects, it has to be aware of its ultimate influence on the population of the country.
Internal and External Stakeholders and Their Expectations
Table 1. Stakeholders.
Get a custom-written paper
For only
$13.00
$11/page
you can get a
custom-written academic paper
according to your instructions
Stakeholders
Expectations
Internal stakeholders
Private clients
High quality of work, the ability to meet deadlines, budget-friendly offers, the satisfaction of housing needs
Public clients
High quality of work, negotiable contract terms, cost-effectiveness, the perspective of long-lasting cooperation, the ability to assess and meet the needs of the population
Architects, structural engineers, and building service engineers
The ability to implement innovative design solutions, independence in approaching infrastructure needs and opportunities, schedule flexibility, an opportunity to work creatively
Project Management Center
Cooperation with the company leaders, honesty, timely reporting, control over business processes
Owners
Increase of profits, expansion to other markets, competitive edge, government contracts, participation in promising projects, customer loyalty
Workers
Decent salaries, flexible schedule, compliance with safety requirements, benefits, and incentives
Suppliers
Long-term partnership, high-quality supply chain management, timely payments
Residents
Convenient and inexpensive housing, timely delivery of services
External stakeholders
Government authorities
Compliance with the current legislature, readiness to engage in governmental projects
Town planning board
The ability to meet infrastructure needs, non-interference with other town planning projects
Environmentalists
Compliance with safety requirements concerning ecological protection
Competitors
Non-aggressive competition patterns, readiness to cooperate
Tourists
Convenient infrastructure, affordable accommodation pricing
Labor unions
Compliance with the labor code
Local community
Improved facilities and housing
Media
Extended media coverage of new projects and advertizing
Metrics and Benchmarking
Baseline Performance Metrics
Table 2. Process Metrics for Residential Units.
Metrics for Measuring Baseline Performance
Metric Number
Metric
1
Annual Revenue
2
Cost of Construction
3
Gross Margin
4
Expenses
5
Income from Operations
6
Net Income
7
Net Worth
8
Return on Net Worth
9
Assets
10
Return on Assets
11
Labor Costs
12
Technology costs
13
Workforce Turnover
14
Number of Safety Violations Observed
15
Total Project Duration
Benchmarking Metrics for Future Process Revamp Project
Besides the enumerated metrics, the firm also needs an effective benchmarking tool to apply the collected information to its projects. Since there are numerous stakeholders involved in projects, it seems reasonable to suggest collecting information from bi-directional evaluations using a web-based project evaluation tool, which allows assessing both client and participant satisfaction. These are the major factors that predetermine the success of the construction project since residential units are meant for people living in the area. Moreover, the company can use this tool to position itself among the competitors, thereby promoting quality improvement and collaboration.
Process Model
Root Causes of Challenges
One of the root causes of the challenge to determine single residential project economics may be connected with poor stakeholder management. The company may pay limited or no attention to stakeholder risks and have no institutionalized processes to manage them. Since it has numerous stakeholders (see Table 1), it might be a challenge to trace their activities and ensure that none of them can hinder the implementation of the projects in the foreign markets.
Another root cause is connected with flaws in risk-monitoring and mitigation processes. For instance, it is not infrequent that the decision-making model for risk management is unclear or there is simply no risk-mitigation process in place. Quality inspections may be conducted improperly since the requirements for quality in the emerging markets are much lower.
Solutions for Process Improvement
In order to improve stakeholder management, the firm may use the following strategies:
Stakeholder mapping. A thorough analysis is required to map all the existing stakeholders and examine their role in every construction project, the population's needs, and expectations, interest in project implementation, etc. The organization must go beyond concentrating exclusively on shareholders and internal players.
Understanding the level of influence. This may help the firm assess how each stakeholder interacts with the project and what influence this interaction can produce on the outcome.
Identifying triggering factors. To improve stakeholder cooperation, the company leaders must realize which of their actions trigger positive or negative reactions of different stakeholders in order to prevent complaints (especially those that can lead to the disruption of core processes).
Looking for opportunities. It is typically believed that relations with numerous stakeholders are fraught with project delays and other problems. However, it is none the less important to notice those stakeholders, from which the company may benefit since they present development opportunities. For instance, the firm's Spanish partner may facilitate its entry into the Spanish market.
Proactively mitigating stakeholder risks. The organization should develop a mitigation plan that will allow predicting stakeholder risks and introduce timely modifications into its projects to avoid them.
In its turn, risk management can be improved via:
prioritizing risks and focusing on the major ones;
right-sizing risk management practices according to the project scope and importance;
making the process continues even when the risk is eliminated;
timely identifying risks before they get out of control;
being transparent by making risks known to stakeholders;
carefully evaluate the effectiveness of risk responses;
engaging risk owners who can help in developing risk responses.
Process Changes to Implement the Suggested Improvement
In order to implement the suggested improvements, the company should start with introducing modifications into its portfolio and strategic planning. An attractive portfolio coupled with well-thought strategic moves may attract new stakeholders and increase the interest of the existing ones. Moreover, strategic planning will make it possible to identify potential risks of new markets at the initial stage of project development.
Another change required for better risk management is connected with budget allocation and timelines. There are numerous risks that arise from the inability to distribute resources between the business lines. Moreover, the failure to meet construction timelines may scare off potential clients.