Executive Summary
Many retailers have shifted their focus from relying on conventional marketing approaches to innovative practices such as multi-channel retailing while further adopting various strategies for maintaining a motivated and inventive workforce. Tesco Inc. entails one of the grocery retailers that have demonstrated the role of innovation in enhancing business growth and increasing the company's competitive advantage. The first section will offer a critical review of innovation theories and models in relation to the company's operations. In this section, funnel, diamond, and value chain models of innovation will be examined. The second section will investigate this company's internal and external factors that influence its innovation. The last section will capture various recommendations that Tesco can implement to reap the best from its innovation plans.
Introduction
Tesco is a British multinational retail corporation that deals with general merchandise and groceries. According to Dixit and Sinha (2016), this corporation is the leading dealer in the UK and among top companies on a global scale rallying behind Carrefour and Wal-Mart. Following Tesco's massive operations, with about 7,800 stores in almost 14 countries located in North America, Asia, and Europe, it has a vast experience in the retail industry (Dixit & Sinha 2016). While operating in the contemporary complex business world, the company faces challenges in delivering innovative products and services to its large pool of clients. I have been given an esteemed position to serve as an innovation expert for the organization to examine its innovation process. This report critically assesses particular elements of innovation in line with the available theoretical frameworks and class materials. Consequently, this dossier presents a review of both internal aspects linked to workers, including leadership, institutional configuration, and culture. It will also evaluate external elements that consist of the company's strategy and market forces before providing facts to substantiate the suggested need for various changes regarding the innovation process.
Critical Literature Review on Innovation Theory
Tesco's Innovation Process
Innovation denotes the introduction of original items or services to the market (Kane, Johnson & Majchrzak 2014). This definition matches Greenstein, Lerner, and Stern's (2013) perspective of innovation in business settings. According to these authors, innovation takes place when the most recent commodities or services find their way into the market for sale to satisfy clients' ever-changing demands (Greenstein, Lerner & Stern 2013). It also implies introducing novel procedures, activities, equipment, or materials among other things, which help to lower the cost of manufacturing or raise the pace of production and the quality of commodities. In the service sector, empirical research by Kane, Johnson, and Majchrzak (2014) reveals the extent to which innovation allows organisations to develop superior and economical services. Tesco has demonstrated its ability to adopt new strategies that are critical for re-inventing its operations.
In 2014, Tesco encountered substantial operational challenges when it reported a drop of 3 percent in its international sales (Global Analysis Report 2016). The company was one out of ten top dealers that experienced a global decline in its productivity. However, Tesco adopted an innovative strategy to deal with this challenge with the objective of getting its operations on track. According to the Global Analysis Report (2016, p. 2), this organisation sold "non-retail subsidiaries Blinkbox, Tesco broadband and phone services." It also considered getting rid of Dunnhumby, its data mining auxiliary firm. The money raised from the sale of the above assets has been critical in ensuring that Tesco reinvests in its current stores situated in strategic locations in the UK and other regions around the globe.
One of the key areas of innovation for Tesco has been the deployment of e-retailing in its operations. In fact, even when this company recorded a decline in its global sales, Tesco.com was a successful online banner that reported positive profits for the organisation in 2014. Apart from innovation in grocery retailing to reduce operational costs, the company enjoys other innovative aspects such as its multi-channel retailing and supply chains. These systems have helped it to realise an efficient supply of groceries and other commodities.
Critical Evaluation of Innovation at Tesco
Case studies developed in various lectures, tutorials, and further readings establish different approaches and models for critically evaluating innovation in any organisation. They include value chain, diamond, innovation funnel, and corporate ethics models. The latter framework considers the capacity of an organisation to follow various rules regarding innovation. Apart from revealing the innovativeness of an organisation, this model can also provide a means of analysing the effectiveness of Tesco's innovations. In a study by Majchrzak and Malhotra (2013), such guidelines entail:
Interventions made by an organisation to attain a positive response to innovations.
The impact of modernisation on people.
The influence that the public makes of people on various innovations.
The disruption of the status quo.
The capacity to guarantee the continuous modification of features captured in innovated products and services.
The Funnel Model (see the Appendix section) has nine aspects or steps can be used to assess the level of innovation at Tesco. Although Majchrzak and Markus (2012, p. 385) present them as "strategic thinking, portfolio and metrics, research, ideation, insights, targeting, innovation development, market development, and selling", they do not offer an explicit explanation of their practical application. However, the study by Harvey (2014) seals this gap by dividing Tesco's innovation processes into three separate major stages. The first step encompasses portfolio, metrics, and strategy. Harvey's (2014) viewpoints define crucial inputs for innovation such as the scope, structures, and the context of change that informs the need for such inventions at Tesco. Step 2 encompasses the innovation plan, which includes explorations, the development of ideas, the target bazaar, and the process of developing markets. Step 3 considers outputs, which imply the capacity of any innovative activity to generate economic gains for Tesco. In these processes, interactions among various players within the organisation are vital.
As shown in Figure 1 below, the Diamond Model has five main aspects that define the innovation assessment plan.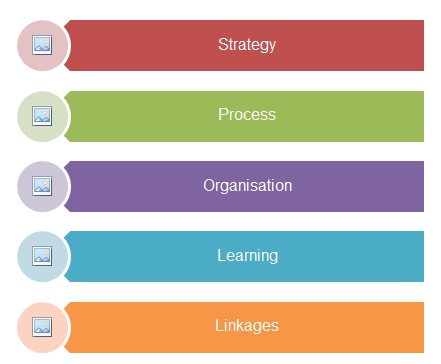 The element of strategy involves determining the existence of a premeditated plan that can help to foster innovation in line with the prevailing corporate strategy and mechanisms for ensuring the effective implementation of all proposed business agendas. Although Henfridsson, Mathiassen, and Svahn (2014) do not explicitly indicate the degree to which Tesco manages its internal processes, the study by Wheelan (2015) demonstrates the company's capability to handle innovations. Indeed, original services and products should serve customers' demands. Thus, when evaluating Tesco's innovation, Wheelan (2015) emphasises the importance of considering the degree of flexibility and the robustness of processes for developing new products and services. This goal may be achieved when evaluated from the context of the ability of products and services to satisfy customers' needs. Yukl (2013) introduces interesting information in agreement with Wheelan's (2015) regarding innovation. According to this author, innovation thrives in an environment that fosters the free flow of ideas (Yukl 2013). In particular, assessing whether Tesco's leadership permits employees to communicate their ideas can help to gauge its level of innovativeness.
Original ideas originate from not only an organisation's in-house stakeholders but also its external ones (Kane, Johnson & Majchrzak 2014). The study by Huang et al. (2017) supports Kane, Johnson, and Majchrzak's (2014) claims regarding Tesco's capacity to establish healthy and long-lasting relationships with suppliers, firms, academic partners, specialists, competitors, and even customers. According to Huang et al. (2017), such connections present opportunities for nurturing an innovative culture within the company. Learning determines the ability of organisations to instil strong and effective training and development programmes. For Tesco, this strategy has guaranteed employees' growth in knowledge and expertise as a strategy for creating an environment that favours innovation. This company has the capacity of generating and garnering information through linkages. Hence, learning provides a pillar upon which it shares information on past failures coupled with success stories.
The Value Chain Model (see the Appendix section) presents innovation as consisting of four sequential stages, namely, concept generation, selection, customisation, and diffusion. According to Huang et al. (2017), this framework avails an end-to-end means of evaluating commercial gains for a firm by accessing and developing knowledge, creating innovation, and commercialising the developed ideas to enhance its success. In the current context, through collaboration, Tesco has opportunities for knowledge generation and the development of innovation. It deploys its internal research and design team whose input is substituted and/or complemented with external knowledge sources. In particular, as Huang et al. (2017) reveal, Tesco's perpetual efforts to gain access to knowledge in e-retailing indicate its engagement in innovative activities.
Tesco directs and strategically organises its employees to build innovation. This strategy involves transforming knowledge to ensure the development of new products or organisational activities. Innovation within the company is generated through the collective action of work teams. The organisation's resolution to remain committed to innovation in the retail sector is demonstrated by its incorporation of the multi-skilled workforce into various strategic areas. Tesco commercialised innovation after realising its capacity to enhance sales and productivity. For example, the company sold its non-vegetables segments with the objective of improving grocery-related sales.
Review of Internal and External Factors
Internal Factors
Employees from the most important resources that Tesco has to support its innovation. The company's innovation process starts with inputs from customers, including any anticipated forces. Workers are always in close contact with clients. Therefore, they supply departmental information and shoppers' details to innovation teams. Indeed, Wilson (2017) explains that tapping the contribution of prospective forces such as demographic, societal, fashion, and technical, and customer information requires Tesco's innovation team to collaborate with different stakeholders who can help to develop inventive ideas. Such constructive pans are then selected before they are moved to the concept development phase after being validated by customers. This process requires the active involvement of employees.
According to Araste (2013), leadership is an internal force that involves controlling, directing, inspiring, motivating, and mentoring people. Therefore, any innovative strategy should gain full support from the respective organisational leadership. For example, Tesco's e-commerce system was successful, thanks to its top leadership's support for the freedom of experimentation (Araste 2013). It permitted people to keep on trying new concepts. At Tesco, the process of adjusting innovative findings, including withdrawing those that appear unnecessary, follows in an iterating manner. This step consumes huge financial resources from the organisation. Therefore, experimenting is associated with various constraints.
Although Wheelan's (2015) views emphasised the issue of team leadership, they have a bearing on Araste's (2013) claim that the success of people and, consequently, innovation requires the establishment of an appropriate match between top-down and bottom-up management approaches. Indeed, if the top leadership becomes the only force that propels innovation, its failure is almost inevitable. At Tesco, using innovation as a plan for steering modernisation calls upon people to deploy original techniques and processes when figuring out possible concept implementation plans to enhance its multi-channel retailing and supply chains.
The organisational structure is another important aspect of innovation. According to Yukl (2013), modernisation thrives in an environment that fosters the free flow of ideas. Although this author does not give reasons to support such an organisational setting, Clarke, Thompson, and Birkin (2015) reveal that it indeed permits employees to communicate any inventive concepts liberally with the view of getting feedback regarding the use of their ideas. However, Tesco's organisational structure does not create sufficient atmosphere that can encourage innovation by facilitating a bidirectional flow of ideas (Yukl 2013). Innovative ideas should emanate from not only an organisation's internal stakeholders but also its external ones. However, even though Tesco has a comprehensible resolution to develop innovative supply chains and/or explore multichannel retailing systems, it still has a top-down organisational structure, despite encouraging its employees to participate in idea generation, their conversion into solutions, and implementing solutions.
Organisational culture is a key facilitator of innovation and creativity. Wheelan (2015) presents as consisting of beliefs, norms, and values shared within an organisation. Tesco builds its culture around modernisation and inventiveness. Yukl (2013) appreciates Wheelan's (2015) perception of culture by noting that organisations, which minimise risks such as financial losses related to unproductive research and experiments often fail to embrace a culture that favours innovation. However, Tesco takes the risk of experimenting with new ideas, as evidenced by its concept development plan whose findings have to be validated by customers as part of the company's innovation process. Such a culture requires huge investments in terms of funds, facilities, time, and materials among other resources, especially when testing new ideas.
External Factors
According to Kyriakou, Nickerson, and Sabnis (2017), developing an innovative culture requires the deployment of effective and quantifiable strategies. Although these authors do not specify how the measurement can be done, Henfridsson and Yoo (2013) mention an innovation dashboard as a tool that can demonstrate how well Tesco's innovation techniques yield success. The organisation constructed the dashboard from various measures designed with respect to inputs, processes, and outputs. Under the input category, Tesco weighs its strategic thinking and portfolio management to find out whether its innovation focuses on its business' core areas. It also indicates whether the company can change consistently with market forces, including its degree of flexibility and capability of translating strategies into innovative initiatives. However, in line with Kyriakou, Nickerson, and Sabnis' (2017) arguments, innovation cannot occur without the identification of key processes that need to be supported by the invented approaches. The organisation has developed mechanisms for tapping into the efficiency associated with its supply chain to minimise operations costs while increasing profitability levels. It has also implemented a multi-channel retailing system capable of supporting e-commerce.
Regarding market forces as part of the company's external environment, Tesco understands that it cannot develop evidence-based transformation strategies without considering the prevailing business atmosphere. Therefore, it is necessary for this company to develop strong and effective training and development programmes that can guarantee growth in terms of its workers' knowledge and expertise as a strategy for creating an environment that favours innovation. Kyriakou, Nickerson, and Sabnis (2017) and Henfridsson and Yoo (2013) agree that market forces influence the need for developing new processes or products. Tesco's major market force that drives its innovative logistics networks and multi-channel retailing plans entail the rising retail competition. This company experiences high rivalry from discounters, including German-based firms such as Aldi and Lidl (Henfridsson & Yoo 2013). Since such competitors have established a strong business presence, Tesco has embarked on selling its non-profitable assets and investing in innovative approaches that can enhance the success of other resources.
Recommendations
E-commerce has been vital in transforming the entire retail industry because it provides a solution for companies to share and forecast financial data (For eCommerce retailers 2014; Rigby 2014). Therefore, the presence of e-commerce has brought with it significant effects on business practices. However, despite its noteworthy positive impact on Tesco's businesses and customers, the company still faces remarkable challenges regarding its management and performance. According to Creasey (2014) and Henfridsson, Mathiassen, and Svahn (2014), these issues include technological, environmental, organisational, and contextual factors. They can alter or hinder the e-business plan from obtaining the value associated with its competitive, dynamic, and strategic capabilities.
Compared to conventional trade platforms, e-commerce provides substantial benefits (Niranjanamurthy et al. 2013; Dixit & Sinha 2016). It may be viewed as an innovative strategy for the retail industry. Tesco has embarked on developing different innovative strategies that will enable it to tap from the efficiency associated with enhanced supply chains. Borrowing from Henfridsson, Mathiassen, and Svahn's (2014) perspectives, this company has invested in flexible logistics networks that are robust in their architecture with the primary goal of minimising expenses. According to Fallgren and Sundborg (2013), the ultimate aim is to attain increased profitability. Such supply chains have the advantage of decreasing carbon footprints. Butler (2015) supports this claim by demonstrating the extent to which logistics networks can minimise Tesco's cost of production by 30% by 2020. The online business strategy constitutes one of the innovative strategies for achieving this objective. Nonetheless, success in developing and maintaining efficient supply chains and pursuing the multi-channel retailing strategy will require Tesco to have effective internal and external factors that support its innovation processes.
For Tesco to reap the best from people and innovation, it needs to consider six important factors that are summarised in Figure 2 below.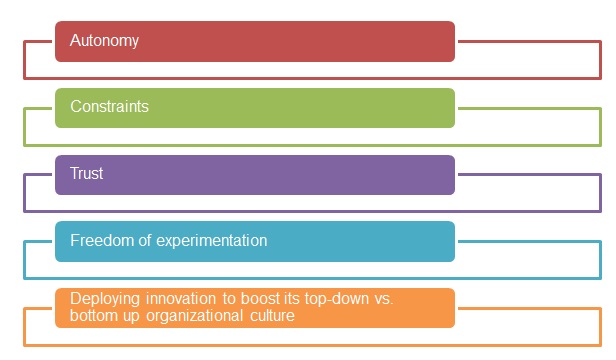 Regarding various internal and external factors discussed earlier, Tesco needs to make changes such as putting constraints in the workplace to increase employees' creativity levels. Tesco's line of command flows from top to bottom. It hinders the development of innovative ideas (Clarke, Thompson & Birkin, 2015). To ensure the free flow of ideas, Tesco should adopt a bidirectional command strategy. It should alter its current organisational structure to embrace a democratic and participatory form of leadership.
Tesco appreciates the challenge brought about by ineffective supply chains. As a result, managers handling logistics networks at Tesco need to incorporate information concerning the implications of supply chain and supply chain strategies to physical and environmental participants. This strategy will present it as a corporate socially responsible organisation. This recommendation is pivotal in helping to resolve various challenges that relate to supply chain management in business settings that are marked by changing trends because of globalisation, intensive competition (Toporowski & Lademann 2014), and the need for securing the environment within which Tesco is established (Vanelslander, Deketele & Hove 2013).
Tesco also needs to establish consistent, flexible, and lucrative business structures that can sustain clients' demands (Butler 2015). In organisations that supply products to global markets such as Tesco, supply chain management personnel encounter complex and dynamic problems, trends, and developments, which are considerably hard to predict. To resolve this stalemate, the deployment of sustainable supply chain techniques is critical. Including CSR approaches in the current strategy that mainly focuses on reducing wastes at Tesco's distribution centres and actual shopping stores will be vital.
Conclusion
Innovation guarantees the long-term success of any organisation, including Tesco. Models and theories of assessing it seeks to establish the necessary areas of improvement or gaps, which can be sealed by developing better processes, restructuring organisations' strategic plans, incorporating training and development, and establishing relationships among stakeholders among other concerns. Tesco experiences competition from various retailing organisations. This situation has been presented as constituting a critical market force that compels the organisation to look for strategic initiatives to overcome it. Although there are necessary areas of improving innovation within the company, the paper notes that the reason why Tesco is growing into a global brand in the online retail market is founded on its commitment to innovation.
Appendices
The Funnel Model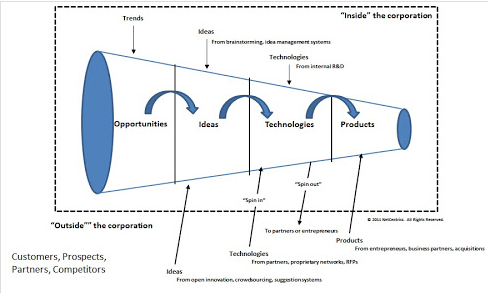 The Value Chain Model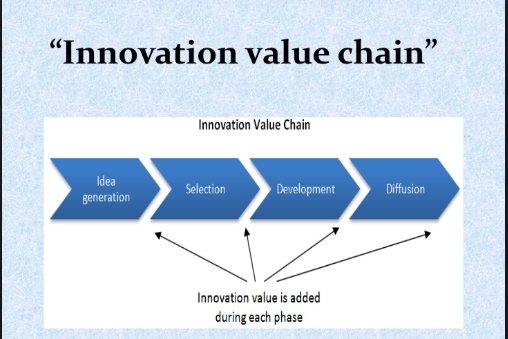 Reference List
Araste, A 2013, 'The factors affecting the e-commerce adoption in SMEs in the industrial towns of Zanjan-Iran: managers' perspectives', International Journal of Academic Research in Business and Social Sciences, vol. 3, no. 10, pp. 100-117.
Butler, S 2015, 'Asda's sales fall of 3.9% worse than Tesco, Sainsbury's and Morrisons'. The Guardian, Web.
Clarke, G, Thompson, C & Birkin, M 2015, 'The emerging geography of e-commerce in British retailing', Regional Studies, Regional Science, vol. 2, no.1, pp. 371-391.
Creasey, S 2014, 'Tesco to face further competition for market share', The Grocer, Web.
Dixit, S & Sinha, A 2016, E-retailing challenges and opportunities in the global marketplace, IGI Global, Hershey, PA.
Fallgren, K & Sundborg, H 2013. Future grocery: a study of the e-commerce grocery basket business in Sweden. Web.
For ecommerce retailers it's still a rough ride across international borders. 2014. Web.
Global Analysis Report 2016. Retail innovation: Tesco in the United Kingdom. Web.
Greenstein, S, Lerner, J & Stern, S 2013, 'Digitisation, innovation, and copyright: what is the agenda?', Strategic Organisation, vol. 11, no. 1, pp. 110-121.
Harvey, S 2014, 'Creative synthesis: exploring the process of extraordinary group creativity', Academy of Management Review, vol. 39, no. 3, pp. 324-343.
Henfridsson, O & Yoo, Y 2013, 'The liminality of trajectory shifts in institutional entrepreneurship', Organisation Science, vol. 25, no. 3, pp. 932-950.
Henfridsson, O, Mathiassen, L & Svahn, F 2014, 'Managing technological change in the digital age: the role of architectural frames', Journal of Information Technology, vol. 29, no. 1, pp. 27-43.
Huang, J, Henfridsson, O, Liu, M & Newell, S 2017, 'Growing on steroids: rapidly scaling the user base through digital innovation', MIS Quarterly, vol. 41, no. 1, pp. 301-314.
Kane, G, Johnson, J & Majchrzak, A 2014, 'Emergent life cycle: the tension between knowledge change and knowledge retention in open online coproduction communities', Management Science, vol. 60, no.12, pp. 3026-3048.
Kyriakou, H, Nickerson, J & Sabnis, G 2017, 'Knowledge reuse for customisation: metamodels in an open design community for 3D printing', MIS Quarterly, vol. 41, no. 1, pp. 315-332.
Majchrzak, A & Malhotra, A 2013, 'Towards an information systems perspective and research agenda on crowdsourcing for innovation', Journal of Strategic Information Systems, vol. 22, no. 4, pp. 257-268.
Majchrzak, A & Markus, M 2012, 'Technology affordances and constraints in management information systems (MIS)', in E Kessler (ed.), Encyclopaedia of management theory, SAGE Publications, Thousand Oaks, CA, pp. 832-836.
Niranjanamurthy, M, Kavyashree, N, Jagannath, S & Chahar, D 2013, 'Analysis of e-commerce and m-commerce: advantages, limitations and security issues', International Journal of Advanced Research in Computer and Communication Engineering, vol. 2, no. 6, pp. 213-225.
Rigby, C 2014, Online deliveries grow but overall sales fall sharply following Tesco price cuts. Web.
Toporowski, W & Lademann, R 2014, 'The importance of assortment, pricing, and retail site location for competition in food retailing-results from marketing research', Marketing ZFP, vol. 36, no. 2, pp. 131-140.
Vanelslander, T, Deketele, L & Hove, D 2013. 'Commonly used e-commerce supply chains for fast moving consumer goods: comparison and suggestions for improvement', International Journal of Logistics Research and Applications, vol. 16, no. 3, pp. 243-256.
Wheelan, S 2015, Creating effective teams: a guide for member and leaders, 5th edn, SAGE Publications, Thousand Oaks, CA.
Wilson, J 2017. Innovation process for Tesco. Web.
Yukl, G 2013, Leadership in organisations global edition, 8th edn, Pearson Education Limited, Hudson, NY.