Executive Summary
Introduction
There is extensive growth in the health, fitness, and wellness industry, coupled with the resurgence of the mid-market fitness club and gym market. A widespread health renaissance further exacerbates this situation as people gradually understand the dangers of sedentary living, as well as extensive public health campaigns against obesity and overweight. As a result, Zeus Fitness seeks to capitalize on this growth to launch a unique gym and fitness experience to the target demographic.
Mission
Zeus Fitness' mission outlines: "To provide a customer-centered approach to fitness – delivering intelligent coaching, cutting-edge technology, and a scaffolded experience to our clients who demand effective, accessible, and efficient services to become happier, healthier, and stronger." This accurately covers the overall goal of Zeus Fitness, which is to provide a versatile and tailored fitness experience within the disciplines of body-building and functional fitness to maximize aesthetics, which ensures the achievement of clients' fitness goals.
The Value Proposition
Zeus Fitness will be a price leader within the UK mid-market fitness clubs, studios, and gyms. Furthermore, the gym offers an inclusive experience by being entirely handicap-friendly, and the utilization of a qualified physiotherapist for injury recuperation therapies. Using cutting-edge technologies and competent staff allows a safe, effective training experience.
Ownership and Management
Zeus fitness is a sole proprietorship business, but with an extensive business, the structure comprising a gym manager, a head trainer, an accountant and physiotherapist, trainers, team leaders, and team captains. The rather streamlined hierarchy allows the gym management to make quick decisions and implement ideas with little to no bureaucracy for infinitely improved versatility.
Target Market
The target demographic is essentially identified as the young-working population. This comprises individuals aged between 22 to 48 who are in need of a customized, yet supportive and accessible fitness plan that can fit in with busy schedules, career obligations, and other responsibilities.
Competitive Advantage
An innovative and first-to-market fitness gym that provides an inclusive atmosphere with competent trainers to ensure that every client's fitness plan is highly customized, relevant for them, and scaffolded to provide support for every step of their fitness journeys.
The Business
Definition of the Entity
Zeus Fitness is a commercial body-building and functional fitness-style gym that is dedicated to bridging the gap between the general populace and affordable, high-quality health and fitness alternatives. Zeus Fitness seeks to achieve this overarching goal by aspiring to be a highly user-friendly, accessible, and functional fitness center; availing cutting-edge body-building technology and qualified trainers and physiotherapists at an affordable price point. The result is a guaranteed tailored and unique experience for virtually every user of Zeus Fitness, regardless of their gender, age, fitness experience, activity levels, fitness goals, and workout preferences.
In the contemporary commercial, social, and economic renaissance, people are working more white-collar jobs than ever, as well as enjoying more leisure, which leads to an overall sedentary lifestyle. As a result, it is essential to provide fitness solutions that are tailored to the modern population. These include a flexible, scaffolded, and accessible fitness regimen that can be tailored around busy work schedules, varying fitness levels, and different fitness goals. The gym also features a diverse roster of fitness trainers that are well-versed in a wide range of fitness disciplines and understand varying client requirements and objectives. At Zeus Fitness, we believe that fitness can and should, be integrated seamlessly into our lifestyles without significantly compromising other aspects of life. As such, we are dedicated to achieving this in our clients' lives.
Description of the Product
There is one irrefutable reason behind the development of Zeus Fitness; that there is a growing need for people to engage in physical exercise to keep healthy and avoid chronic diseases arising from overweight and obesity. Zeus Fitness avails a widely accessible and affordable fitness product that offers a safe and effective fitness training environment, with qualified trainers and physiotherapists for whatever a client's fitness goals may be.
Physical exercise has been proven to improve several psychological markers, including the peripheral brain-derived neurotrophic factors (BNDF), improved blood flow, improved glucose and lipid metabolism to the brain, and overall cerebrovascular health (Mandolesi et al., 2018). Furthermore, empirical results presented indicated that children who engaged in regular aerobic activities performed overall better in perception and verbal tests, as well as arithmetic, in comparison to children who led a rather sedentary lifestyle.
Tiryaki-Sonmez et al. (2015) indicated that aerobic exercise conducted regularly over a 16-week time window resulted in a group of people with major depressive disorders positively responding to the fitness regimen, and significantly reducing their anxiety and depressive symptoms. Furthermore, physical exercise was positively correlated to the reduction and prevention of harmful and compulsive lifestyles, including gambling, alcohol abuse, and smoking.
Regular physical exercise also significantly reduces the incidence and prevalence of several chronic diseases that are often linked to obesity and being overweight. Aerobic exercise lowers the risk factors associated with the development of coronary heart disease, hypertension, Type 2 diabetes, and some forms of cancer (Jenkins et al., 2018). Therefore, availing of affordable and easily accessible fitness alternatives through Zeus Fitness, along with sensitizing our clients on the services offered, will help to boost overall health, reduce risks associated with a sedentary lifestyle, and reduce the burden on public health resources.
When incubating the business idea, it was critical to explore some of the facilitators, incentives, and barriers that influenced the adoption of physical exercise by individuals. Portegijs et al. (2017) indicated that people were only driven to exert themselves up to such a point when the demands of their environment exceeded their capabilities. As a result, Zeus Fitness was conceptualized not only as a conventional gym that individuals would train at, but a scaffolded, supportive fitness experience, with trainers and physiotherapists that could help a client holistically overcome any physical challenges.
If a person had a preference for exercising in green spaces and happened to have such areas available to them, he or she was more likely to be physically active, as outlined by Cleary et al. (2019). They also found that a conducive environment and availability of staff to train an individual were significant incentives to indulge in physical exercise. At the same time, priorities, roles, and relationships were significant deterrents (Cleary et al., 2019). As a result, Zeus Fitness seeks to address these issues through the implementation of a well-equipped, technologically sound, and aesthetically pleasing gym, coupled with the provision of accessible, affordable, and sufficiently adequate physical trainers and physiotherapists to facilitate optimum training and physical exercise.
Company Mission and Vision
Zeus Fitness' company vision is wholly captured within its vision statement, which states, "To build the best you." This vision statement entirely encapsulates the essence of Zeus Fitness as a fitness provider who is dedicated to making health, wellness, and physical fitness accessible and exciting for as large a portion of the general population as possible. The integrated reasoning is that if we can provide our clients with an affordable and flexible training strategy that works around their lives, while keeping each session fun, involving, yet effective, then fitness can be integrally adopted into many lifestyles. Such an intervention would ideally build healthy habits within a community that is increasingly succumbing to a sedentary lifestyle.
The company's mission is also explicitly encapsulated within its Mission Statement which outlines; "To provide a customer-centered approach to fitness – delivering intelligent coaching, cutting-edge technology, and a scaffolded experience to our clients who demand effective, accessible, and efficient services to become happier, healthier, and stronger." This mission statement, we believe, captures the dedication of Zeus Fitness to becoming a viable, long-term fitness services provider that allows access to a wide range of versatile training services to our clientele.
Value Proposition
Zeus Fitness seeks to deliver value to its clientele in a variety of ways. The first approach is to avail all of the services of the gym at a relatively affordable price point. The membership prices are sufficiently subsidized to make the financial burden of a monthly, quarterly, or annual membership, or even day passes significantly lesser. Furthermore, in specific periods of the year, merchandise purchases can be redeemed for day passes, allowing individuals to train following the acquisition of merchandise from the gym. Finally, corporate memberships can also be procured, where companies can include Zeus Fitness within their employee health packages.
Further, Zeus Fitness will seek to hold regular workshops, and avail exclusive offers whereby affiliated trainers can hold boot camps and open days at the gym or other designated locations. These workshops would be marked with extensive learning experiences, giveaways, and discounts for products and services offered at Zeus Fitness, and overall health, wellness, and fitness. It also avails the opportunity for affiliated trainers and potential clients to interact in a fun and relaxed environment. Existing clients can also check-in, and get information on how to continue and sustain their fitness journeys, reviewing their progress, tweaking their requirements, and re-aligning their goals as required.
The Industry
An extensive industry analysis was necessary to determine the dynamism of the market within which Zeus Fitness would eventually operate. This was implemented to ascertain the attractiveness of the market, which comprises the health, wellness, and fitness industry. Ultimately, this translates to the company identifying the marketing and sales strategy to be employed with respect to the various factors identified.
Background Information
The industry size is an essential consideration to influencing strategy adoption. This dimension, specifically, gives a comprehensive assessment of the target demographic and their significant patterns, which leads to the development of the advertising and marketing approach to be adopted. Furthermore, explicit knowledge of the potential number of competitors, and their scale of operation and influence helps outline the potential of business standing out and eventually thriving. In the particular case of Zeus Fitness, the flagship gym for the brand will be launched in Birmingham, with the overall aim of expanding into other locations, branches, and franchise outlets in the rest of the UK.
It is estimated that resistance-based training can be safely started as early as 6 to 8 years of age. This is informed by extensive studies that have shown that a majority of the earlier believed adverse effects of weight-training in children, such as stunted growth, were fallacies (Malina, 2006; Guadreau, Wylie and Flory, 2020; Myers, Beam and Fakhoury, 2017). There is also an increased need for physical exercise given the prevailing rates of obesity and overweight among children in the UK. There is no given age ceiling to which an individual can safely participate in resistance training, and is heavily contextual and on an individual basis. Regardless, Zeus Fitness features competent trainers around the clock to provide assistance and safe training protocols to the entire clientele.
The healthy growth potential of the industry would increase investor confidence in the future for better expansion and implementation of competitive strategies, as this would mean the possibility of more competition down the road. In this particular instance, there is exponential growth potential within the fitness industry as there is an increased mass sensitization on the dangers of obesity and overweight, as well as extensive public health campaigns towards more physically active lifestyles.
Historical Information
Zeus Fitness will primarily involve resistance-style training, which will comprise mainly body-building and functional fitness. Body-building has been widely defined as the use of progressive resistance exercises to develop an individual's muscular structure for aesthetic purposes (Stricker, Faigenbaum, and McCambridge, 2020). Functional fitness, on the other hand, employs progressive resistance training as well, but with the primary goal of developing musculature to make it easier to perform everyday mundane activities. The two training disciplines are highly similar, and can, be incorporated within the same styles of training cohesively.
Body-building and functional fitness can be traced back to Ancient Greek, Egyptian, and Tamilakam societies, which held feats of strength and practiced resistance training for games and other sporting activities. As a discipline, however, body-building developed in the late 19th Century with industry pioneers such as Eugen Sandow, who is widely considered the father of modern body-building.
However, in the era of Sandow, body-building was mainly a carnival art. This would change with the advent of the 50s and 60s when it would become relatively more mainstream, and the development of magazines, training principles, body-building nutrition, and supplementation plans. In contemporary society, body-building and its derivative functional fitness, are widely accessible and accepted as a mainstream activity, and conducted for wellness and physical fitness, and aesthetics.
State of the Industry
The current health club market is hugely lucrative, with an estimated market worth of USD 96.7 billion globally at the end of 2019. Furthermore, this market has shown consistent growth each year since 2008 (Rodriguez, 2020). It is estimated that in the United Kingdom alone, over 7200 gyms are serving 4.5 million adults, or equivalent to approximately 7 percent of the entire population, and a market value of just under £5 Billion. However, there is sufficient potential and growth in the resurgence of the mid-market health clubs and gyms, which is the market niche that Zeus Fitness seeks to exploit. In the UK, there was also a 15 to 20 percent gym attendance increase within the year 2019, which would equate to 3.3 million more people undertaking regular physical exercise and training in commercial gyms (Rodriguez, 2020). Zeus Fitness can capitalize on this growth to launch its customized and highly versatile fitness provision services to this demographic.
The Market
Market Trends
2019 was an abundant year for the entire fitness industry. Global memberships of gyms and fitness clubs soared, with the projected numbers estimated to see a projected membership to gyms hitting 230 million members by the year 2030. This was also underlined by the global industry revenue that totaled USD 94 Billion by the end of the year as well (Rodriguez, 2020). However, there were also specific market trends that, if exploited, would lend significant competitive advantage, and inform on which point of the adoption curve Zeus Fitness would be entering the market.
The overall fitness and health adoption hype is part of the mass awareness and sensitization trend that has had people becoming increasingly aware of the inherent dangers of a sedentary lifestyle. This has led to more people adopting active lifestyles and joining gyms and fitness clubs. There are significantly higher membership rates during January, as people make resolutions to get healthier and look better during the year, but these drop off through the months. Zeus Fitness seeks to capitalize on this initial uptake by providing support and scaffolded fitness experience that allows people to integrate fitness into their lives, rather than force their lives into fitness.
Mission Statement
Zeus Fitness' mission statement is "To provide a customer-centered approach to fitness – delivering intelligent coaching, cutting-edge technology, and a scaffolded experience to our clients who demand effective, accessible, and efficient services to become happier, healthier, and stronger." This mission statement wholly captures the ideal relationship that the company seeks to foster with its target market. It outlines the dedication of Zeus Fitness to becoming a viable, long-term fitness services provider that allows access to a wide range of versatile training services to our clientele. The gym, and its affiliated trainers, provide the flexibility to accommodate individual fitness preferences and goals, lifestyle, skill and physical ability, and any other special considerations including injury recuperation therapies.
Corporate Social Responsibility
The primary role of Corporate Social Responsibility (CSR) at Zeus Fitness will be to improve sustainability and overall environmental responsibility. However, this can only be achieved after the realization of the core purpose of the business, which is ensuring the enrichment of the health and well-being of our members and clients. Furthermore, Zeus Fitness' changing rooms and showers will include water-conserving showers to reduce the overall water utilization and wastage levels in the business. The cross-trainers installed on the premises will be self-powered to ensure that energy conservation is a primary consideration. These two implementations, while being the primary considerations, will also be eventually supplemented by a gradual reduction of paper-use.
Sales and Marketing
The sales and marketing analysis allows the managerial team to ascertain that Zeus Fitness is developed in acute consideration of what the target demographic needs, its accessibility to the ideal target market, and also relative to the overall facilitators that drive the target demographic to incur a fair cost provided the value they get when using the gym's services. For the purpose of this analysis, the 4Ps Marketing Mix was employed, along with a SWOT Analysis, and a competitiveness and profitability analysis through Porter's Five Forces Model.
SWOT Analysis
The SWOT analysis provides an opportunity to implement a validated examination and research tool to assess the strengths, drawbacks, opportunities, and threats of Zeus Fitness and the market in which the gym shall be launched. This provides a snapshot and critical analysis of which business aspects within the internal and external environments of Zeus Fitness.
Strengths
These comprise the essential success factors of Zeus Fitness. The primary strengths of Zeus Fitness include the elements outlined in our value proposition. This is that the gym will seek to operate within the mid-market health clubs and gyms market but at significantly subsidized membership costs. Zeus Fitness seeks to employ and maintain its position as the price leader in this segment of the fitness clubs and gyms market. The gym also implements an extensive price catalog, which is tiered to accommodate day-passes, monthly, quarterly, and annual membership subscriptions. However, regardless of the subscription package adopted, a personal trainer will be consistently availed to help the client through the training, and ensure safety and efficacy.
Weaknesses
The primary weakness of Zeus Fitness would be the limited geographical coverage as it seeks to launch with a single flagship gym based out of the Birmingham area. However, based on the reception and contextual market analysis conducted following the launch and operation of Zeus Fitness in Birmingham, the gym will seek to gradually open more locations to increase its geographical coverage and realization of its mission statement.
Opportunities
The most significant opportunity within the external environment of Zeus Fitness would be the consistent growth of the fitness industry, along with the increasing popularity of mid-market fitness clubs, studios, and gyms. The gym can leverage this growth to ideally open further locations and franchises within the Zeus Fitness brand in other places like Birmingham, British Cities, and the UK.
Threats
The greatest threat to Zeus Fitness is that, while the services offered are highly innovative and functional, the services are highly imitable by other competitors within the market. The outbreak of the novel coronavirus (COVID-19) pandemic has also proven that natural disasters are an ever-present and real threat to businesses. The SWOT analysis of Zeus Fitness can be summarized in Table 1 below.
Table 1: SWOT Analysis of Zeus Fitness.
Internal Factors
STRENGTHS
WEAKNESSES

Highly price competitive
Inclusive fitness trainer with regular membership packages
Inclusive and handicap-friendly facilities.
Frequent price discounts, workshops, and merchandising deals.
Incorporation with corporate employee health benefits.

Limited initial geographical coverage
Easily imitable services and functionality are offered in the gym.

External Factors
OPPORTUNITIES
THREATS

Exponential growth within the fitness industry.
The increasing popularity of mid-market fitness clubs and gyms.
Widespread appeal through the inclusive nature of the services offered.

Imitable services
Already established fitness clubs and gyms in the market
Natural disasters and occurrences such as the COVID-19 pandemic.
The 4Ps of Marketing
The marketing mix describes the conglomerate of choices and marketing decisions that a company implements, or seeks to implement, in the entire process of bringing a commodity to the market. Resultantly, the 4Ps approach is a popular, yet robust avenue of addressing the primary concerns that ought to be addressed during the marketing procedure. The 4Ps of Marketing Mix in this case include:
Product
To meet the varying needs of the target demographic, the gym needs to offer a comprehensive, yet scalable and scaffolded array of fitness service options. The client base is divided into pre-determined consumer segments, including age, gender, fitness goals, preferred training method, level of skill, and overall budget. This ensures that their requirements are well understood, and the experience tailored for them.
Place
Zeus Fitness's flagship gym will be opened in Birmingham city. Opening a fitness club or gym within the town is quite straightforward, provided of course that the implemented regulations and policies are adhered to closely. The gym will also lend out its trainers and physiotherapists on a mobile capacity to discerning clients after the necessary background information is ascertained on the individual.
Price
Zeus Fitness will have day passes at £5, or in the event of merchandizing discounts, the purchase of a Zeus-branded t-shirt or stringer vest. On the other hand, the monthly memberships will range from £16 a month, with an initial one-time fee of £5 for registration and joining. This monthly fee reduces to £14 for the quarterly membership option and £12 for the annual gym membership. All the prices are inclusive of a trainer and training class services.
Promotion
The primary means of promotion for Zeus Fitness will be through social media and local classifieds. This approach is especially relevant due to the limited geographical launch of the brand. Further, in this contemporary business age, social media offers an extensive marketing opportunity, where our team of trainers and other affiliated personalities, as well as social media influencers, can adequately reach a vast audience through endorsements and paid partnerships.
Competitive Analysis and Profitability
Michael Porter's Five Forces Framework was developed to provide industry-wide competitiveness assessment. This approach, however, is better suited for an industry that comprises more than three firms and may be ineffective for smaller enterprises. Figure 1 below represents an infographic of Porter's Five Forces Model in the fitness market in which Zeus Fitness would be operating (Wellness Creative, 2020).
Management & Personnel
Ownership
The company and the gym will be solely on a sole proprietorship basis. The individual will have an exclusive share possession of the gym, complete autonomy, and also the sole reception of the business' proceedings and liabilities. This ownership is, however, appropriate given the nature of the startup, and gives the versatility necessary to make impactful, yet quick decisions to rectify situations and capitalize on opportunities.
A managerial team will, however, be implemented to help with the daily and routine management and running of Zeus Fitness. This will include the gym manager, a head trainer, assistant trainers, and team captains and leaders. This will ensure sufficient division and separation of roles to give the business such a much-needed level of autonomy.
Management Attributes
The business owner will provide overall and overarching management of Zeus Fitness. The owner is a competent business professional, having acquired a Bachelor's program and additional competencies from self-taught business practices and an innate understanding of UK business policies and regulations. Furthermore, the direct assistant to the owner will be a gym manager, preferably with competencies gained from a business administration course, and experience working similar or comparable roles. A head trainer, an accountant, and a physiotherapist will round off the managerial structure of Zeus Fitness.
Training and Development
Zeus Fitness will offer extensive opportunities for the professional development of our trainers and physiotherapists. This will ensure the consistent improvement of the gym's operational efficiency, along with a better sense of belonging and appreciation of work from the trainers and staff. There will be a formalized initial gym staff training plan that will be implemented by offering each employee a handbook, including procedural instructions, essential policies, and success measuring tools. Furthermore, physical training certification courses can be undertaken in tandem with employment, and trainers, team captains, and team leaders will be highly encouraged to take them, as their increased proficiency will result in more satisfied clients.
Organizational Structure
Figure 2 below outlines the hierarchical organizational structure at Zeus Fitness.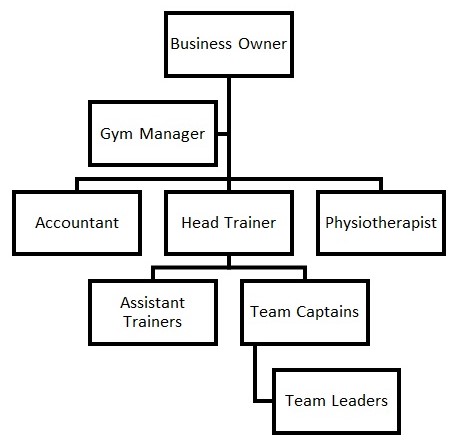 External Help
External business entities will be retained on a transactional or contractual basis. This will be necessary through merchandise manufacture and branding, as well as collaboration with supplement brands to provide dispensers and displays within the premises. Furthermore, Zeus Fitness will feature an extensive partnership with chiropractors, massage parlors, and spas within the Birmingham area to provide a holistic fitness and wellness experience for the clientele.
Future Development
Market trends within the fitness and wellness industry indicate an increased adoption of mobile technology within the domain. The proposed future developments for Zeus Fitness, therefore, include the development of an application featuring online remote classes and functionality, as well as the ability to book classes and membership remotely. Furthermore, the gym seeks to open new branches and franchises within the Birmingham area, and the entire UK as well.
Financial Data
In the development of the financial projections for Zeus Fitness, the following significant assumptions were made:
There is a consistently growing economy and industry, with no substantial recessions or booms.
There are no unprecedented changes in fitness, medicine, and health, or commercial domains.
There are no major national or international events that significantly threaten the stability of the UK and its citizens.
Quarterly Budgeted Profit and Loss Accounts
ZEUS FITNESS PROFIT AND LOSS ACCOUNT FOR THE NEXT 3 YEARS
2021 (£)
2022 (£)
2023 (£)
Q1
Q2
Q3
Q1
Q2
Q3
Q1
Q2
Q3
Sales
38,118
32,146
33,074
41,794
40,478
40,997
48,602
47,025
47,909
Merchandise sales
23,251
30169
30,699
38,750
38,526
38,967
44196
42,858
43,688
Affiliate Sales
3,467
3,230
4,070
5185
4025
4130
6895
6580
6675
Total Revenue
64,836
65,545
67,843
85,729
83,029
84,094
99,693
96,463
98,272
Cost of Sales
1,445
2,190
2,937
3120
2250
2300
3835
3027
2872
Advertising
2,592
2,428
2,756
1,800
1,450
1,980
1,325
1,100
1,100
Education & Training
560
410
670
340
580
610
270
440
510
Insurance
1,830
1,830
1,830
1,950
1,950
1,950
1,870
1,870
1,870
Interest and Expenses
1,050
1,125
1,050
1,300
1,150
1,445
1,010
1,095
1,270
Utilities
3,660
3,660
3,660
4,010
4,010
4,010
3,950
3,950
3,950
Payroll Expenses
46,290
46,290
46,290
59,200
59,200
59,200
70,100
70,100
70,100
Payroll Tax Expenses
4,722
4,722
4,722
6,039
6,039
6,039
7,151
7,151
7,151
Professional Fees
410
410
410
410
410
410
410
410
410
Rent
3,740
3,740
3,740
3,850
3,850
3,850
3,965
3,965
3,965
Maintenance & Repair
285
150
365
570
380
475
685
415
610
Supplies
875
425
425
970
385
450
785
570
480
Total Expenses
67,459
67380
68,855
83,559
81,654
82,719
95,356
94,093
94288
Profit
(2,623)
(1,835)
(1,012)
2,170
1,370
1,375
4337
2,370
3,984
Cashflow Forecasts
ZEUS FITNESS PROJECTED CASHFLOWS
2021 (£)
2022 (£)
2023 (£)
Q1
Q2
Q3
Q1
Q2
Q3
Q1
Q2
Q3
Cash at beginning
7,500
42,745
78,836
116,008
167,355
216,787
266,458
328,848
388,870
Cash inflows
Sales Paid (75%)
48,627
49,159
50,882
64,297
62,272
63,071
74,770
72,347
73,704
Credit Sales Collection
0
0
0
0
0
0
0
0
0
Loans and Transfers
0
0
0
0
0
0
0
0
0
Total Cash Inflows
48,627
49,159
50,882
64,297
62,272
63,071
74,770
72,347
73,704
Cash Outflows
Rent
3,740
3,740
3,740
3,850
3,850
3,850
3,965
3,965
3,965
Utilities
3,660
3,660
3,660
4,010
4,010
4,010
3,950
3,950
3,950
Education & Training
560
410
670
340
580
610
270
440
510
Insurance
1,830
1,830
1,830
1,950
1,950
1,950
1,870
1,870
1,870
Advertising
2,592
2,428
2,756
1,800
1,450
1,980
1,325
1,100
1,100
Miscellaneous
0
0
54
0
0
0
0
0
0
Accounting petty cash
1,000
1,000
1,000
1,000
1,000
1,000
1,000
1,000
1,000
Loan repayments
0
0
0
0
0
0
0
0
0
Total Cash Outflows
13,382
13,068
13,710
12,950
12,840
13,400
12,380
12,325
12,395
Cash at End
42,745
78,836
116,008
167,355
216,787
266,458
328,848
388,870
450,179
Budgeted Statement of Financial Position
ZEUS FITNESS BALANCE SHEET AT BUSINESS LAUNCH
Assets
(£)
Cash
10,000
Merchandise Inventory
75,000
Prepaid Insurance
2,500
Equipment
240,000
Total Assets
325,000
Liabilities & Owner's Equity
(£)
Current Liabilities
30,000
Loans & Long-term liabilities
200,000
Owner's Equity
95,000
Total Liabilities and Equity
325,000
ZEUS FITNESS BALANCE SHEET
2021
2022
2023
Assets
(£)
(£)
(£)
Cash
116,008
266,458
450,179
Merchandise Inventory
90,000
120,000
135,000
Prepaid Insurance
2,500
2,500
2,500
Equipment
240,000
240,000
240,000
Total Assets
448,508
628,958
827,679
Liabilities & Owner's Equity
(£)
(£)
(£)
Current Liabilities
78,500
81,250
94,285
Loans & Long-term liabilities
275,000
320,800
438,500
Owner's Equity
95,008
226,908
294,894
Total Liabilities and Equity
448,508
628,958
827,679
Action Plan
Start Date
Actions
Completion Date
Responsibility
Resource
31/08/2020
Successfully launch Zeus Fitness in Birmingham, UK.
Gain 45 Clients within the first month of operation
31/09/2020
All Zeus Fitness Personnel
The Zeus Fitness Facilities.
Social Media
Tour conversions
Branded merchandize.
Launch day event
01/09/2020
Attract 20 new members per month
01/11/2020
Gym Manager
Trainers
Affiliate marketers
Social Media
Client testimonials.
Advertisements, workshops, and open-days
01/11/2020
Launch a "Ready for the Holidays" mini-weight-loss program
23/12/2020
Gym Manager
Trainers
Affiliate Marketers
Social Media
Discounted membership packages
01/01/2021
Increase clientele retention to 80 percent
01/03/2021
All Zeus Fitness Personnel
Social Media
Training programs and classes.
Client testimonials
01/03/2021
Attract 25 new members per month
01/06/2021
Gym Manager
Trainers
Affiliate Marketers
01/06/2021
Get featured in 4 industry publications of reputable websites.
Have a trainer featured in BodyBuilding.com
31/12/2021
Business Owner
Gym Manager
Trainers
Affiliate Marketers
Client testimonials
Social Media
Trainer highlights.
Industry collaborations
01/08/2021
Secure a booth at the BodyPower Fitness Convention in NEC Birmingham.
Increase client retention to 85% for the next 2 months
01/09/2021-01/10/2021
Business Owner
Gym Manager
Trainers
Affiliate marketers
Industry collaborations
Social media
Client testimonials
Reference
Cleary, S. L. et al. (2019). 'Barriers to and facilitators of physical activity for children with cerebral palsy in special education', Developmental Medicine & Child Neurology, 61(12), pp.1408-1415.
Guadreau, Z., Wylie, R.C. and Flory, S.B. (2020) 'Teaching resistance training principles to children using an implement: the deadlift'. Strategies, 33(3), pp.31-36. Web.
Jenkins, D.A.et al. (2018) 'Adiposity-mortality relationships in type 2 diabetes, coronary heart disease, and cancer subgroups in the UK Biobank, and their modification by smoking'. Diabetes Care, 41(9), pp.1878-1886. Web.
Malina, R.M. (2006) 'Weight training in youth-growth, maturation, and safety: an evidence-based review'. Clinical Journal of Sport Medicine. 16(6), pp.478-487.
Mandolesi, L.et al. (2018). 'Effects of physical exercise on cognitive functioning and wellbeing: biological and psychological benefits', Frontiers in Psychology, 9, p.509.
Myers, A.M., Beam, N.W. and Fakhoury, J.D. (2017). 'Resistance training for children and adolescents', Translational Pediatrics, 6(3), p.137.
Portegijs, E. et al. (2017). 'Physical limitations, walkability, perceived environmental facilitators and physical activity of older adults in Finland'. International Journal of Environmental Research and Public Health, 14(3), p.333. Web.
Rodriguez, M. The 2020 IHRSA Global Report: clubs post record numbers in 2019. Web.
Stricker, P.R., Faigenbaum, A.D. and McCambridge, T.M. (2020) 'Resistance training for children and adolescents'. Pediatrics, 145(6). Web.
Tiryaki-Sonmez, G. et al. (2015). 'Obesity, food intake and exercise: relationship with ghrelin', Biomedical Human Kinetics, 7(1).
Wellness Creative. (2020). Gym market research & industry Stats 2020 [Inc Membership Statistics]. Wellness Creative Co. Web.