You will write many reports as a business, economics, or marketing student. In the business world, it is an important way to present your plans and proposals to employers and possible investors. Learning how to organize and write a business report is a crucial skill and fundamental to your studies and career.

In this guide, our team has explained how to organize and plan your business report. We have also listed key tips for successfully writing and polishing your paper.
✏️ Planning a Business Report: Questions to Ask
Before you write your report, figure out what you need to include. This will let you determine how to make your writing relevant and accessible.
We highly recommend following this checklist:
❓ What is the purpose of your report?
The overall purpose of any business report is to assist in decision-making processes. However, you should also think about how the information presented will serve your readers.
❓ Who will read this report?
Consider your target audience. Think about what the readers know, what they need to know, and how they want to use this information. You will have to keep your audience in mind when developing your titles and content.
❓ What central messages will you explore in the report?
Identify the message or ideas you need to convey, as well as the necessary data. Think about these questions: What information should I include? What are the essential details?
❓ How will you structure your work?
Decide on your approach – deductive or inductive?

For the former, the findings are presented at the start of the study, and the report justifies them. The latter walks the reader through the conversation first and then delivers your conclusions and recommendations in the end.
Free Business Report Examples
To learn about planning and organizing reports, you will benefit from checking free college essays. Successful samples clearly demonstrate how to structure professional papers and approach business topics.
We recommend you read these examples:
🗃️ How to Structure a Business Report: Step by Step
Now that you have the key features figured out, you can start developing your outline. You should organize your business report, so it is as easy as possible to write.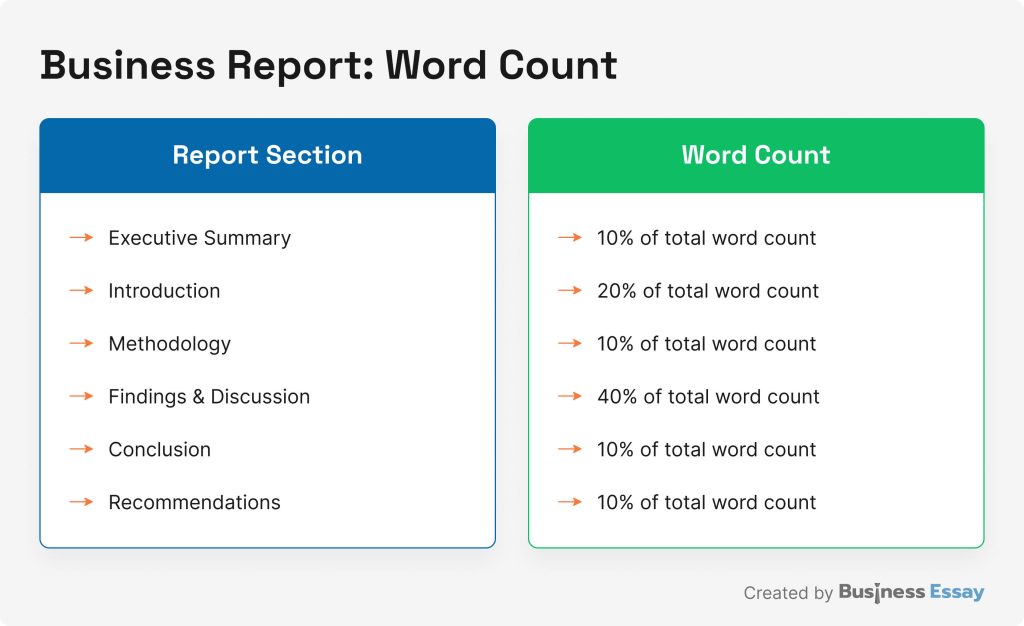 In the next section, we've covered each part of the business report.
Title Page
A cover page is necessary in the business world, being the first thing the readers see. However, you may not need it in your study project. Chances are your professor or examiner won't require it. So, we'll start with the title page here.
A title page is included at the beginning of a professional paper or academic essay. It is intended to serve as a preview and summary of the key aspects of the project. The primary components of a title page are the writer's name, the work's title, and the name of the school, university, or other institution where the paper is being written and submitted.
Here are the elements you should include:
The complete title (centered, in bold or upper case).
The person/organization for which it was prepared (optional).
The deadline.
The lecturer or tutor's name.
The subject's name (and its code).
Do not include the page number (however, it is still counted as a page).
❗ These requirements may vary depending on your institution.
Executive Summary
An executive summary is intended to provide investors, stakeholders, and other readers with a short overview of the key information. It includes background context, a brief analysis, a conclusion, and a short statement addressing the central problem.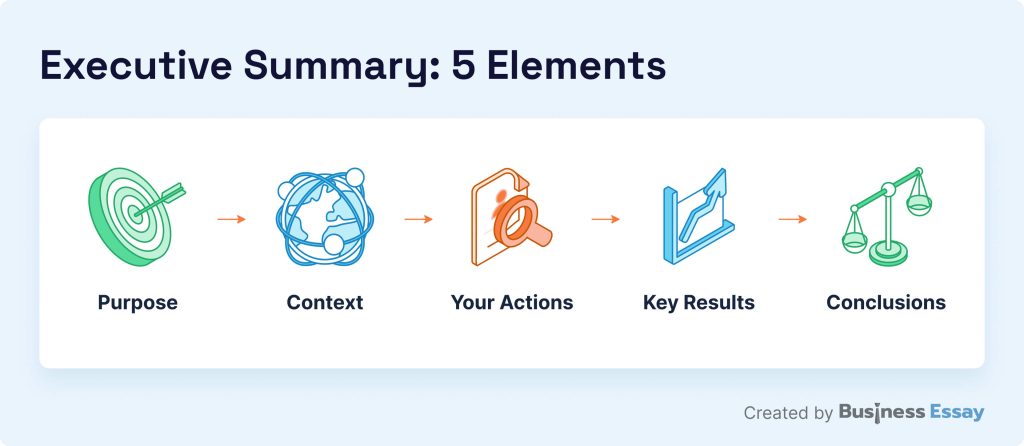 It should contain the following:
The purpose of the report. Discuss the project's goal briefly. Whether it's to launch a new campaign, create a new policy, perform a survey or research, or test a product, talk about it. Why was this information compiled? What is the goal of the person or organization who created it?
A bit of context for your readers. Shortly present a brief history of the project and mention a specific incident that prompted its inception. Don't forget to explain whether it is the first of its kind or part of a series. It's also a good idea to specify whether the report is being carried out in collaboration with or with support from other organizations.
A description of what you have done in the report. Specify which departments are participating and how. What are their contributions? Describe the major obstacles or issues encountered throughout your research and analysis. Also, explain how the team will handle and address such challenges.
A short summary of the main results and ideas. Summarize your project and its objective. Write about the principal problem or issue you expected to resolve or address. What is critical for the reader to understand?
Brief conclusion and recommendations for further research. Give a concise overview of the project's results. Talk about essential discoveries and how the organization will use this information. Briefly discuss how the project addresses the fundamental problem or issue. Does it truly offer a solution? Mention how the findings and conclusions will be turned into a real policy or strategy.
Table of Contents
Upon reading your executive summary, your reader may want to jump to a particular section of the report or check its structure. That's when the table of contents comes in handy.

As you base your table of contents on your paper structure, you should create it when the work is ready or at least outlined. For that, you will need headings and subheadings, which we'll explore in the next section.
Headings & Subheadings
Business reports often feature headings — a word or short phrase clarifying what the following section will be about. They make the document look organized and show the development of the author's thinking. You can also illustrate the hierarchy of ideas by using headings with subheadings.
Ensure that your headings and subheadings are effective:
Use concise, descriptive language.
Apply different text formatting for headings and subheadings (bold, underlined, italics, etc.).
Be consistent with the format.
Leave slightly more space above a heading and slightly less below it.
Have a block of text underneath a heading (as opposed to any images, graphs, etc.).
Avoid using headings and subheadings too often.
Insert a page break before a heading.
❗ The critical thing is:
It is essential to use careful phrasing when constructing your headings. You have to keep the focus on the following section's content.
List of Figures
Alongside blocks of text, business reports often feature images, tables, graphs, charts, and other visual information. Your readers shouldn't have issues locating them in the document. Therefore, if your report features more than two infographics, add a list of figures. This will serve as a table of contents for any images, charts, or tables you have provided.
Before including this list of tables and figures, you should answer one crucial question:
Do you really need these many visuals in the body of your report?
Graphics such as charts, graphs, images, and tables are valuable visual aid for your readers. They can support your statements and illustrate your points more clearly than words. However, you should not overwhelm your audience with an onslaught of visual information.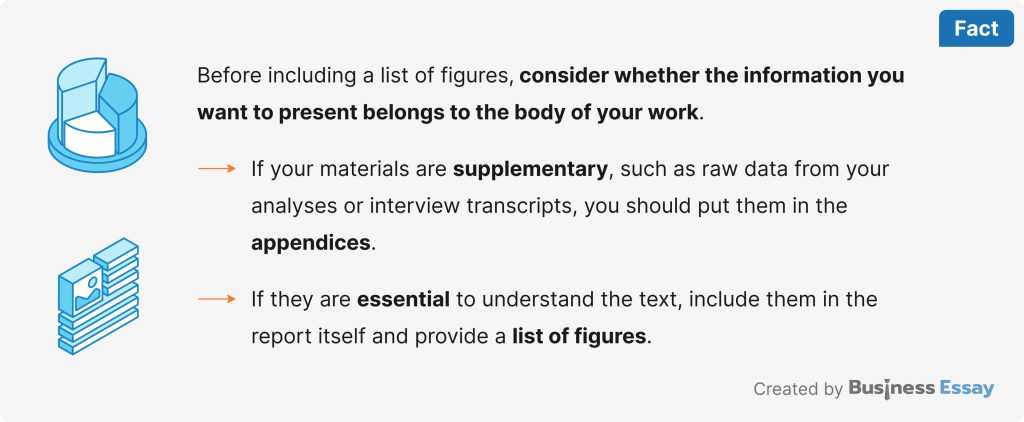 Introduction
An introduction of your business report sets the stage and guides your readers, providing background or contextual information. It presents all the data that a person might need to know before reading the rest. It also outlines the report's structure and states what specific questions your will try to answer in the following sections.
Your introduction can be broken down into several paragraphs:
Body Paragraphs
As opposed to academic essays, the main body of business reports has three distinct sections:
Methodology. This part covers the approaches and methods you used for your business project.
Results. Here you describe your findings and what exact figures you've got.
Discussion. In this section, you elaborate on your results, exploring what they might mean.
Let's talk in detail about the elements of these sections.
Methodology
Methodology refers to an explanation of how research has been conducted, as it answers these questions:
What methods did you use when researching the topic and gathering information?
How did you analyze the data?
What are the reasons for selecting these methods?
In essence, you describe the techniques you used and explain why. Here are how to write this section:
Restate the thesis or research question. First of all, you have to refer back to your introduction. Restate the problem you are trying to explore in your report. It will allow you to address the assumptions and questions related to the content.
Explain the reasoning behind the methods. What type of research did you depend on? Was it qualitative or quantitative? Describe the approach you have selected and why.
Explain any unusual methodology. If you have picked or developed a method that is unique to the line of research, describe it. Since this section aims to prove that your findings are valid and reliable, you have to clarify any unusual choice you made.
Describe the data you have collected. Talk about the experiments you have conducted to collect information for your report. If you have gathered it from existing sources, explain the criteria you have used to select the data.
Elaborate on the methods you use for analysis. List the steps and processes you have used to evaluate the acquired data. If the research is quantitative, explain how you ensured the data's accuracy. What electronic means did you use for statistical or similar analysis? If you conducted qualitative research, state whether it was content-, theme-, or discourse-based.
Discuss the problems on your path and solutions. Are there any gaps in your research? What about issues with the data? Mention everything you had problems with and briefly explain how you solved them.
Cite the sources you chose. Refer to the resources that made you select these particular methods for your report. This step will validate your research.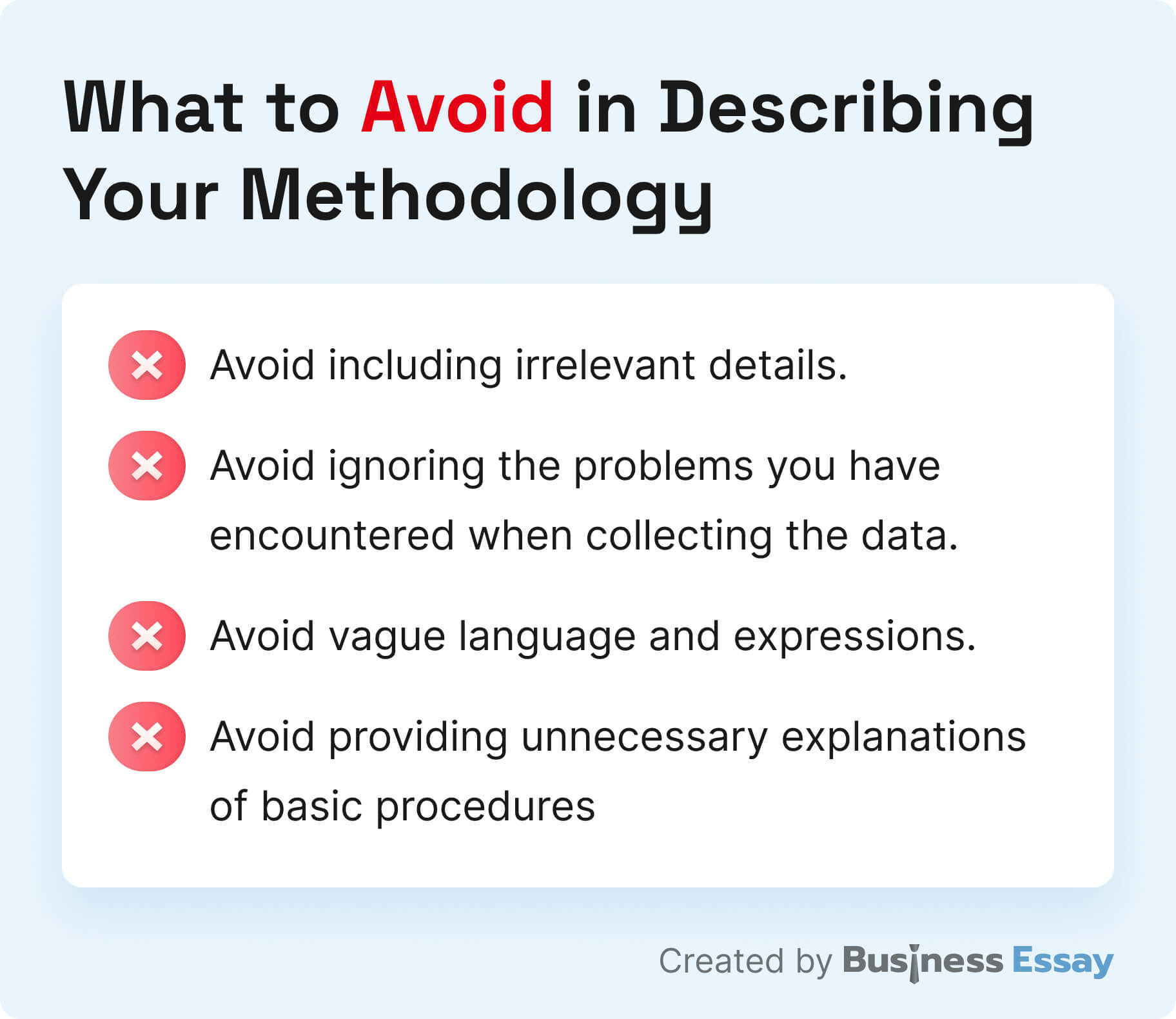 Results
Results, also known as Findings, is the section where you list your research and analysis outcomes. It is essential to present the findings logically so that your readers have no problem following your thought process. One of the ways to do it is by including headings or subheadings. You can also present all the findings with the help of numbered sections, bullet points, or graphics illustrating your analysis.
In the findings section, provide answers to these questions:
Did the findings support your theory?
What were the most crucial results related to the topic/problem statement?
Did you find any unexpected issues or gaps in the field?
Discussion
In the discussion section, you reflect on the findings presented in the report. It is often the longest part of the text as it contains all the significant information and proof to support your conclusions. Here, you should also justify your future recommendations.
This section usually includes these elements:
An explanation of problems or unexpected findings. A good business report should mention unusual results, trends, or unresolved issues. Discuss what it may imply about your research and analysis.
The limitations of your analysis. While you might feel that restrictions are a potential weakness, writing about them strengthens your report. It shows that you are aware of them. It also lets the readers see the limits before they find them themselves.
The opportunities for further research. Don't just state, "more research is needed." Instead, give concrete ideas for future studies. Point out the gaps in the field and suggest what methods other researchers can use.
The reasoning behind your hypothesis. Go back to the introduction and check if your findings support the problem statement. Decide whether you have reached the report's goal and write about it.
A comparison with other relevant research. This part might be tedious because it requires your knowledge of other reports in the field. However, it will allow you to demonstrate the importance of your findings.
❗ Make sure that you don't simply describe your findings. Here, you should discuss why your results are significant. Besides, you should connect your analysis to your conclusions and recommendations.
Conclusion
In business writing, a conclusion partially serves the same purpose as in academic pieces: it summarizes the text. You restate the report's purpose, research process, and results.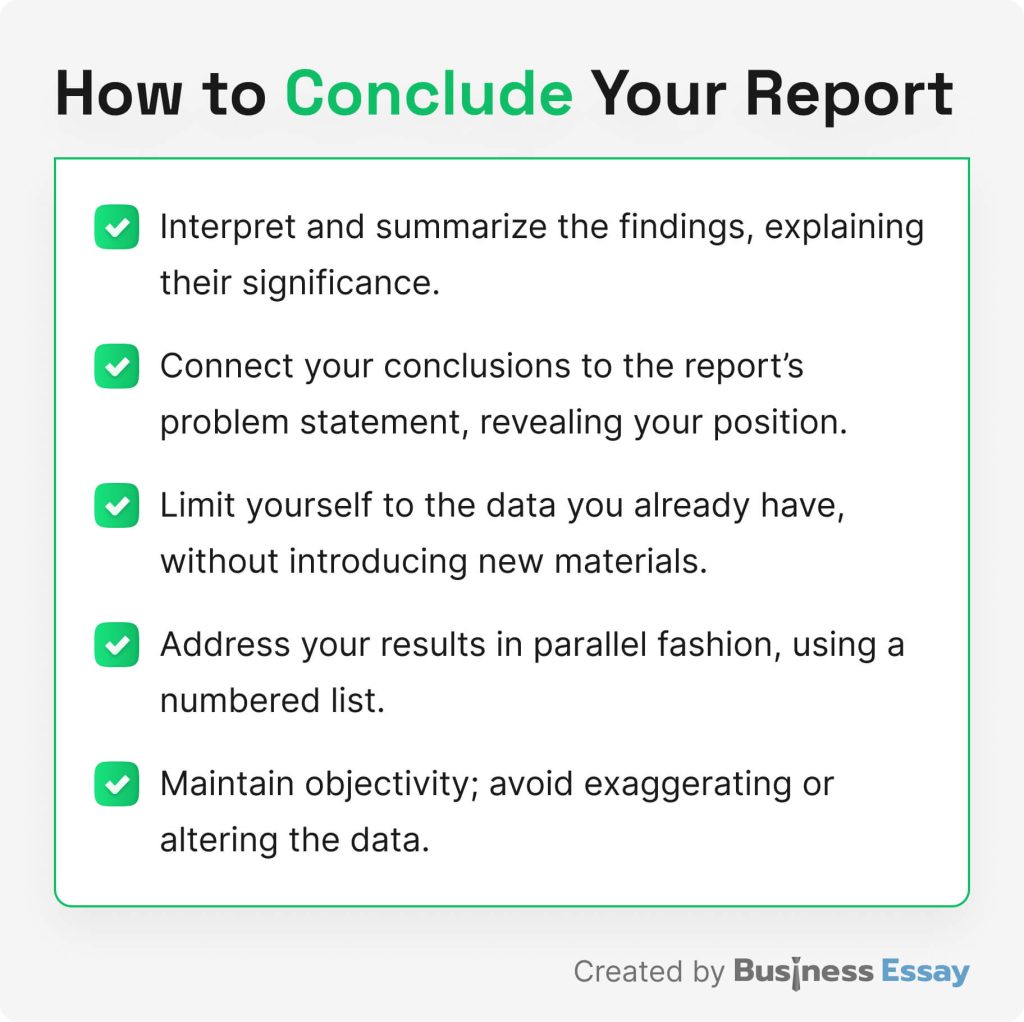 In this section, you also add your major position based on your findings, addressing your initial goal. This way, your report will have thematic cohesiveness. You may also reiterate the limits and benefits of the results you got.
Recommendations
In extensive academic papers or even short persuasive essays, students tend to add a call to action or their ideas for further research in the field. In a business report, Recommendations is a whole section dedicated to your suggestions.
When writing recommendations, ask yourself and your reader:
Here is what you should keep in mind when composing this section:
Recommend particular actions that may solve the report's problems.
Number your suggestions, listing them from the most valuable to the least.
Explain how other analysts may implement these actions (if you were requested to do this).
Avoid using conditional phrases like "maybe" and "possibly" to sound persuasive.
Present each suggestion individually, beginning each idea with a verb.
Reference List
Your business report requires a bibliography if you've cited various sources in your text. That includes statistics, facts, perspectives, and conclusions from different studies.
The issue with compiling a bibliography lies in referencing styles. Your institution or even a particular professor will dictate a specific citation system. Thus, before providing quotes in your text and listing your sources, ask your tutor what reference guide you should use.
Appendices
An appendix is an optional part of the business report. Though, you will likely need it to include all the evidence you've gathered in this section.
An appendix is generally placed at the end of the business report. In this section, you provide extra information and supplementary materials that don't fit in the main body. If you have a few appendices, you can distinguish them by alphabet letters (Appendix A, Appendix B, Appendix C, etc.) and refer to them in the text, respectively.
Here are the essential qualities of a good appendix:
📝 7 Business Report Writing Tips
To write an exceptional business report, follow these tips: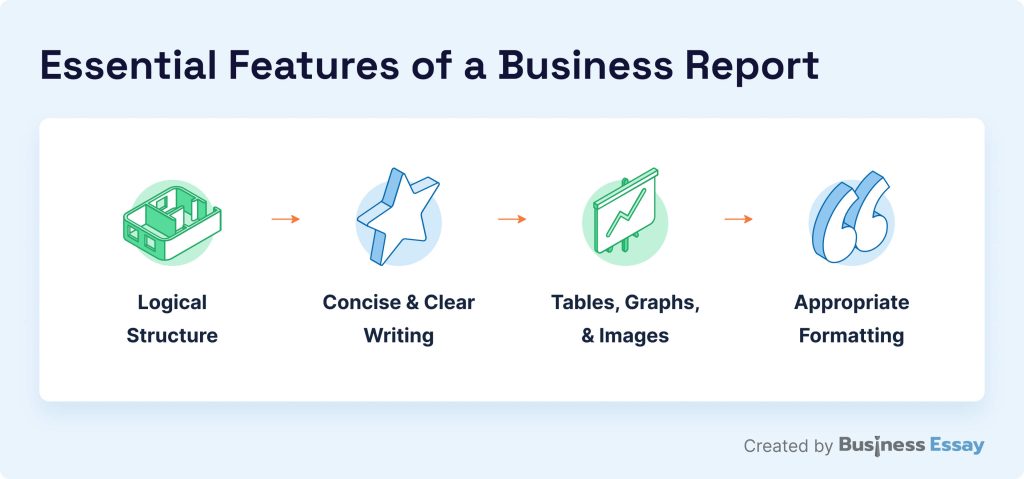 Structure each paragraph logically.

Each separate passage should start with a subject phrase that reveals its primary concept or theme. Besides, it should end with a concluding sentence connecting the paragraph with the next one.

Don't write long sentences.

You want to convey your grasp of the issue and the power of your argument. To achieve this, keep your writing concise and use appropriate and clear terminology. A reasonable average length of a sentence is 15-20 words.

Avoid repetition.

If you have to reiterate some information, an alternative to repetition is paraphrasing. This way, you will state the data again without tiring the reader.

Select an appropriate font and spacing.

Business reports with a balanced use of white space (blank areas) are simpler to read. They tend to communicate primary points and supplementary concepts more effectively. Use a lot of headers, subheadings, and bullet lists to create white space. Also, create wide gaps around all borders.

Number your pages.

For your executive summary and table of contents, use Roman numerals (i, ii, iii) and Arabic numbers for the rest of the report (1, 2, 3). There should be no number on your title page, even though it is counted as one.

Include tables, charts, and pictures.

In business reports, tables and figures are often used to represent data, processes, etc. They should be incorporated in the text, close to the discussion of the data they convey. Pictures are also a great way to visualize information.

Edit and revise everything.

Once your business report is ready, you still have to read it closely. The odds are that you will find grammar or logical mistakes, so edit them thoroughly.
🖋️ Writing Professionally: What You Should Know
A business report is an official document in educational and workplace settings. Thus, it should be crafted accordingly. Even a college project should display that you understand a professional writing style.
Professional (or formal) writing is a communication style used in a professional environment. It allows business people, doctors, lawyers, designers, marketing specialists, etc., to present work information and converse with each other.
Several features are crucial to a professional style:
Professional texts are written clearly and concisely since regular readers tend to skim these documents.
The tone of professional writing is formal.
Professional writing uses easy-to-read sentences that aren't too long or detailed.
When used to present business plans or project proposals, the tone has to be confident, optimistic, sincere, and respectful.
Professional vs. Academic Writing
| ✍️ Academic Writing | ✍️ Professional Writing |
| --- | --- |
| Authors implement jargon necessary to explore the topic. | Authors avoid jargon in an attempt to reach a bigger audience. |
| Academic papers have to cite scholarly sources, providing direct and indirect quotes. | Professional papers don't generally quote studies in-text, though they usually have sources in the reference list. |
| Academic writers use both active and passive voices. | Professional writers primarily use active voice. |
| Sentences and paragraphs vary in length and structure. | In most cases, sentences and paragraphs are concise and direct. |
| A well-developed text, connected by linking words and topic/concluding statements. | Paragraphs are focused on different aspects and can be connected by headings/subheadings only. |
| Academic papers require a fully developed introduction and conclusion. | Both the conclusion and introduction can be brief, depending on the paper's type. |
Professional Writing Tips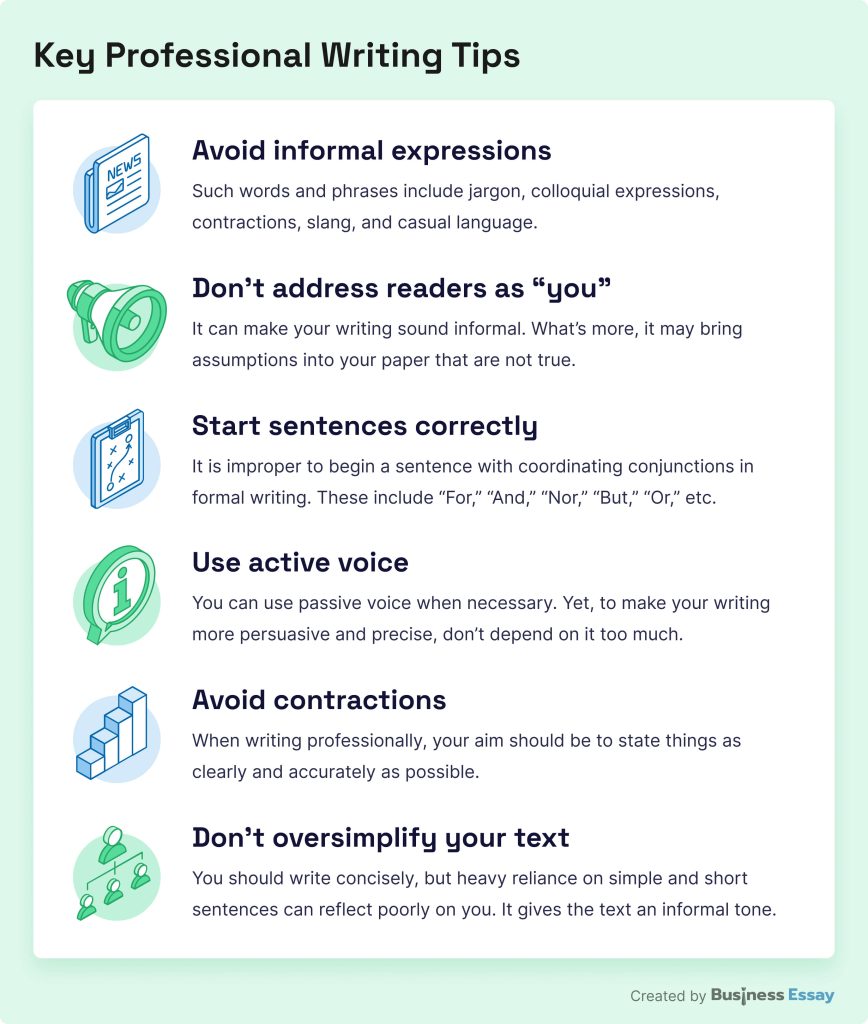 Thank you for reading! We hope that writing a business report doesn't sound like a challenge anymore. Send our guide to your friends who might also need our tips.
🔗 References