Company Profile
Gap Inc. is an American apparel retailer operating internationally with thousands of stores across the globe. The company was established in 1988 and developed into a business with stores in the United States, the United Kingdom, Ireland, Canada, Japan, and France and employing over 120,000 people ("Gap Inc.," 2020). The company's manufacturing facilities are located in Bangladesh, Cambodia, China, Guatemala, India, Indonesia, among others (Gap Inc., 2020).
The organization in question is one of the leaders of the American apparel industry, with a revenue of over $16 billion in 2019 ("GPS:US," 2020). However, the company has been facing considerable issues during past years that resulted in considerable losses (see Appendix A for more detail) (Trefis Team, 2015). The current situation associated with coronavirus and an upcoming global recession is leading to even more serious issues (Sandler, 2020). This project management plan includes a brief analysis of the company's current condition and the ways to improve its performance and retain its leading position.
Mission and Vision
Gap Inc. stipulates its commitment to social and environmental sustainability (Gap Inc., 2020). The company's vision as presented at its official website is related to such aspects as quality, diversity, social and environmental responsibility, the empowerment of different groups (Gap Inc., 2020). As far as the mission is concerned, the company is trying to achieve a higher degree of diversity with the focus on the pay gap and empowerment of women, helping people to cope with the pandemic, as well as the reduction of its environmental footprint ("GAP Inc. coronavirus response," 2020). The recommendations provided below are developed in terms of the mission and vision of the organization under analysis.
Situation Assessment
Porter's Five Forces
When evaluating the current situation of a company, it is possible to utilize several tools. In order to assess the external factors that have an impact on the organization's performance, Porter's Five Forces model can be applied (Wysocki, 2019). This framework encompasses the focus on such aspects as competitive rivalry, supplier power, buyer power, the threat of substitution, and the threat of new entry (see Figure 1).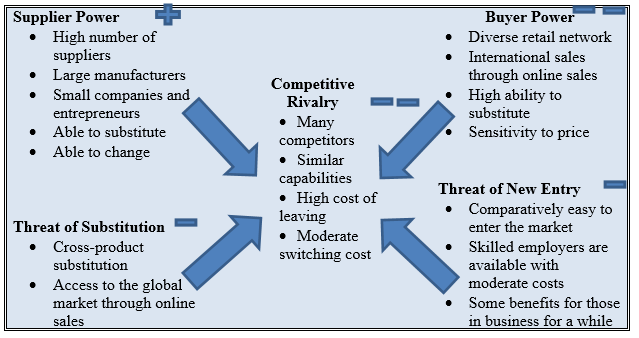 The analysis of the competitive power of GAP Inc. shows that the organization has to face substantial issues due to its low competitive power in the current apparel market. The major rivals of the company in question include Macy's, Wal-Market, Target, JCPenney, and American Eagle Outfitters that have a considerable market share (see Appendix B) (Trefis Team, 2015). These companies offer products of similar quality within a similar price range. These retailers are flexible and provide numerous benefits to their customers, trying to meet their needs and follow the current trends (Trefis Team, 2015). These companies also try to enhance their social and environmental responsibility practices. It is also necessary to add that customers can easily switch to other retailers and producers, ranging from local entrepreneurs to international brands selling online.
Moreover, a new entry is comparatively easy due to the development of technology and the availability of a skilled labor force. Buyer power is one of the weakest points that need specific attention. Customers are price-sensitive, which poses serious challenges, especially in the period of severe economic constraints. Supplier power is one of the opportunities, but it can hardly mitigate the risks associated with high buyer power, an easy new entry, high threat of substitution, and competitive rivalry.
PESTEL Analysis
Another effective tool that can help in identifying external factors affecting the performance of GAP Inc. is PESTEL analysis. The framework implies the focus on such facets as political, economic, social, technological, environmental, and legal (Wysocki, 2019). This model suggests that the organization in question has to address numerous issues, which has an adverse effect on its current position in the market (see Table 1). This tool unveils some of the most burning issues that should be solved.
Economic issues countries are now facing have a tremendous influence on all industries, including the production and distribution of clothes (Sandler, 2020). Customers are becoming more price-sensitive due to the economic losses the vast majority of countries are now experiencing. According to Sandler (2020), GAP Inc. had to stop paying rents for its U. S. retail stores and furlough approximately 80,000 employees.
At the same time, people remain socially and environmentally conscious in the USA, and many people pay substantial attention to companies' practices. The company had certain legal issues related to inappropriate working conditions of its employees working in factories located in developing countries (Smith et al., 2018). However, the company addressed all those litigations effectively and started collaborating with communities and authorities effectively.
Table 1. PESTEL Analysis.
Political

Customers in countries with political stability
Overall positive attitude towards the industry
Suppliers in countries with comparative political stability
Governments imposing restrictions concerning labor force and environment

Economic

Upcoming global recession
Instability in stock exchanges
Potential issues in the banking system

Social

Growing concerns regarding employees' working conditions and salaries
Consumerist society
Environment-conscious people
Customers losing money due to COVID-19-related restrictions
Increasing use of technology (online shopping)

Technological

Online sales facilitated by user-friendly software
New materials, supply chain management and transportation opportunities
Comparative accessibility of technology

Environmental

Growing concerns regarding the apparel industry's environmental footprint
Waste management
Resources management (water, energy)

Legal

Past legal issues associated with manufacturing
Potential litigations regarding social and environmental aspects
SWOT Analysis
Finally, in order to assess the internal and external factors affecting the development of the organization and identify potential improvement, it is necessary to implement SWOT analysis. This instrument includes a review of strengths, weaknesses, opportunities, and threats (Wysocki, 2019). The central strengths of the company include well-established brands and good quality of products and services (Trefis Team, 2015).
However, the company lacks the flexibility that is essential in the current business world. As mentioned above, the company has issues with the maintenance of its retail stores, but the current trends suggest that the network of thousands of retail units is not necessary (Trefis Team, 2015; Sandler, 2020). The company is facing significant financial issues due to the high costs linked to this maintenance. The threats that can lead to more serious problems are related to the global economic situation and the difficulties the American society has to address. The upcoming trends related to online buying is also associated with the appearance of more competitive companies.
Table 2. SWOT Analysis.
Strengths

Well-established brands.
Numerous loyal customers.
Appropriate quality.
Affordable prices.
Good service.
Some corporate social responsibility policies.

Weaknesses

Insufficient flexibility.
Focus on retail store network.
High operational costs.

Opportunities
Threats

Economic constraints in the USA.
New entrants.
Customer's focus on online purchasing.
Nevertheless, the existing opportunities can help GAP Inc. solve the current issues and retains its leading position in the USA or even become an innovative retailer on the global market. Reshoring is becoming more common among American companies that start opening manufacturing facilities in the USA rather than outsource (Moore et al., 2018). This can enhance the image of a corporate citizen who cares about fellow Americans as the rate of unemployment is increasing now. Local production will also improve the quality of products, which will be used as another competitive advantage when developing marketing strategies.
Slow fashion is also an opportunity to consider because consumerism is transforming due to people's focus on their environmental input (Štefko & Steffek, 2018). Slow fashion implies high quality, local production, sustainability, which are the values of the nearest future.
Strategic Plan Objectives and Goals
Reduce the number of retail stores to a minimum, leaving them in capital cities and the largest cities. This will lead to considerable savings that will be allocated to the establishment of manufacturing facilities in the USA.
Improve the network of delivery facilities making them similar to the ones of Amazon or similar online retailers. Automation should become the key in this process, so funds will be invested in this area.
Open the necessary number of manufacturing facilities in different U. S. states. These factories should be characterized by a high level of automation, effective staff training and development, innovation and creativity. Quality management practices should be appropriate and timely.
The gradual transfer to slow fashion should become integral in the company's vision and mission. GAP Inc. should become one of the pioneers in the market of U. S. apparel retailers, promoting slow fashion and following its principles.
Conclusion
On balance, it is necessary to note that the organization in question is facing serious problems that are linked to previous ineffective practices and the new challenges the world has to face. GAP Inc. has experienced considerable losses, but the situation can be improved if the company focuses on online shopping, slow fashion, and reshoring. These are the trends that are already transforming the market, so the company has an opportunity to retain its leading position if it develops the corresponding strategies.
References
GAP Inc. (2020). Bloomberg. Web.
GAP Inc. (2020). Improving supply chain working conditions. Web.
GAP Inc. coronavirus response. (2020). GAP Inc. Web.
GPS:US. (2020). Bloomberg. Web.
Moore, M. E., Rothenberg, L., & Moser, H. (2018). Contingency factors and reshoring drivers in the textile and apparel industry. Journal of Manufacturing Technology Management, 29(6), 1025-1041. Web.
Sandler, R. (2020). Gap Inc. has stopped paying rent and will likely need to find more money within the next 12 months to stay operational. Forbes. Web.
Smith, N. C., Ansett, S., & Erez, L. (2018). How GAP engaged with its stakeholders. In G. G. Lenssen & N. C. Smith (Eds.), Managing sustainable business: An executive education case and textbook (pp. 213-226). Springer.
Štefko, R., & Steffek, V. (2018). Key issues in slow fashion: Current challenges and future perspectives. Sustainability, 10(7), 1-11. Web.
Trefis Team. (2015). Gap Inc is gradually losing its share in the U.S. apparel market to fast-fashion counterparts. Forbes. Web.
Wysocki, R. K. (2019). Effective project management: Traditional, agile, extreme, hybrid (8th ed.). John Wiley & Sons.
Appendix A
Financial Performance of GAP Inc.


Appendix B
American Apparel Market