Background: Unilever (Food & Refreshment)
Unilever is one of the leading companies in the fast-moving consumer goods (FMCGs) businesses globally headquartered in London. With operations in nearly 190 countries and over 400 brands, the corporation is truly multinational (Unilever, 2021a). Its corporate mission is 'to add vitality to life' by meeting 'everyday needs for nutrition, hygiene, and personal care', while its vision is 'to make sustainable living commonplace' as the best long-term way for its business (Unilever, 2021a:1). This multinational corporation (MNC) has three strategic business units (SBUs): personal care, home care, and food and refreshment, which is selected for this analysis.
On-Time Delivery!
Get your customized and
100% plagiarism-free paper
done in as little as
3 hours
The Foods & Refreshment manufactures and sells many product categories, including ice cream, dressings, and tea. Among its top brands are Ben & Jerry's, Lipton, Knorr, and Brooke Bond. This SBU has experienced a decline in profitability in the 2016-2020 period, reporting an operating profit of €18.3 billion in 2019 (as shown in the chart (Figure 1) included in the Appendices). It declined from €22,530 million in 2016 to €18,287 million in 2019 (2020 annual report is not available) (Unilever, 2020). Additionally, the corporation reported flat sales volume growth over the same period, especially in the Americas and the EU. Therefore, the key questions are; what caused the profitability decline? And which strategy was Unilever using during this period, and should the company continue with it or adjust it to maintain high profitability?
Method and Scope of the Analysis
The report analyzes Unilever based on secondary data, publicly available statistics, and company annual reports. The analysis is limited to the Foods and Refreshment category and for the period 2016-2020. Relevant issues and challenges are analyzed using various strategic frameworks.
Analysis Objective
To critically evaluate Unilever's strategic responses to declining profit, examine its current challenges, analyze the sustainability of its strategy for long-term competitive advantages, and give further recommendations.
Strategic Issues
PESTEL Analysis
The analysis of Unilever's external and internal environment over the past five years will indicate the impact of strategic choices on the performance of the Foods & Refreshment SBU. The PESTEL framework is useful for evaluating the macro-environment of a business. It helps gauge key political, economic, social, technological, environmental, and legal factors impacting the profitability of firms, particularly MNCs with operations in different economies.
From Figure 2 (Appendices), the major external environmental factors impacting Unilever's revenue or market share are political (food safety concerns) and economic (hyperinflation, currency fluctuations, and COVID-19 effects) challenges. High product recalls due to safety issues (allergens detected in peanuts and ice creams), such as Ben & Jerry's chocolate in 2017, contributed to a possible decline in brand image and sales in the affected countries (Euromonitor, 2019). Inflation in Unilever's main markets in the Americas, especially in Argentina, led to food price spikes, reducing the sales volumes. A weaker dollar over this period may have resulted in reported losses by overseas subsidiaries. Further adverse COVID-19 effects on profitability are expected due to closures of events and lockdowns, but new business models anchored on e-commerce can lead to a turnaround.
Porter's Five Forces Analysis
Unilever's external environment can be understood using Porter's five forces analysis. It is a model for analyzing significant impacts of macro-environment factors on a firm's profitability in an industry. From Figure 3 (Appendices), we can conclude that for long-term success, Unilever should strategically prioritize competitive pressure and buyer power in its markets, as the two external factors have the greatest influence on its performance. Independent analysis reports rank Unilever as the sixth biggest packaged food firm, with only 1.2% of the global market share (Euromonitor, 2019). Competition in the Americas and the EU has seen its sales remain constant. The sustainable living brands that Unilever is moving to account for only 16.6% of the global market, as most buyers still prefer legacy products (Cavale, 2020). Therefore, intense competition and high buyer power (shopping values) significantly impact the Foods & Refreshments' operations.
Yes, we can!
Our experts can deliver a
custom Unilever's Management of Foods & Refreshment Division
paper
for only

$13.00

$11/page
Strategic Responses of Unilever
Strategy can be implemented at three different levels of operation: corporate, business, and functional. Porter's value chain can be useful in the strategic analysis of these components to determine sources of competitive advantages for the firm.
Porter's Value Chain
The tool is a useful framework for separating strategically important activities that contribute to competitive gains from those that are not. It can help identify primary and secondary activities (inbound logistics, operations, outbound logistics, marketing and sales, procurement, HR, technology, and infrastructure) with a cost or quality advantage for the firm. Applying this framework to Unilever would indicate the components that can bring value to the company or reduce costs.
Unilever's inbound logistics can give it a competitive edge over rivals – agricultural raw materials, e.g., cocoa, obtained through the Rainforest Alliance certification, ensure product safety and quality – a reputational advantage (Unilever, 2021b). The processing and packaging take place in over 300 decentralized factories and shipped to regional distributors – a cost advantage that could potentially ameliorate losses due to currency fluctuations. The products are promoted through traditional media, websites, and social media (Figure 4 in the Appendices). Unilever collaborates with Rainforest Alliance (vanilla beans and cocoa), Bonsuscro (sugar), and Ceoco (sunflower oil) to sustainably source raw materials – could reduce buyer power as health and socially conscious consumer segment increases. Additionally, R&D investments have reduced its environmental impact and led to premium products, including Magnum Praline ice creams, which compete well in the market.
Corporate-level Strategy
Unilever pursues a strategy of sustainable growth by creating value across its value chain. This corporate strategy is anchored in a multi-stakeholder model whose purpose is to benefit all stakeholders – consumers, suppliers, shareholders, and society. The Unilever Sustainable Living Plan (USP), launched in 2018, is anchored in nine pillars that form the basis of its operations – from sourcing to usage and disposal of its products by customers (Unilever, 2020). By packaging using recycled plastic, collaborating with trusted suppliers, and providing brands that touch lives (CSR), Unilever has embedded sustainability into every aspect of the business. The sustainable living strategy could potentially unlock new markets for Unilever and create a long-term brand image.
Business-level Strategy
Based on Unilever's sustainable living plan, it is clear that the firm used a differentiation strategy to compete in the market. Over the five-year period, the corporation has sought to sell its brands and create long-term value for customers. Today's consumer is health-conscious and concerned about the environment. Unilever aims to 'Improve Health and Wellbeing' through quality and safe nutritional products, 'Reduce Environmental Impact' (sustainably sourcing products), and 'Enhance Livelihoods' by upholding the rights of communities living around its operations globally (Unilever, 2021b:1). The goal is to build a purpose-led future fit for business by transforming its portfolio, capabilities, and costs – precision marketing and R&D. For example, the Lipton brand is built on a wellness trend to penetrate the market. In this way, it has created a robust and unique brand image in its market.
Operational Strategy
Functional level strategies include divisional or departmental goals supporting business-level strategy. They specify the expected outcomes of the day-to-day operations of a department. The Foods & Refreshments division offers value to customers by committing to USP-related goals: use more plant-based ingredients in its brands (2019), lower salt content (2020), nutritional labeling on packages (2016), reduce saturated fat (by 2017), and attain the highest standards for 60% of its portfolio by 2020 (Unilever, 2021b). In line with the business-level strategy, Unilever has addressed concerns about certain ingredients in its brands by including a balanced portions label. The goal is to enable consumers to maintain a healthy weight.
VRIO and SAFe
The packaged food industry includes many competitors with similar product lines; thus, obtaining a sustainable competitive advantage can be challenging. Leveraging technology or innovation and patents can provide strategic capabilities but cannot give long-term advantages if they are not well developed. The VRIO framework can help identify and build on strategic capabilities (Johnson et al., 2017). Based on publicly available data, the VRIO model for Unilever that compares resources and competencies of other firms in the food and beverage sector is shown in Figure 5 (Appendices).
Cut
15% OFF
your first order
We'll deliver a custom
Strategic Management
paper tailored to your requirements with a good discount
The VRIO analysis shows that Unilever has no sustainable competitive advantage in many of its capabilities, except its workforce. Its optimized training program that identifies skills gap up to the department level and involves a180-degree feedback system has created a skilled workforce and increased retention levels (PersicopelQ, 2021). All these solutions have contributed to greater value to customers. However, the company lags in financial resources due to a decline in sales volumes, as competitors, such as Nestle, are performing well in similar markets. Although Unilever's patents are a valuable, rare, and inimitable resource, they are not organized to maximize their full potential – high product recalls due to allergens. Their expiry may also expose the firm to competitive pressure.
If we look at another resource, sustainably sourced food confers a sustained competitive advantage due to a growing socially and environmentally conscious consumer segment. About a third of consumers surveyed prefer sustainability-marketed brands (Whelan & Kronthal-Sacco, 2019). The USP (brands, pillars, and partnerships) is a unique competence for Unilever. Additionally, the brand history and image can be regarded as long-term competitive advantages in the food and beverages sector.
The VRIO analysis relates to the actual strategic actions of Unilever. The Foods & Refreshments division's 2018 USP goals focus on sustainable living to differentiate the company from competitors. The sustainability value led to the rebranding of its largest product categories – ice cream, savory, beverages, and dressings. The value proposition of top brands such as Ben & Jerry's, Knorr, and Lipton is improving health and wellbeing.
The SAFe model can indicate the sustainability of Unilever's sustainable living strategy. The framework assesses the suitability, acceptability, and feasibility of strategic actions. For Unilever, the USP strategy is suitable for differentiating it from the competition, acceptable because sales of sustainability-marketed products have not declined, and feasible, as the consumer segment that need environmentally friendly and ethical brands is increasing. However, low switching costs and competitive pressures are a threat to this strategy.
Recommendations
Based on the analysis above, Unilever's sustainable living strategy is appropriate for its Foods & Refreshments division. With a projected increase in people whose purchase decisions are based on their stand on social and environmental issues, it is important to pursue sustainability goals for long-term competitive gains. Its sustainable living brands grew at higher rate (69%) than the other product categories, accounting for 75% of the firm's growth in 2018, up from 45% in 2017 (Unilever, 2021a). Therefore, as a long-term recommendation, Unilever should continue focusing on sustainability as a unique strategic value to create brand relevance and penetration, increasing switching costs. Another recommendation for Unilever to strengthen its competitive positioning in the packaged food sector is brand innovation. Investing in more sustainable brands, including ice cream, dressings, and savory, can produce competitive variants of its existing product lines. Moreover, enhancing customer relations through a robust feedback management system is recommended to improve consumer perception of the firm and its products. In light of reports of safety issues, Unilever needs to engage customers to allay fears and grow its market share.
References
Cavale, S. (2020) Investors find some Unilever foods hard to swallow. Web.
Euromonitor (2020) Unilever acquisition of Graze shows hunger for more snacking. Web.
Get a custom-written paper
For only
$13.00
$11/page
you can get a
custom-written academic paper
according to your instructions
Johnson, G., Whittington, R. & Scholes, K. (2017) Exploring Corporate Strategy. (11th ed.). New York: Pearson Education Limited.
PeriscopeIQ (2021). Case study: Unilever – transforming global training through employee and supervisory feedback. Web.
Unilever (2020) Unilever annual report and accounts 2019. Web.
Unilever (2021a) About our strategy. Web.
Unilever (2021b) Responsibly delicious. Web.
Whelan, T. & Kronthal-Sacco, R. (2019) Research: actually, consumers do buy sustainable products. Web.
Appendices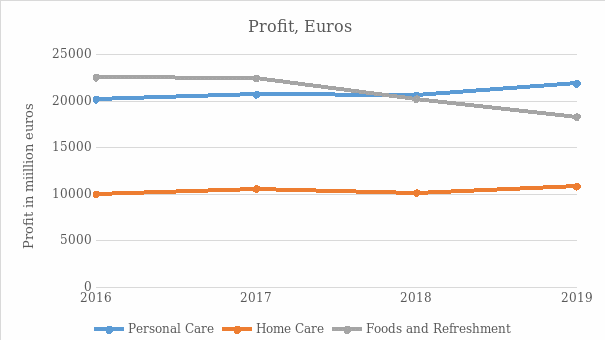 Figure 2: PESTEL Analysis for Unilever (Foods & Refreshment Division) in 2016-2020
P
E
S
T
E
L
Political
Economic
Social
Technological
Environmental
Legal
– Regional and global regulations on food safety and quality (FDA standards), workforce welfare, patents, taxation, and environmental obligations.
– Volatile markets due to unfavorable government responses, especially emerging economies, e.g., Russia and Mexico
– Intense competitive pressures, particularly in North America, France, and Netherlands (ice cream and mayonnaise) from other FMCG companies such as Nestle
– Hyperinflation, e.g., in Argentina, led to price increases, resulting in flat sales volume growth
– Economic slowdown due to COVID-19 pandemic
– Foreign currency fluctuations impact Unilever's earnings from outside Euro currency regions
– A strong corporate image due to a strategy focused on sustainable living (improving the health and wellbeing of consumers)
– A strong value proposition, i.e., to make consumers feel and look good
– Recent innovations by Unilever's competitors, especially premium ice cream brands and snacks
– Impact of digital innovations (e-commerce) on product offering – marketing and selling brands
– Slower technology diffusion and automation affect delivery to stores
– Growing preferences for 'green' or ecological product packaging
– Responsibility for waste management and sustainable resources in the FMCG sector
– Climate change effects on raw material (fresh produce) supply
– Stringent product safety regulation in the EU and the Americas
– Labor laws protecting the health and safety of employees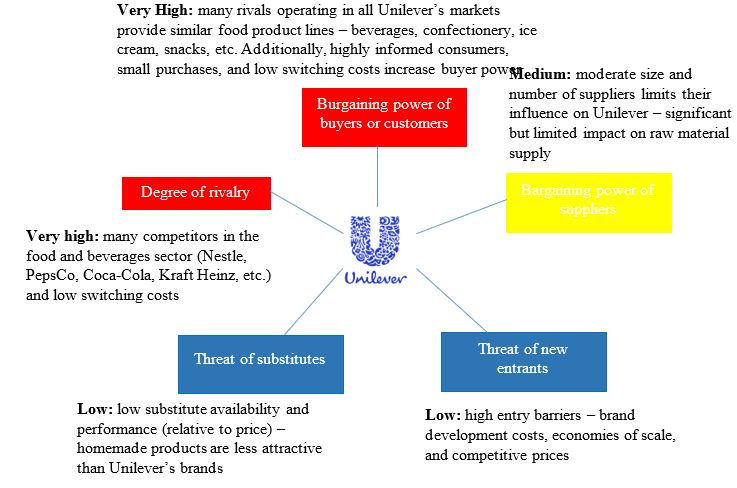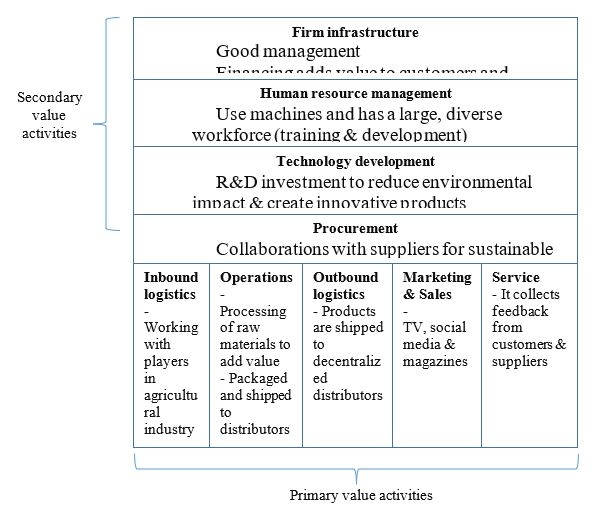 Figure 5: VRIO for Unilever (Foods & Refreshments)
| | | | | | |
| --- | --- | --- | --- | --- | --- |
| Resource/Capabilities | Valuable | Rare | Costly to Imitate | Organization | Competitive advantage |
| Financial resources | Yes | Yes | No | Yes | Temporary competitive advantage |
| Sustainably sourced raw materials | Yes | Yes | Yes | Yes | Sustained competitive advantage |
| Employees/workforce | Yes | Yes | Yes | Yes | Sustained competitive advantage |
| Patents | Yes | Yes | No | No | Temporary competitive advantage |
| Distribution network | Yes | Yes | No | Yes | Temporary competitive advantage |
| Brand image | Yes | Yes | Yes | Yes | Sustained competitive advantage |