RAK Ceramics is a large UAE company producing various high-quality ceramic products. It was founded in 1989 in the UAE, and since then, it extended its business to Europe, the USA, and Asian countries, such as India and Bangladesh. The major company's shareholder is Samena Capital; in Bangladesh, the ownership is shared between sponsors who hold about 76% state in the company business and general public that holds the remaining 24% (Alam, 2018). It is a publicly-traded company with an annual turnover totaling US$1 billion (RAK Ceramics, no date). The company operates 17 plants located in Asia and employs about 15,000 workers of different nationalities (RAK Ceramics, no date). The largest contribution to the company's revenue is made by the UAE market, with its total share of 33% (RAK Ceramics, 2018). The second-largest market is Europe that contributes to 15% of revenue (RAK Ceramics, 2018). Saudi Arabia, Bangladesh, and India have almost equal shares in the company's revenue (RAK Ceramics, 2018). See figure 1 in Appendix A for detailed information on the contribution of different markets to the company's revenue.
On-Time Delivery!
Get your customized and
100% plagiarism-free paper
done in as little as
3 hours
RAK Ceramics is one of the world's largest tile manufacturers. However, its board of directors developed a vision, which is to become the largest company providing ceramics solutions in the world (RAK Ceramics, no date). The firm's mission is to use its expertise and a wide range of products to grow into a leading world organization. It aims at becoming the largest ceramics solutions provider to contribute to the economic development of the regions where it operates and to foster its workforce diversity (RAK Ceramics, no date). The company's key product is tiles; it offers about 6,000 models with different designs and of various sizes (RAK Ceramics, no date). Other key products are sanitaryware, faucets, and tableware, which are made with the use of innovative technologies. The company produces over 100 million square meters of tiles, millions of pieces of sanitaryware and porcelain tableware, and 600,000 of faucets annually (RAK Ceramics, no date). Its growth strategy is directed toward offering its products to new customers in new locations (Alam, 2018). RAK Ceramics aims at manufacturing products that would suit every age and every taste.
The company has multiple strengths that helped it to become one of the largest companies in the world. The key success factor is its expertise in the field of ceramics production. RAK Ceramics has great experience in technology and innovation. The innovative approach has helped the company to reduce its costs by reusing heat and recycling water (Euronews, 2019). The firm pays great attention to quality by thoroughly testing raw materials and manufactured products. A wide range of products is another company's strength that enables it to satisfy the needs of many customers and provide integrated ceramics solutions (RAK Ceramics, no date). RAK Ceramics has a global distribution network that allows it to manufacture goods locally and sell them in 150 countries (RAK Ceramics, no date). The company has one distributor per country for exporting its products, and many showrooms and dealers in the UAE, India, and Bangladesh (RAK Ceramics, no date). Skilled human resources and high retention rates are also among the firm's strengths.
RAK Ceramics has a strong brand name, and its clients have confidence in the quality of its products. The company supplied its ceramics to such famous brands as Hilton Hotels, Dubai Mall, Mercedes Benz Showrooms, and Sheikh Rashid Hospital (RAK Ceramics, no date). RAK Ceramics also provides its clients with after-sales service, which increases customer satisfaction and retention (RAK Ceramics, 2018). Thus, customer relationships may be regarded as another strength of the organization.
One of the company's weaknesses is the high costs of imported raw materials. RAK Ceramics uses local natural resources, such as clay, silica, and limestone, but it has to import such raw materials as kaolin and feldspar from India, Indonesia, Europe, Malaysia, and Thailand (RAK Ceramics, no date). Underrepresentation of distributors in countries other than the UAE, India, and Bangladesh, also may be considered a weakness since it impedes the growth of the company's market share in other regions.
RAK Ceramics has to struggle with competition in the ceramics industry on its way to accomplishing its mission. It is in the fifth position in the ranking of the world's top ceramic manufacturers (World production and consumption, 2019). To become an industry leader, the company has to surpass the US firm Mohawk Industries, the Thai firm SCG Ceramics, Mexican group Grupo Lamosa, and Brazilian company Cedasa/Incopisos (World production and consumption, 2019). Two Brazilian companies, Ceramica Carmelo Fior and Grupo Fragnani, as well as two Indian companies, Kajaria and Somany, are also among the UAE company's competitors (World production and consumption, 2019). See table 1 in Appendix B for the detailed information about the world's top ceramic tile producers.
However, the ceramics industry is not limited to the production of tiles and sanitaryware. The current industry trend is advanced ceramics, and it is growing rapidly worldwide (Euronews, 2019). This type of ceramics is difficult to scratch, bend, and heat, and it is not subject to corrosion (Euronews, 2019). Advanced ceramics are used in military and medical fields, as well as in building capacitors for smartphones (Euronews, 2019). Ceramics companies can support research and development in this area and occupy a niche in this fast-growing market.
Yes, we can!
Our experts can deliver a
custom RAK Ceramics: Case Study
paper
for only

$13.00

$11/page
Upon observing the situation in the industry at a regular meeting, the board of RAK Ceramics was faced with the necessity to define the company's strategy for the future. With the firm's mission in mind, the board members unanimously decided that their future direction should be toward growing the company's market share in the world. However, when it came to deciding on the way of attaining further growth, opinions were split. The company's CEO insisted on strengthening the existing markets, while one of the top managers paid attention to the underserved markets of Latin America.
Teaching Notes
This case is based on RAC Ceramics, the UAE company manufacturing ceramics products and selling them on a global scale. This case asks students to play the role of top managers deciding on strategic issues of the organization, analyze the described situation, and provide recommendations regarding strategies for future growth and sustainable competitive advantages. The key topics are market selection, internationalization, and the determination of sustainable competitive advantages. The case takes place in 2019 in the UAE and the ceramics industry. It uses secondary data obtained from corporate documents of RAK Ceramics and the public website of Euronews. This case is designed for business administration students with extensive knowledge of strategic management theories and frameworks used for evaluating a company's competitiveness, market opportunities, and business environment.
The instructor can facilitate the beginning of the student discussion by setting the stage, that is, asking questions about the company's business field, vision, mission, strengths, and weaknesses. After that, it is suggested to ask students the following two questions related to strategic management:
What strategies should RAK Ceramics implement to assess whether it would be successful in entering the Latin American market?
What competitive advantages that RAK Ceramics have would help the company to enter the Latin American market successfully?
The following sections describe possible model answers for each of the two questions.
Question 1
In response to the first question, students may fairly remark that it is necessary to assess the potential market before actually entering it. Entering a new foreign market is often associated with such issues as hostility and government restrictions, a lack of relationships and necessary local data, as well as cultural diversity (Gorostidi-Martinez and Zhao, 2017). Therefore, students may suggest strategies that are intended to evaluate the costs of coming into a new market.
One of the possible strategies that students can refer to is the PESTLE analysis. It would be relevant because this framework helps companies to assess the external environment and make conclusions as to the industry attractiveness and performance, the potential of the market, and the opportunities for future growth (Perera, 2017). It is seen from the case that RAK Ceramics does not have a significant share in the Latin American market. In fact, it does not even mention it in its financial reports as a separate region, as is evident from diagram 1 in Appendix A. Therefore, the PESTLE analysis may be the right strategy for RAK Ceramics to evaluate the Latin American market.
Further, students may elaborate on how the company should use this model. The components of the PESTLE analysis include political, economic, socio-cultural, technological, legal, and ecological environments (Perera, 2017). Within the political environment, the company should know about the political stability of the host country and policy restrictions for foreign producers (Perera, 2017). The economic environment deals with customers' characteristics, such as income levels, attitudes, etc. (Perera, 2017). Students may see from the case study that RAK Ceramics deals with corporate customers, so they can suggest that the company should explore if Latin America has organizations that may need its products. Students may recommend that RAK Ceramics should evaluate the technological infrastructure and ecological concerns in the host country since the ceramics industry is technology-based, and its manufacturing processes may contribute to environmental issues. The advantages of the PESTLE analysis include the appraisal of the main factors influencing business, market entry conditions, and the match between the firm's resources and the demands of the foreign market (Perera, 2017). Students should also recognize the disadvantages, including the necessity for time-consuming and expensive market research and the disregard of secondary environmental factors.
Cut
15% OFF
your first order
We'll deliver a custom
Business Analysis Case Study
paper tailored to your requirements with a good discount
Students may suggest that RAK Ceramics should implement the five forces framework as an alternative to the PESTLE analysis or its complementary strategy to assess whether it could be successful in entering the Latin American market. This framework assesses the threats from potential entrants, the pressure from substitute goods, the level of rivalry, and the negotiating power of buyers and customers (Baburaj and Narayanan, 2016). After suggesting this framework, students may further elaborate on the intensity of competition in the Latin American market. As is seen from the case, if RAK Ceramics decided to enter this market, it would have to compete with such large companies as Mohawk Industries, Lamosa, Cedasa/ Incopisos, Ceramica Carmelo Fior, and Fragnani. Therefore, RAK Ceramics would have to evaluate these companies' market share, marketing strategies, and positioning to assess its own chances of occupying a niche in the Latin American ceramics market. The advantages of the framework are that it allows companies to prepare for their competitors' future moves and develop defensive strategies (Baburaj and Narayanan, 2016). Its disadvantage is that it considers only industry factors, so it should be combined with other techniques.
Forward-looking students may also suggest that, after appraising the entry market, RAK Ceramics would have to decide on its generic strategy that would be most appropriate in those market conditions. Porter's generic strategies are aimed at helping a company to survive in a new market by basing its business on differentiation, focus, or cost leadership (Islami, Mustafa and Topuzovska Latkovikj, 2020). Actually, the choice of a generic strategy defines a firm's positioning in relation to its industry rivals (Çelik, 2019). Students may conclude from the case that the current generic strategy of RAK Ceramics is differentiation since it produces a wide range of goods to satisfy various customer needs. Further, they may suggest that the company should use the same strategy if it entered the Latin American market. It would be relevant because the choice of differentiation or cost leadership is justifiable for large firms (Viltard, 2017). The benefit of this framework is that it allows the company to define its competitive advantage for entering a new market. The drawback is that the choice of strategy is often limited by the size of the firm.
Question 2
In response to the second question, students' answers should go beyond the basic SWOT analysis since it is not sufficient for the MBA level. Students may suggest that to define its competitive advantages for entering the Latin American Market, RAK Ceramics should apply the VRIO framework. It is relevant because the case lists a number of the company's key strengths, and not all of them are its competitive advantages. The VRIO framework provides a resource-based view of the company and helps to identify sustainable competitive advantages by checking whether the firm's resources are valuable, rare, hard to imitate, and exploited by the organization (Malik, 2018). As a result of this analysis, the company is able to see what resources are its competitive disadvantages, competitive parity, temporary advantages, or sustainable competitive advantages. Students may perform the VRIO analysis similar to the one showed in table 2 in Appendix C.
The analysis of RAK Ceramics includes evaluating its key strengths, namely, wide product range, global distribution network, skilled human resources, research and development, brand image, and strong customer relationships. After exploring these key strengths, students may find that all of them are valuable and exploited by the company. However, a wide product range is not a rare resource since other ceramics companies also have a large variety of manufactured goods. This resource is not hard to imitate since other firms also can widen their product range. The global distribution network is a rare resource because not many companies are able to sell their products globally. However, this resource is not inimitable because, as firms grow, they become able to expand to the international market. Therefore, students may conclude that RAK Ceramics' global distribution network is a temporary competitive advantage.
The same is true for research and development, the resource that enables the company's application of technological innovations. Although the resource is rare because not many firms can foster technological advances for themselves, companies may start investing in research and development, thus getting access to this resource. Hence, research and development is a valuable and rare but not inimitable resource, which makes it a temporary competitive advantage of RAK Ceramics. After completing the VRIO analysis, students may conclude that RAK Ceramics' sustainable competitive advantages include skilled human resources, brand image, and strong customer relationships. These sustainable competitive advantages may help the company to gain its share in the Latin American market. The benefits of the VRIO framework are that it is simple to use and clearly shows competitive advantages (Buzatu, Pleșea and Iulian, 2019). Its disadvantage is that it may be difficult to determine the company's resources, so one should think of what brings value to customers and recognition to the firm (Buzatu, Pleșea and Iulian, 2019). Furthermore, this framework defines sustainable competitive advantages based only on the company's resources.
In response to the second question, students may also suggest the RAK Ceramics should use Bowman's strategy clock to analyze what strategies would be competitive if it decided to enter the Latin American market. It would be relevant because RAK Ceramics does not have its substantial share in the Latin American market, so it should determine what strategy would lead it to have a competitive advantage among other companies. The essence of this approach is to define a strategy that would help the company to create value for its customers, which would be larger than that of competitors or inimitable (Echchakoui, 2018). The value in this model is understood as the ratio between price and quality (Echchakoui, 2018). Bowman's strategy clock is based on Porter's generic strategies, so students should have a thorough grasp of Porter's theory.
By applying this model, students may offer their suggestions as to what price-quality ratio would be suitable for RAK Ceramics to enter a new market. Out of eight possible combinations, five are considered viable: "(1) low price/low added value, (2) low pricing, (3) hybrid, (4) differentiation, and (5) focused differentiation" (Echchakoui, 2018, p. 140). Students may suggest that differentiation or focused differentiation would bring the company a competitive advantage. It would be relevant because the case shows that RAK Ceramics puts emphasis on the quality of its production, thus delivering high value to its customers. Switching to strategies with lower added value would contradict the mission of the company; therefore, other strategies would be unsatisfactory for this company. The benefit of the model is that it helps the company to define its place in the market and develop its positioning based on the relation between its prices and delivered value.
Get a custom-written paper
For only
$13.00
$11/page
you can get a
custom-written academic paper
according to your instructions
The important learnings of the case are that, frequently, one framework or technique is not enough to thoroughly assess a potential market or define competitive advantages. This case encourages students to think of strategies used for evaluating the environment, competition, and the company's possible positioning before entering a new market. Suggested theories and frameworks include the PESTLE analysis, five forces framework, generic strategies, the VRIO framework, and Bowman's strategy clock.
Reference List
Alam, A. (2018) Business valuation of RAK Ceramics BD. Web.
Baburaj, Y. and Narayanan, V. K. (2016) 'Five forces framework', in Augier, M. and Teece, D. J. (eds.) The Palgrave encyclopedia of strategic management. London: Palgrave Macmillan, pp. 1-7.
Buzatu, A.I., Pleșea, D.A. and Iulian, C. (2019) 'Managing organizations for sustainable business development: interaction between VRIO framework and McKinsey 7S framework', BASIQ International Conference: New Trends in Sustainable Business and Consumption conference proceedings. Bari, Italy, Bucharest: Editura ASE, pp. 243-251.
Çelik, T. S. (2019) 'The rational vs. behavioral approaches to strategy thinking', International Journal of Contemporary Economics and Administrative Sciences, 9(1), pp. 184-204.
Echchakoui, S. (2018) 'An analytical model that links customer-perceived value and competitive strategies', Journal of Marketing Analytics, 6, pp. 138-149.
Euronews (2019) 'This is how one UAE company is fortifying the ceramics industry', Web.
Gorostidi-Martinez, H. and Zhao, X. (2017). 'Strategies to avoid liability of foreignness when entering a new market', Journal of Advances in Management Research, 14(1), pp. 46-68.
Islami, X., Mustafa, N. and Topuzovska Latkovikj, M. (2020) 'Linking Porter's generic strategies to firm performance', Future Business Journal, 6(3), pp. 1-15.
Malik, A. (2018) 'SHRM & ER: the resource-based view', in Malik, A. (ed.) Strategic human resource management and employment relations. Singapore: Springer, pp. 35-42.
Perera, R. (2017) The PESTLE analysis. Puwakpitiya: Nerdynaut.
RAK Ceramics (2018) RAK Ceramics: annual report. Web.
RAK Ceramics (no date) RAK Ceramics: corporate profile. Web.
Viltard, L. A. (2017) 'Strategic mistakes (avoidable): the topicality of Michel Porter's generic strategies', Independent Journal of Management & Production, 8(2), pp. 474-497.
'World production and consumption of ceramic tiles' (2019) Ceramic World Review, 133, pp. 1-204.
Appendix A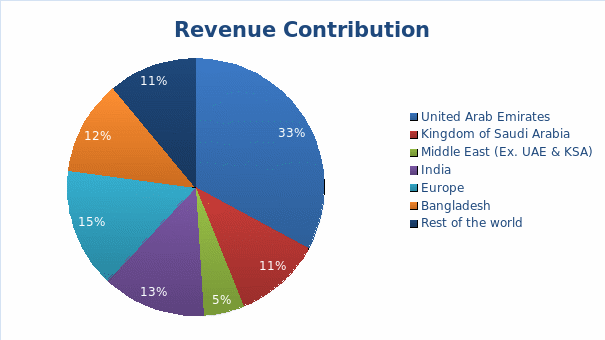 Appendix B
Table 1. The world's top 10 ceramics tile manufacturers
| | | | | |
| --- | --- | --- | --- | --- |
| | Company | Production (mill. m2) | Total turnover (mill. €) | Tile plants / Location |
| 1 | Mohawk Industries, Inc. (USA) | 223.0 | $ 9,984 mill. (ceramics, carpet, laminate, wood) | 23 in USA, Mexico, Brazil, Italy, Spain, Poland, Bulgaria, Russia |
| 2 | SCG Ceramics (Thailand) | 174.0 | 832.0 (tiles + sanitaryware) | 21 in Thailand, 7 in Vietnam, 4 in Indonesia, 1 in the Philippines |
| 3 | Grupo Lamosa (Mexico) | 164.0 | 651.8 | 9 in Mexico, 2 in Argentina, 1 in Colombia, 3 in Peru |
| 4 | Grupo Cedasa/ Incopisos (Brazil) | 88.2 | 152.6 | 3 in Brazil |
| 5 | RAK Ceramics PJSC (UAE) | 81.6 (95.0 in 2019) | 695.0 (tiles, sanitary, tableware) | 14 in UAE, 9 in Bangladesh, China, India |
| 6 | Ceramica Carmelo Fior (Brazil) | 81.0 | 173.0 | 4 in Brazil |
| 7 | Pamesa (Spain) | 79.2 | 643.0 | 6 in Spain |
| 8 | Grupo Fragnani (Brazil) | 72.2 | 145.0 | 3 in Brazil |
| 9 | Kajaria Ceramics (India) | 66.3 (sales >80) | 378.7 (tiles, sanitaryware) | 9 in India |
| 10 | STN Group (Spain) | 65.0 | 273.0 | 2 in Spain |
Appendix C
Table 2. The VRIO analysis of RAK Ceramics' strengths
| | | | | | |
| --- | --- | --- | --- | --- | --- |
| Resource or capability | Valuable | Rare | Inimitable | Organized | Competitive implication |
| Wide product range | Yes | No | No | Yes | Competitive parity |
| Skilled human resources | Yes | Yes | Yes | Yes | Sustainable competitive advantage |
| Global distribution network | Yes | Yes | No | Yes | Temporary competitive advantage |
| Research and development | Yes | Yes | No | Yes | Temporary competitive advantage |
| Brand image | Yes | Yes | Yes | Yes | Sustainable competitive advantage |
| Strong customer relationships | Yes | Yes | Yes | Yes | Sustainable competitive advantage |