Introduction
Samsung plays a prominent role in the modern economy, as it allows millions of consumers and businesses worldwide to have access to high-tech devices and solutions for reasonable prices. Samsung provides a wide range of goods and services under a single brand, which has become a rare approach nowadays. The Korean corporation operates in numerous countries and performs multiple types of activities in consumer electronics, shipbuilding, construction, and several other spheres. Moreover, Samsung represents a large portion of the South Korean economy. Numerous research centers work solely for the tech giant, which helps realize the scale of its operations and the number of implemented innovations that generate enormous revenues by active exporting strategies. The company controls multiple subsidiaries that enjoy room for maneuver when choosing the most appropriate marketing strategy elements for each particular region.
Products and Services
It is extremely hard to select just a few of the company's primary goods and services. Nevertheless, Samsung Electronics, arguably, produces the most complex and the most well-known goods and services. Moreover, they operate in B2C, which means that their marketing effort is comprehensive and diverse, varying from region to region. Smartphones, tablets, laptops, home appliances manufactured by this Korean corporation uniquely balance quality and prices. Moreover, most of the company's product lines can be distinguished by a courageous attitude to the implementation of high-tech solutions. Samsung has distinguished itself by investing heavily in R&D and immediately implementing the research results when they start to seem fruitful.
The company's management, in general, is not afraid to produce multiple variations of similar products, which allows customers to choose the exact version of a device that suits them. Therefore, the company manages to focus on a small number of the most popular characteristics in its future models. Thus, it is worth focusing on this branch of the company's activities. The products manufactured by Samsung Electronics tend to have the most innovative hardware available and several innovative functions that already represent marketing efforts in their own right. Nevertheless, the company realizes that consumers worldwide are increasingly becoming price-conscious due to a number of current challenges as well as stagnating incomes.
Therefore, the company prefers to use cheap plastic materials when it does not undermine the performance of a device or a machine. The combination of the abovementioned factors helps the company receive generally positive feedback from millions of customers worldwide and secure a large fan base. Thus, it is worth focusing on Samsung Electronics and the goods produced by this company in order to fully understand the philosophy that underlies Samsung's success.
Distribution and Delivery
To fully realize the rational approach that Samsung utilizes when dealing with production, distribution, and delivery, one should pay close attention to one of its major goods. Samsung smartphones are currently produced in a wide range of countries, as the company has proven to be extremely cautious about any rises in costs. Samsung has a number of facilities in counties such as India, Indonesia, and Brazil in order to benefit from the cheapest production option possible, as the smartphones produced in these countries are meant to cater to local demand.
Nevertheless, just like most other multinational corporations that produce gadgets, Samsung has chosen one country where most of its smartphones are assembled for further exports. Nguyen et al. (2018) claim that despite the initial success in China, the company has closed down its Chinese facilities and moved most of the large-scale production to Vietnam.
Although the majority of the phones are produced in countries where the geography and the production costs help minimize the final prices, Samsung continues to produce a large portion of components in South Korea. This fact helps realize the emphasis that the company puts on the quality of the goods and on the ability to control them at any given time. Moreover, Samsung has recently implemented several innovations that are meant to enhance the distribution and delivery processes.
For instance, the company currently maintains large warehouses in the US that utilize a number of innovative solutions. The pickers at the warehouses utilize mobile devices that are meant to show the exact short routes to find the specific item in a particular part of the warehouse. Each warehouse has a special place where the items need to be sorted and proceeded for further distribution. Prior to this step, the items are packaged using semi-automatic processes. The warehouse workers utilize special software o their smartphones that help scan multiple barcodes simultaneously, which helps to accelerate the entire process substantially.
The delivery can then be tracked using special software by both the customer and the company. Mobile platforms help customers estimate the exact delivery date, which can be extremely beneficial under certain circumstances. Samsung cares about its image and takes numerous measures that ensure successful deliveries. For instance, each driver is expected to take a picture and scan the item on reaching the customer's doorstep. Such measures help prevent multiple issues that many companies face due to the increasing number of stolen packages.
Pricing
Numerous factors may contribute to a product's success. Nevertheless, price is generally perceived as the most important of them when it comes to innovative gadgets. There are multiple strategies to choose from when settling on the most appropriate price for the product. The examples of the most common strategies widely utilized by tech giants include cost-plus pricing, ongoing pricing, penetration prices. Samsung may seem to be no exception, as the company generally tends to use some strategies depending on the original goals quite efficiently. Nevertheless, there is one technique that has proven to be extremely beneficial for Samsung, especially in emerging markets.
Samsung managers have developed a unique approach that helps "create" the entire price segment. In many countries around the globe, there often occurs a significant gap between cheap and expensive devices. Samsung marketers have recently been successful in pricing some of their smartphones in a way that allows them to look much more comprehensive than mid-range phones and at the same time cheaper than high-end gadgets.
In Australia, Samsung has higher prices than in most other regions around the world. Nevertheless, the price difference is still not as high as the iPhones, as Apple can actually charge Australians extra 500 dollars. Although such a phenomenon can be partially attributed to the high costs of licensing in Australia and logistics, it is still vivid that most tech companies view Australia as a wealthy nation that can generally afford to pay premium prices.
Marketing and Promotion
Samsung seeks to utilize any marketing techniques currently available. The company's top management realizes the importance of promoting the complexity and innovativeness of its flagman devices, which allows for increased sales in all other segments. Such an approach correlates with the broader Branded House strategy, which is common in East Asia. The company has long been producing multiple home appliances. However, currently, the customers are more eager to purchase products with the same label as their new smartphone, which boasts innovative features.
Thus, Samsung is focused on investing heavily in its marketing strategies centered around smartphones, tablets, and laptops. The widespread utilization of the method has become vivid since the unique yet too expensive devices, such as the Samsung Galaxy Fold and the Samsung Galaxy Z Flip, were marketed in all ways possible in most markets worldwide. Djatmiko and Pradana (2016) claim that Samsung understands that the right image is the key ingredient of its success. Samsung's long-term great performance will be based on the ability to prove their ability to compete with the soaring number of Chinese manufacturers that have already given a warning by winning the Chinese market.
The company promotes products and services mainly through various forms of advertisements and by increasing the number of their branded retail stores. Moreover, in certain regions, different forms of direct sales are an important part of total sales. Unlike many other electronics manufacturers, Samsung Electronics has a dedicated website in almost every region. The website is truly outstanding, as it provides a great experience and actually serves as an important initial source that provides a potential buyer with a link to local retailers. Samsung values its website and realizes that it represents one of the few examples of an official site becoming a reliable information source for consumers.
Moreover, marketing and promoting efforts vary significantly depending on the type of offices representing the company in the region. For instance, in a number of countries with a regional sales office, the company devotes a substantial amount of time and resources to establishing mutually beneficial business relationships with local telecommunication service providers. The company also boasts a wide array of business clients. Samsung Electronics has been supplying other tech giants (even the closest rivals) with a great variety of innovative components. Apple, BestBuy, Deutsche Telekom, Huawei, and Verizon are currently listed as Samsung's major customers, with the sales to them accounting for 13% of total sales.
Samsung has a huge number of subsidiaries worldwide, just like most like other tech giants. Nevertheless, the Korean corporation has distinguished itself by setting up a small devoted company in almost every single minor region on Earth. Most of such subsidiaries (especially those that have been established recently) focus primarily on marketing ("SAMSUNG ELECTRONICS Co., Ltd. 2019 Business Report"). Samsung Electronics Australia (SEAU), which represents Samsung in the region, is owned exclusively by the company. The subsidiary was established in 1987, and the industry it operates in is stated as "Electronic goods sales". It might reflect the company's approach to Australia as one of the many affluent English-speaking countries, which diminishes the importance of creating a significant number of marketing campaigns catering to local needs.
Nevertheless, Samsung has been treating the Australian market as an extremely and lucrative one. Consequently, the Korean company has been trying to promote their goods there, emphasizing some unique characteristics which may be (often stereotypically) attributed to the nation. For instance, Australia was one of the countries where numerous ads have been focusing on the water resistance. The fact that most of the country's population lives by the Ocean has significantly contributed to the makeup of most Samsung Galaxy commercials. The same can be said about several Arab nations, where Samsung has emphasized the dust resistance of their flagship phones. Nevertheless, Samsung has highlighted numerous camera features and performance characteristics of its smartphones in the East Asia marketing campaigns.
Market Segmentation, Targeting, and Positioning
The company's market segmentation encompasses multiple categories, as the marketing efforts differ significantly depending on the country, age, sex, and other characteristics. Nevertheless, Samsung's top management believes that there are certain common attributes, such as belonging to the middle or upper classes. Moreover, Samsung phones are most popular with Generation X. The clientele of Samsung IT & Mobile is generally described (and perceived) as determined, ambitious, and trendy.
Currently, Samsung dominates the segment it created in numerous emerging markets. Moreover, it has become vivid that the successful pricing strategy has motivated Samsung to provide more smartphone options meant for the upper-middle segment. Tien et al. (2019) state that Samsung Galaxy A phones have become extremely popular, as they provide several high-end smartphone features and bright design solutions. The company was one of the first to realize that pricing the smartphone right does not always have to correspond to hardware characteristics. It is increasingly more important to utilize the right pricing techniques in order to make even a usual decent-looking phone popular.
Conclusions
Samsung should continue its diversified approach to marketing strategies, which allows for a more emotional connection with the customers. Therefore, it should invest even more to compensate for the prices which exceed those of the Chinese manufacturers. Samsung Electronics has already become a well-established brand associated with high-quality flagship smartphones worldwide. Companies such as Sony and Apple realized that they could no longer compete in the smartphone segment in terms of prices and innovations with the growing number of East Asian manufacturers. Thus, Samsung should follow the path of Apple that has begun to put emphasis on the reliability and user-friendliness of its devices in order to avoid Sony's fate. Nevertheless, Samsung has a great competitive edge in technology, as its expertise in 5G networks can provide a synergy effect and should be emphasized more in targeting clients in both B2B and B2C markets.
References
Djatmiko, T., & Pradana, R. (2016). Brand image and product price; its impact on Samsung smartphone purchasing decision. Procedia – Social and Behavioral Sciences 2019, 221-227. Web.
Nguyen, N. A., Anh, N. T., Minh N. N., & Mai, N. T. (2018). South Korean multinational enterprises and Vietnam SMEs' participation in global production networks in the context of increased ASEAN and East Asian regional economic integration. DEPOCEN Working Paper Series (3), 514–517. Web.
Samsung Electronics. (2020). Samsung Electronics Co., Ltd. 2019 Business Report. Seoul, South Korea: Author.
Tien, N. H., Long, N. T., & Chi, D. T. (2019). Price policy in international marketing comparative analysis between Samsung and Apple. International Journal of Research in Marketing Management and Sales 2019 1(2), 144-147. Web.
Appendix A
Appendix B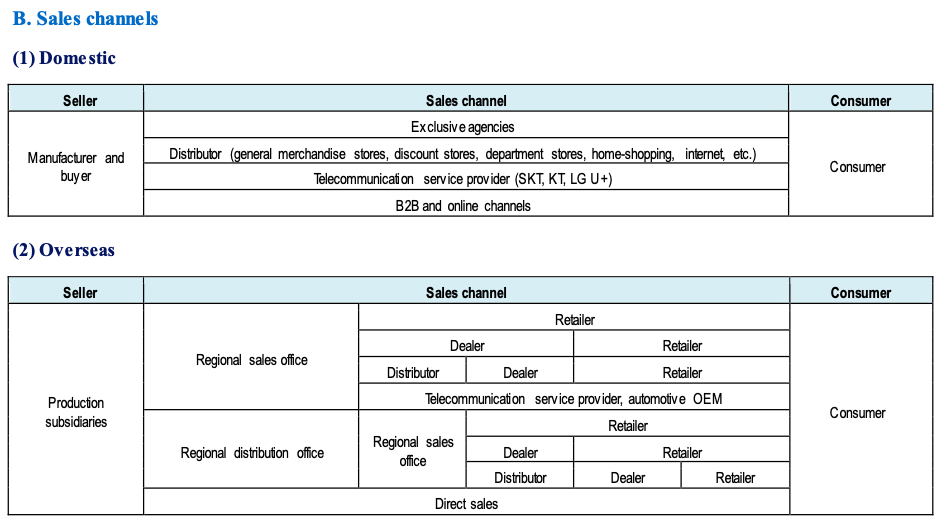 Appendix C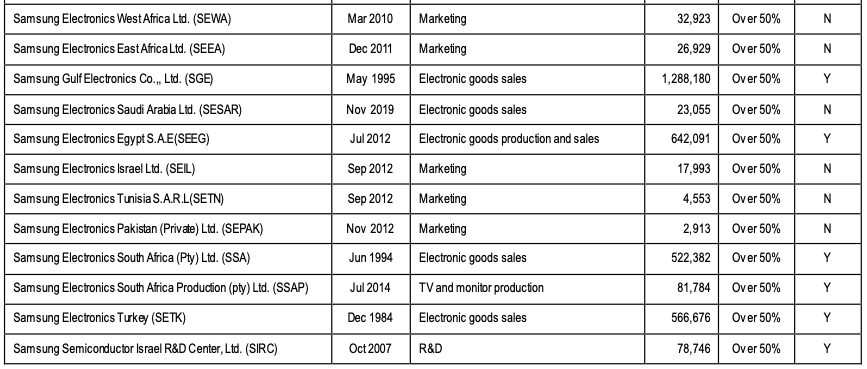 Appendix D