Introduction
Apple Corporation's success in the Consumer Electronics Industry (CEI) is one, which clearly indicates the supremacy of innovativeness, uniqueness, and superior leadership (Kane 2014). Many scholars and experts claim that the entry of Steve Jobs at the helm of the company in 1997 was the turning point that would drive the company to its future success (Dormehl 2012). Under his leadership, the company changed from a loss making to profit-making entity within a year. The company introduced innovative products that would later become synonymous with quality, class, and design (Ayal & Zif 2009). These innovative products such as iPod, iPhone, and iPad, as well as a business model that is characterised by integration and synergies that are unique and almost impossible to imitate have driven the company's growth and superiority in the consumer electronics market (CSIS 2013)..
The death of Steve Jobs in 2011 elicited mixed reactions on the future of the company. For a long time, it was impossible to imagine Apple without Steve Jobs. However, since he was no more then, many questions on whether the company would continue its success and its unique and innovative products were asked (Kane 2014). However, three years down the line, the company continues to grow. Its current market capitalisation of USD$700 billion is a testimony to this continued success. Critics assert that it is still very early to make sensible conclusions on the company's future. Others claim that with the changing competitive environment, it is a matter of time before other companies in the consumer electronics industry dethrone Apple (Kane 2014). This paper seeks to evaluate how well placed Apple is to sustain its success in the Consumer Electronics Industry.
Changes in the Competitive Environment
The consumer electronics industry is characterised by cutthroat competition. It is important for any company that seeks to remain profitable in the sector to seek innovation and other areas of competitive advantage (Gustin 2012). Any company that basks in the glory of its achievements is doomed to fail in the highly competitive consumer electronics industry (Shaughnessy 2013). Looking at the changes that have occurred in the industry, it is evident that for Apple to continue its success, it will have to put more efforts in ensuring that it continues with its innovativeness that is highly threatened by the emergence of other companies that are keen on gaining a substantial market share (Shaughnessy 2013).
The emergence of Android Operating System in 2008 changed the Consumer Electronics market in many ways. From a small market share of only 2.8% in 2009, the current Android running devices accounted for approximately 83% of the market share as of 2014. At the same time, the market share for iOS running devices shrunk from 56% in 2010 to stand at only approximately 12% as of 2014 (Jones 2014). The two platforms, namely iOS and Android OS, account for approximately 95% of the all mobile devices in the world. For a long time, Apple led in the tablet market since consumers were wary of the emerging Android OS running tablets. However, despite the increasing uptake of Android Tablets, iPad continues to dominate the high-end market share, although this situation is likely to change in the near future with the increasing competition from Samsung and other android tablets from other companies (Cohan 2014). The market share of Apple's iPad stood at 32.5% as of May 2014. This figure was a drop of approximately 9% as compared to Samsung's 22.3%, which was a rise of approximately 5% (Jones 2014). Other tablet makers such as Lenovo and ASUS among others have increased their efforts to ensure that they achieve a considerable market share, a situation, which is likely to increase competition and possibly dethrone Apple as the market leader in this segment.
Individual companies have grown tremendously to threaten Apple's dominance of many areas in its target markets. For instance, Samsung has overtaken Apple to claim the leadership position in the number of mobile phone devices that the company sells across the world (Jones 2014). Samsung sold approximately 78.1 million Smartphones in the third quarter of 2014 as compared to Apple's 39.3 million in the same period (Cohan 2014). Other emerging companies such as China's Xiaomi emerged from little-known companies to take over market share leadership in Apple's vital markets such as China at 17.3 million units that were sold in the same period (Jones 2014).
Such trends are a clear indication that the market environment is fast changing. This situation evidently threatens Apple's ability to remain competitive in the long run (Kane 2014). For instance, the fact that more and more people are opting to use Android-run mobile devices is a wakeup call for Apple to re-strategise to remain competitive (Edwards 2014). One of the key areas that emerging companies are gaining over Apple is the pricing segment. While Apple has a near monopoly for premium priced products in the consumer electronics markets, emerging companies such as Xiaomi have focused on designing cheap but yet high quality products that can easily compete with Apple's products in terms of quality and design (Spence 2015). Indeed, this approach by Xiaomi has been highly effective. The company has been recognised as the fastest growing mobile phone company in the world. Currently, it is the market leader in mainland China and the third largest mobile phone maker in the world, despite its presence only in China and its surrounding regions (Spence 2015).
Despite this increasing competition, Apple has clearly shown that it is ready for the competition as evidenced in its recent release of iPhone 6 and iPhone 6 Plus whose market uptake has been very impressive. It has led to one of the highest shipments volumes for the company in its history (Reisinger 2014; Kane 2014). Further, the popularity of its previous iPhone models such as iPhone 5S and iPhone 5C ensured that the company continued with its success as the market leader in the premium market segments (Kahn 2012). Concisely, it stands to be proven whether the company will continue to solely rely on the high-end market segment, or whether it will shift to other market segments, following the increased competition from other vendors such Samsung, Xiaomi, and other Android-focused manufacturers that are keen on taking a sizeable share of the consumer electronics market (Tibken 2014).
Strategic Decision Making Post Steve Jobs
The death of Steve Jobs in 2011 was a sad period and an end to an era of one of the greatest innovators and CEOs in the 21st century (Kane 2014). To many people, Steve Jobs was a genius and the CEO of the decade and to others, the CEO of the century. In a span of 10 years, he had transformed Apple into the world's largest technology company with unique and innovative products that took the consumer electronics market by storm (Dormehl 2012). Will the company survive the gap left by Steve Jobs? Will the new CEO, Tim Cook, fit in the shoes of his predecessor? Most importantly, will the company continue its impressive growth in terms of innovativeness, consumer followership, and profitability? Indeed, according to many critics, these were difficult questions that only time would tell.
According to Gustin (2013), the new CEO already knew the enormity of the task that was ahead of him. The new leadership was keen on proving to the world that Steve Jobs had only set a pace that the organisation was keen on maintaining or even surpassing. After all, only the CEO had changed. Other key important personnel who were also part of the success story of Steve Jobs were still present. They understood the expectations of the company and the target consumers (Whitehouse 2014). However, just like any changes in the top leadership, Tim Cook was to bring his ideas of leadership and decision-making. It is worth noting that at the time of Steve Jobs' death, the consumer electronics market was expanding enormously. Competition was becoming a serious threat to the dominance of Apple's leadership in the industry (Kane 2014). Consequently, entering the new era, Timothy Cook had an enormous task of ensuring that the company maintained its competitive advantage even with the demise of Jobs.
However, despite the sceptics, the company has performed exemplarily post Steve Jobs. Its performance is an indication that although the leadership has changed, the organisation still has maintained its innovativeness and strategic decision-making capacities that have set it on a path of success and growth (Dormehl 2012; Burns 2012). For instance, in the last two and half years since Tim Cook took over, the company's profits have grown by 58% ahead of other companies such as Google at 25%. It (Apple) has experienced encouraging growth to reflect the expansion in the consumer electronics sector (Whitehouse 2014). Further, the release of iPhone 6 and iPhone 6 Plus, Apple Pay, and the upcoming Apple Watch has clearly indicated that the company is not ending its streak of innovation anytime soon (Whitehouse 2014). Other devices that the company has released or upgraded during Tim's regime include iPad Air 2 and iPad Mini 3 among others. So far, they have been successful in the market.
Consequently, since the death of Steve Jobs, the company is not in any threat of running into oblivion. Consequently, it has proven that it is going to remain successful in the near and far future, especially in the high-end market segment, which it continues to dominate (Manjoo 2014). Its secretive nature on the design of its products and its corporate decisions has not changed much. As it stands, the organisation has continued to uphold major characteristics that were introduced by Steve Jobs (Cohan 2014). It is therefore important to conclude that working under Steve Jobs as the Chief Operating Officer, Timothy Cook gained important insights of Jobs' leadership. He has been able to continue or even surpass the same as evidenced in the impressive growth that the company has experienced in the post Steve era (Manjoo 2014). In recognition of Cook's success as the CEO at Apple, he was named the CEO of the year by CNN in 2014, which is a clear indication of the faith that investors and consumers have placed on him to take Apple to the next level.
Three-Dimensional Strategic Analysis
A scrutiny of Apple before and after Steve Jobs reveals important statistics of its financial strength, relative market share, and relative market strength. Firstly, the company's financial strength can be measured in different ways, including in terms of its profits, market capitalisation, and shares. In 2010, the company's revenues stood at USD$ 65.07billion and profits of USD$14.01billion. As of 2014, the company recorded revenues of 182.87billion and profits of USD$39.51billion (Wilhelm 2014). The graph below shows how the company's revenues and profits have grown and consequently put the company on the map of the world's largest corporations.
From the above analysis, it is evident that the company has continued to grow and cement its impressive growth and its financial strength. The company's customer loyalty for its consumer electronics products is highly accredited to this growth, which is projected to continue (Jones 2014). Another important parameter for its impressive financial strength is in terms of market capitalisation (Elsner 2014). In 2011, the company's market capitalisation stood at USD$300billion. However, three years down the line, it now stands at USD$700billion, thus making it the world's largest corporation by market capitalisation (Statista 2014). In 2011, its shares traded at USD$57.86 as compared to its share price of USD$118 as of 2014 (Rogowsky 2014). These impressive statistical findings reflect a company whose financial strength is very healthy.
Apple's relative market share and market strength indicate the company's position in relation to its competitors. Currently, the company's market share stands at approximately 12% of the consumer electronics segment (Edwards 2014). However, its market share has been on the drop, amid the increased competition from Android Operating System devices. In 2011, Apple's market share stood at 13.8% as compared to Android's 57.4% (Dormehl 2012). In 2014, the market share for Apple's Smartphones stood at 11.7% as compared to 84.4% for Android phones. Although the current drop in its market share may indicate a drop in its dominance, this situation is not the case (Cohan 2014). The company continues to enjoy a strong dominance of the high-end market share for Smartphones above $300. Further, the number of units the company sells continues to increase at the high-end market, especially with the introduction of iPhone 6 and iPhone 6 Plus (Edwards 2014). The company's relative market strength is therefore unquestionable. It will maintain the trend into the near and far future.
Industry Critical Success Factors
The consumer electronics industry has various critical success factors that determine the success or failure of a given vendor in the industry. Apple is one of the companies that have maintained success in the industry, which is a key indicator of the fact that the company understands its industry and consumers (Bajarin 2012). Firstly, the first success factor for the industry revolves around uniqueness and innovativeness in the quest for providing consumers with products that exceed their imaginations (Soloman 2003). In this process, Apple's secret is around technology and the desire to create products that the creators can use (West & Mace 2007). The company therefore has invested heavily in research and development to ensure the production of top quality high-end products that consumers can enjoy (Laugesen & Yuan 2010; Laugesen & Yuan 2010).
The company understands the power of a strong brand name in moving its products. Over the years, the company has achieved a respected brand name across the world (Sheremet 2013). For instance, the euphoria that is always witnessed before and/or after the release of new products across the world indicates how much of fanatic followership the company has achieved (Cohan 2014). Further, its stores offer its customers out-of-the-world experiences that ensure that the company's name and brand are strengthened through customer experience as well as through quality products. Consequently, by maintaining a good brand name and quality products through research and development, the company has achieved what other market players can only wish to attain.
First Mover Advantage
First mover advantage refers to the advantage that first entrants into a given market enjoy over other later entrants (Detomasi 2006). Of all companies in the consumer electronics sector, Apple understands this principle well. Hence, it has capitalised on it (Kaneshige 2009). Although many of the company's products are not unique, the company has focused on re-invention where it takes up the existing products to make them better than any other players in the industry (Worstall 2012). For instance, its music device, namely the iPod, was a re-invention of mp3 players, which went to take over the market for mp3 players by storm. In addition, its iPad was a re-invention of the early tablet computers. This gadget went ahead to command market leadership in the segment (Marshall 2013). The company's quest to create products that are superior to the existing ones has set it on a path of supernormal profits that have never been experienced before.
Another important first mover advantage for the company is its focus on the high-end market segment, which many other players have been avoiding by focusing on moving bulk products in the middle and low-end market segments (Basulto 2011). Consequently, by establishing itself to offer high-class merchandise, the company enjoys a near monopoly in the high-end market segment, which allows it to achieve large profit margins, despite selling a smaller number of products as compared to other organisations (Dormehl 2012). As Samsung will later find, it is not easy for new companies to enter this market segment since most consumers choose Apple's products of the same price than those of other companies.
Product / Process Innovation
Apple's products have revolutionised how consumers view, interact, and use their consumer electronics devices. By combining sleek and top quality designs, user friendliness, and other qualities, Apple has changed the consumer electronics devices in unimaginable ways. The key ingredient to this success is the company's focus on research and development (R & D) to ensure that the company stays ahead of competition in the market. Since the unveiling of its first iPhone in 2007, the company's budget for R & D has grown significantly as a share of its total revenues. In 2007, the company spent approximately 3.3% of its revenues of R & D. This amount was approximately USD$300million (Ballon & Walrevens 2008). In 2014, the company spent approximately USD4.5billion, an indication of its desire to continue producing innovative, popular, and quality products. The table below shows a summary of the growth of expenditure in R & D for Apple since 1995.
Research and Development Expenditure-Apple Inc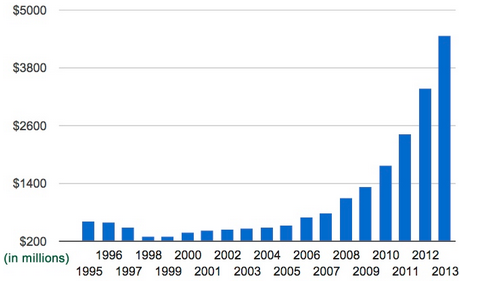 The resources that the company has dedicated on R & D have paid off enormously as evidenced in its numerous award-winning products that are popular with consumers throughout the world (Pavlou & Lie 2006). From its entry into the portable music player, iPod, to iPhone, iPad, iTunes, and other products, the company has proven that every single dollar in R & D is spent in worthwhile efforts in creating good products (Kharif 2009). With the news of the Apple Watch, the world is yet to see the best of Apple products. It will take time before any other consumer Electronics Company replicates or surpasses the success of Apple in terms of quality and innovation as well as in profitability and other areas that make the company outstanding in its industry (Edwards 2014).
Sustaining Competitive Advantage
It is true that the Smartphone industry is growing highly competitive. Only companies that are ready to adapt to the changing customer preferences are likely to storm (Vogelstein 2008). The question of whether Apple will maintain its success and competitive advantage is one that has been asked by many scholars and experts in the industry. With new entrants such as Xiaomi becoming serious threats to other market leaders such as Samsung as well as Apple, the questions being asked are very valid (CSIS 2013).
One of the key strengths that Apple has is that it has identified a unique market segment, that is, the high-end market, which many new entrants are not focusing. For instance, Xiaomi has successfully managed to take over market leadership in the Chinese market Smartphone market by surpassing Samsung and Apple in the number of sold units (Ballon & Walrevens 2008). However, these new entrants have focused on the low-end market segment. It is unlikely that Apple will face any major challenge in its segment from new entrants.
Conclusion
The recent success of Apple in the consumer electronics industry is an outcome of innovativeness, brand name, and focus on research and development that have allowed the company to grow and achieve what other companies have failed to achieve. Despite the many changes that have occurred since the departure of Steve Jobs in 2012, it is evident that that company has managed to sustain its growth, despite the sceptics and the wait-and-see approaches that industry experts have adopted. From the discussion, the company's growth in market capitalisation from USD$ 417billion in 2011 to USD$700billion is a testimony that the company will continue to succeed. Further, the introduction of iPhone 6 and iPhone 6 Plus are a confirmation of the company's continued efforts on innovation and superior products in the market. Concisely, as it stands, Apple is well placed to maintain its impressive record and success in the consumer electronics market.
References
Ayal, I & Zif, J 2009, 'Market Expansion Strategies in Multinational Marketing', Journal of Marketing, vol. 43 no. 2, pp. 84-100.
Bajarin, T 2012, Six Reasons Why Apple is Successful, Web.
Ballon, P & Walrevens, N 2008, Competing Platform Models for Mobile Service Delivery: the Importance of Gatekeeper Roles, Proc 7th International Conference on Mobile Business, Washington, DC.
Basulto, D 2011, The Apple iPad and why First Mover Advantage is Overrated, Web.
Burns, M, Apple Q2 2012: 35.1 M iPhones, 11.8M iPads, 4M Macs, and 7.7M iPods, Web.
Cohan, P 2014, Can Apple Halt Its Eroding Market Share?, Web.
CSIS 2013, China' Competitiveness, Case Study Xiaomi Inc, CSIS, Washington, DC.
Detomasi, D 2006, 'Book Review: The INSEAD-Wharton Alliance on Globalising: Strategies for Building Successful Global Businesses', Journal of the Academy of Marketing Science, vol. 34 no. 2, pp. 265-267.
Dormehl, L 2012, Different thinking: Steve Jobs, the counterculture and how Apple Inc. took over the world, Virgin, London.
Edwards, J 2014, Ugly Data For Apple Shows How Desperately It Needs iPhone 6 To Be A Hit, Web.
Elsner, S 2014, Retail internationalisation analysis of market entry modes, format transfer and coordination of retail activities, Springer Gabler, Wiesbaden, Germany.
Gustin, S 2013, Two Years After Steve Jobs' Death, Is Apple a Different Company?, Web.
Gustin, S 2012, Why Apple is Winning: Innovation, Opportunity and Execution, Web.
Jones, C 2014, Apple Is Starting To Claw Back Some iPhone Market Share, Web.
Kahn, J 2012, IDC: Samsung Takes Top Smartphone in Q1, as Apple Hits 8.8% high of total mobile phone market, Web.
Kane, I 2014a, Haunted Empire: Apple After Steve Jobs, Harper Collins Publishers, New York, NY.
Kane, I. 2014b, The Job After Steve Jobs: Tim Cook and Apple, Web.
Kaneshige, T 2009, Why Apple owns the High-End: First Mover Advantage, Web.
Kharif, O 2009, Setting the iPhone Free From AT & T, Web.
Laugesen, J & Yuan, Y 2010, What Factors Contributed to the Successes of Apple's iPhone?, 2010 Ninth International Conference on Mobile Business, Hamilton, Ontario.
Manjoo, F 2014, Apple After Jobs: Pretty Much the Same as Ever, Web.
Marshall, D 2013, Avoiding an Innovation Deficit or Debt Is the Only Way To Keep First Mover Advantage, Web.
Pavlou, P & Lie, T 2006, What Drives Mobile Commerce? A Model of Mobile Commerce Adoption, Twenty Seventh International Conference on Information Systems, Washington, DC.
Reisinger, D 2014, Samsung Still Tops in the Smartphones, but market share plummeting, Web.
Rogowsky, M 2014, Apple Q4 Earnings Live! Revenues Soar to $42B On Strong iPhone, Mac Sales, Web.
Shaughnessy, H 2013, Solving Apple's Innovation Problem, Web.
Sheremet, A 2013, 'Comprehensive Economic Analysis Of A Company', Advances in management & marketing, vol. 3 no. 1, pp. 1-5.
Solomon, M 2003, Conquering consumer space marketing strategies for a branded world, AMACOM, New York, NY.
Spence, E 2015, Here's The Smartphone That Will Give Xiaomi The Market Share To Rule the World, Web.
Statista, Apple's iPhone Revenue From 3rd Quarter 2007 to 4th Quarter 2014. Web.
Tibken, S 2014, Where Samsung's True Smartphone Battle Lied in 2015: Emerging Markets, Web.
Vogelstein, F 2008, The Untold Story: How the iPhone Blew Up the Wireless Industry, Web.
West, J & Mace, M 2007, Entering a Mature Industry Through Innovation: Apple's iPhone Strategy, Proc Druid Conference, Washington, DC.
Whitehouse, K 2014, What Is Apple's Future Without Steve Jobs?, Web.
Wilhelm, A, Apple Earnings Q4 2014, Web.
Worstall, T 2012, First Mover Advantage: It Ain't an Advantage or, the Pioneer's the One With Arrows in His Back, Web.