Executive Summary
iHealth is a new Apple product that not only has a modern design but also can be used to measure blood pressure, pulse, and other important medical characteristics. Today, people are concerned about their health, and introducing iHealth will fill existent gaps in the technological segment. It is believed that customers will expect iHealth to be a premium gadget with a unique design and high-quality features; taking advantage of the current brand image and marketing strategy will help in meeting these expectations. Using a well-developed framework of suppliers and retailers and an integrated marketing approach will help generate $4.8 billion in revenues during the third year of operations while relying on a social responsibility strategy that will mediate potential ethical and legal conflicts.
Company Overview
Apple, Inc. is a frontrunner in the technological market, specializing in gadgets recognized for distinct names such as iPod, Mac, and iPhone (Apple, Inc., 2015). The company has also allocated substantial resources to the development of online storage such as iCloud as well as various payment options (ApplePay) (Apple, Inc., 2015). These innovations, along with a well-developed brand image as an innovative brand with exceptional design, has helped the enterprise regain its position, survive intensified competition, and maintain worldwide popularity and market shares. Today, the company is still a market leader with net sales of $233,715 thousand in 2015, and its shares are continuing to grow and attract more investors (Apple, Inc., 2015).
Situational Analysis
To establish a foundation for discussion, a SWOT framework can provide a profound image of the company's position by depicting its strengths, weaknesses, opportunities, and threats (Tanner & Raymond, 2014). Figure 1 portrays a classification of Apple's features according to the selected analytical approach. Apple's main advantages pertain to its extended years of operation, know-how, recognition, and a well-established network of suppliers, while weaknesses may refer to constantly intensifying competition, problems with iOS incompatibility in integrating with other systems, and a lack of investment in R&D (Neuburg, 2014).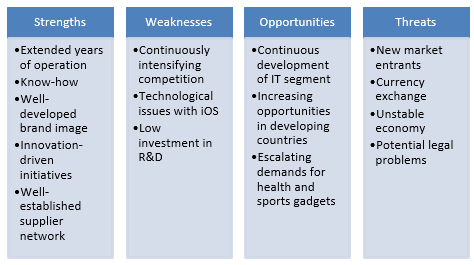 Nonetheless, the company should consider different market opportunities. For example, along with the development of information technology and rising demand for new products, individuals are showing an interest in therapeutic wearable gadgets. These devices have already helped medical researchers unveil important details about the nature of cardiovascular, epileptic, and Parkinson's diseases (Son et al., 2014).
Apart from using these devices for research purposes, consumers are interested in monitoring their health. This aspect has triggered the development of a positive trend, projecting that 19 million fitness bracelets could be sold in 2017 (Piwek, Ellis, Andrews, & Joinson, 2016).
These factors imply that this environment is highly favorable for businesses. Simultaneously, technological pandemics continue to spread, covering increasing geographical areas. For example, in the Middle East, the number of Internet users is higher (86%) than the world's average (76%) (Poushter, 2016). Internet usage has experienced a significant rise in Turkey (35%), Jordan (20%), Malaysia (19%), and Chile (12%), making them attractive to technological companies (Poushter, 2016).
Competitive Analysis
As mentioned earlier, one major threat for Apple, Inc. is the constantly intensifying competition in the technological segment. Despite its recent development, the smartwatch/health watch market is strongly occupied by global corporations such as Samsung, Huawei, Pebble, Phillips, and Sony. Figure 2 presents Apple's position, comparing its product's features with those of its competitors. In this case, Apple has a leading position in this segment, as Apple Watch has a heart rate monitor, touch screen, and NFC.
Nonetheless, the enterprise must improve certain characteristics to prevent a loss of market share. Its battery life per charge (18 hours) is not as long as for Pebble Time (7–10 days) and Sony (2 days) ("Smartwatches compared", 2016). Another drawback is its high price; users can freely choose alternatives with similar features for a more reasonable price-to-quality ratio.
This analysis shows that the company remains a market frontrunner. Apple's strengths, such as a well-developed brand image and the associated lifestyle, has helped introduce a competitive product. Simultaneously, the analysis explains that technological progress drives competition by triggering enterprises to design innovative devices. Apple, Inc. should take these matters into account as companies such as Pebble, Huawei, and LG have already started regaining their strength in the smartwatch niche.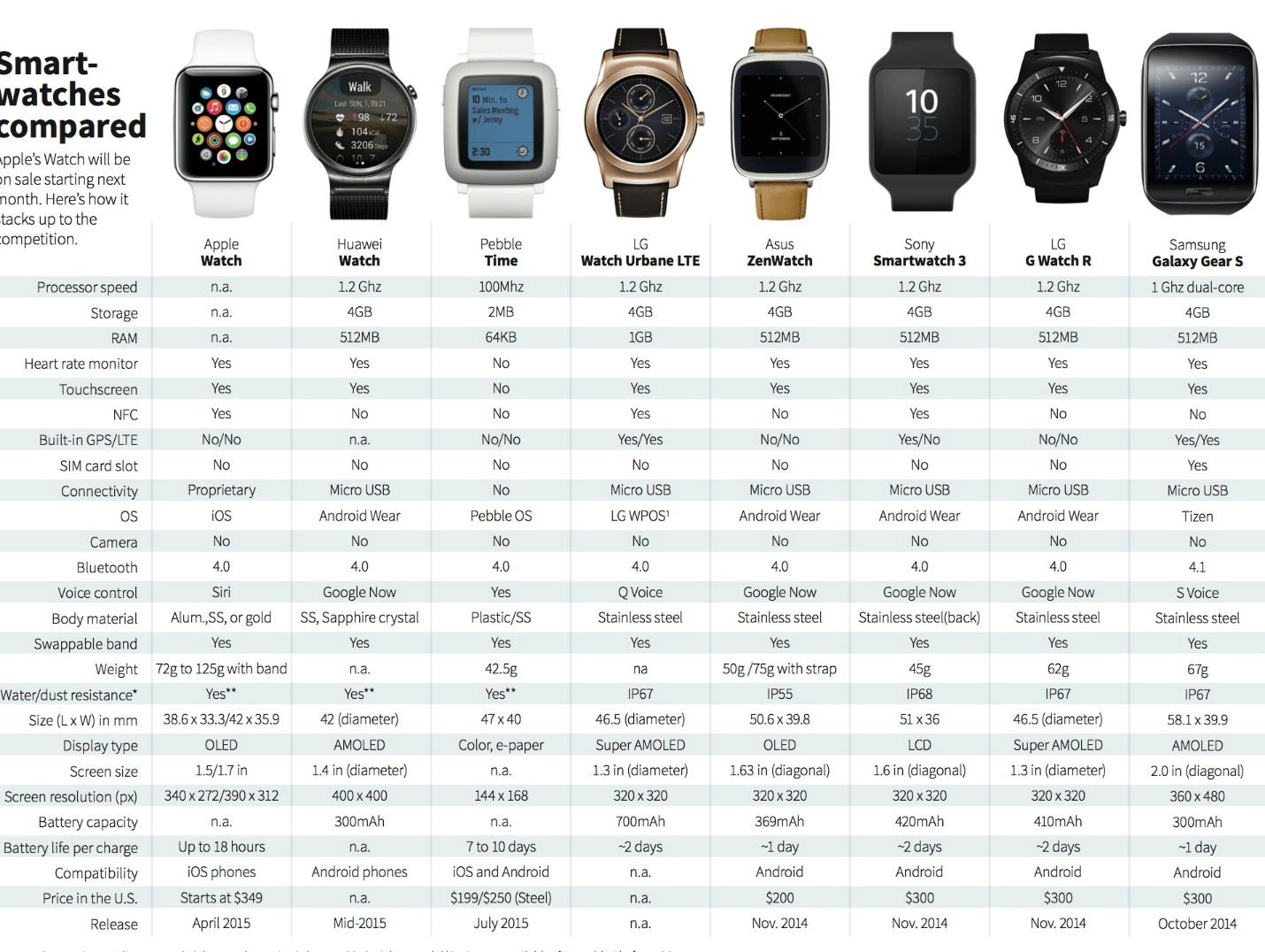 Objectives and Goals
Today, the sports market presents a major opportunity as people are still experiencing difficulties when selecting the most appropriate devices to monitor their condition in training and everyday activities. The newly developed iHealth watch will help to fill these gaps by catering to the needs of a target audience covering individuals with health problems such as diabetes and cardiovascular diseases as well as sports enthusiasts. This device can monitor pulse, sugar levels, and blood pressure.
The device's highly modern and exceptional design along with the required technological features and durability of iHealth will help customers not only satisfy their needs but also feel they are a part of Apple's community. Apple, Inc. highlights the significance of including these characteristics that are important indicators of one's medical condition that were not properly featured in previous gadgets. Penetrating the market with iHealth will address the problem of durability and portability of different health devices simultaneously, giving Apple, Inc. an opportunity to generate revenues from this niche.
The main objectives are:
Cater to customers' unsatisfied needs with iHealth;
Increase Apple's sales by 5% with iHealth;
Upsurge market shares by 5% in the smartwatch market;
Enhance customer satisfaction by 5%.
STDP Segmentation
Segmentation
The first stage of the marketing plan involves dividing the target audience into segments (segmentation), catering to the needs of diverse consumer groups, and effectively communicating the marketing message (Tanner & Raymond, 2014). This is also known as segmentation, targeting, differentiation, and positioning (STDP). Targeting assesses the attractiveness of each group and selects the most appropriate; differentiation and positioning focus on a product's competitive advantage and the perceived expectations of customers (Tanner & Raymond, 2014).
This approach is the core of the marketing plan, as it will become a driving force for marketing campaigns and will help reach the identified goals. In the initial stage, the company will apply the concepts of the geographical method with a substantial emphasis on the American market. It will gradually expand its coverage to Europe and Asia in response to their rising demands for technology. Afterward, it will be reasonable to focus on demographics. For example, Apple will aim at two major segments:
individuals with a high-to-medium level of income who are consumers of Apple products and show an interest in health, sports, and innovation;
consumers of other brands who are interested in new technology and monitoring their health.
This segmentation aids in understanding that additional advertising must be targeted at the second group while currently used marketing campaigns can be used to retain loyal customers.
Targeting
When defining a target market, it is reasonable to launch iHealth in the United States of America to start, as Apple, Inc. has used this approach successfully in the past. It will be mostly targeted at loyal customers and fans since they tend to follow the company's updates and press releases. Meanwhile, the estimated size of the market will reach 10 million users during the third year (current owners of Apple smartwatches with potential customers of other brands who are concerned with health).
It is necessary to calculate the market's assumed size since it will help in designing rational sales and revenue forecasts (Tanner & Raymond, 2014). Simultaneously, this will assist in evaluating potential levels of demand and avoid a supply surplus or deficit while having a positive impact on production and inventory costs.
Marketing Strategy and Positioning
Discovering the 4Ps or marketing mix will assist in understanding the company's marketing campaigns and advantages compared to competitors. As for the product, iHealth caters to emerging needs for devices that can monitor health effectively. At the same time, applying the concepts of a differentiation strategy along with the strengths of the brand helps Apple, Inc. introduce a unique gadget complying with customers' perceived expectations.
For example, to address the differing needs of potential users, the product offers design variations such as bracelets for sports, everyday life, and special occasions. Using a premium pricing strategy can be viewed as the most appropriate approach for iHealth (Tanner & Raymond, 2014). The primary reason pertains to high production costs, and it will also assist in generating higher revenues during the introduction and growth stage of the product lifecycle (Tanner & Raymond, 2014). Simultaneously, this method will attract more customers to the brand and differentiate it from the competitors by building an association with high-quality Apple devices.
In addition, the company has a well-developed framework of distribution channels. Consequently, selling iHealth in exclusive stores will create an exceptional experience for customers and increase retention while differentiating it from the competitors. Lastly, in promoting the product, the company will apply a unique blend of marketing techniques, using advertising, social media, and public relations simultaneously. Furthermore, relying on the brand image can be identified as a critical part of the company's differentiation strategy in promoting iHealth.
Positioning
Overall, it is expected that customers will recognize this new Apple product as a high-quality gadget that is reasonably priced. These estimations are based on the current position of Apple, Inc. in the smartwatch market (see Figure 3). Meanwhile, Figure 3 also displays how Apple successfully integrates current product and pricing strategies and creates a perception that the existing price-to-quality ratio is reasonable.
The abilities of iHealth to monitor changes in medical condition can be identified as an essential definer of product quality while differentiating it from those of rival firms. Consequently, taking advantage of a similar strategy will assist the company in generating high revenues during the first phases of iHealth's lifecycle by complying with the perceived expectations of customers regarding price and quality.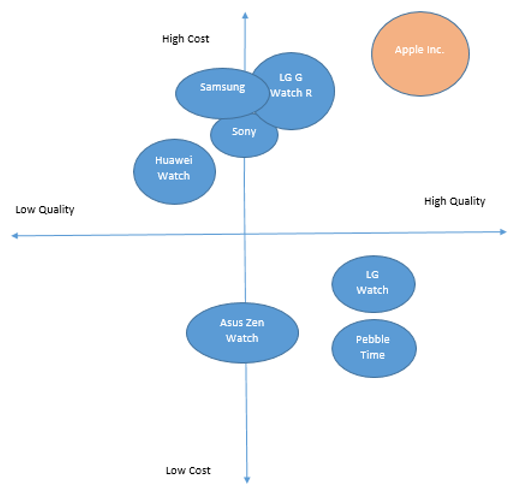 Additionally, it is believed that iHealth will be associated with exclusive Apple design. When referring to the current situation in the smartwatch market, Apple, Inc. already has a leading position and a large market share. These expectations will be transferred to the iHealth product due to its connection to the company. Figure 4 shows that brands like Samsung are recognized in the technological industry but have a different initial specialization. Apart from Samsung as a major rival, Apple, Inc. can stay competitive due to a loyal consumer base and associated lifestyle. In summary, the major expectations for a new Apple product will be related to modern design, popularity, high price, and exceptional quality. Since Apple, Inc. already has these features, addressing these perceptions will be the most appropriate strategy to pursue.
Application of Marketing Research
Market research is an essential element of planning, implementation, and monitoring. For example, before launching the product, a combination of primary and secondary sources can be used to discover potential market demands (Tanner & Raymond, 2014). Relying on existing studies about wearable health monitoring devices and consumer preferences will provide a general overview of the market. Simultaneously, during the development stage, it will be essential to test demo versions of the product with the help of online focus groups (Stewart & Shamdasani, 2017). This offers a cost-effective method that will help in developing an innovative design (Stewart & Shamdasani, 2017).
During the implementation and monitoring phases, it will be vital to rely on a combination of quantitative and qualitative research techniques. Quantitative strategies such as questionnaires and statistics about revenues (trends) and consumer reactions will assist in discerning the effectiveness of marketing campaigns and the sales force. Reaching set numerical goals will imply the success of the product. Meanwhile, qualitative methods such as interviews and discussions on social media can be viewed not only as potential idea-generators but also as indicators of customer satisfaction.
Ethical and Legal Factors and CRS
Nonetheless, potential legal and ethical factors may be related to an inability to comply with various certifications and safety standards. Other obstacles can be linked to patents and copyright infringement, but Apple, Inc. attempts to ensure the ownership of its ideas and prevent these conflicts (Apple, Inc., 2015). Nonetheless, difficulties may arise due to similarities of iHealth technology with other brands.
Alternatively, potential customers may express ethical concerns about the safety of iHealth due to the gadget's interference with the organism of a customer. However, to avoid these problems, Apple, Inc. is using its corporate social responsibility strategy (CRS) to build a bond of trust with its stakeholders. This not only helps suppliers meet high quality standards and practice eco-friendly manufacturing initiatives but also addresses community needs by providing opportunities for education and professional growth, applying waste management strategies, and promoting health care and equality in the world (Apple, Inc., 2017).
Financial Projections
Table 1 and Figure 5 present estimated sales and units sold for the next three years. The forecast shows that iHealth will experience an upward swing in sales volume due to the expected positive reaction of its potential customers. Thus, another driver for this change is the expanding geographical coverage of iHealth at the end of the first year of operations. Table 1 also shows that marketing expenses are high since currently, Apple Inc. invests heavily in advertising.
Nonetheless, these expenses will decrease during years 2 and 3. Simultaneously, these projections are closely linked to the product life cycle. The introduction stage will take place during the first year, as customers will be discovering the features of the new product. Meanwhile, the growth stage (1.5 to 2 years) will replace the introduction phase after the first eight months of the first year due to a well-established brand image, favorable environment, and rising demand for innovation. All estimations are based on previous sales, but the described growth rate is medium due to brisk competition.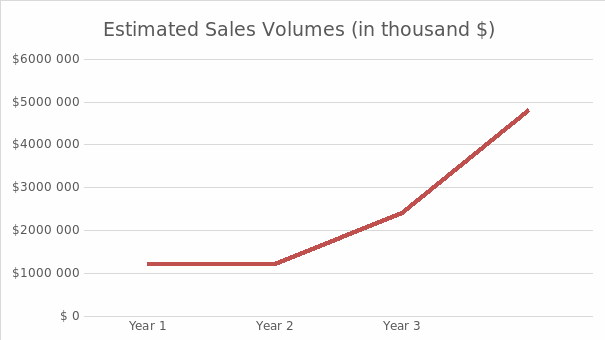 Implementation Plan
Overall Process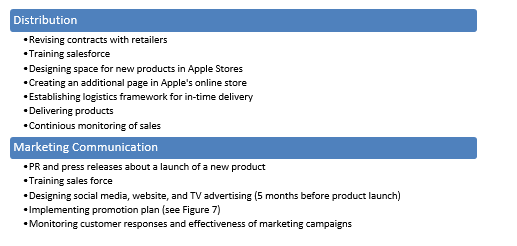 Figures 6 and 7 present the general implementation plan and detailed outline for promotion and its phases. Figure 6 briefly covers the steps to be taken regarding PR, advertising, distribution, and marketing communication. Using these figures will help explain the flow of the processes required for successful sales and marketing of iHealth.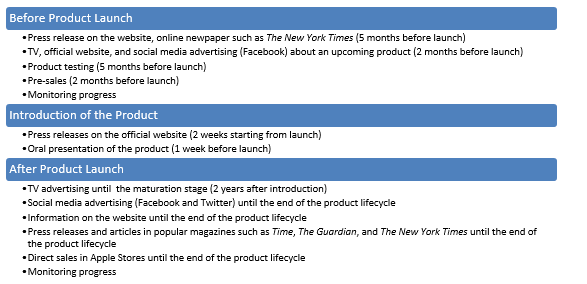 Used Technology
Marketing technology will be used during the phases of marketing research, communication, promotion, and monitoring. It is vital to take advantage of this tool since it will not only help identify industrial trends but will also emphasize different aspects to be improved (Tanner & Raymond, 2014). For example, Google Analytics will be used to evaluate customer needs and monitor changes in sales dynamics and the preferences of potential consumers (Krypel, 2014).
This software will help develop a suitable value proposition and assess the effectiveness of selected online marketing campaigns by reporting user activities. During the marketing research stage, it will be possible to estimate the size of the market and sales volumes with the help of Google Analytics and similar programs.
Simultaneously, different browser-based software programs can be used to understand customer reactions to the brand and the types of interactions that occur online in social media networks (Krypel, 2014). This method will be important at the start of the marketing campaign as it will be critical to evaluate different opinions about iHealth and develop effective instruments to communicate with customers online.
Lastly, the importance of search engine marketing tools cannot be underestimated as they are often employed in marketing to optimize search results and the responsiveness of the website and press releases to keywords and phrases. Taking advantage of this approach will help in developing effective online marketing campaigns, but all strategies mentioned must be used in combination to maximize profits.
Evaluation and Control Metrics
Using different key performance indicators (KPIs) such as net sales and size of the market share will help in understanding a company's financial stability in this segment. Meanwhile, ratios such as gross profit and net profit margins along with EBITDA will display any changes in a company's performance. Meeting the set benchmarks of at least 5% in sales growth and market share will signify success, but lower values will underline the need to redesign the marketing strategy.
Moreover, to evaluate customer satisfaction, online questionnaires will be employed, a popular market research strategy to discover customers' perceived expectations (Tanner & Raymond, 2014). A high positive response rate and increased satisfaction by at least 5% will imply success. Nonetheless, these metrics must be used in combination to understand the effectiveness of the selected marketing strategy and appropriateness of the product.
Conclusion
Overall, iHealth will not only help Apple Inc. to increase its revenues and worldwide popularity but will also satisfy the needs of customers who would like to pay more attention to their health. iHealth is an entirely new premium-class device with a unique modern design, and these characteristics comply with the perceived expectations of consumers and Apple's current brand image. Taking advantage of the enterprise's recognition factor along with developing an integrative marketing campaign will help iHealth become a market frontrunner with estimated sales of $4.8 billion.
References
Apple, Inc. (2015). Form 10-K. Web.
Apple, Inc. (2017). Supplier responsibility. Web.
Krypel, M. (2014). Refining design for business: Using analytics, marketing, and technology to inform customer-centric design. San Francisco, CA: The Adobe Press.
Neuburg, M. (2014). Programming iOS 8: Dive deep into views, view controllers, and frameworks. Sebastopol, CA: O'Reilly Media, Inc.
Piwek, L., Ellis, D., Andrews, E., & Joinson, A. (2016). The rise of consumer health wearables: Promises and barriers. PLoS Medicine, 13(2), 101-110.
Poushter, J. (2016). Smartphone ownership and internet usage continues to climb in emerging economies: But advanced economies still have higher rates of technology use. Web.
Smartwatches compared. (2016). Web.
Son, D., Lee, J., Qiao, S., Ghaffari, R., Kim, J., Lee, J., … Kim, D. (2014). Multifunctional wearable devices for diagnosis and therapy of movement disorders. Nature Nanotechnology, 9(1), 397-404.
Stewart, D., & Shamdasani, P. (2017). Online focus groups. Journal of Advertising, 46(1), 48-60.
Tanner, J., & Raymond, M. (2014). Principles of marketing. Washington, D.C.: Flat World Knowledge Inc.