Executive Summary
In the industry of sportswear, there are several well-known brands that have existed for over seventy years, including Nike and Adidas. For a relatively new company, Under Armour (UA), it is difficult to compete with these brands because they have better brand awareness. However, UA has successfully developed since 1996, both in the digital and offline space (Mitchell, 2017). Currently, it has over 8 million followers on Instagram, and over 11 million likes on Facebook (Under Armour, no date). Its recent campaigns target female athletes, who perceive the brand as overly masculine (Mitchell, 2017). Additionally, UA struggles to target its products in an athleisure market. The advice outlined in this report is to focus on the first three elements of the sales funnel and build better brand awareness through influencer marketing and targeted ads.
On-Time Delivery!
Get your customized and
100% plagiarism-free paper
done in as little as
3 hours
Digital Marketing Audit: Under Armour
Background and Customers
Relatively to other brands of sportswear, Under Armour (UA) is new, which creates a challenge for the marketing team because they need to build brand awareness (Mitchell, 2017). It was established in 1996 and functions to this date with headquarters in the US (Mitchell, 2017). Notably, UA competes against large brands with a long history of existence and established customer base such as Nike that exists since 1964 and Adidas established in 1949 (Nike Inc., no date; Adidas, no date). This brand declares its mission as—'to inspire you with performance solutions you never knew you needed and can't imagine living without' (About UA, no date, para. 1). Currently, the focus of UA is on introducing the brand to more consumer segments, for example, female athletes.
Since UA manufactures sportswear, shoes, and accessories, its customers are athletes and people who do sports unprofessionally. Considering that this brand is young, its target audience is also younger people. However, Walker (2020) argues that recently this brand has chosen an incorrect consumer segment to focus on heavy users, which are professional athletes who value the performance characteristics of their clothes and sports gear. Due to this, the company focused less on light users—people who focus on the look of their sportswear and its price since they are likely to use it less often and perhaps wear UA's clothes not for sports activities but for leisure.
One issue is that currently, 'athleisure' is on the rise and can attract more customers for a sports brand. For instance, only 15% of sports shoes buyers intend to use them for actual sports (Walker, 2020, para. 12). Since UA declared its focus on the professional athlete's consumer segment, the sales, and the stock price went down as UA's CEO stepped down. These changes suggest that now UA will focus on a broader consumer segment: both people who engage in sports and those who prefer athleisure activities.
According to UA's Q3 financial report, it aims to sell products to consumers in '(1) North America, comprising the United States and Canada, (2) Europe, the Middle East and Africa ("EMEA"), (3) Asia, and (4) Latin America' (Under Armour Inc's customer's performance, 2020, para. 5). UA sells wholesale and direct to consumers, for example, through its online store. In summary, its consumers are people who engage in sports and sport-related activities from all parts of the world.
Evaluation of Digital Marketing Practices
The 4C model consists of 'clarity, credibility, consistency and competitiveness' (Jobber and Fahy, 2009). Under the clarity domain, UA has developed a clear image for its digital marketing campaigns, which is its slogan 'I Will' (Under Amor: I will what I want, no date, para. 1). The idea that UA communicates with this message is that it sells products for people who are ready to face challenges.
Finally, this campaign was developed in partnership with the Droga5 marketing agency, suggesting that UA combines in-house marketing with outsourcing. Droga5's website describes this campaign as an effort to introduce UA to female consumers because previously, they perceived this brand as 'hypermasculine' (Under Amor: I will what I want, no date, para. 1). This is a positive change for the brand because, indeed, its previous campaigns were focused on men. For example, Picture 1 shows a typical ad for UA, which features male athletes and can be described as aggressive and masculine.
Yes, we can!
Our experts can deliver a
custom Digital Marketing Strategy: Under Armour
paper
for only

$13.00

$11/page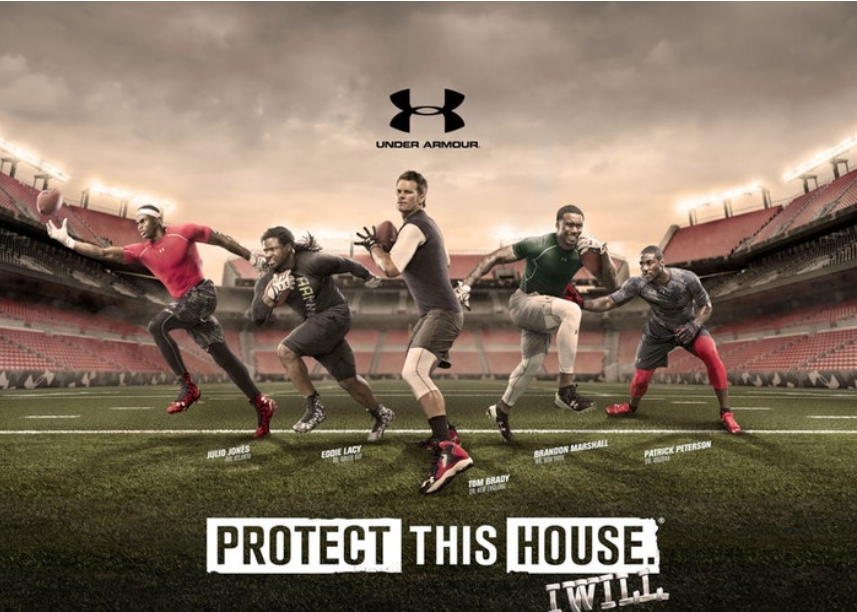 Some of Under Armour's best-known digital ad campaigns include 'I Will What I Want,' which again features the slogan of the brand. In its different advertisements, the brand works in collaboration with athletes, who explain their understanding of the "I will" concept. Moreover, recognizing the movement for highlighting women's achievements in sports, Under Armour features athletes such as Kelley O'Hara as part of its "Women Will" campaigns.
Its posts on Instagram and other platforms typically feature inspirational quotes and do not encourage potential buyers to purchase something (Underarmour, no date). With this, the brand is able to build a relationship with its followers, and create recognition for its products instead of merely trying to sell them a product. Moreover, the brand successfully leverages its image as a 'purpose brand' on social media and other digital platforms (McDonald et al., 2017, p. 10). Other posts include pictures of the brand's products and videos with athletes (Underarmour, no date). These posts are consistent with the "I will" campaign strategy.
Notably, working with influences for the promotion of brand awareness and leveraging social media word of mouth is perhaps the single most important element of any brand's social media strategy nowadays. UA does not fall behind in this domain, and the main focus of the brand is on partnering with athletes who have significant social media following. According to the Social Blade statistics, UA's Instagram account has an A- rating, with over 8 million followers and over 3 thousand media posts (Under Armour, no date).
However, this statistic shows that in the past 30 days, the company has lost over 20 thousand followers, which is alarming. On other platforms, UA has a similar number of followers: 11,046,797 likes on Facebook and 250,000 subscribers on Youtube (Under Armour, no date b; Under Armour, no date c). Under Armour has relatively small followers based on social media. Its main competitor, Nike, has a far larger following of over 120 million (Nike, no date).
Unlike brands such as Nike or Adidas, Under Armour has to work on building brand recognition and brand awareness.
SWOT
Below is the SWOT analysis for Under Armour presented in Figure 1, which shows that UA has a plethora of strengths in can advertise to consumers in the digital space. Figure 2 in the next chapter is the assessment of TOWS, which suggests that UA has many opportunities in consumer segments that it previously ignored—females and athleisure users. In summary, UA is a new brand that competes against large brands that have existed since the 1940s. The brand's policy is to balance innovation, quality, and price.
Strengths

The company uses different fabrics for different types of sports clothes (HeatGear or ColdGear) (Product, no date)
Innovation materials: reduction of elastane use (Product, no date)

Weaknesses

A relatively new brand with low brand recognition when compared to Nike (Mitchell, 2017)
Incorrect consumer focus: athletes instead of athleisure (Walker, 2020)

Opportunities

'Social Media are nowadays leading the marketing world and consequently leading the sports marketing sector as well" (Nikodimou and Panagiota, 2019, 1)
'Athleisure' trend (Walker, 2020)

Threats

Political and economic uncertainty, which will impact consumer's purchasing behavior (Deloitte, 2020)
Nike is expanding its market share (Devon, 2017)
Figure 1. SWOT (created by the author).
Cut
15% OFF
your first order
We'll deliver a custom
Marketing
paper tailored to your requirements with a good discount
Digital Marketing Strategy
During the times of the pandemic and post-pandemic, UA should focus on the digital space and tailor its strategy to appropriate sports activities, for example, exercising at home or outside, and target its products to athleisure users. This is because previously, UA failed to target athleisure consumers, focusing more on professional athletes (Walker, 2020). Also, the pandemic has changed the way athletes, either professional or amateur, train, which should also affect their purchasing decisions (McKinsey, 2020).
The best way to achieve these objectives is to use Instagram and Facebook since UA has the largest number of followers on these two platforms. For Instagram, the best strategy is to partner with influencers, while for Facebook, posting content and using targeted ads is the best method.
The marketing funnel for B2C has 6 elements, from awareness to purchase. As a consumer moves through the funnel, they gain a better understanding of the product, and collect more information to make a relevant decision. In the digital space, potential customers look for information, examine reviews, place the item in their 'cart,' review it, and make a purchase (SkyWard Staff, 2020). Across these elements, UA's digital strategy should focus on the awareness, interest, and consideration factors, where consumers learn more about the brand and its products.
The theory of Social Media and Influencer Marketing
One of UA's challenges is building recognition for its brand since the company is fairly new to the market, and consumers are not aware of its benefits. Social media has become a 'prolific tool for companies to build their brands' (Bekker, 2018, p. 79). As with any other company, UA aims to reach its consumers and communicate with them, and social media create an easy way of enabling this communication. Dwivedi and McDonald (2020) argue that social media is a brand-building tool. Hence, to create an effective digital strategy for social media, a brand has to adopt a consumer perspective when creating content.
Using influencers for brand promotion and advertisement is not a new thing. Moreover, there is a plethora of research showing that influencer marketing leverages similar mechanisms to peer-to-peer marketing. For example, Word of Mouth (WOM) is based on the promotion of a product based on recommendations of one individual to the other (Bakker, 2018). In the digital space, influences act as WOM agents, recommending products they enjoy using.
Influencer marketing is different from targeted ads and physical ad campaigns because influencers create a relationship with their followers. Hence, Under Amour can leverage this by showing how their products can be used during the pandemic by their customers' favorite influencers. The latter can film videos of home workouts and similar content. According to Jin, Muqaddam, and Ryu (2019, p. 567), 'consumers exposed to Instagram celebrity's brand posts perceive the source to be more trustworthy, show a more positive attitude toward the endorsed brand, feel a stronger social presence.' From the perspective of digital marketing theory, this should help create better brand awareness.
A second factor is the adjustments that consumers had to make to their lives during the pandemic. For example, in many areas, gyms were locked down, and people could not train in groups. These changes both contribute to digital sales because more people shop online and spend more time in the digital space and threaten sales since consumer habits change. Although these severe measures are no longer used by the government, there is evidence that the pandemic has changed consumer behavior patterns and preferences.
Get a custom-written paper
For only
$13.00
$11/page
you can get a
custom-written academic paper
according to your instructions
A report by McKinsey (2020) shows that consumers in most states plan on cutting down their spending and reverting to the use of essentials. From the marketing mix perspective, this may suggest that Under Armour does not need to expect its range and instead focus on the categories of products that are the most popular for now.
Other changes in consumer behavior suggest that people have not yet resumed their normal activities (McKinsey, 2020). This includes workouts and other sports practices. However, more people spend time at home, which establishes a potential for the athleisure segment of products. Again, this suggests that the digital marketing strategy and the product mix offered by Under Amour should change to reflect the new reality.
Another element of social media is targeted advertising which allows showing ads to consumers. The benefit of this method is in the ability to segment the audiences and show advertisements to people who have an interest in a specific activity. Chiang and Kovensky (2017) even created a patent for a technology that allows the creation of targeted ads based on to-do lists of consumers.
This type of advertisement sources information from a user selects specific parts of data about an event and analyzes the potential shopping opportunities. Although this technology is not yet widely applied, the generally targeted ads also use information from users about their preferences, places where they like to be, hobbies, and other relevant data, which allows marketers to create ads relevant to these consumers. For UA, targeted ads can help build brand awareness by showing people interested in sports the different products and posts with recommendations on how to train during the pandemic. This allows addressing the awareness element of the marketing funnel.
Digital Sales
An important factor for digital marketing is managing the different sales channels. Verhoef, Kannan, and Inman (2015) report a new trend toward omnichannel sales in the digital space. Omnichannel and multichannel digital strategies refer to the decisions a company makes when deciding whether to add a new source to its channel strategy. Multichannel strategies, for example, presenting products on multiple online products, for UA this can be ASOS, which creates a difficulty in managing customer relationships and their experience with the brand (Verhoef, Kannan, and Inman, 2015). Moreover, integrating the retail mix across all these channels creates difficulty since stock management becomes an issue. All in all, it is best to focus on an omnichannel strategy, in the case of UA—to ensure that more customers choose to shop on the company's website.
Other Considerations
It is essential to apply ethical marketing practices when managing a brand's digital image because it contributes to the consumer's perception of the company and its products. In an article by Chonko and Hunt (2000), the authors argue that gifts and dishonest advertising are among the five central ethical issues for marketing. This issue is relevant to this day because, for a long time, influencers accepted gifts and then show these on their Instagram profiles.
Some articles, for example, How gifting products to micro-influencers can boost ROAS by 2,000% (no date), advise engaging in such a practice. The issue, however, is that the consumer became suspicious about such recommendations, and regulators made it mandatory for influencers to disclose any connections with brands in their posts by using hashtags '#ad, #gift' and others (Neate, 2020).
Moreover, Stubb, Nyström, and Colliander (2019) have proven empirically that consumers react better to influencer advertisements where the latter disclose their partnerships with brands. As for dishonest advertising, UA has never been accused of such practice, and it is evident that this harms the brand image. However, when partnering with influencers, the marketing managers should be in control of what is posted to ensure that influencers as a third party in the consumer-brand relationship do not falsely advertise their products.
Digital Marketing Plan
Outline of Marketing Mix Elements
The theory of marketing mix implies that the company will use the 4 P's to promote its products: price, product, promotion, and place. Under Armour's price is lower when compared to its main competitors—Nike and Adidas. This strategy is 'value-based,' where a consumer evaluates the quality of the product they receive in comparison to its price (The Mind Tools Content Team, no date). For some of its products, Under Armour can charge more money because it was made using innovative fabrics and materials, for instance, the substitutes for elastane (Our story, no date). Due to the fact that the target audience for Under Armour is athletes, both professional and amateur, they pay more attention to the functionality of the product rather than its aesthetic characteristics.
The products are subdivided into categories based on the type of fabric, for instance, for hot weather or cold weather (Product, no date). Additionally, there are different products for varied sports. There is a distinction between products made for men, women, and children. Finally, apart from sports clothing, Under Armour also makes shoes and loungewear (Product, no date).
In the category of accessories, Under Armour offers bags, backpacks, sunglasses, and other small items. One issue uncovered in this report is that UA lacks products for the athleisure segment. The use of its innovative materials can help create new types of clothes and shoes that customers can wear not only for sports but also to do their daily chores. This addition to the product mix is a major recommendation of this report.
As for promotion, Under Armour uses all forms of advertisements—digital and physical. For example, the brand advertises its products on Youtube and uses billboards in major cities. The most recent campaign strategy of Under Amour is 'I will,' and all the recent ads are tailored towards it. Under Armour also offers discounts and coupons for its products.
For the place element of the 4P's, Under Armour uses a hybrid distribution model. With it, the company uses two methods-direct and indirect distribution. Direct distribution is achieved through Ander Armour's website, through which the company ships to 200 states (About UA, no date). The indirect distribution is done through partnerships with distributors and sportswear stores, both online and offline. The research for this report shows that the omnichannel strategy is the best one to choose, suggesting that UA should develop both its website and partnerships with other distributors. The main challenge is selecting influencers who are non-athletes, but for whom exercising is natural and has been a part of their digital identity prior to UA's partnership. For an athleisure campaign, influencers who focus on fashion should be selected.
Resources and Costs
Marketing Activity
Description
Value
Athleisure campaign

Partnership with 50 micro and 30 macro influences
Facebook targeted ads
Facebook posts (content and images)

Sports during the pandemic for non-athletes

Partnership with 100 macro-influencers
Workout videos, partnership with 10 influencers
Facebook targeted ads
Facebook posts (content and images)

Posts, story publications
Ad cost
Copywriting, photoshoots
Posts, story publications
IGTV video
Ad cost
Copywriting, photoshoot

72,000€
55,000€
6,000€
110,000€
55,000€
55,000€
6,000€

Total: 359,000€
Table 2. Budget plan (created by the author).
It is difficult to estimate the cost of influencer collaboration because the price can vary significantly based on the number of followers and the type of content. However, Allasani and Goretz (2019 state that macro and micro-influencers are a better choice for brand promotion when compared to influencers with millions of followers. The latter two categories typically specialize in something and have more loyal followers (Allasani and Goretz, 2019).
The prices for the posts are estimated at a range of 600 to 1200 euros per each, depending on the audience size. Issues that UA may encounter include the incorrect choice of influencers, for example, selecting those who were not previously interested in sports. This problem will lead to consumer confusion because it is vital to ensure that these ads are integrated organically. For the athleisure campaigns, influences can use UA's products to show ways of styling and wearing them. One issue is that the influencers may use products from other brands as well, and it is essential to ensure that they avoid using other sports brands in the contract agreement.
Tools
The tools that UA should use for this campaign are the following:
Facebook targeting.
Facebook.
Partnership with influencers.
Socialblade for analysis.
Google trends, to assess the changing consumer behaviors and search patterns.
Summary
In summary, the plan for Under Armour is to use its image as a young sportswear company with a reasonable combination of price and quality and promote it via digital changes using influencers who are not athletes. This will allow achieving the goal of expanding the market presence in the athleisure segment and attracting customers who are not professional athletes, for instance, those who work out at home.
Reference List
About UA. (no date). Web.
Adidas. (no date). Web.
Alassani, R. and Göretz, J. (2019). 'Product Placements by Micro and macro-influencers on Instagram', Lecture Notes in Computer Science, pp. 251-267. Web.
Bakker, D. (2018). 'Conceptualising influencer marketing', Journal of Emerging Trends in Marketing and Management, 1(1), pp. 79-87.
Chiang, L. and Kovinsky, M. (2017). Targeted ads based on user to-do and shopping lists. Web.
Chonko, L. and Hunt, S. (2000). 'Ethics and marketing management', Journal of Business Research, 50(3), pp. 235-244. Web.
Deloitte (2020) 'Understanding the impact of COVID-19 on the sports industry'. Web.
Dwivedi, A. and McDonald, R. E. (2020) 'Examining the efficacy of brand social media communication: a consumer perspective', Journal of Marketing Theory and Practice, 28(4), 373-386. Web.
Jobber, D. and Fahy, J. (2009) Foundations of marketing. 3rd edn. London: McGraw-Hill Higher Education.
Hilman, H., Hanaysha, J. R. M., & Ghani, N. H. A. (2017)' Analyzing the relationship between advertising and sales promotion with brand equity', Asian International Journal of Social Sciences, 17(2), pp. 88 – 103.
How gifting products to micro-influencers can boost ROAS by 2,000%. (no date) Web.
Jin, S.V., Muqaddam, A. and Ryu, E. (2019) 'Instafamous and social media influencer marketing', Marketing Intelligence & Planning, 37(5), pp. 567-579. Web.
The Mind Tools Team (no date) The marketing mix and the 4Ps of marketing. Web.
McDonald, R., et al. (2017). 'Under Armour: evolution of a purpose brand'. HBR Case Collection, pp. 1-27.
McKinsey (2020) Consumer sentiment and behavior continue to reflect the uncertainty of the COVID-19 crisis. Web.
Neante, A. (2020) A comprehensive guide to #AD, #GIFT & #SPON, from the experts. Web.
Nike (no date) Web.
Nike Inc. (no date) Web.
Nikodimou, V. and Dimitrakopoulou, P. (2019). The power of marketing in the industry of sports. Web.
Levin, E., Quach, T.N. and Thaichon, P. (2019). 'Enhancing client-agency relationship quality in the advertising industry – an application of project management', Journal of Business & Industrial Marketing, 34(2) 2, pp. 463-47.
Mitchell, D. (2017) Sneaker life: the critical analysis of marketing strategies administered by Nike and Under Armour. Web.
Product (no date) Web.
Our story (no date) is Web.
SkywadStaff (2020) How the marketing funnel works from top to bottom. Web.
Stubb, C., Nyström, A.-G. and Colliander, J. (2019), "Influencer marketing: The impact of disclosing sponsorship compensation justification on sponsored content effectiveness". Journal of Communication Management, Vol. 23 No. 2, pp. 109-122. Web.
Under Armour. (no date a). Web.
Under Armour. (no date b). Web.
Under Armour. (no date c). Web.
Underarmour. (no date). Web.
Under Armour Inc's customer's performance (2020) Web.
Under Armor: I will what I want (2020) Web.
Verhoef, P., Kannan, P. and Inman, J. (2015) 'From multi-channel retailing to omnichannel retailing', Journal of Retailing, 91(2), pp. 174-181. Web.
Walker, R. (2020) How Under Armour bet everything on the wrong customer. Web.