Introduction
The purpose of the paper is to analysis the marketing objectives, financial performance and strategy of Drax Group plc. The paper will also consider competitors, energy forecast, the role of Ofgem, the external environment of the company, and SWOT analysis of the company.
Company Background
Drax Group plc is an independent British power generation player with the largest coal-based power plant all over the Western Europe. The major power plants of DRX 1 has situated at Selby, North Yorkshire with a production capacity of 4,000 MW. DRX has 7% market share of power generation and wholesale UK and levelled as FTSE 250 Company in LSE2 with share price 416.70 p on December 8, 2009 and market capital £ 1,520.343 million with annual turnover £ 706.9 million accounted on 4th August 2009. DRX has generated pre-tax profit of £ 33.8 million earning per share p 7.00 and dividend per share p 38.30 recorded on August 04, 2009. (Hemscott Group, 2009)
Competitors Analysis
Being a major player of the British power and energy market DRX 3 has the direct and indirect completion with International Power plc, National Grid plc, Scottish and Southern Energy plc and British Energy Group plc.
International Power Plc is also a FTSE 100 company as a major player of electricity market with a market capitalisation of £ 4,267.063 million. Its current share price is 280.30 p and has evidenced a fall of 4.50p (-1.58%) on December 09, 2009 at LSE. The Company evidenced turnover of third quarter of 2009 £ 1,913 million and Pre-tax Profit £ 579 million with earning per share (EPS) p 22.15.
National Grid plc is also a FTSE 100 company with product line of gas, water, & electricity and a market capitalisation of £ 15,709.029 million. Its current share price is 638.50 p and has evidenced a fall of 6.50 p (-1.01%) on December 09, 2009 at LSE. The Company evidenced turnover of third quarter of 2009 £ 6,044 million and Pre-tax Profit £ 944 million with earning per share (EPS) p 24.67 and dividend per share 23.00 p.
Scottish and Southern Energy plc is also a FTSE 100 company as a major player of British Electricity market with market capitalisation of £ 10,217.875 million. Its current share price is 1,107.00 p and has evidenced a fall of 8.00 p (-0.72%) on December 09, 2009 at LSE. The Company evidenced turnover of third quarter of 2009 £ 8,041.8 million and Pre-tax Profit £ 514.4 million with earning per share (EPS) p 40.87 and dividend per share 46.20 p.
British Energy Group plc is a FTSE 100 company with operation in 130 countries worldwide and the British Electricity market with market capitalisation of £ 11,023.61 million. Its current share price is 140.70 p and has evidenced a fall of 8.00 p (-0.72%) on December 09, 2009 at LSE.
The role of Ofgem
Dixon (2009) argued that Ofgem is helping DRX through their consultation and on the code administration and also in small consumer initiatives. In case of the code administrators, DRX want to introduce the concept of a "Critical friend". But the application of this model might not be appropriate for all industry. DRX is trying to generate some best fitted code administrator who will make the critical friend a flexible one. In this case the ofgem can help DRX. Ofgem will minimise the intervention related with call-in model with it extensive advice regarding code panel and assist the working groups in modification process. Ofgem develops a code of practice for DRX along with other participants. Ofgem is expected to take action in case of documentation of decision of DRX.
Ofgem will also evaluate the performance of the code administrators. Thus In case of the success of critical friend approach, the role of Ofgem is important. DRX has positive view towards send back power, which will ensure that consideration of the authority regarding modifications do not become obsolete. In this case Ofgem can advice the authority to consider the appropriate aspects regarding the problems. The consultancy role of Ofgem is so important for DRX that in all of its future operations, it wants to work with Ofgem collectively.
Energy Forecasts
The future prospects and opportunities regarding probable energy for Drax is a key concern. The most emerging notion of energy is the Co-firing which is basically a credible renewable technology. It has the environmental friendly nature for which the biomass supply chain can be improved. The present co-firing system is not appropriate enough to improve the present condition. Energy forecast argued that changes are requiring in reversing the current downturn in co firing activities. Another futuristic assumption says that in recent time more improvements will be occurring in the crop planting.
This will decrease the emission of CO2 and thus reduce the harmful effects on environment. Energy forecasts say that Drax will have to remove the constraints in co firing and energy crop in future in every possible volume. The energy in future must become a flexible one. For these the present designation of energy crop must be make flexible and must reflect the current market practice in yearly energy crop contracting. Forecast says that fully utilised energy crop material will be represented by the yearly energy crop market and in the upcoming year all the definition related with energy crop will be reviewed (Drax Group, 2006).
Financial Performance
The financial effectiveness of Drax is focused by controlling price risks, operating facilities and pursuing economic resources to profited value of shareholders of Drax. In 2007, Drax has less marginal profit to capture power sales and to move in commodity markets. But in 2008, it exceeded EBIT with £454 million and 38.3% per share, which is equal to £130 million. So, the values of shareholders are being £180 million in 2008 with 86% operational efficiency in power supply in UK market. So, it is becoming successful by earning £1,753 million revenues more than £500 million compared to 2007 (Drax Group Plc, 2008).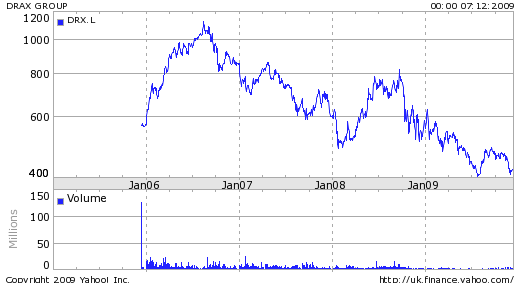 Mission Statement
Drax Group Plc is the largest, cleanest, and most efficient power station in United Kingdom, which is operating power station, and more businesses. Therefore, the mission of this company is to become international leader by using land and natural resources, to benefit their customers, communities, and overall environment (Drax Group Plc (2009).
External Environment or PESTEL analysis of DRX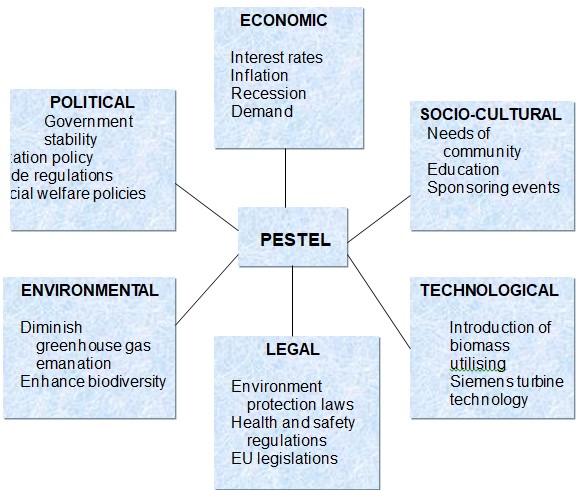 Political factors
The environment of the business and the fluctuations its risks will depend on political situations. For example, when coal and electricity prices dwindle because of political chaos, Drax is ominously affected. The taxation policy, trade regulations, and social welfare policies will alter the business's activities and outcomes. Thompson, A. et al (2007) argued that investment, investment policy, device supply, operation, growth, and network development materials would influence taxation, rate of exchange, savings of personal intelligence, recession, and the other uncertainties.
Economic factors
According to the annual report 2008 of Drax, it is in one of the leading position among all others in UK market. The annual report 2008 reveals that its total fixed assets were £102 million. Fuel costs were 858.4 million in 2008 and 470.6 million in 2007. Cost of power was 211.8 million in 2008 and 75.5 million in 2007. A boost in operating costs lowered their profits.
Alterations in interest rate and inflation affect the debt financing of Drax. As interest rate rises, demand for debt falls as cost of capital will increase and growth rate decline. On the other hand, fall in interest rate may cause higher rate of inflation
Socio-cultural factors
Drax considers the interests of all its stakeholders including suppliers and is unswerving in their neighbourhood. They are always keen to help a range of local charities and endorsing edification, ecology, and retaining open communiqué mediums. In May 2006, the company activated "Cricket in the Community" program in a few schools. Throughout 2008, they undertook several programs and gave monetary assistance of overall £137,012 in a series of charitable and non-charitable grounds.
Technological factor
Biomass is the foremost intensification region to achieve environmental protection targets and the anticipated dictatorial administration provide incentives to uptake of this technology. The company is about to introduce biomass acquirement and trading and projected that the plants will utilize Siemens turbine technology.
Environmental Factors
Along with devoted professionals, the business substantiates that competent environmental policies has put into practice. Their policy certifies that the biomass guzzled nowadays is ecologically pleasant and particularly, their acquirement methods make sure that the construction and deliverance of the biomass would:
Considerably diminish greenhouse gas emanation rather than coal burning (coal burning produces high amount of CFCs).
Never cause a great discharge of chlorofluorocarbons.
Never jeopardize furnish of foodstuffs in manufacturing areas.
Do not harmfully affect secluded or defenceless biodiversity.
Integrate communal interests of both workforce and inhabitants in the biomass manufacturing region.
Legal Factors
The Drax is bound to follow EU legislations and treaty provision. The UK Regulation also fastens its operations from all spheres. The activity of the business emits large amount of toxic substances in the atmosphere; to control these activities EU legislated The Environment Protection Act 1995. While dealing with employees, Drax require ensuring that their strategies has initiated in contrast with some other legislation like The Health and Safety at Work Act 1974.
Assumptions of Drax Group Plc
In case of preparing financial statements, the information presented in the reports was in conformity with IFRSs and highest priority has given to maintain the standards. For this, the information became more believable. Thus, the reported assets and liabilities, revenues and expenses during the period have affected by the principles. Along with this, the knowledge, events, actions of the management has based on the principles, which may differ from the forecast. Other significant risks associated with the assets and liabilities are ignored which may be affect the forecasts' assumptions (PR Newswire Europe Ltd 2009).
Marketing Objectives of Drax Group Plc
DRX is providing investors with confidence to make significant investments according to environmental challenges, with very stable and predicable long term marketing objective framework. The market should deciding and delivering integrated and consistent objectives to make efficient solutions. The objective framework is drawn upon competitive market, with not only single solution, but also delivering energy and environmental policies. (Drax Power Limited, 2006) This objective is measuring financial, trading, plant operating, safety, environment and development of future elements, which is handled on the basis of previous year's performances. By this objective, Drax will target to earn 50% pay out ratio in non- cash accounting items in every year (Drax Group Plc, 2008).
3-year Forecast and Budgets
(Annual Reports & Accounts, 2007), (Drax Group, 2009)
Drax has forecasted 12 months, with the 3 years' budgets of £311 million, operating profit 279 million, and net profit would be £284 million. The budgets are prepared and forecasted under IFRS, as standard and principal assumptions of budgeting and forecasting. These forecasts are including with financial restructure of credit of £275 million, estimated losses of £119 million, estimated expenses £38 million and refinancing fees of £27 million. Therefore, Drax has forecasted planning of £100 million budgets for 3 years for helping and maintaining credit rating of the business. It has also £370 million gross debt, which are good opportunities in market to prepare the following forecasted budgets for 3 years:
Table 1: Forecasted Budgets for Drax Group Plc in 3 years (2010-2012).
| | |
| --- | --- |
| Particulars | Amount (£ in millions) |
| Total Budgets | 311 |
| Operating Profit | 279 |
| Net Profit | 284 |
| Credit | (275) |
| Expenses | (38) |
| Refinancing Fees | (27) |
Strategic Analysis of DRX
In the strategy analysis of Drax Group Plc for its business, it develops growth strategy with intention of dedicating biomass- fired power generation capabilities, which can add value in future years. This growth strategy is pursuing investors on timely basis. In 2008, biomass growth strategy is distributed policy to help expansion of fund. This strategy will also provide diversification and sustainability in business' future growth and clear justification on ROI. Now, this company is feasible in the investments in renewable generation for developing and planning, which can generate attractive returns (Drax Group, 2008).
Growth Opportunities of Biomass Strategy. Drax is developing growth strategy in biomass fired generation, which can open up long term growth opportunities. This new growth strategy can also enhanced value to being well positioned in existing business environment. These strategies are delivering essential capacity according to UK power market and its renewable target of supply requirements.
Value Drivers of Growth Strategy. There are mainly four value drivers in the growth strategy of Darax in its Strategy analysis, which are:
Figure 4: Value Drivers of Growth Strategy of Darax Group Plc.
UK Generation: In Drax, growth strategy is generating capacity for future prospects, which can meet UK's obligations according to flexible and reliable generation.
Current Business Supports: Growth strategy can be applied by using business supports from others, like trading flexibility, technical skills, operational efficiencies, excellent logistics, outsourcing, and effective management systems.
Profitable Returns from Project: This growth strategy project is attracting limited capital and equity returns in the structure of business of Drax.
Maintaining Relationship: To attain this strategy, Drax has to maintain good relation with suppliers, market leaders in technological environment, and port companies with original sourcing of capabilities of procurement strategy.

Investment in Growth Strategy. To develop this growth strategy, Drax should dedicate itself in investment costs to manage logistics and procurement facilities. The growth strategy is invested initially £2 billion, and then £20 billion in 2009. This growth project is focused to be commenced in 2014 with continuous implications of strategy with 6 years of operations. By implementing this growth strategy project, long term opportunities of Drax are already achieved in 2008 with generation of capacity and core competencies in market of power and technology (Drax Group Plc, 2008).
SWOT Analysis of Drax Group Plc
Strengths
Market Leader: Drax name has excellent brand awareness and strong market position, which gives it a significant competitive edge, for example, The company generates around 7% of the UK's electricity and trade power in the electricity whole sale market;
Financial position: It has strong financial capability to introduce large projects like state-of-the-art straw pellet plant, which will produce about 100,000 tonnes of straw pellets. In addition, in 2008, its total revenue was £1,753m compared to £1,247m in 2007;
Customer Focus: Drax Group (2008) argued that it has residential, commercial and industrial customers by its energy solutions;
Market Share: Its economy of scale and/or learning and experience curve has in more advantages condition than its competitors.
Employees: it has efficient and skilled employees who always work for the benefit of the company as they get high range of salary;
Core competencies: According to the annual report (2008, p.11), trading strategy is to progressively hedge its output and biomass procurement strategy has enabled to increase its target co-firing capacity to 500MW and it executes two major strategic carbon abatement projects to deliver major CO2 savings from mid-2010.
Weaknesses
Recessionary Impact: For global financial crisis, profits of the company had not reflect the expectation;
Exchange rate: The depreciation of Pound sterling against the US dollar in the second half of 2008 has played adverse effect on DRX.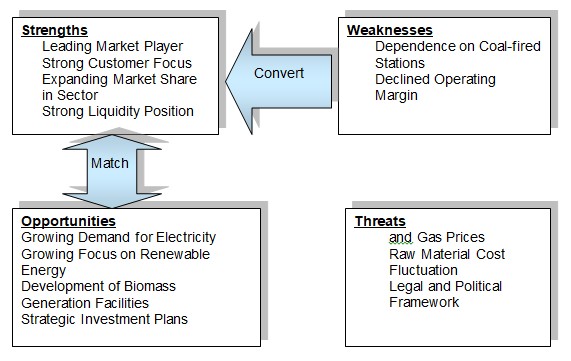 Opportunities
Coal price: The fall in coal prices in 2008 has reduced its production cost;
Share Price: Excluding DRX, the share price of the competitors like International Power Plc, National Grid plc, Scottish and Southern Energy plc have decreased due to global recession;
Renewable Energy: increase the interest on renewable energy due to the government incentives, for instance, the international primary energy supply has enlarged from 750 GW in 2001 to 1,047 GW in 2008 and expected to increase its capacity base to 1,378 GW by 2013.
Threats
Fluctuation in the Oil and Gas Prices: its revenue, profitability, and growth rates have adversely affected due to fluctuation of the oil and gas price;
Operating Cost: It has to expend huge amounts to operate the company and it has mainly three types of operating cost such as use of system charges, production and maintenance costs, and staffing and administration costs;
Raw material cost fluctuation.
Marketing Audit with market overview
Marketing audit of Drax Group Plc has major responsibilities to the organization and overall customers and environment. Marketing audit is mainly working on: (Drax, 2009)
Monitoring financial statements & other related information with proper financial reporting and judging these issues according to customers' point of view.
Reviewing internal control and risk management system;
Maintaining appropriate relationship with external stakeholders to have effective and objective auditing process in market;
Reviewing audit process with Thornton UK LLP, this would recommend about proper audit functions of Drax Group Plc.
The following tables would shown proper marketing audit of Drax group Plc, in terms of market analysis with 100 score: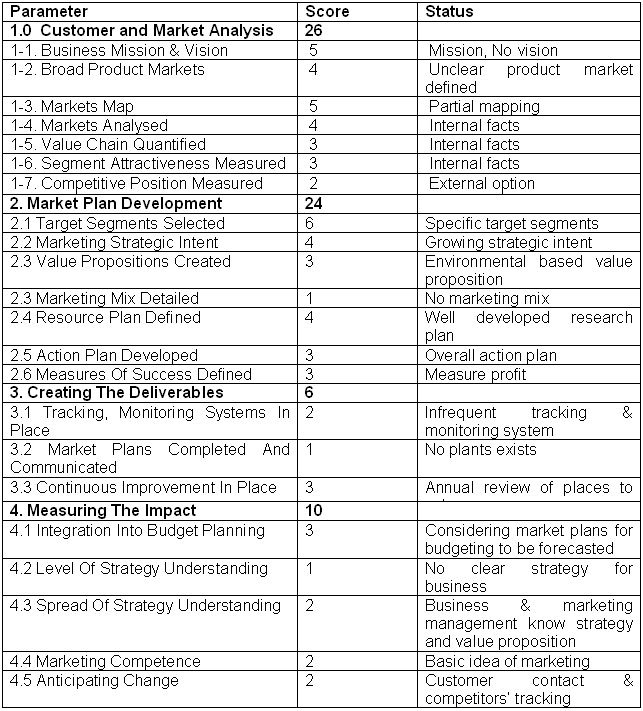 | | | |
| --- | --- | --- |
| Parameters | Maximum | Score |
| Customer & Market Analysis | 35 | 26 |
| Market Plan Development | 35 | 24 |
| Creating the Deliverables | 10 | 6 |
| Measuring the Impact | 20 | 10 |
| Total Marketing Excellence Score | 100 | 66 |
Table 3: Total Marketing Audit for Drax Group PLC.
From the above table, the total marketing excellence score of Drax Group Plc is 66, out of 100, which means that, according to marketing audit of Drax and actual standard of marketing audit is matched 66%, with appropriateness and excellence of audit reporting by customers, markets, and measuring them accordingly.
Recommendation
It should reduce the operating cost to save the company from economic downturn, however, in 2008, its was operating cost £454m compared to £506m 2007;
It should follow the recommendation of board of directors and London stock exchange to holds its number one position;
It should continue its research projects for technological development to reduce the emission of CO2;
According to the annual report 2008, it provides huge amount of money for pension funds and development of new employees, which motivates the employees;
It should focus on inter-organizational resource allocation and technological development to facilitate easier communication.
Reference List
Dixon, J. (2009) Code Governance Review: role of code administrators and small participant / consumer initiatives.
Drax Power Limited (2006) Our Energy Challenge: Securing Clean, Affordable Energy for the Long-term. Web.
Drax Group (2008) Biomass Growth Strategy. Web.
Drax Group (2008) Drax Group plc: Annual report and accounts 2008. Web.
Drax (2009) Audit Committee. Web.
Drax Group (2009) Drax Group: Latest News, Stocks, and Shares Prices. Web.
Drax Group Plc (2009) What Makes us different? Web.
Darx Group (2006) Reform of the Renewables Obligation and Statutory Consultation on the Renewables Obligation Order 2007: An Energy Review Consultation. Web.
Hemscott Group (2009) Company Summary – Drax Group PLC (LSE:DRX). Web.
Hemscott Group (2009) Company Summary. Web.
PR Newswire Europe Ltd (2009) Drax Group Limited: Update on Refinancing and Listing, Outlook for 2005, Current Trading and Bidding Process. Web.
Yahoo Finance (2009) Basic Charts of Drax Group. Web.
Footnotes
Drax Group plc.
London Stock Exchange.
Drax Group Plc.
Web.