Introduction
Internal Factor Analysis Summary for Nokia
Nokia has a corporate internal structure which can be examined through analysis of the top management. The organization may be composed of more than ten executive managers whereby more than half of them get involved with technology. This comprises of mobile phones, enterprise solutions as well as technology platforms. This structure is a bit different from other structures used by other companies, where all the technological efforts get placed under a chief information officer or a chief technological officer.
On-Time Delivery!
Get your customized and
100% plagiarism-free paper
done in as little as
3 hours
Organizational Structure
The company operates in a complex and unstable business environment. This comprises of business groups, which include customer and market operations, technology platforms, and business infrastructure. The company adopted the corporate structure in 2003 due to market needs, which comprised of competition, as well as the business environment. The company also has a matrix organization which composes of the chief executive and a number of managers who operate under him. Below the managers, are numerous staff members who take part in the running of the business.
Competition
Nokia faces high competition from other companies. However, the company has invented ways of dealing with this competition which includes engaging in hyper-competition. The organization has increased its output through the installation of current technology e.g. machinery which replaced human labor and has a result lead to fast and high-quality production of goods and services (Porter, M. E, 1985).
However, the company is experiencing problems with powerful players. Being a small player, the company suffers from severe price competition as large vendors benefit from economies of scale. The company has a recorded increase in market shares by 5% in 2005, while the handset vendors only obtained 23% of the market share in the same year which was a recorded decrease from the previous year (Webster, F, 1994). This has significantly helped the company beat its competitors as it has led to increased production as well as the distribution of its products and services.
Information System
Nokia has an information systems department that provides services around the technology. This system may be known as the Information technology department. The key function of this department involves the distribution of equipment such as servers and computers, maintaining as well as setting up networks and data management systems. The company also has a large number of programs, which include loop set programs that help the disabled IT personnel to conduct their activities appropriately.
All employees in this company also have mobile phone communicators. This involves a series of Nokia smartphones, which appear as normal phones from the outside but have a keyboard and a large LCD screen inside. These phones perform a number of tasks such as constant availability and data access, which help the company an immense deal in ensuring that it engages in sound decision making.
Goals and Objectives of the Company
The department also has its mission and vision regarding performance within the company. The vision aims at implementing new technology and enhancing proper leadership and competition of the company, while the mission aims at the creation and sustainability of high-quality technology, which will foster innovation and collaboration with minimal downtime for all. This could be achieved easily because the company has a number of sources such as extranet, intranet, websites, firewall set up and VPN which enhances security measures for remote connectivity and databases and may also be used for storing data from logons.
Yes, we can!
Our experts can deliver a
custom Goals, Objectives, & Vision of Nokia Company
paper
for only

$13.00

$11/page
Human Resource Management
The company also has human resource management which comprises of individuals within the firm who deal with the enrollment and sacking of staff members. The human resource team for Nokia can be divided into three functional areas which include organizational HR, Business HR, and CPD. All these branches work towards the proper handling of employees and addressing their issues accordingly (Ansoff, H. I, 1965). The department has also laid down goals and objectives which include its mission and vision. The vision is to look forward to giving their customers the first priority while the mission is taking a human approach towards technology.
Conclusion
Being a large multinational company, Nokia has a number of advantages which include the production of high-quality services and goods for its clients. However, the organization meets challenges that include competition from other companies. However, this enables it to improve its productivity by installing the latest technology in terms of machinery to replace human labor. The company is also working hard to produce other products such as iPhones, which have a variety of features and can hence be used for a number of purposes.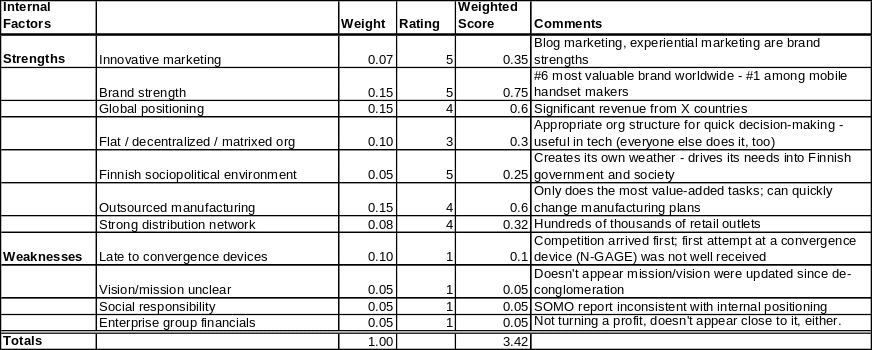 References
Ansoff, H. I. (1965). Corporate Strategy: An Analytic Approach to Business Policy for Growth and Expansion. New York: McGraw-Hill.
Porter, M. E. (1985). Competitive Strategy: Creating and Sustaining Superior Performance. New York: Free Press.
Webster, F. (1994). Market Driven Management: Using the New Marketing Concept to Create a Customer-orientation Company. New York: Wiley.