Introduction to the Company
Description of the Firm
Primerica specializes in offering insurance and financial services, operates in financial and healthcare sectors, and it is headquartered in Duluth, Georgia. Currently, Primerica promotes its diverse financial products according to the principles of multi-level marketing in the United States and Canada, having more than 2,000 full-time employees, not including independent representatives ("Primerica, Inc.," 2019). Products and services of the company consist of life and long-term care insurance plans, auto and home insurance types, managed accounts, financial management plans, and different types of funds monitoring.
On-Time Delivery!
Get your customized and
100% plagiarism-free paper
done in as little as
3 hours
Company History
Primerica was founded by Arthur L. Williams in 1977 to provide clients with opportunities to receive financial protection and insurance, and initially, the company mainly offered insurance plans. During the period of the 1970s-1990s, Primerica merged with different financial corporations, including Citigroup. In 2009, Primerica was separated from Citigroup according to the principles of the initial public offering, and in 2011, Citigroup sold all its remaining shares. Currently, the company's management and leadership are represented by D. Richard Williams, Chairman of the Board, and Glenn J. Williams, CEO of Primerica ("Primerica, Inc.," 2019). The company's key competitors in the sphere of insurance are Metlife, Allstate, Haven Life, Transamerica, and others.
Vision and Mission Statements
Primerica is focused on becoming a leader in the US, guaranteeing protected future for all social classes. Managers need to clearly formulate what Primerica wants to become in the future to guide the strategy. The company's mission is to assist different families in becoming carefully protected, financially independent, and free of any debt ("Primerica, Inc.," 2019). This mission statement does not allow for distinguishing the company among its competitors because it does not reveal Primerica as environmentally responsible, and it does not include such components as the product, market, technology, profits, public image, and employees (David & David, 2017).
The provided statement is broad in scope; it is focused on customers and philosophy. From this perspective, Primerica's mission can be revised and re-written in order to guarantee that all the elements of good mission statements are included in it to provide an effective background for formulating appropriate strategic goals to achieve. Specific strategies that are based on these goals will be used for completing the company's vision and mission.
External Assessment
EFE and CPM
The influence of external factors on Primerica's position in the market should be assessed with reference to the External Factor Evaluation (EFE) matrix and the Competitive Profile Matrix (CPM) (Tables 1-2). Associated strategic implications include the necessity of reconsidering approaches to realizing the MLM strategy.
Table 1. EFE Matrix for Primerica.
Factors
Weight
Rating
Weighted Score
Opportunities
Mergers
0.06
2
0.12
Expansion
0.12
3
0.36
Increased demand for financial services
0.18
4
0.72
Increased demand for insurance
0.19
4
0.76
Threats
Customers' attitudes toward MLM
0.18
3
0.54
Representatives' attitudes toward MLM
0.10
2
0.2
Reputation
0.10
3
0.3
Competition
0.07
2
0.14
Total
1
3.14
Table 2. CPM for Primerica.
Yes, we can!
Our experts can deliver a
custom Primerica: Strategy and Statements Analysis
paper
for only

$13.00

$11/page
Primerica
Metlife
Allstate
Factors
Weight
Rating
Score
Rating
Score
Rating
Score
Customer recognition/loyalty
0.17
3
0.51
4
0.68
3
0.51
Product quality
0.15
3
0.45
4
0.60
3
0.45
Profitability
0.16
3
0.48
3
0.48
2
0.32
Market share
0.13
2
0.26
3
0.39
3
0.39
Differentiation
0.09
3
0.27
4
0.36
4
0.36
Marketing
0.15
2
0.30
4
0.60
3
0.45
Management
0.15
3
0.45
3
0.45
3
0.45
Total
1
2.72
3.56
2.93
Analysis of the Competitive Position, Opportunities, and Threats
Primerica's final score is higher than the average in 2.5, indicating that the company can successfully use available opportunities for its progress and address potential threats. Much attention should be paid to addressing the increased demand for insurance and financial services among customers to improve profitability. Furthermore, it is also necessary to continue promoting the positive image of Primerica as a trustworthy financial company despite applying the MLM strategy. The current competitive position of Primerica should be improved while evaluating its performance in the context of competing with other insurance companies as its score is the lowest. Primerica needs to apply more effective marketing strategies to fight competitors.
Thus, the analysis of the competitive position, as well as the company's opportunities and threats, is important in order to demonstrate what potential risks and benefits Primerica can face in the future. Additionally, the organization will reveal a particular direction for changing ineffective strategies in order to achieve the set goals. It is important to note that, in spite of being among the leaders in the market, Primerica needs to continue the regular analysis of its position to decide regarding new projects to develop and changes to implement in order to improve its current position in the industry.
Internal Assessment
Financial Ratio Analysis
Primerica's current ratio is 4.94, the profit margin is 17.09%, and the return on assets is 2.46% ("Yahoo Finance," 2019). These ratios indicate that Primerica can successfully address its short-term liabilities, and its profit ratio is rather high to generate much profit for received revenues (Katsioloudes & Abouhanian, 2016). Additionally, the comparably high return on assets indicates that the company successfully utilizes its resources to get profit. Therefore, the strategy should not be revised depending on these ratios.
IFE
Table 3 represents the Internal Evaluation Matrix (IFE) for Primerica, and related strategic implications include the necessity of focusing on increasing the customer base, expanding the company's services in North America, and improving the MLM approach.
Table 3. IFE for Primerica.
Key Internal Factors
Weight
Rating
Weighted Score
Strengths
Profitability
0.08
3
0.24
Status of a trustworthy financial company
0.08
4
0.32
Low marketing expenses
0.07
3
0.21
Focus on innovation
0.12
3
0.36
Large customer base
0.13
4
0.52
Diversified products
0.13
3
0.39
Weaknesses
MLM-based strategy
0.09
1
0.09
Lack of life insurance options
0.09
1
0.09
Selling mainly in the United States and Canada
0.08
2
0.16
Expansion strategy
0.08
2
0.16
Limited differentiation
0.05
2
0.10
Total
1
2.64
Analysis of Internal Capabilities and Implications for Strategic Decisions
The financial analysis of Primerica's performance and profitability, as well as the analysis of its strengths and weaknesses, indicates that the company remains profitable for many years because of attracting many customers.
The analysis of internal capabilities and implications allows for finding out whether the observed performance of the company in terms of its profitability, competitive advantage, and other strengths and weaknesses can reflect executives' visions and purposes regarding the company's future development. On the one hand, using services of thousands of independent representatives in the US and Canada, today Primerica can address millions of people to insure their lives and provide financial assistance. On the other hand, the limitations of the MLM strategy in terms of increasing customer loyalty do not allow the company to become a leader in the industry. Along with promoting expansion strategies, the revision of the MLM approach will lead to Primerica's growth.
Cut
15% OFF
your first order
We'll deliver a custom
Company Analysis
paper tailored to your requirements with a good discount
Current Strategy and Use of Technology
Currently, Primerica works to improve its strategy related to representatives' operations. The focus is on designing tools for representatives that can be used in order to facilitate their contacts with managers and potential customers using online and offline resources. As the success of the company's operations and sales depends on the efficiency of the information exchange model used by representatives and customers, much attention is paid to offering certain technologies for employees to improve their performance and increase their productivity. Thus, Primerica uses Primerica Online as a web-based resource in order to organize the work of representatives (Primerica Online, 2019).
Furthermore, technologies and online resources are used for advertising services and products as well as for recruiting new employees in order to make the MLM model work effectively, providing all representatives and recruiters with bonuses (Primerica Online, 2019). The use of technologies for supporting Primerica's strategies is important because the company's profitability highly depends on the number and performance of representatives.
SWOT Matrix
The Strengths-Weaknesses-Opportunities-Threats matrix allows for generating strategies for a company at the matching stage of the strategy analysis in order to demonstrate how an organization can address weaknesses in its course and potential threats with the help of available internal strengths and available opportunities. As a result, it is possible to formulate certain SO, ST, WO, and WT strategies to implement them in the selected organization (Sarsby, 2016). Table 4 represents the lists of the proposed SO, ST, WO, and WT strategies for Primerica.
Table 4. SWOT Matrix.
Strengths

Profitability increase by 10%
Status of a trustworthy financial company
Low marketing expenses, decreased by 8%
Focus on innovation in used strategies and proposed products
The customer base is higher than rivals' customer bases
The high diversification of products

Weaknesses

Issues related to using the MLM-based strategy
Lack of life insurance options
Selling mainly in the United States and Canada
The expansion strategy requires development
Limited differentiationin proposed services

Opportunities

The increased number of mergers in the next years
The expansion to Europe and other regions
Increased community demand for financial services by 12%
Increased potential customer demand for insurance by 10%

SO Strategies

Develop and propose new variants of insurance plans (S5, O4).
Develop and offer new variants of financial services (S6, O3).

WO Strategies

Add more life insurance options (W2, O4).
Develop a new expansion strategy (W3, W4, O2).
Add more variants of services to propose (W5, O3).

Threats

Customers' potentially negative attitudes toward MLM
Representatives' attitudes toward MLM and their role in the company
Reputation of the organization in the market
Competition among rivals

ST Strategies

Improve the company's image as a reputable and trustworthy organization with the help of a promotional campaign (S2, T1, T3).
Develop an advertising campaign to promote new products and services and increase the customer base (S5, T4).

WT Strategies

Develop an educational campaign to inform potential customers and representatives on the MLM strategy and its advantages (W1, T1, T2).
The strategic implications for the company include the following steps among others: the development of new variants of insurance plans and financial services. As a result, it will be possible to address the increased demand for insurance- and finance-related services for individual clients. In addition, it is also necessary to develop an effective expansion strategy for the company in order to propose its products not only in North America. Much attention can also be paid to educating potential customers and representatives regarding MLM models to accentuate the advantages of such strategies for both representatives and clients. The focus should be on the development of the positive image of the company with reference to the applied MLM strategy.
BCG Matrix
The Boston Consulting Group (BCG) Matrix allows for analyzing Primerica's business portfolio based on the proposed services and products. Figure 1 demonstrates how different types of products offered by the company can be viewed as its Question Marks, Stars, Cash Cows, and Dogs (Pruschkowski, 2018). The application of this matrix has the following strategic implications: Primerica needs to continue horizontal integration, product development, and diversification in relation to its Stars and Cash Cows, including life insurance products and financial services. Question Marks (auto and homeowner insurance) need to be analyzed in order to decide on the further investment in this sector ("Primerica Inc. (PRI)," 2019). Dogs (debt solutions) need to be evaluated to conclude regarding the change or liquidation of this sector.

SPACE Matrix
The Strategic Position and Action Evaluation (SPACE) Matrix is an effective tool to indicate what type of a strategy (aggressive, conservative, competitive, or defensive) is currently followed by a company. The axes of the matrix allow for creating the dimensions regarding a company's financial, competitive, stability, and industry positions to focus on during analysis (Ansoff, Kipley, Lewis, Helm-Stevens, & Ansoff, 2018).
Get a custom-written paper
For only
$13.00
$11/page
you can get a
custom-written academic paper
according to your instructions
Certain variables were identified for characterizing Primerica's financial, competitive, stability, and industry positions. Thus, the company's financial position is determined by the following variables: profitability, liquidity, the current ratio, the profit margin, and the return on assets that have been identified during the financial ratio analysis. The company's competitive position can be described with reference to the product quality, customer loyalty, and market share.
According to these parameters, Primerica's competitive position is high. The company's stability position is determined by market risks, market competition, and the impact of technologies. Primerica's industry position can be discussed as high, and it depends on such variables as the utilization of resources, profitability, growth, and productivity. Figure 2 represents the company's directional vector being in the Aggressive Quadrant according to the variable analysis.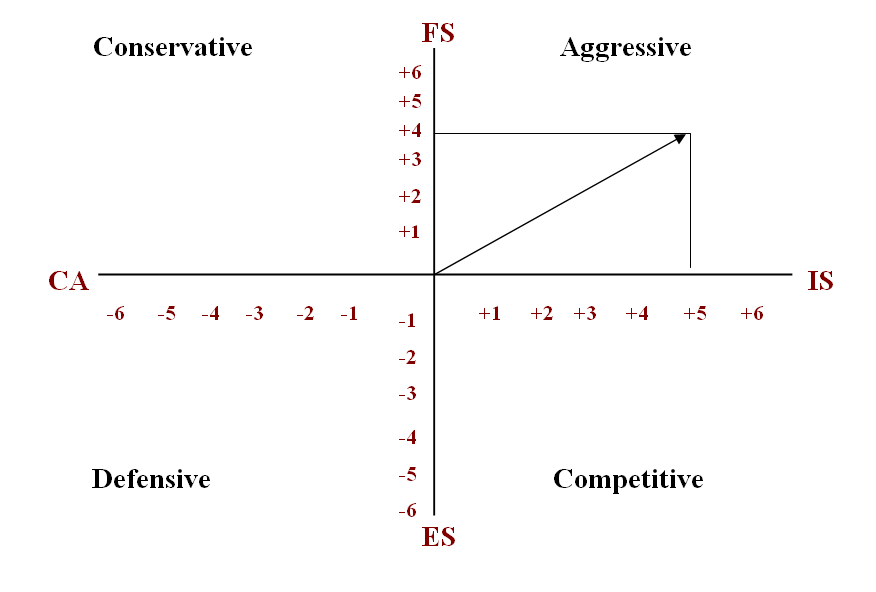 The strategic implications of the analysis of this matrix for the company are the following ones: Primerica can be described as a financially successful firm that effectively competes with its rivals using comparably appropriate strategies. To improve its performance, the company can apply strategies for companies having Aggressive profiles: horizontal integration, diversification, and market and product development (David & David, 2017). The application of these strategies will lead the company to further progress.
Strategic Alternatives
The analysis of the completed matrices indicates that Primerica can focus on realizing a range of possible strategic alternatives in order to improve its current position in the market in comparison to rivals. Thus, Primerica can concentrate on product development, diversification, and differentiation in order to offer customers more insurance plans and financial services meeting the market demand. Different types of insurance plans and investment and savings products remain to be the company's Stars and Cash Cows that need to be further diversified to gain more profits. Additionally, Primerica can further apply technologies in order to expand and attract more representatives and clients while increasing the public's awareness of features of the MLM strategy with reference to its advantages.
Evaluation of the Current Organizational Structure
Primerica's current organizational structure can be described as divisional by the product and geographic area. Divisions by products and services were built in order to organize the focused work of satisfying clients' needs. Thus, the following divisions currently exist in Primerica: Primerica Financial Services, Inc., Primerica Life Insurance Company, PFS Investments Inc., and Primerica Financial Services Home Mortgages, Inc. ("Primerica Inc. (PRI)," 2019). Employees in these divisions are responsible for providing different types of high-quality products and services to customers depending on their needs. Additionally, Primerica operates in Canada as Primerica Life Insurance Company of Canada and PFSL Investments Canada Ltd.
Recommended Changes and Values to Create the Desired Culture
The values to create the desired culture in Primerica include integrity, ethics, innovation, and respect. The current culture of the company is based on these core values, and no changes are required because Primerica guarantees the fair and ethical treatment of its employees and clients. Furthermore, stakeholders are treated with respect, and their needs are addressed with the help of innovation and new tools.
However, it is still possible to recommend some changes to the organization's processes and the use of technologies. As Primerica applies the MLM strategy, it is important to improve Primerica Online in order to provide representatives with an easy communication and support tool. Furthermore, it is also possible to recommend such changes in processes as providing more education for representatives in order to improve their productivity and educate remote representatives in European countries in the case of the company's expansion.
References
Ansoff, H. I., Kipley, D., Lewis, A. O., Helm-Stevens, R., & Ansoff, R. (2018). Implanting strategic management. New York, NY: Springer.
David, F. R., & David, F. R. (2017). Strategic management: A competitive advantage approach (16th ed.). Boston, MA: Pearson Education.
Katsioloudes, M., & Abouhanian, A. K. (2016). The strategic planning process: Understanding strategy in global markets (2nd ed.). New York, NY: Routledge.
Primerica Inc. (PRI) – Company profile. (2019). Web.
Primerica Online. (2019). What is Primerica Online? Web.
Primerica, Inc. – Home. (2019). Web.
Pruschkowski, M. (2018). The BCG matrix and its support of management decision making. New York, NY: GRIN Verlag.
Sarsby, A. (2016). SWOT analysis. London, UK: Leadership Library.
Yahoo Finance – Primerica, Inc. (2019). Web.